Image courtesy of Ana Khouri
By Rachel Garrahan
Every so often an artist comes along who makes us rethink what we know about design. Zaha Hadid challenged our perception of architecture with the futuristic curves of her gravity-defying buildings. Jony Ive changed the way we live our daily lives when he created the iPhone. And in the rarified world of high jewelry, where the same handcrafts and traditions have been handed down and perfected over many centuries, Ana Khouri is challenging the status quo there too.
Trained as an artist and sculptor, the New York-based Brazilian designer uses the human body as her canvas. Her work comes alive when worn by a woman. Earrings in an assortment of ethically-sourced diamonds and colored gems wrap around the ear and tuck into the lobe. Cuffs of graduated natural pearls envelop the wrist yet appear to float in thin air. It is jewelry that is imbued with a sensuality and feminine strength that speaks to the contemporary woman.
On the eve of her Jewels Now exhibition opening at Phillips New York on 14 September, Ana shares her thoughts about her mission to create wearable art.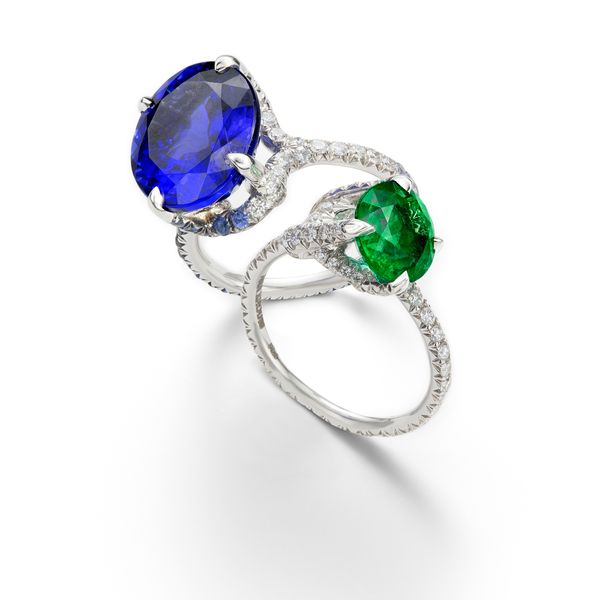 A Tanzanite 'Gioconda' Ring and an Emerald 'Marcia' Ring
Rachel Garrahan: You present a very different vision of high jewelry to the one that we all see coming out of Paris Couture Week. What do you think a woman wants from her jewelry today?
Ana Khouri: I believe in an approach to jewelry that did not exist before and I want to create pieces that are unlike anything seen in the past. I want to make jewelry that moves you, and the only way to do that is to create something that is extremely personal. I believe we want jewelry that is not simply beautiful but that makes you feel something visceral when you see it. It's all about creating a more intimate and personal connection with the pieces that are destined to last in our lives.
RG: Your designs work in harmony with the body, rethinking the relationship between the jewel and wearer. How does your background as a sculptor inform your work?
AK: As I start the pieces from sculpting, I think of the shape and how that shape will connect with the wearer. My designs are about the myriad ways that a piece can take shape on the wearer and the balance the work creates with the body.
I want to make jewelry that moves you, and the only way to do that is to create something that is extremely personal.
— Ana Khouri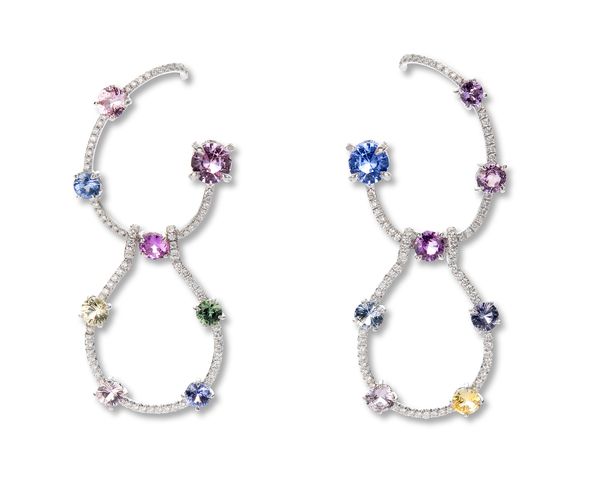 A Pair of Multi Colored Sapphire and Diamond 'Carolyn' Earrings
RG: How did the Phillips selling exhibition come about?
AK: We started the conversation casually and the more we talked, the more it all made sense. It was a very organic process and it has been an amazing experience to work with Phillips. They appreciate and understand my approach to design and want to share it with a wider audience.
RG: Has putting the exhibition together made you look at your work with new eyes?
AK: Definitely. As you put an exhibition of 50 works together you start to realize what is essential to who you are in your work. For me, that means exploring an approach to jewelry that explores shapes, volumes and connections in a way that we haven't encountered before. It was important to me to exhibit the pieces together with my sculptures to tell the story of how my life as a jeweler got started and to explain my creative process.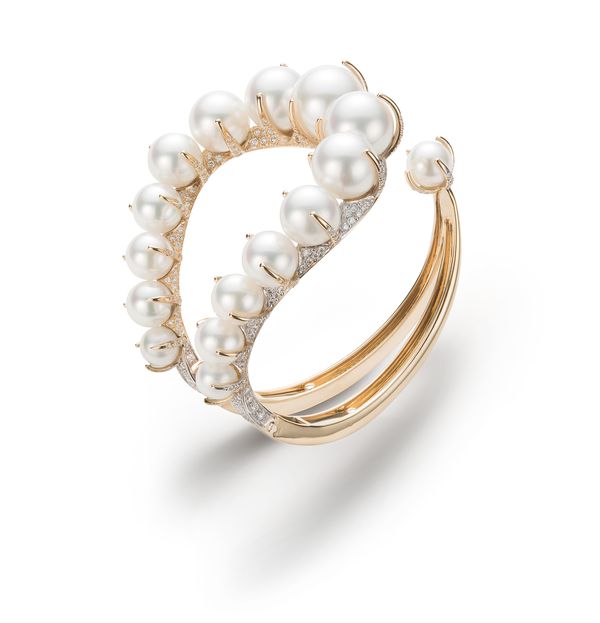 A Pearl and Diamond 'Mirian' Bracelet
RG: How has your work evolved over the years?
AK: Rather than look outward for inspiration, I strive to capture the boundless energy and defiant originality within. My work represents that vital pursuit. It's my belief that by focusing inward I can translate that spirit into powerfully expressive pieces of jewelry. Over the years I have become more comfortable with pushing the boundaries of design, sourcing the best gems I could find and the best craftsmanship. I became more comfortable in my own skin.
RG: Is it important that jewelry is viewed as a collectible in the same way that other forms of art and design are?
AK: Yes, especially for one-of-a-kind pieces. The High Jewelry work demands so much of the artist. Our private clients are collectors and expect us to work that way. In the same way that an ordinary object can be elevated to the level of art, so too can jewelry be elevated through a renewed focus on its form and design.
Jewels Now - Ana Khouri will be on view at 450 Park Avenue from 14-16 September 2018.