Roy Lichtenstein The Conductor, 1975
A virtuosic transformation of Italian Futurism, The Conductor, 1975, boasts Roy Lichtenstein's characteristically delineated forms, his distinct red, blue and yellow color palette, and iconic Ben-Day dots. Taking Gino Severini's monumental Mare = ballerina (Sea = Dancer), 1914, as a point of departure, Lichtenstein reinterprets the Futurist composition with a distinctly Pop syntax, rooting it in the nostalgia and commercialism of comic books and advertising materials. Coming directly from the esteemed collection of Miles and Shirley Fiterman, the present work, along with Alexander Calder's Two Moons, 1969, and Pablo Picasso's Homme Assis (Mardi Gras), 1972, is one of the leading lots of the Evening Sale this June, at Phillips London.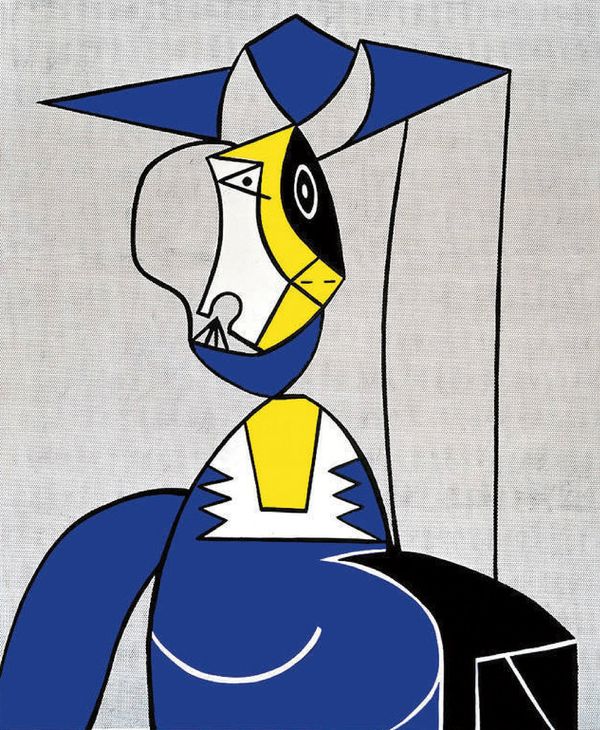 Roy Lichtenstein, Femme au Chapeau, 1962, oil on canvas. © Estate of Roy Lichtenstein/DACS/Artimage 2019.
The Conductor, alongside a panoply of works from the 1970s based on paintings by modern masters, demonstrates Lichtenstein's renewed engagement with complex art historical themes that he had considered in early works such as Femme au Chapeau, 1962, and Woman With Flowered Hat, 1963. It was in 1974, however, one year before the execution of the present work, that Lichtenstein first engaged with Futurism as his subject matter, painting a limited number of Futurist-inspired works between 1974-1976. From this cycle of works, the artist's monumental The Red Horseman, 1974, resides at the Ludwig Forum for International Art, Aachen (currently on loan to the Museum Moderner Kunst Stiftung Ludwig, Vienna), and his Violin, 1976, at the Denver Art Museum. Musing on the evolution of his artistic subject, Lichtenstein noted, "I also started to use the work of modern masters as subject matter… Instead of using subject matter that was considered vernacular, or everyday, I used subject matter that was celebrated as art" (Roy Lichtenstein, 'A Review of My Work Since 1961', Bader).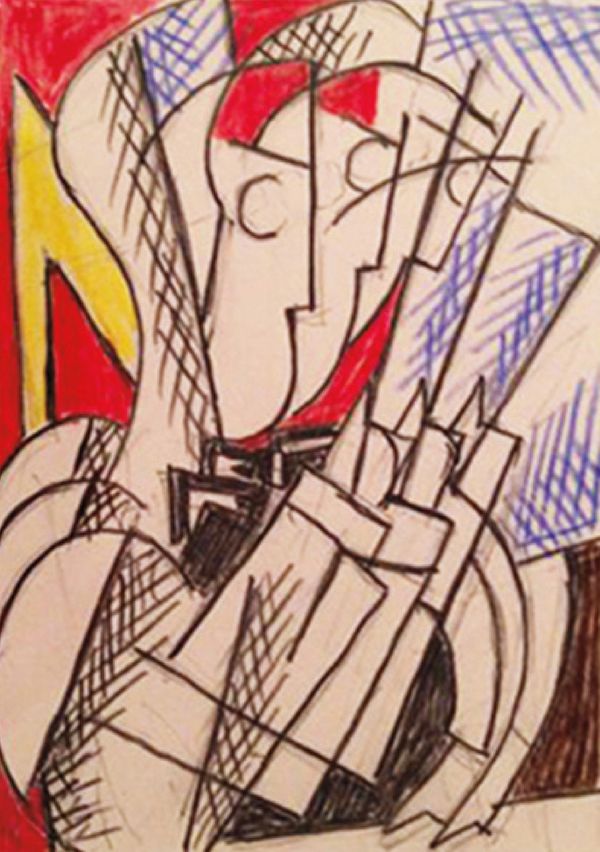 Roy Lichtenstein, Study for the Conductor, 1975, pencil and coloured pencils on paper. © Estate of Roy Lichtenstein/DACS 2019.
Moving away from the comic-book aesthetic that had brought him to prominence in the 1960s, Lichtenstein's abiding interest in questions of art's meaning, form, content and style once again came to the fore in the early 1970s. Examining the grandeur of previous artistic movements, he created compositions based on the avant-garde movements of the 20th century. In his seminal canvases responding to Cubism, Futurism, Surrealism and German Expressionism, the pristine lines and precise dots underline his self-consciously cultivated aura of industrial production, intrinsic to the Pop Art narrative and his response to the painterly nature of Abstract Expressionist painting. In the present work, however, the carefully traced lines and vivid arrangement of color are far from automated; the preparatory drawing reveals how carefully the composition took form, the hand-painted surface animated with vigor despite its rigid delineation.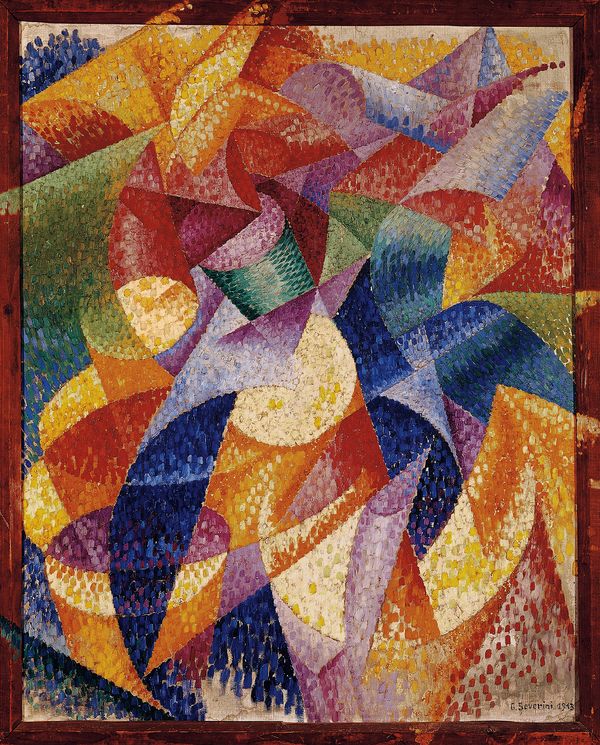 Gino Severini, Mare = ballerina, 1914, oil on canvas, in artist's frame, Peggy Guggenheim Collection, Venice. © ADAGP, Paris and DACS, London 2019. Image: Bridgeman Images.
With The Conductor, Lichtenstein offered a halt to Severini's source image, suspending the futuristic sense of rapid motion. In this perspective, he bridged the realms of originality, homage and imitation, moving beyond the pixelated ideals of his earlier comic book paintings, whilst raising similar questions of legitimacy, parody, pastiche and transformation within artistic creation. In his earlier examinations of modern art as a subject matter, Lichtenstein became particularly engaged with the work of Picasso, completing a number of paintings after the Cubist master and noting that, "Picasso's always been such a huge influence… I don't think that I'm over his influence" (Roy Lichtenstein, quoted in David Sylvester, Lichtenstein: All About Art). The present work, with the musical undertone of the conductor, echoes Picasso's Pierrot as Orchestra Conductor, 1920-1923, a fragmented stencil of overlapping planes that precedes the present fusion of Pop Art and Futurism.
All my art is, in some way, about other art.
— Roy Lichtenstein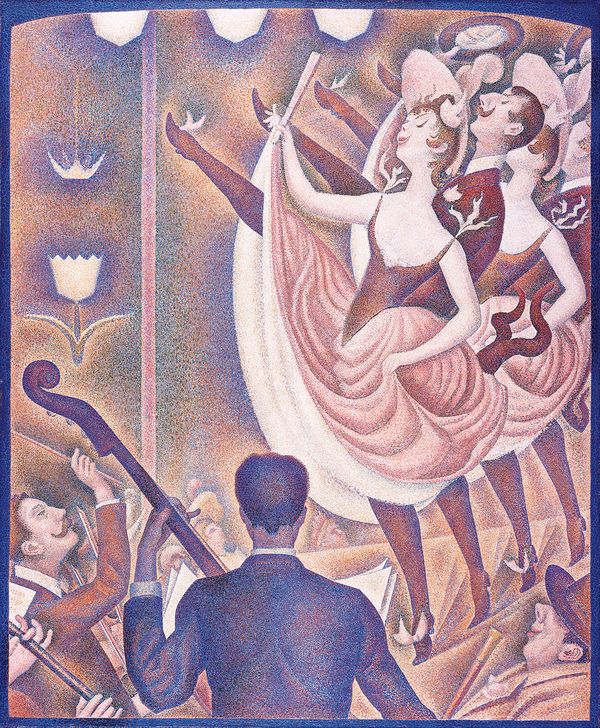 Georges Seurat, Le Chahut, 1889-90, oil on canvas, Rijksmuseum Kroller-Muller, Otterlo. Image: Bridgeman Images.
Severini's original canvas was itself thought to have a specific source in Georges Seurat's Le Chahut, 1889-1890. Le Chahut depicts a fleeting scene of Parisian nightlife in which women and men are dancing the risqué chahut – or can-can – legs and skirts whimsically aligned and thrown into the air. In the present work, Lichtenstein's conductor appears to mirror the graduated lines and calculated arrangement of Seurat's canvas, as does Severini's Sea = Dancer. Each canvas progresses through the modernity of its own space and time. While Seurat employs his strict pointillist system of minute dots of paint, Severini applies larger divisionist brushstrokes, defined by the futuristic curvature of line. In Lichtenstein's pop interpretation of the subject, the artist masterfully engages his Ben-Day dots to cast the illusion of motion, allowing the canvas to surge with the vivacity of a pointillist masterwork.
Committed to the action of the present, Futurism paved the way for the avant-garde at the dawn of the 20th century. Like Pop, Futurism rejected tradition and sought inspiration from new technology. Within this light, it seems distinctly fitting that Lichtenstein should select Futurism as a concern for a limited number of his art historical paintings, asking questions on concept, form and technique. In the catalogue for the 1961 Museum of Modern Art Futurist exhibition, which Lichtenstein most likely visited, Joshua Taylor observed the importance of Futurism, anticipating the impact that the movement would have on Lichtenstein. "The Futurists were not only the first artists to take cognizance of the dynamism of a technological society, but they also produced works of art of extraordinary emotional impact. They translated the kinetic rhythms and the confused, intense sensations of modern life into potent visual form. The Futurists' approach to art, their manifestos and demonstrations, set a pattern for many art movements which followed" (Joshua Taylor, Futurism).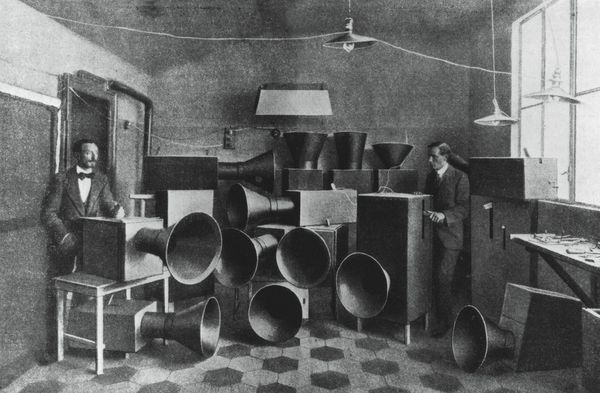 Luigi Russolo and his assistant Piatti with the Intonarumori (noise machines), 1914, 'The Art of Noises Manifesto', 1913. Image: Lebrecht Music Arts/Bridgman Images.
The intoxicating force of Filippo Marinetti's 'Futurist Manifesto' radiates through the history of 20th century art and music. With color as important as motion, artist and instrument builder Luigi Russolo looked to futuristic musical interventions to bolster his artistic repertoire. Russolo was the first of many visual artists who sought to paint with sound; "I am not a musician," he penned, "I am a Futurist painter using a much loved art to project my determination to renew everything. And so... unconcerned by my apparent incompetence and convinced that all rights and possibilities open up to daring, I have been able to initiate the great renewal of music by means of the Art of Noises" (Luigi Russolo, 'L'Arte dei Rumori'). Anticipating the early percussion scores of Edgard Varèse and John Cage, Russolo as a "conductor" of futuristic music brought on a progression that resonates into contemporary sound, from sound design in film, to television and computer games. Referencing the Futurists in both composition and inspiration, the fragmented conductor within Lichtenstein's abstract portrait nods to Russolo's Manifesto 'The Art of Noises' where he asserts that "The limited circle of pure sounds must be broken, and the infinite variety of 'noise-sound' conquered."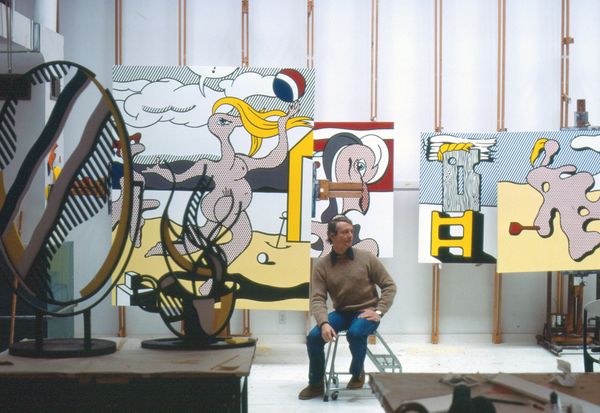 Roy Lichtenstein in his Southampton studio, New York, 1977. Courtesy The Roy Lichtenstein Foundation Archives. Artwork: © Estate of Roy Lichtenstein/DACS 2019. Photograph: Unknown photographer.
Echoing the Futurists' concern with pace, Lichtenstein demonstrated a dedication to motion throughout his oeuvre, depicting cars and horses, dramatic explosions, pops and bangs. In The Conductor, the artist nods towards the hallmark of futurism, yet takes the canvas beyond the confines of the earlier movement. Severini's radiating power of light is transformed into Lichtenstein's faceted plane and sliced composition. Refining the already abstracted image of Sea = Dancer, Lichtenstein questions the futuristic source image. Criticizing the shortcomings of futuristic depiction of action whilst confirming the intrinsic link between high art and popular culture, the artist mused "Futurism does show motion, but it does not show motion very well, painting is not a time art. But I am interested in the quirky results of those derivatives of Cubism and like to push this quirkiness further toward the absurd. I am also interested in the relationship between depictions of movement in Futurism and in comic-strips" (Roy Lichtenstein, quoted in 'A Review of My Work Since 1961', Bader).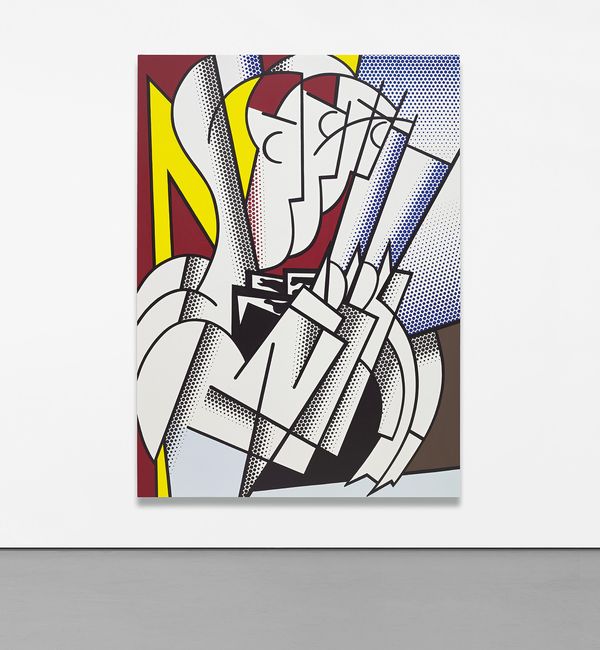 Installation view of Roy Lichtenstein's The Conductor, 1975
The Conductor, a singular example of Lichtenstein's musings on modern art, was painted shortly after Diane Waldman published the first retrospective monograph on Lichtenstein in 1972, suggesting that perhaps Lichtenstein himself had been compelled to reflect on his previous work. Motivated by an absolute visual interest in the varying styles of his great artistic forebears, the artist noted, "I had no program; I always thought each one was the last. But then I'd see something like a way of doing a Monet through just dots that would look like a machine-made Impressionist painting" (Roy Lichtenstein, quoted in Roy Lichtenstein: All About Art). A flawless union between Futurism and Pop Art, The Conductor is an eloquent example of Lichtenstein's continued engagement with notions of creativity and authenticity, demonstrating his remarkable ability to celebrate the possibilities of popular imagery.