Works from Phillips' Design, Photographs and Jewels auctions on view at 450 Park Avenue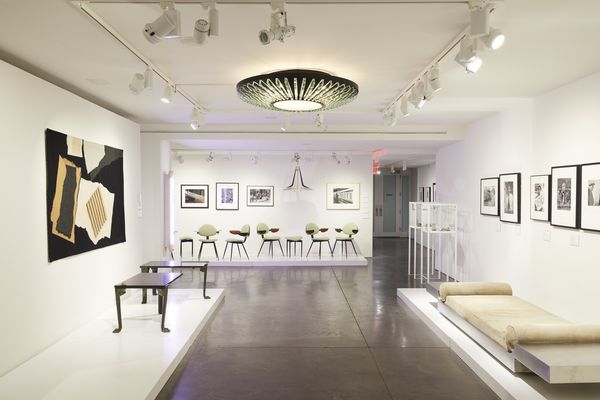 Cordelia Lembo
Head of Department, New York, and Specialist, Design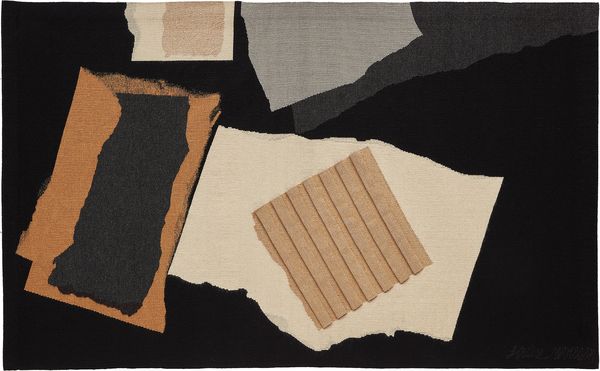 Louise Nevelson Unique "Night Mountain" tapestry, 1977
Louise Nevelson's Unique "Night Mountain" tapestry is one of only fifteen ever produced, and we are thrilled to be the first to offer one at auction. Between 1972 and 1976, Nevelson created a series of collages to serve as models for tapestries. The collage on which Night Mountain is based included torn paper, corrugated cardboard and foil, so the weavers at Dovecot ingeniously replicated their dimensions and textural qualities in woven wool and metallic thread. I love the way it fits into our exhibition; currently, it's positioned across from a Maria Pergay daybed designed just a few years prior. Being placed among all these incredible photographs, primarily by female artists, really helps elevate the installation and make the works from our Design sale feel more situated.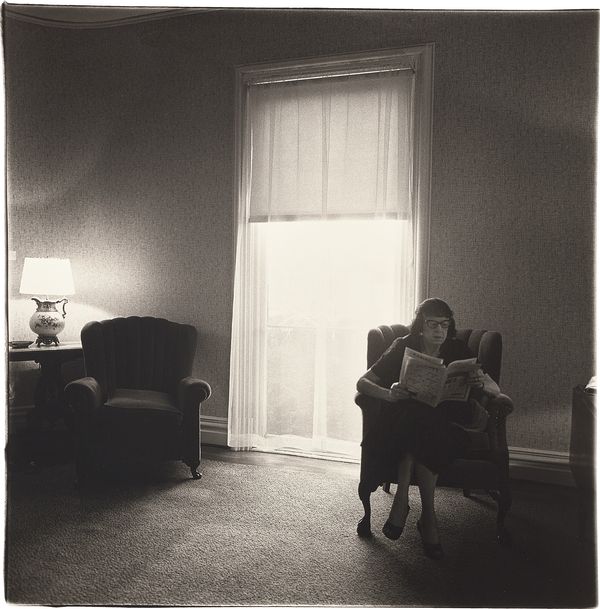 Diane Arbus Lady in a rooming house parlor, Albion, NY, 1963
I am drawn to images of interiors—as a Design specialist, they always have a story to tell me. If a picture can tell a thousand words every object in that picture can tell a thousand more. This photograph, however, remains quite mysterious, as the light from the table lamp and window do not illuminate any main subject but rather shroud them in shadow. The composition of light is beautiful, but I cannot help but be a bit frustrated that they illuminate only the wall and the carpet! Taken by Diane Arbus, this interplay of distance and intimacy is characteristic of the photographer's work in portraiture, and I love the combination of mystery and the mundane in this photograph.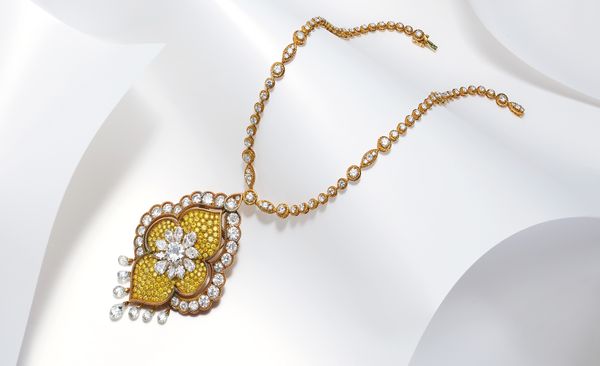 Van Cleef and Arpels A Diamond, Colored Diamond and Gold Necklace/Brooch
I immediately saw a connection between the Eckart Muthesius sideboard from Manik Bagh Palace in our Design sale, and some of the pieces in the Jewels sale, like lot 74, a Van Cleef & Arpels pendant/brooch. Both were created circa 1930 to suit the taste of a wealthy elite looking to acquire only the finest and most current luxuries: a group that contained a number of young maharajas who enjoyed a glamorous international lifestyle and serious spending power. The sideboard was designed specifically for the Maharaja of Indore and features a sun motif representing the owner's Rajput ancestry, and the design of the pendant/brooch, with its Indo-Persian aesthetic, was most certainly informed by and directed towards these same cosmopolitan tastes.
Susan Abeles
Head of Department and Senior International Specialist, Jewels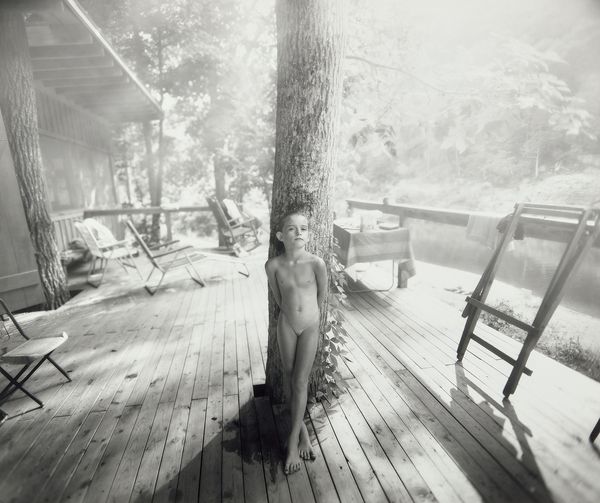 Sally Mann Jessie at 6, 1988
One of the luxuries offered to auction house employees is the constant exposure to art and objects across categories and disciplines. For some of my colleagues, this interchange occurs simply by osmosis and, for others, it is often a point of discovery and engagement. While there are several photographs in our Artist | Icon | Inspiration: Women in Photography sale that relate directly to world of jewelry — for example, Jean-Phillips Charbonnier's Bettina, la plus belle, Paris, Vitrine de Van Cleef et Arpels, Place Vendome (lot 88) or Lillian Bassman's Blowing Kiss (lot 89) — I have found personal favor in Sally Mann's works. In particular, Jessie at 6 is extraordinary. Both captivating and intimate, this work belongs to the controversial group of her Immediate Family series. My attraction to this large image is immensely personal and figurative; it is reminiscent of William Faulkner's Light in August and Willem De Kooning's Women series. I see a dreamlike, light-speckled, wooded world centered by an innocent leaning upon tree. It appears to be an ethereal allegory of woman that expands from the center out. I am held steadfast by the illusion of unreal and real.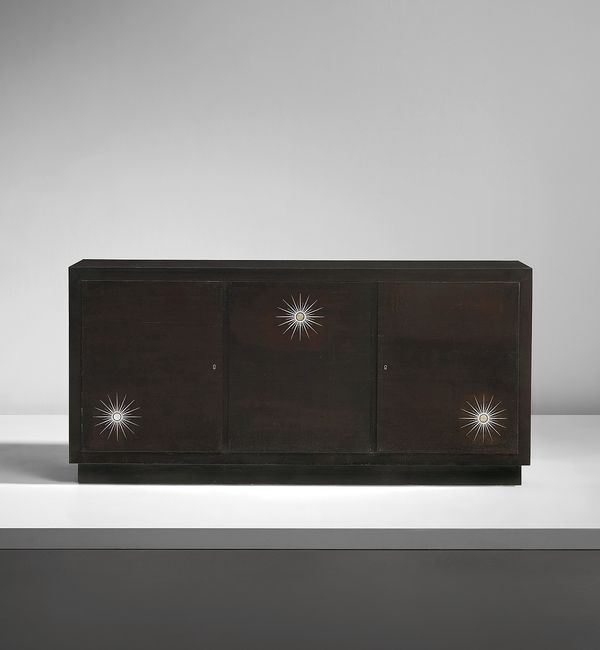 Eckart Muthesius Important sideboard, from the Maharaja of Indore's Banquet Hall, Manik Bagh Palace, circa 1931
I am also drawn to Eckart Muthesius' Important Sideboard, from the Maharaja of Indore's Banquet Hall, Manik Bagh Palace, Indore, circa 1931 (lot 125). This sideboard mirrors the predilection of the maharajas to embrace the elegance of new Western modernity with streamlined and geometric lines. Mindful of the owner's Indian heritage, the white metal marquetry accents are sun motifs representing the Rajput ancestry that the Holkars of Indore claimed. Similarly, the maharajahs of India traveled to Paris to have their jewelry redesigned or exchanged for jewels in the current fashion. Synchronously, these exotic influences found their way into this new lexicon, and Indo/Persian, Egyptian and Japanese/Chinese inspirations were incorporated into the creations of this new era. The sideboard remains in excellent condition and is undoubtedly collectible from a unique historical and design perspective.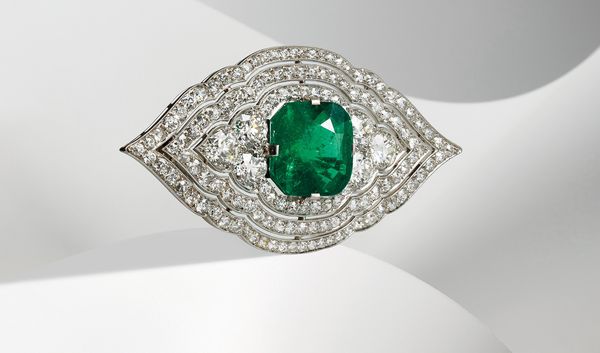 Cartier An Art Deco Emerald, Diamond and Platinum Brooch
Continuing in the same vein, jewels of the Art Deco era were characterized by bold geometric patterns, color, texture and rich exoticism infused from Persian, Indian, Oriental, Russian and Egyptian influences. This diamond and emerald brooch is a rare and beautiful example of work by Cartier from this fertile and creative period. The outline of the brooch is Persian-inspired. Indian and Persian miniatures inspired stylized plant patterns, as did the central medallion of Persian carpets. These forms would reappear abstracted and tempered by color and texture, sometimes further embellished with ancient artifacts. Strategically planned and extended visits to Russia and India helped reach new clients by creating the opportunity to sell and buy jewelry, purchase ancient and rare artifacts, as well as assist the maharajahs with the transformation of their old jewelry into current fashion. Perhaps this piece's origins can be traced to Louis Cartier's personal Persian miniature collection, which was then transformed by Jacqueau into a jewel.
Rachel Peart
Specialist, Photographs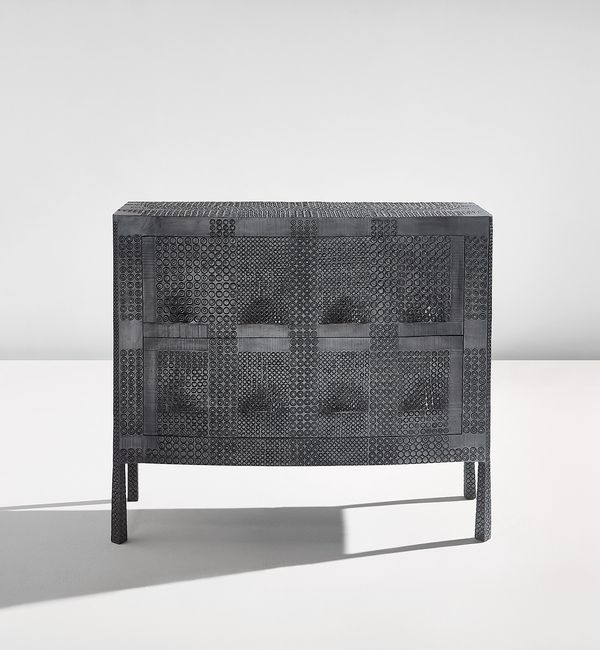 Ingrid Donat Commode Galuchat, 2014
I loved discovering this Ingrid Donat piece in the galleries. With minimal, modern and symmetrical details, I found that it references Art Deco design in a fresh way. The patina on this commode is gorgeous, and you can see that she had such masters as mentors as Sylva Bernt and Diego Giacometti in working with cast bronze. As a happy accident, we found it paired very nicely with Sandy Skoglund's Atomic Love from 1992 from our Photographs sale — it's always great seeing two important, living women artists who have very technical processes in dialogue with one another.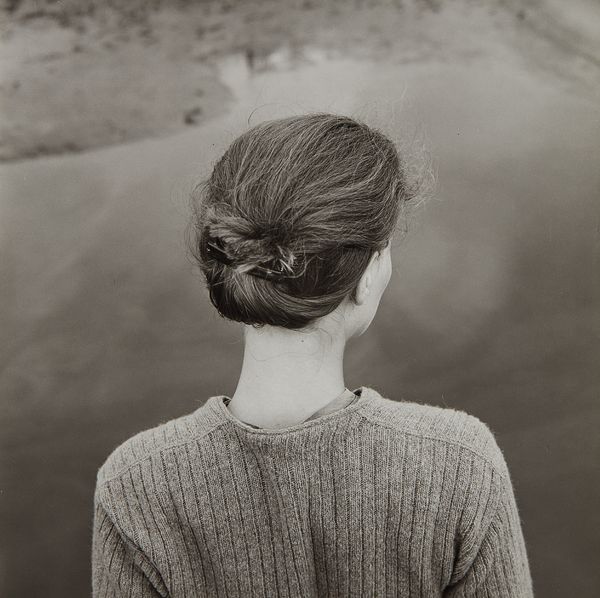 Emmet Gowin Edith, Chincoteague, Virginia, 1967
This photograph was taken by American photographer Emmet Gowin of his wife Edith. A master photographer and printer, this image captures her in a subtle and elegant composition. Technically, the tonal range and detail, down to the wisps of her hair, are encapsulated in this loving view. In photography, in particular, a composition that seems so "simple" is actually very difficult to properly execute as every little detail becomes significant. I find this image to be practically perfect and the result of a classically trained photographer turning his lens on one of his most beloved subjects in this intimate gaze.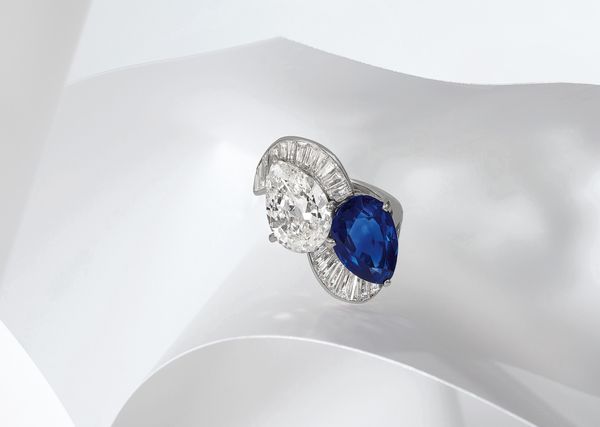 Bulgari An Important Sapphire, Diamond and Platinum Ring
The color and shape of this Bulgari sapphire and diamond ring are so alluring. The 1960s design evokes a beautiful sense of movement paired with the special Kashmir sapphire. Learning more about the history of these sapphires, and that this one, in particular, has no evidence of heating, makes the deep royal blue color even more mysterious and enchanting.