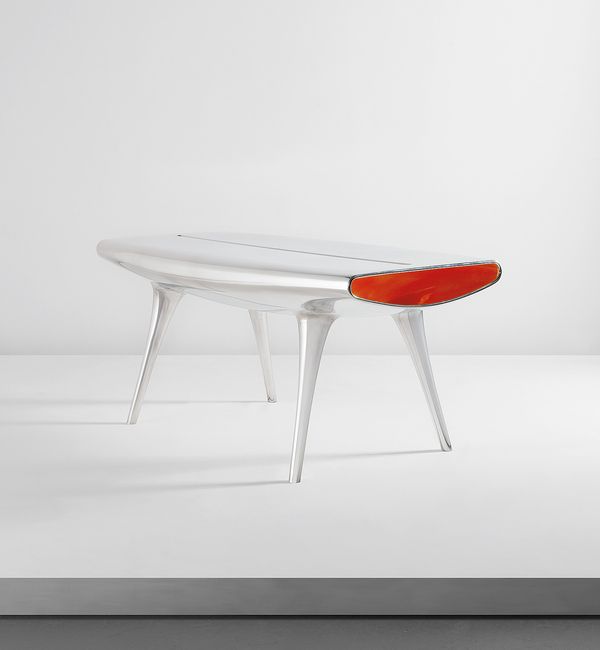 Marc Newson "Event Horizon" table, 1992. Polished aluminum, painted aluminum.
Marc Newson
Designed as part of a series with Orgone chair, Orgone Stretch chair and Alufelt chair (1993), the Event Horizon table is emblematic of Marc Newson's ambitious retro-futurist aesthetic. The table was produced for Ikepod (also known as Pod), Newson and Oliver Ike's innovative watch company. The aluminum and enameled interior of the table seems to take on an almost life-like sense of motion, with its ductile surfaces and curvilinear edges confusing the boundaries between the object and the space around it. Achieving this sleek, space-age effect required Newson to return the aviation technologies that had long inspired him.

As an early adopter of AutoCAD software for furniture design, Newson developed a signature style that transcends appearance but is defined by conception and fabrication. After studying sculpture and jewelry design at Sydney College of the Arts, Newson applied a "DIY" ethos to metalwork, adapting industrial techniques and appearances to whatever tools he could afford and wherever he set up his makeshift studios in Sydney, Tokyo and London. For this series, Newson experimented with manufacturing methods, first using an aircraft factory in France before finally settling on an Aston Martin subcontractor in Buckinghamshire, in order to achieve the polished fluidity and seamlessness that he had been striving for since his LC1 Lounge of 1986.

Like a jet engine, the smooth angles of the Event Horizon table transition effortlessly into equally compelling interior spaces, with the glowing red enamel core of the piece seeming to ebb and flow like plasma. The tapered hollow legs appear as though they have been pulled from the molten form of the table, highlighting the advanced making techniques employed by Newson. Many of Newson's works play with dimensionality, revealing voids and centers as liquid and gleaming as the exteriors. In the designer's own words, these exposed cores are "a good way of revealing some high-quality manufacturing!"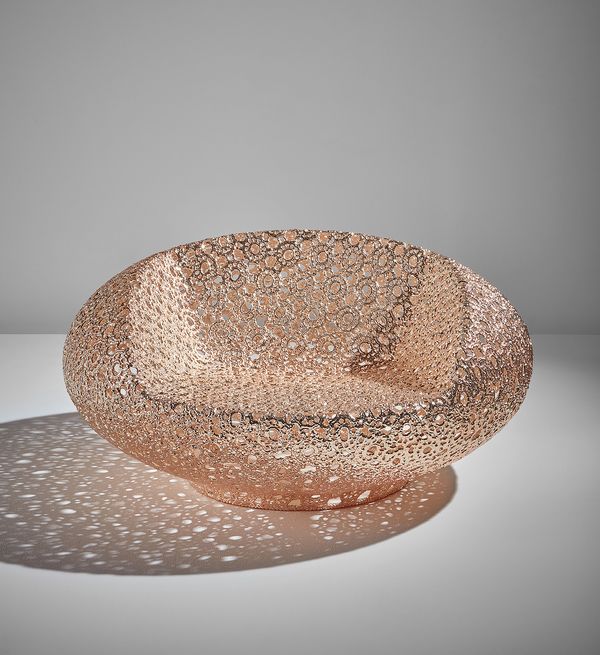 Marcel Wanders "Bon Bon Gold" chair, from the "Personal Editions" series, 2010. Crocheted rope coated with epoxy resin and precious metal.
Marcel Wanders
Marcel Wanders' reputation for applying unexpected twists to high-end archetypes of furniture is fully present in his Bon Bon Gold chair, which combines crocheted rope—a process with traditional, home-spun associations—with a compact rounded shape. Continuing in the vein of his other woven rope-and-resin pieces, such as the Crochet (2006), Fishnet (2001) and Knotted (1996) chair models, the Bon Bon chair reflects Wanders' own postmodern sensibilities, in which he subverts a candy-colored pop art aesthetic with lightness, versatility and formal sophistication.
Referring to himself as "a showman," the Dutch Wanders often works with recognizable design forms and tropes — in this case, Eero Aarnio's Pastil chair (1967) — replacing the glossy fiberglass finish of the original with an almost anti-modern textile. Having previously paid homage to Aarnio with the brocaded dog-shaped Courage chair (2006), the present piece is typical of Wanders' work with the conceptual Droog Collective and the equally inventive design firm he co-founded with Casper Vissers in 2001, Moooi.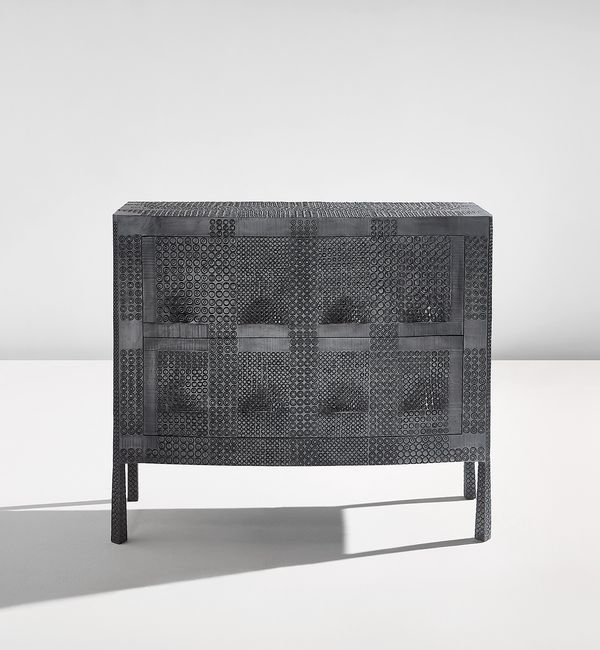 Ingrid Donat "Commode Galuchat", 2014. Patinated bronze.
Ingrid Donat
French-Swedish artist Ingrid Donat has lived and worked in Paris since she moved there to study sculpture at the École des Beaux-Arts in 1975. Following this formal artistic education, she soon found mentors in Sylva Bernt (the partner of André Arbus) as well as Diego Giacometti, who introduced her to the art of cast bronze furniture and encouraged her to create her own designs.

Donat prefers an open-ended, creative approach to designing furniture; beginning by carving and engraving wax panels in a gestural manner not unlike drawing, she allows the patterns that emerge to dictate the eventual forms of the cast bronze furniture, lending a warm, tactile quality to an otherwise cold and heavy material. Donat's patterning draws inspiration from the subtle details and craftsmanship of Art Deco design, as well as tribal tattoos, among other sources. "For me," she's written, "I like the idea that tribal art has an instinctive quality, like folk art, and is independent of the formal academics of Western art. I am drawn to the African tradition of scarification—creating marks upon skin—and the intricate repetition of a graphic motif, which translates well to bronze."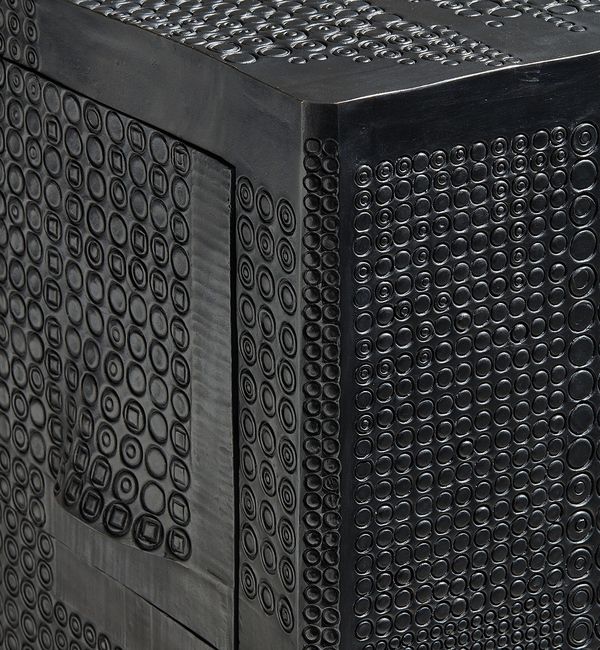 In 2005 Donat, made a conscious shift towards abstraction in her work, eschewing figurative references (bronze caryatids having previously played a prominent role in her furniture) for minimalist designs. The present commode, created in 2013, falls into this latter category. In its form and galuchat-style patterning, it clearly references André Groult's galuchat-covered case pieces of the 1920s.
However, not unlike Marc Newson's Pod of Drawers (1987), with the Commode Galuchat Donat has reinterpreted and built on the Art Deco tradition for a new era of collectors.