Three vases by John Ward, lots 62-64, all from the collection of Diane and Marc Grainer
In 1981 the British Crafts Council staged a fascinating exhibition entitled The Maker's Eye. The premise was simple: a range of contemporary craft artists chose works by their peers, presenting the objects in carefully arranged groups. It was an exercise in sensibility. One of the artist-curators included was the potter and writer Alison Britton. Of her selection, she said this: "I would like to make a comparison evident between 'prose' objects and 'poetic' objects; those that are mainly active and those that are mainly contemplative. To me the most moving things are the ones where I experience in looking at them a frisson from both these aspects at once, from both prose and poetry, purpose and commentary. These have what I call a double presence."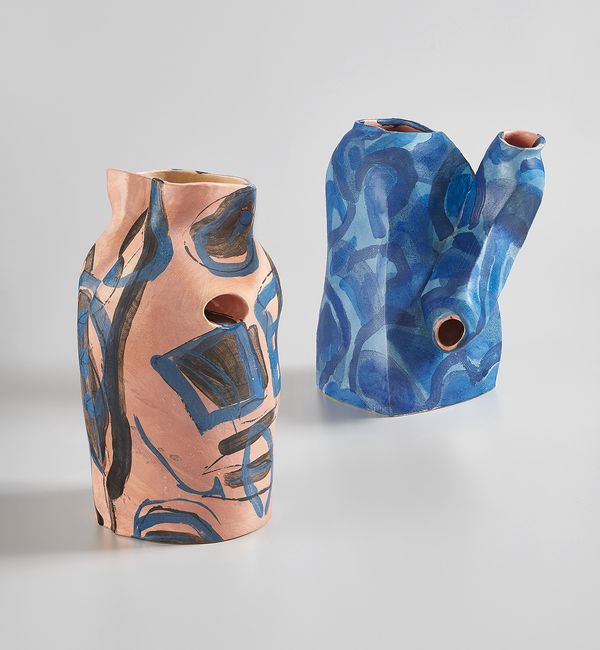 Pink Jar, 1998, and Blue Container, 2000, both by Alison Britton
As it happens, 1981 marks an early stage in the formation of the Grainer collection. Several years prior, Marc Grainer had begun going regularly to London on business trips, which quickly became buying trips as well. His initial focus was on ceramics, which was not then the highly valued art medium it is today (he recalls bringing many of his early acquisitions home in carry-on luggage). The UK was a particularly open field. The number of active collectors there was comparatively small, and the average consumer of "studio pottery" remained wedded to a traditionalist aesthetic, associated with the influential Bernard Leach and his disciples.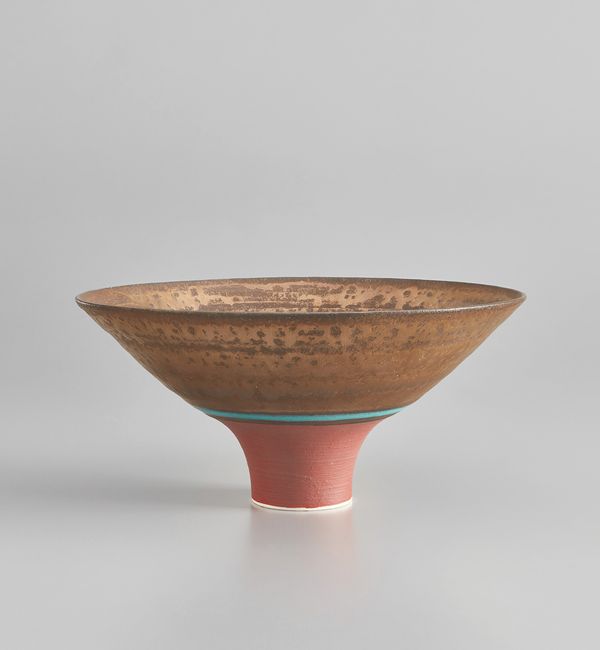 Lucie Rie Bowl, circa 1983
Grainer was one of very few Americans to realize that something new and exciting was happening in British ceramics. (Another was John Driscoll, who developed a scholarly collection of the Leach school, as well as more contemporary makers). The origins of this creative vitality can be located in the 1960s, with the work of European émigrés Hans Coper, Ruth Duckworth, and preeminently, the Viennese-trained modernist Lucie Rie.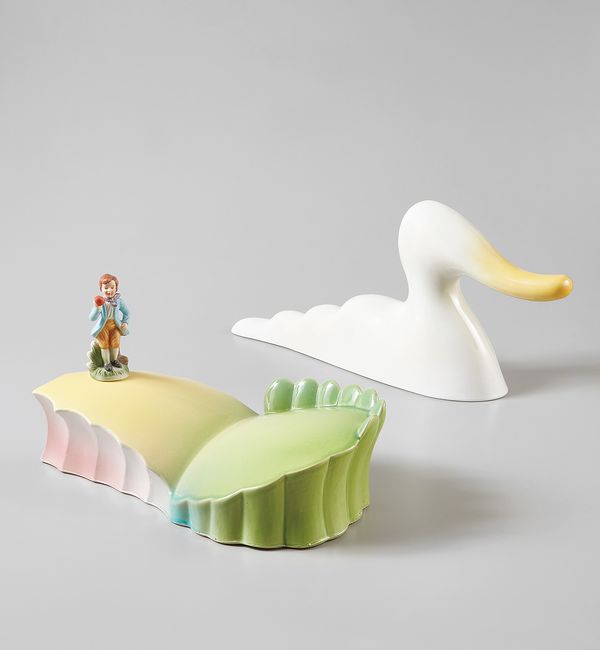 Boy in Field, 1997, and Carpet Duck, 2003, both by Richard Slee
Their turn away from the past, toward abstraction, paved the way for an extraordinary golden generation of ceramists who arrived on the scene in the 1970s. Among the leading protagonists, in addition to Britton herself, were Gordon Baldwin, whose explorations of the vessel indicate its huge potential as an arena of experimentation; John Ward, who creates lucid compositions with precisely delineated geometric surfaces; and Richard Slee, a wickedly funny satirist with an unerring sense of plastic form.
Soon it was clear to both Marc and Diane Grainer that they were in deep—and that British ceramics was not the only field they wanted to explore. They became involved in the institutional infrastructure of the craft movement in the USA, taking up various leadership roles with the James Renwick Alliance (a support group of the Renwick Gallery) in their home city, Washington DC, as well as the American Craft Museum (now the Museum of Arts and Design) in New York, and the American Craft Council. In 2010 they made a major gift of British ceramics to the Mint Museum of Art. In many respects they have been exemplary of another golden generation, of motivated craft collectors who also became institution-builders.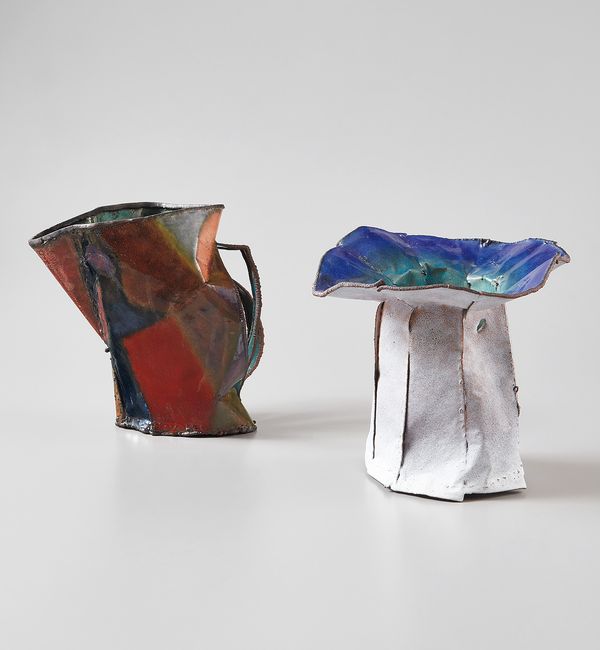 Pitcher, 1995, and Vessel, 1998, both by June Schwarcz
All the while the Grainers' collecting kept pace, with the synthesis that Britton described—prose and poetry, expression and functional allusion—always evident. They continued their early involvement with ceramics, acquiring not only figures based in the UK, such as Nicholas Rena and Lawson Oyekan, but also luminaries of the American scene, such as the post-Pop trompe l'œil magician Richard Shaw. They also developed an interest in the brilliant Californian enamellist June Schwarcz, whose modest yet mighty works bear comparison with the best Abstract Expressionist sculpture. Gradually, they shifted up a few gears, not just living with pots but acquiring and commissioning major works of sculpture, lighting, and furniture, giving shape to a totally creative, hand-crafted environment.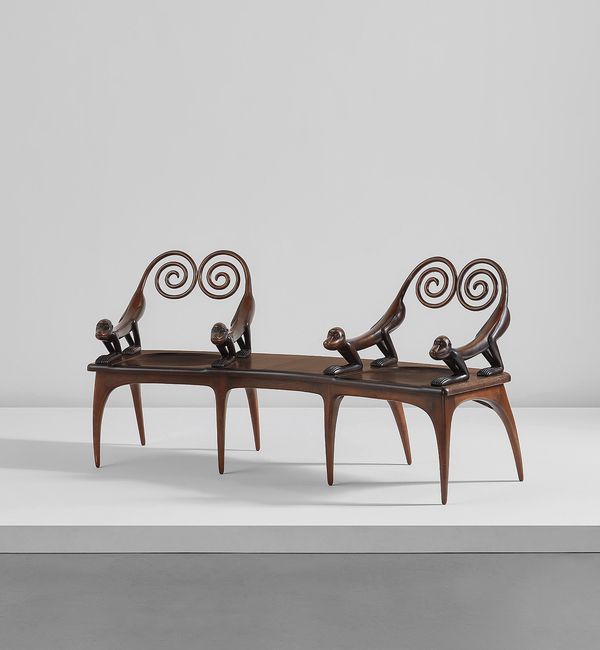 Judy Kensley McKie Monkey Settee, 1994
Today, as ceramics and limited-edition furniture achieve unprecedented levels of interest, it's important to retain a sense of recent history. Artists who are newly gravitating to these disciplines could learn a lot from the previous generation. Witness the important Judy Kensley McKie Monkey Settee offered here, featuring an unusual combination of carved walnut and cast bronze, and the artist's customary mastery of line.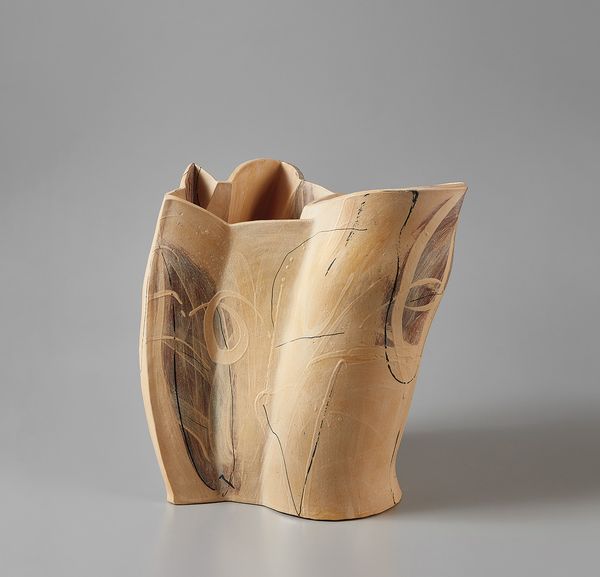 Alison Britton Pale Double Pot, 1995
Or Britton's Pale Double Pot of 1995, which could almost have been made as an explicit manifestation of her principle of "double presence." Composed of two contrasting yet conjoined volumes, the object calls to mind a pair of dancers in motion, with the kinetic energy enhanced by deft swirls of slip on the surface. The interior volumes have equal interest to the exterior, and their mutual encounter is articulated by a flattened lip that courses complicatedly, stepwise, around the whole pot. While only 19 inches high, it's a majestic thing—a miniature monument to its own intuitive making.
Marc and Diane Grainer were exceptional in realizing the value of works like this when they were first made. With the benefit of hindsight, their greatness is self-evident; but sometimes that clarity takes time. For, as Britton put it on another occasion, "things must come first, that is what it is about."