An Important Art Deco Aquamarine and Diamond Clip Brooch, signed Cartier London, circa 1930s
By Vivienne Becker
Jewels—spanning antique, vintage and contemporary—shone bright at this year's TEFAF in Maastricht, as increasingly the lucrative art world embraces the art of the jewel.
The TEFAF jewelry stalwarts, including such veterans of the show as Hemmerle, the Munich-based contemporary jeweler, and Otto Jakob, the German artist-goldsmith, always reveal their latest creations in Maastricht, with devoted clients beelining for their booths on the ultra-chic special preview day.
Since Stefan and Sylveli Hemmerle radically changed the company's design direction in the 1990s, Hemmerle has always aligned its philosophy and its jewels with twentieth-century art. Several new designs this year, masterminded by the next generation of Christian and Yasmin Hemmerle, intensified the connection to art movements including Bauhaus, Neue Sachlichkeit, Minimalism and Abstraction. A striking pair of blackened silver disc earrings paid homage to Bauhaus teacher Paul Klee and, in particular, his 1927 work Schwarzer Furst. The graphic profile was picked out in a white gold line and studded with a diamond eye.
A new series of Hemmerle jewels centered on antique or ancient fragments: a jade disc the color of bronze, echoed in the use of cognac diamonds, and a pair of nineteenth-century cameos, transformed into earrings. The rigor of portraiture provides the perfect match for Hemmerle's uncompromisingly reduced yet monumental style, and altogether an emotive reference to the continuum of jewelry history.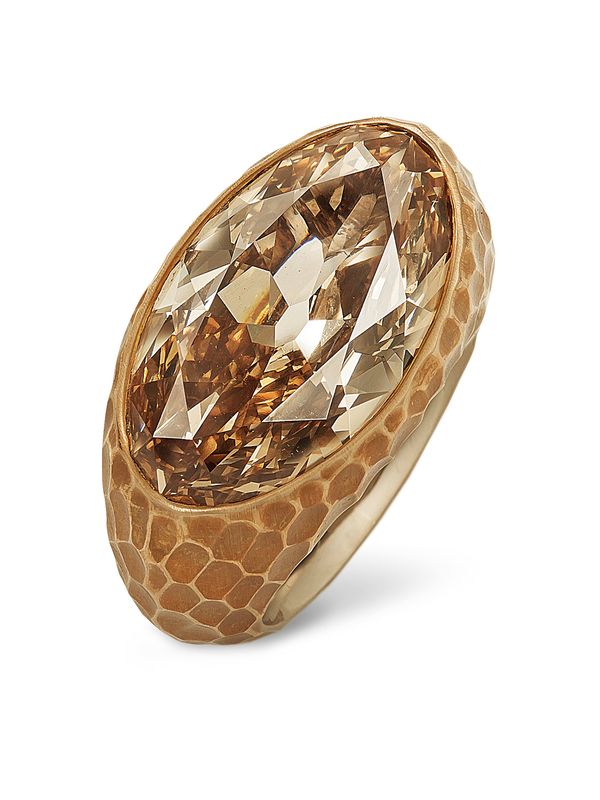 Hemmerle Diamond, bronze and white gold ring, 2018
Otto Jakob's exquisitely intricate jewels are all hand-crafted by the artist himself or his small team of artisans working alongside him in his atelier in Karlsruhe. Jakob is inspired by a wealth of cultural influences and personal passions, but most particularly by Renaissance or Mannerist art objects, so that his jewels seem to belong to some princely Renaissance Wunderkammer. One of his specialties is casting from nature, and a pair of earrings on display in Maastricht featured nature casts of parrot tulip petals, the polished gold glinting through opalescent enamel, surmounted by coils of caterpillars micro pavé-set with diamonds, with black diamonds accents and black enamel legs. Jakob searches for antique diamonds to underline the "soul" of his jewels: he set an old mine-cut diamond, of about 1900, as a ring, nestling within a tangle of partially oxidized white and yellow gold, diamond-strewn gnarled branches.
The Haute Joaillerie section that hosted these long-term exhibitors was oozing with bejeweled glamour; Van Cleef & Arpels' mix of contemporary and vintage jewels offered a masterclass in the Maison's heritage. A 1965 pendant and sautoir in rugged, textured gold, set with an arresting combination of amethysts and yellow sapphires, resonated with 1960s jet-set, hippie-luxe style, while a rare ballerina clip was composed of paillettes, the little polished gold sequin-like discs, typical of the '40s and '50s.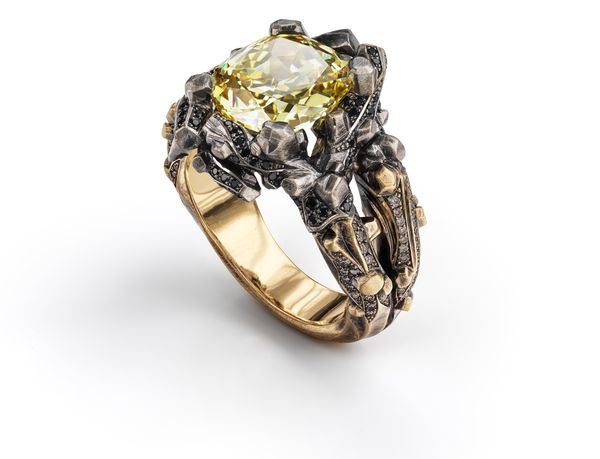 Otto Jakob Eyrie Ring, white and yellow gold, diamonds, 2019
Across the way, Hong Kong-based artisan jeweler Wallace Chan presented a dramatically dark booth filled with mystical sculptures and vibrantly colored jewels. His 30 spectacular works of art included Butterfly Nebula, a pair of brooches depicting butterfly men living on an imaginary butterfly planet, and Hera, a transformable peacock brooch, its feathers of gem-set titanium glowing with the majesty and magnificence of nature. TEFAF offered the chance to showcase Chan's newest invention: the glossy, pearlized porcelain, the result of seven years of research, and a modern material five times stronger than steel, that has been carved with Chan's signature skill into voluptuously organic forms embedded with colored stones.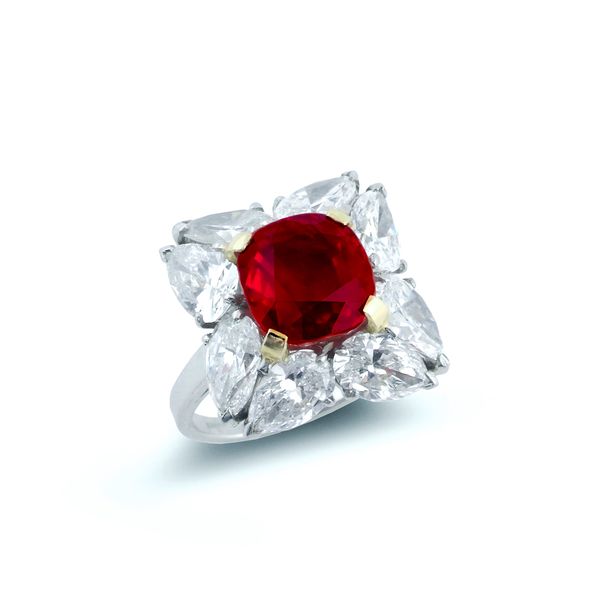 Burmese unheated ruby and diamond ring. Presented by Symbolic & Chase.
Elsewhere and everywhere, with a myriad of galleries and jewelers including Glenn Spiro, Cindy Chao, Siegelson, S. J. Phillips, Symbolic & Chase, FD Gallery, Wartski, Hancocks and more, jewels were woven into the fabric of TEFAF Maastricht. We look ahead to the opening of TEFAF's New York edition this coming Friday 3 May at the storied Park Avenue Armory.
Learn more about TEFAF New York Spring >