Left: Andy Warhol Miles Fiterman, 1975; Right: Andy Warhol Shirley Fiterman, 1976 © 2019 The Andy Warhol Foundation for Visual Arts
"I've been watching the Mouse for days from the highway and almost had three automobile crack ups. It if had happened it would have been worth it" (Miles Fiterman, letter to Claes Oldenburg dated June 12, 1974).
The Mouse referred to here was Claes Oldenburg's Geometric Mouse – Scale A, 1969/1971 which the Minneapolis patrons and collectors Miles and Shirley Fiterman donated to the Walker Art Center's permanent collection. This sculpture – Oldenburg's playful aluminum and steel geometric abstraction of the famous Disney icon – blazed like a beacon for decades on the roof top terrace of the Walker's Edward Larrabee Barnes building inviting the public into the museum for a dialogue with contemporary art. One can imagine Miles Fiterman bending his neck out of his car window as he drove by the Walker on Hennepin Avenue when the work was first installed and excitedly having to swerve to avoid a collision. It was another kind of collision that the Fitermans actively sought out though ­ – in this case between the general public and the artists of their time – that demonstrated their almost missionary passion for the power of contemporary art. As with Oldenburg's mouse, the Fitermans passionately advocated for the democratization of modern and contemporary art and used their generous patronage to make that art accessible and understandable to the world at large through gifts of art and support to the Walker Art Center, the Minneapolis Institute of Art and the Norton Museum of Art in West Palm Beach on who's boards of trustees Miles served as well as institutions of higher learning such as the Minneapolis College of Art and Design and the City University of New York.
Having successfully built a business providing lumber and affordable prefabricated homes to the American public returning from the Second World War, the Fitermans fell in love with modern and contemporary art in the 1960s. They came to know the likes of Andy Warhol, Roy Lichtenstein, Claes Oldenburg and others through their contact with gallerists such as Leo Castelli, David Lelong and Minneapolis's own Gordon Locksley and George Shea who mounted exhibitions of some of the leading international contemporary artists – Warhol, Lichtenstein, Christo – in their home just up the hill from the Walker Art Center in the 1960s and 1970s. It was Locksley who personally introduced the Fitermans to Warhol at one of the legendary Minneapolis soirees at the gallery when the artist first visited Minneapolis in the 1960s.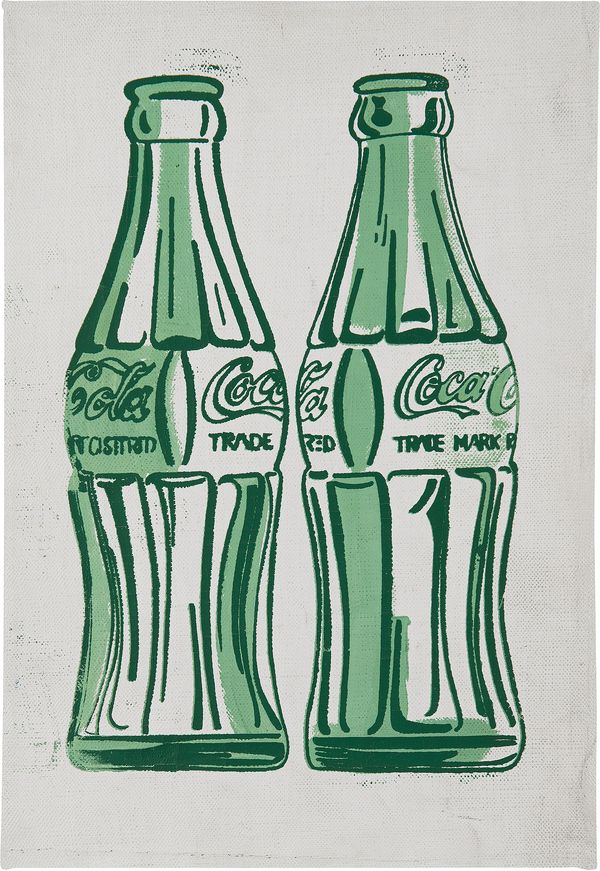 Andy Warhol Two Coke Bottles, 1962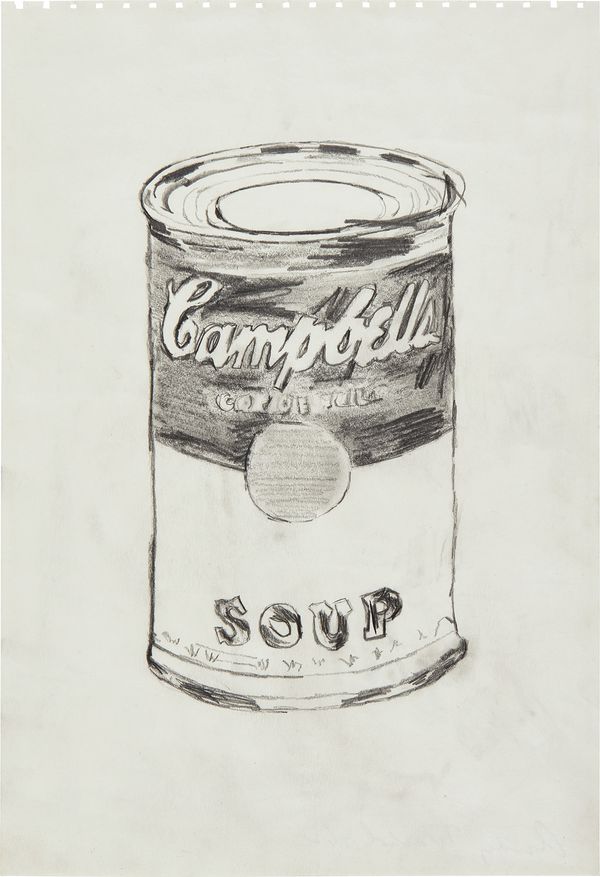 Andy Warhol Soup Can, 1962
Indeed, the democratic qualities of Pop Art held a deep appeal for the Fitermans and they acquired a large group of significant works by Warhol, Lichtenstein, Oldenburg, etc., alongside modern masters such as Picasso, Calder, and Miró. Warhol's adoption of ubiquitous consumer products such as the Coca Cola Bottle and Campbell's Soup would speak to a kind of democratic levelling that Warhol observed within the larger post-war American consumer culture. As Warhol pointed out in The Philosophy of Andy Warhol, "You can be watching TV and see Coca-Cola, and you know that the President drinks Coke, Liz Taylor drinks Coke, and just think, you can drink Coke, too. A Coke is a Coke and no amount of money can get you a better Coke than the one the bum on the corner is drinking. All the Cokes are the same and all the Cokes are good. Liz Taylor knows it, the President knows it, the bum knows it, and you know it." Warhol's silkscreen painting Two Coke Bottles, 1962 and his graphite drawing Soup Can, 1962 are prime examples of the artist's oeuvre from this revolutionary moment in art history. In a sense, these works were a kind of democratic portrait of an American consumer culture that placed everyone on equal footing regardless of age or class. Warhol was similarly drawn to the consistency of these products and the strangely secular kind of collective communion that Americans entered into by consuming them.
In a sense, these works were a kind of democratic portrait of an American consumer culture that placed everyone on equal footing regardless of age or class.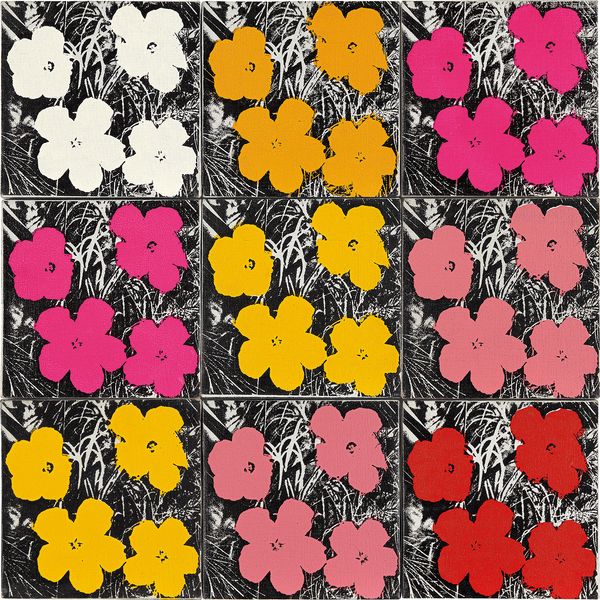 Andy Warhol 9 Flowers, 1964
Warhol would turn his attention to a body of silkscreen paintings of Flowers in the summer of 1964 that would become the focus of his first exhibition at Leo Castelli Gallery in New York in November of that year as well as his second exhibition at Ileana Sonnabend Gallery in Paris the following Spring in May 1965. Between 1964 and 1967 he would go on to produce over 300 of these works in sizes ranging from 5 x 5 inches to a monumental 10 x 10 feet. Cropping an image of hibiscus flowers from Modern Photography magazine into a square, Warhol went through myriad combinations of colors for the flowers and their backgrounds and then hung them alone or in rigorous grids such as the 8 x 8 inch 9 Flowers, 1964 which sports a black and white background. Produced at the same time as his Death and Disaster series of car crashes and electric chairs, it's hard not to see his flowers as being similar to the memento mori of Renaissance still life painting that used fruits and vegetables to signal the slow decay that is associated with being alive. The memento mori was, of course, a metaphorical levelling device employed by artists to let us know that we were all bound to die no matter what our station in life. In Warhol's case though the memento mori was colorful, garish and repetitive. The writer Peter Schjeldahl recalled seeing the Sonnabend exhibition at the time and commented that "it was as if, in a dark, grey atmosphere, someone had kicked open the door of a blast furnace."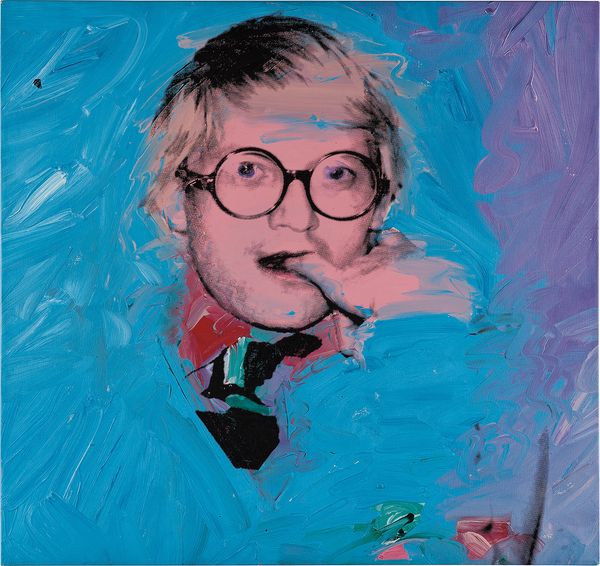 Andy Warhol David Hockney, 1974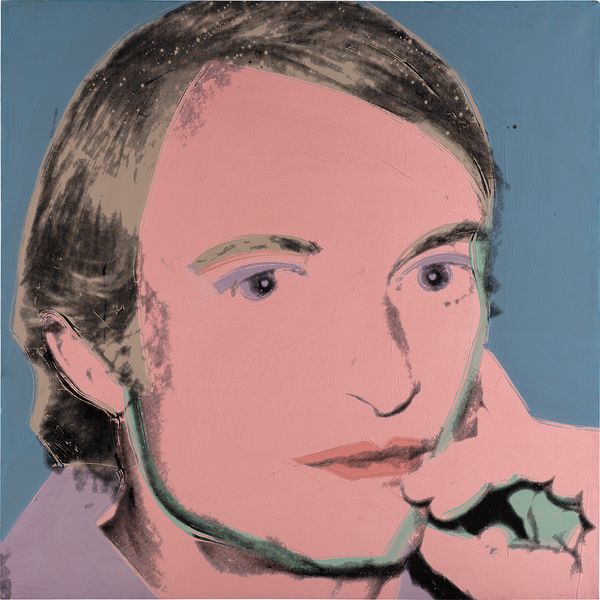 Andy Warhol Roy Lichtenstein, 1976
The Fitermans were deeply committed to the artists whom they admired and were able to collect many of them in depth, with Warhol and Roy Lichtenstein at the forefront. It's no surprise then that when Warhol turned his attention in the 1970s to silkscreen portraits of celebrities and commissioning patrons the Fitermans reached out to have their own portraits done. At the same time, they acquired Warhol's portraits of two of his contemporaries who also figured prominently in their collection: David Hockney and Lichtenstein. In his work David Hockney, 1974, Warhol returns to his painterly past loading up the canvas around Hockney's face with fast expressive brushstrokes while his portrait Roy Lichtenstein, 1976 has the cooler and flatter Warhol silkscreen effects which are nonetheless disrupted by his palette of purples, pinks, and greens. Whether looking at the famous or the more anonymous, Warhol's portraiture looked back to the democratizing effects of photography which allowed people with very modest means to have their portrait done while also looking forward and presaging the advent of the culture of the selfie that we find ourselves in today.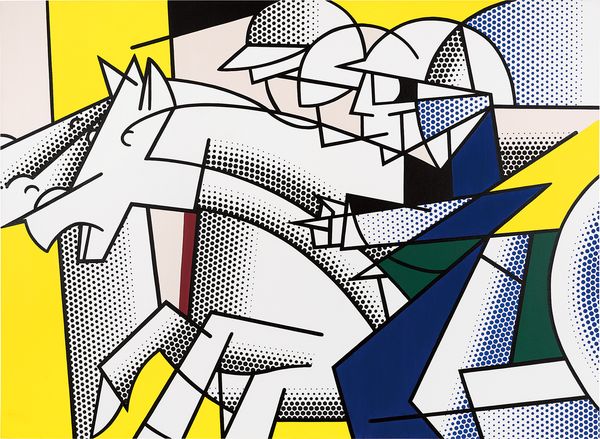 Roy Lichtenstein Horse and Rider, 1976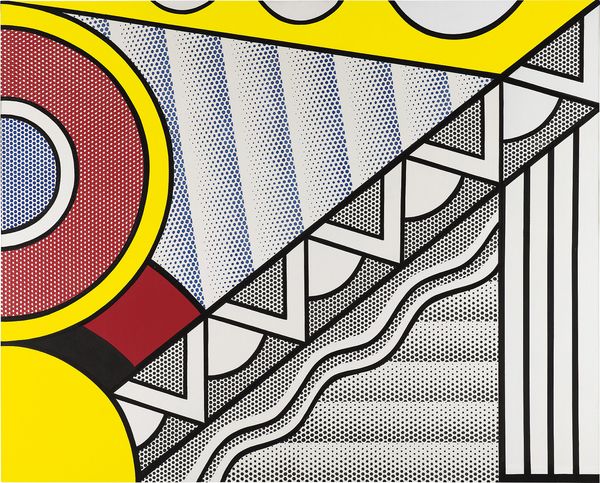 Roy Lichtenstein Modern Painting, 1967
The Fitermans were equally invested in the career of the other titan of American Pop Art Roy Lichtenstein, having acquired some of his most iconic early comic book paintings from the 1960s as well as later works that addressed the history of modern art such as Horse and Rider, 1976 and Modern Painting, 1967. Taking his radical style from the ubiquitous graphic culture of popular comic books, Lichtenstein would translate the ben day dot composition of their printing into a new way of looking at our own culture but also art history. For example, Horse and Rider harkens back to the modernist innovations of the Italian Futurists such as Boccioni who attempted to capture the dynamism of speed on the canvas. In a sense, Lichtenstein was using the techniques of comic book illustration to launch the history of painting back into the view of the general public. Shirley Fiterman must have loved Lichtenstein's approach as she spent many hours traveling all over Minnesota volunteering as an art educator with her friend and fellow Minneapolis cultural patron Joan Mondale. Whether looking at a Warhol Flowers painting or an epic and irresistibly mesmerizing mobile by Alexander Calder such as Black Gamma, 1966, Miles and Shirley Fiterman were committed to artists who both challenged and engaged the public with a democratic openness.