Left to right: Madalena Horta e Costa, Alexander Payne, Marcus McDonald, Sofia Sayn-Wittgenstein
WHITEWALL: Tell us a bit about Phillips' overall objective, and being focused on contemporary art and design.
ALEXANDER PAYNE (Worldwide Head of Design & Deputy Chairman): Phillips has a unique focus on 20th to 21st century art, design, and objects, and a reputation for delivering carefully assembled, museum-quality auctions. Whilst consistently offering works by the most established names, we also shine a spotlight on designers who are new to the secondary market, and therefore engaging with and inspiring the next generation of collectors. The department is comprised of an exceptional team with a strong established knowledge of design with a focus on the broad international market, consigning works to the market that are highly sought after. We have second-to-none platforms for our preview exhibitions and auctions in London and New York, especially with the new Phillips building at 432 Park Avenue opening later this year.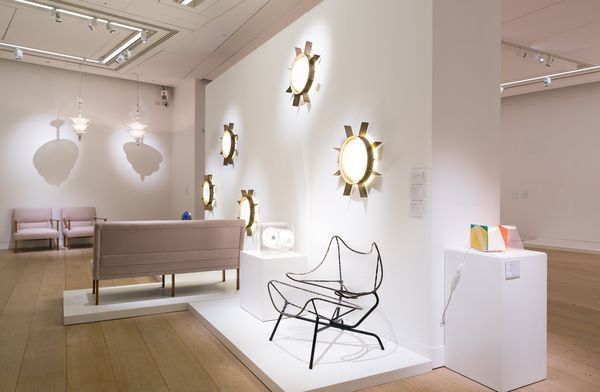 Rare 'Monofilo' armchar by Luciano Grassi, Sergio Conti and Marisa Forlani on display at Phillips' Berkeley Square gallery
WW: Tell us a bit about how your presence in the market has grown.
AP: I joined Phillips in 1999 to set up the auction house's design department, at a time when the market for 20th century design was in its real infancy. The development since this point has been astronomical, including Phillips' place within it. We have played an instrumental role in building the market for 20th and 21st century Italian design, French Modernism, Scandinavian Design, British Studio Pottery, and Contemporary Design, amongst others. All of these movements are represented throughout our Important Design sale with museum-quality examples.
WW: Can you tell us a bit about how the inner‐workings of the team and how each role plays into a sale overall?
MADALENA HORTA E COSTA (Head of Sale, London): Each of these individuals plays an essential role within the Phillips Design department, but our success is measured by how closely we work together. There is an open and constant conversation about who we are now and what we want to be doing in the future—our objectives are drawn as a group and pursued in unison.
WW: Tell us a bit about the Important Design sale, occurring in London on March 21.
MHC: In Important Design we continue to champion some of the most renowned names within 20th and 21st Century Design. This sale presents a curated offering of works by some of the most sought-after designers in today's market, bringing together museum quality works as well as works at accessible price points.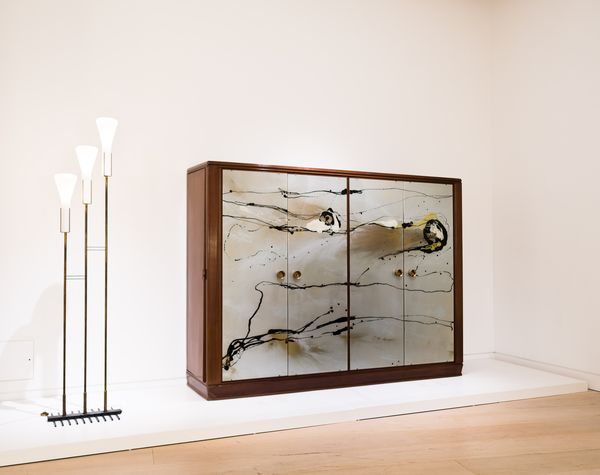 Wardrobe by Lucio Fontana and Osvaldo Borsani and lamp by Arredoluce on display at Phillips' Berkeley Square gallery
We are very excited about this sale as it showcases a wide range of designers who are exploring and working across different areas and themes within design. Highlights include: an exceptional wardrobe from 1952-1953 designed by architect Osvaldo Borsani in collaboration with Lucio Fontana (Estimate: £140,000-220,000); three exquisitely crafted lots by Carlo Mollino—a unique pair of lounge chairs designed for the Ada and Cesare Minola House, 1944-1946 (Estimate: £100,000-150,000); a set of three side chairs, designed for the Casa del Sole, 1953 (Estimate: £60,000-80,000); and a rare chair, designed for the Lattes Publishing House, 1951 (Estimate: £70,000-90,000). We are also delighted to offer a rare games table and set of fours chairs designed by Carlo Bugatti in 1902 (Estimate: £80,000-120,000) and a group of six lots by George Nakashima—one of the indisputable leaders of the American studio furniture movement. We are also presenting a phenomenal group of Yoichi Ohira, a Japanese glass designer who worked in Murano.
WW: What type of collector do you feel is special?
DOMENICO RAIMONDO (Head of Department Europe and Senior International specialist): The word "collector" is used relatively freely, when in fact collectors are an increasingly rare breed. This is because of the world we live in today. Everything is fast and taken on face value, we are continually bombarded with millions of images, and the value of things is becoming more ephemeral. The knowledge that comes with it is less available or deemed less important. In a fast paced world, one isn't given the time to carefully consider or understand in depth the context in which a specific object was made.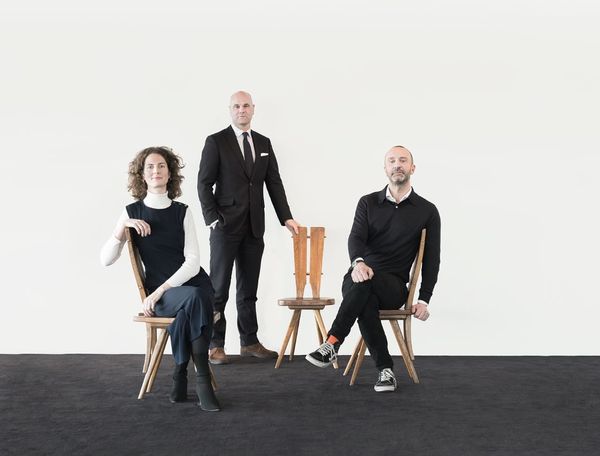 Left to right: Sofia Sayn-Wittgenstein, Alexander Payne, Domenico Raimondo
Collecting is an obsession, a disease. It's a wonderful disease if you have the means to do it. Collecting is a conversation which has to happen with yourself and others, and it is fascinating. You will find a story behind every collection and this is important. The more you learn about a subject, the more the spectrum closes in. One becomes increasingly selective and the story you want to tell begins to develop and unfold.
You watch collectors grow. It can be a personal trajectory, trying to summarize the work of an artist, several artists, or a movement. In their trajectory collectors will buy up, letting go of things in order to buy better and more fitting examples.
For some, a collection will focus on the core of an idea. Collectors will buy things that reflect the idea of the designer that mirrors the idea of them as a collector. They will seek objects that reflect the trajectory they have gone on themselves as they have learnt more about a particular designer.
There is also the hoarder. They buy a mixture of all things. They even buy the broken. They keep everything. Within this hoard you will find gems and beautiful things.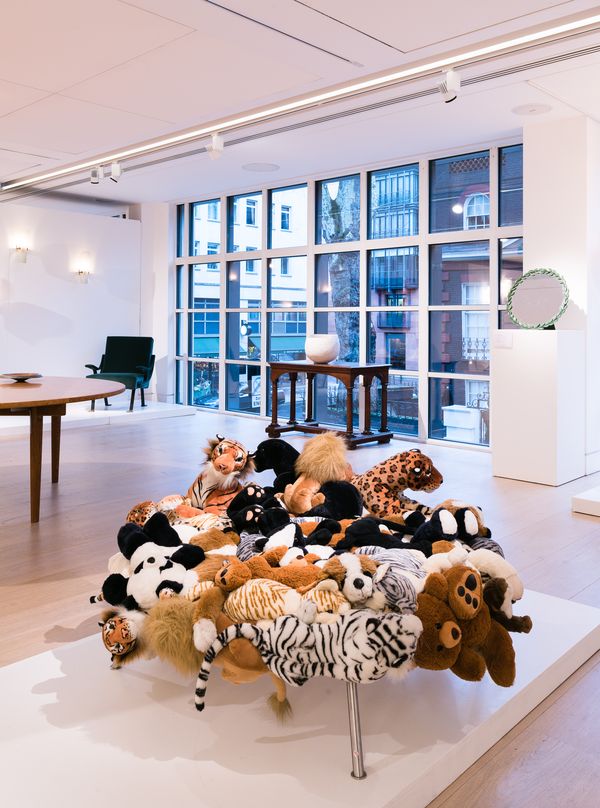 'Cake' stool by Fernando and Humberto Campana on display at Phillips' Berkeley Square gallery
WW: What do you feel is "important" design today?
DR: Important design is design that answers certain questions at a certain point in time.
The starting point of design is that it has to answer questions—of economics, improving people's lives, being relevant socially at a point in history, or revolutionary.
The best designers tend to be architects. There is a different backbone; they think differently, they have a different sense of proportion and dimensions, they understand space at every scale (from the object to the urban environment), and they understand human interaction in a different way. There is an understanding of the object and an awareness and consciousness, which goes beyond the decorative.
When we build a sale at Phillips, we think very carefully about it. It is about creating a context. In the back of my mind there is a landscape. We want to create conversations between objects so people can start building relationships and understand what it was going on at a specific period of time and how people tackled the same issues in different ways. This is fundamental. There is always a thread in what we do, it is a matter of being aware of it.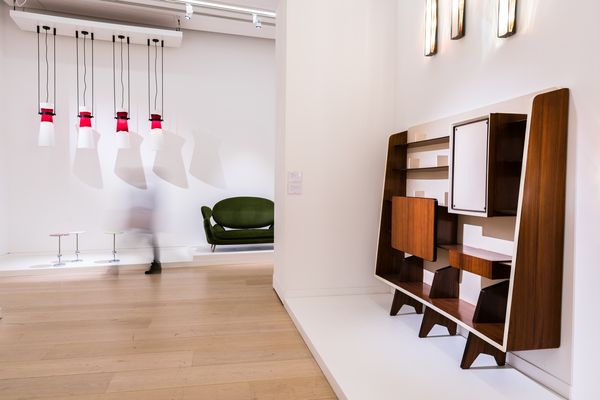 Rare bookcase by Gio Ponti and set of ceiling lights by Studio BBPR on display at Phillips' Berkeley Square gallery
WW: Are there any designs, eras or materials that you are seeing an increased desire for collectors to own today?
SOFIA SAYN-WITTGENSTEIN (Director and Senior Specialist in Phillips' Design Department): Generally speaking, I often advise clients to closely follow the Italian market. Prices for Italian works of design are still fairly reasonable, as the market is growing in a healthy and steady manner. A culturally very rich country, Italy has produced some of the most diverse architects and designers in history.
For many years, but perhaps especially now, Gio Ponti, a prolific creator for almost 60 years of his life, has generated much interest amongst design collectors and lovers. Ponti currently has a retrospective at the Musée des Arts Décoratifs in Paris, which covers the entirety of his career and highlights vast aspects of his creation, including his glassware, ceramics, metalwork, furniture, lighting, and buildings. Shows such as this inevitably draw attention to an architect's life and work and can often affect demand on the secondary market. In our upcoming auction on March 21, we have the unique opportunity to offer a collection from the apartment Casa Lucano, designed by Gio Ponti in 1951 and comprising 30 lots—celebrating Ponti's collaboration with other artists and designers including Piero Fornasetti, Edina Altara, and Giordano Chiesa, among others.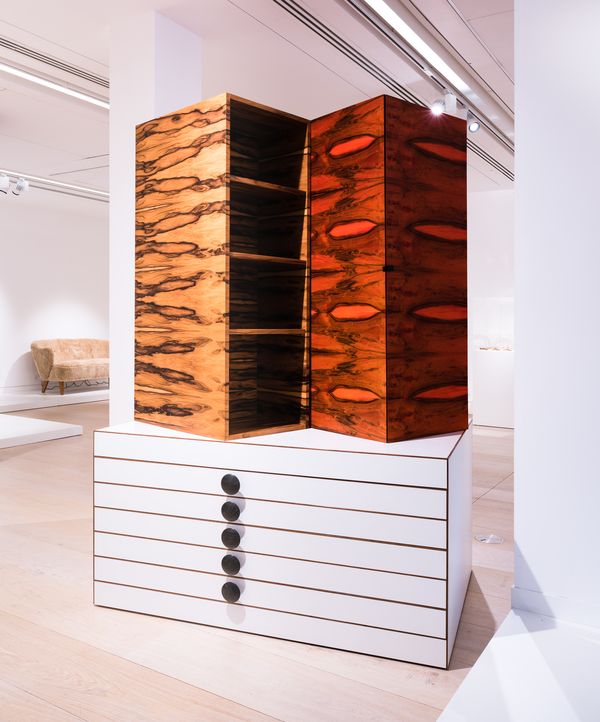 Storage unit by Ettore Sottsass, Jr., on display at Phillips' Berkeley Square gallery
A name that is equally garnering significant attention at the moment is Ettore Sottsass Jr., arguably the greatest 20th century theoretical architect and designer. Last April, we were thrilled to set a new auction record for Sottsass, when an exceptionally beautiful and rare work from 1959 soared to £309,000 in a London sale. The market is responding enthusiastically to Sottsass' ground-breaking designs, with 2018 marking the centenary of his birth. To coincide with this, there was a monographic exhibition at the Triennale Design Museum in Milan, and another at the Met Breuer ("Ettore Sottsass: Design Radical"), resulting in a huge revival in his work. We have several lots from Sottsass in our upcoming Important Design auction spanning from works designed in the 1950s, such as the "Canada" armchairs and sofa (lot 123, 125) to the 1990s, such as the "Firenze" ceiling light (lot 135).
WW: Why do you feel the designers in this show are seen as some of the design world's greats?
SSW: A work of design often tells the story of its creator, capturing their skill and imagination; it can explore the limits of a material; it often responds to the particular moment in time and is a product of the social, cultural, historical, economic or even political context in which it was conceived. It mirrors achievement and progress, both on a personal, that of its creator, and a social level. All of the designers in our sale show the aforementioned in regards to their skilled craftsmanship, extraordinary or innovative use of material, and their vision.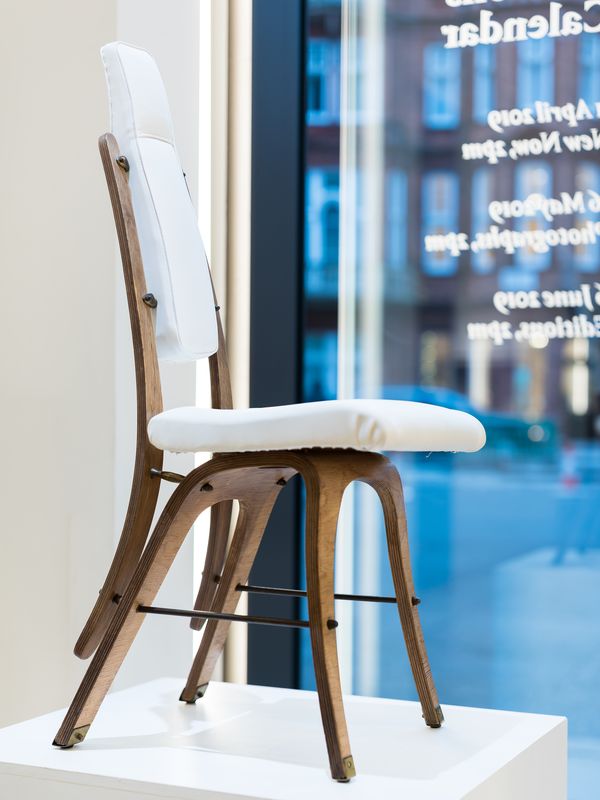 Rare chair by Carlo Mollino on display at Phillips' Berkeley Square gallery
There is one additional component, which helps to distinguish average from great design: Design has function at its heart. It is meant to be used and lived with every day. A work of design requires human interaction to fully understand what makes it valuable, beyond its financial worth. The design we offer in our auctions has passed a sort of "validation" period, it has been lived with for decades and is still relevant and sought after today. That is what truly marks great design.
WW: Is there a piece that you're especially excited to have in your own collections?
MARCUS MCDONALD (International Specialist): I would select the important set of ten "Board Room" chairs by Sir Edwin Lutyens, designed in 1939. They are an exquisite set of rare and beautiful chairs of impeccable provenance from the impressive Midland Bank building, which is now The Ned Hotel, that was also originally designed by Sir Edwin Lutyens who was one of the most, if not the most, accomplished English architect of the 20th Century.
WW: The sale offers different design categories with pieces ranging from sofas to tables, from lamps to glassware. How do you feel this range in selection helps tell the full tale of important design?
MM: It is inevitable that each sale has a myriad of categories and types, including a range of materials, production methods, styles, and periods with a diverse collection of objects and furniture representing a plethora of artistic talent, originality and creating works that are either handcrafted or machine manufactured. All of these aforementioned factors must be considered but it is the varying and diverse range of works that construct the tale of important 20th Century design.
View the full article on Whitewall here.