Gio Ponti and Piero Fornasetti Side chair, circa 1951
With the completion of the Casa Lucano in 1951, a large apartment in the elegant Fiera district in the northwest of Milan, Gio Ponti reached the apex of his quest for the Fantasy Home, a type of house that echoes both Italian Metaphysical and French Surrealist art of the early and mid-twentieth century within the domestic realm. This approach has almost no equivalent in pre-war Europe except perhaps in Le Corbusier's Beistegui apartment (1929-31) and Carlo Mollino's Devalle apartment (1939-40). It is a testimony to the inspired patronage emerging from the dynamic cultural environment of that period. Soon after the war, Ponti harnessed those currents with resounding success in Milan, where he engaged in constant dialogue with his peers and his patrons among the enlightened Milanese society.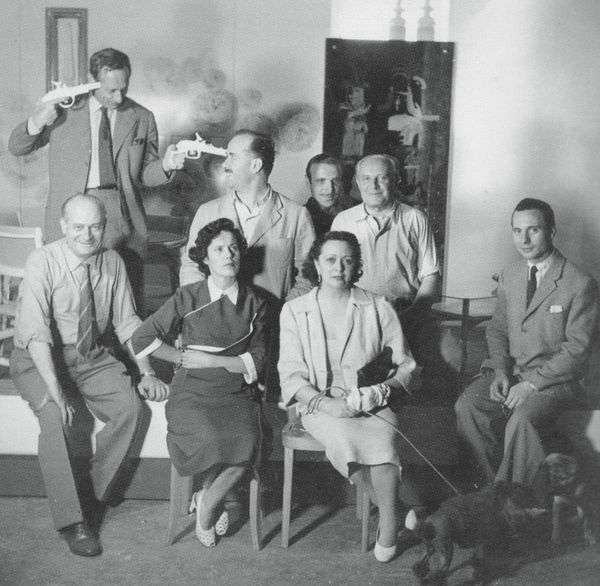 Gio Ponti, Piero Fornasetti and Edina Altara among friends and collaborators, 1950s. Courtesy of Fornasetti.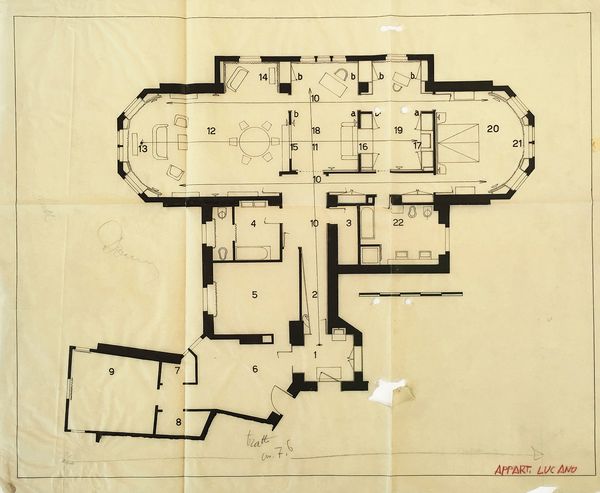 Floor plan of Casa Lucano. Courtesy of Salvatore Licitra. © Gio Ponti Archives.
Lisa Licitra Ponti, his daughter and editing collaborator at Domus, writes that in the 1950s Ponti began to conceive his theory of 'finite form': "Ponti perceived the form of each of his projects in his own terms — from 'essentiality' to 'expressiveness', 'illusoriness' and 'structural invention' (but with him theory too was an 'invention'). From 1948 to 1952, Ponti focused on several projects aiming to breathe life into domestic spaces with a delirium of divertimenti (amusements), for which he often relied on the tireless pictorial inventions of Piero Fornasetti. The 1950 exhibition 'Italy At Work: Her Renaissance In Design Today' at the Brooklyn Museum was a demonstration of Ponti-Fornasetti teamwork on a dining room that had multiple functions of furniture and display. The overall exhibition design was a microcosm of Ponti's universe imbued with his magic theories. Related Surrealist tropes were rampant in many concurrent projects: Casa Ceccato and Casa Cremaschi (1950), Dulciora store (1949), and of course the spectacular ocean liners Conte Grande (1950) or Andrea Doria (1952).
Still, the cycle actually culminated in the Casa Lucano, where Ponti had both amplified space and budget, to delve into extremes. He turned to burl wood for some of the furniture and many of the very tall wall surfaces which were covered in radica ferrarese. There were two chests of drawers with verre églomisé fronts, depicting mythological subjects by Edina Altara; their veneers were not 'book-matched' as in the pre-war decades. Instead, forms clashed in abstract configurations that transported the space beyond its material envelope.
From 1948 to 1952, Ponti focused on several projects aiming to breathe life into domestic spaces...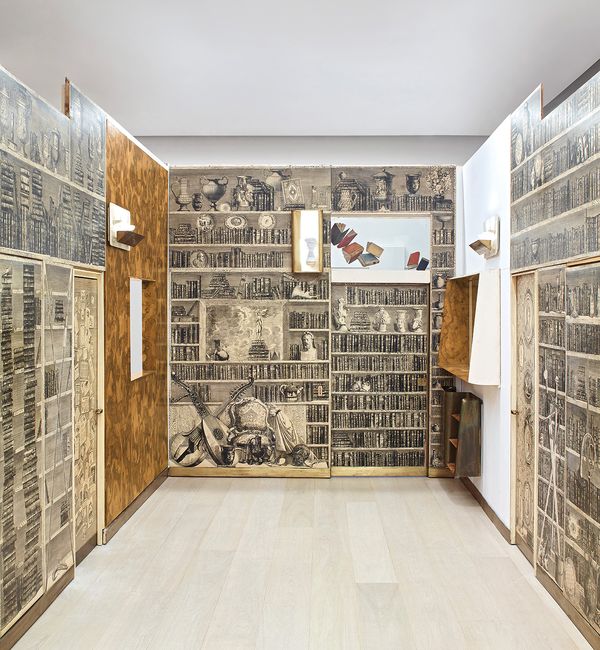 Gio Ponti, Piero Fornasetti, Edina Altara and Guido Gambone Study and dressing rooms, circa 1951
Next to the burled wood panels, wall surfaces and furniture by Fornasetti competed for attention in the room he staged together with Ponti. He employed trompe l'œil images and vistas using laminates and vinyl to produce faux wood grains that played against the actual burl woods, not to mention the billowing plethora of printed fabrics sealing up all window surfaces. These draperies acted as visual poetic interludes in the office/study among faux collages of paperwork as well as in the large reception room, where multicolored hot air balloons were draped behind a floating shelf filled with a chromatic arrangement of Fulvio Bianconi's Venini glass objects. Actual vistas and illusionistic ones were set in motion through a manipulation of materials and forms, exemplifying Ponti's intention to play these real and virtual spaces against each other.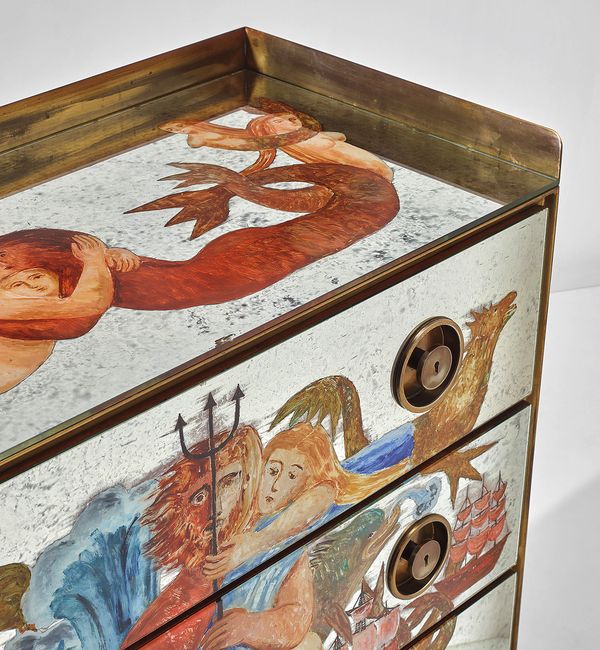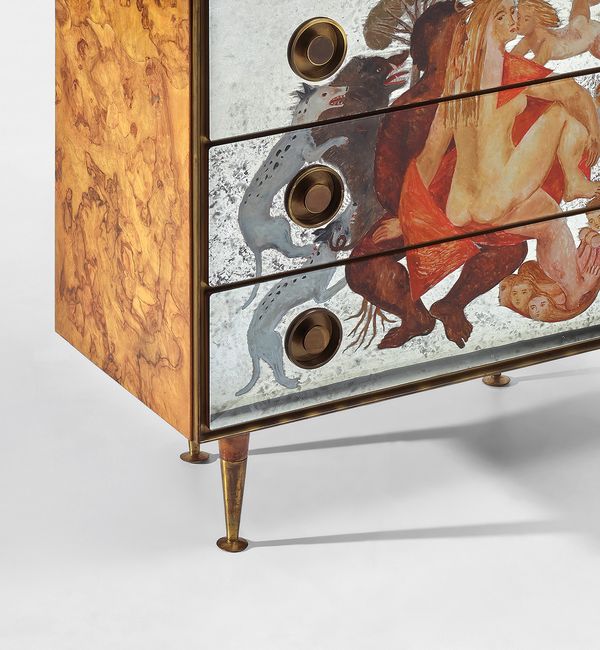 Gio Ponti and Edina Altara Two chests of drawers, circa 1951
Further enhancing this somewhat unsettling environment were the numerous figurines and detached hands executed in fine stoneware or slip-glazed terracotta by Richard-Ginori and Gabbianelli. Dispersed throughout the many interpenetrating rooms, they mysteriously appeared as aberrations, embedded in illuminated brass sconce-like objects made by Greco. Since these anthropomorphic objects occupied small lit spaces, unto themselves, they tended to alleviate the hermetic condition of the apartment, as did other hidden lighting elements at the window sills.
The repertory of objects was an unclassifiable family of late Risorgimento styled female forms, some with bird heads (inspired by Alberto Savinio) or peg headed women (Dame bianche) that display vague associations to ancient Greek Tanagras (here Ponti is under the spell of Mollino, whose obsession with these archaic figurines is evident in his earliest interiors). High up around the entire perimeter of the main reception room, the detached hands recalled ex-votos as much as Giorgio De Chirico's rubber gloves dressed in crinoline cuffs with bejeweled fingers. Also included in this room was an iconic design of the mid-twentieth century: Ponti's 'Positivo-negativo' display cabinet holding the King and Tower statuettes, which Ponti had already commented on in his Brooklyn exhibition 'The big Freudian chessmen in ceramics show what is in the heart of the king, the queen, the knight, the horse...' (and presumably the tower).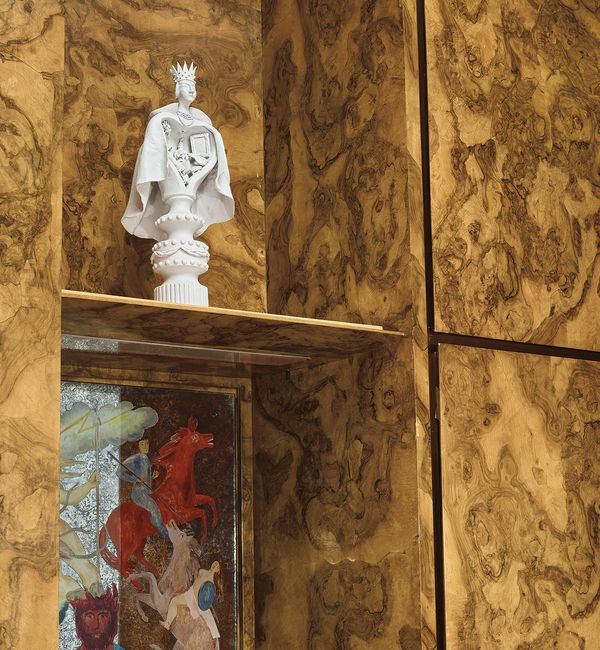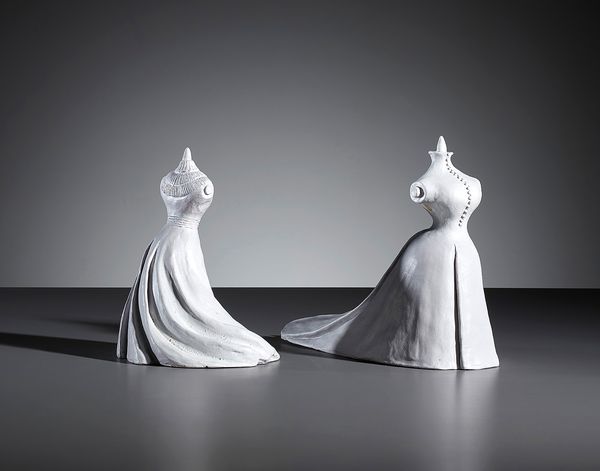 Gio Ponti King Statuette and Two female mannequin figures, circa 1951
Extolling the virtues of Fornasetti in this commission, Ponti wrote at length in the May 1952 issue of Domus titled 'Una casa di fantasia'. Yet, paradoxically, this was to be his last episode in enveloping an interior with Fornasetti's surrealist codes. Meanwhile, Fausto Melotti who was primarily entrusted with designing all the ceramics in the Lucano utilitarian rooms—bathrooms and kitchen—turned out to assume a more extensive role in the next phase of the Ponti œuvre—the villas in Caracas and Tehran, as well as the Alitalia showrooms.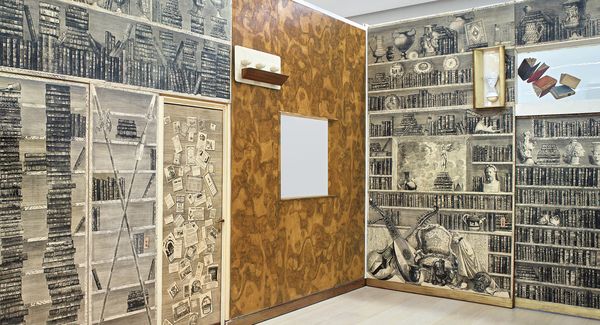 Gio Ponti, Piero Fornasetti, Edina Altara and Guido Gambone Study and dressing rooms, circa 1951
Ponti's experiments with dematerializing interior spaces, starting with furniture designs (floating shelves and cabinets with hidden light sources) that deliberately omit overt tectonic displays were to become the basis of an exterior architecture found in his subsequent office buildings and villas from the mid-1950s right up to projects of the 1970s, such as the Denver Art Museum or the Taranto Cathedral.
Always indexing his creative path to a notion of pan-Italian culture, with his unerring quest for La casa all'italiana, Ponti intentionally and radically dispensed with the house as machine à habiter. Introducing a new humanist condition in tune with the post-World War II debate, Ponti confidently cued his perspective to the Renaissance, when architects treated their clients as spectators for whom spatial inventions were being staged for endless divertimenti.
In association with Cambi, 'Casa di Fantasia'—an ode to Gio Ponti and celebration of his collaborative spirit—presents 30 lots from the Casa Lucano apartment.