Detail: Carlo Bugatti Rare games table and set of four chairs, circa 1902
By Dr. Margaret J. Schmitz

Carlo Bugatti's work has always existed for its own sake. As the nineteenth century closed, his designs celebrated Aestheticism's swan song to beauty and exoticism. Simultaneously, they were self‐aware of their bizarre eclecticism far before postmodern designers began to explore the fantastical possibilities of merging multiple historical sources. The legacies of Bugatti are felt throughout postmodern Milanese design especially – the humorous deconstruction of functionality and visual play seen in Ettore Sottsass and other Memphis designers' works hinge on Bugatti's radical œuvre. Throughout his career, Bugatti also experimented with the utilitarian nature of his objects. How an object was used was less important for the artist than aesthetics and rich historical associations – it was sufficient that his objects existed and impeded the world with fantasy, knavishly cognizant of their pastiche, intersectional references.

Bugatti was born in Milan in 1856 to chimneypiece designer Giovanni Luigi Bugatti. As a student, Bugatti initially studied architecture in the Egyptian and Islamic revival styles, but he eventually turned to metalwork and furniture design and, by the 1880s and 1890s, his signature style was solidified. Characteristically, this rare games table and set of four chairs allude to Bugatti's rich reservoir of historical reminiscences and cultural quotations that he developed throughout his career.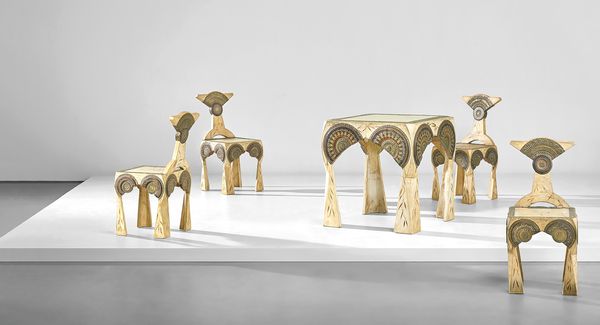 Painted on the surface of this game table and its set of matching chairs are natural motifs including leafy reeds and silhouettes of flying birds in a brown wash, akin to the stylized subjects one may find in East Asian scroll painting. The table and two of the chairs are also signed 'Bugatti' in elegant script using the same pigment. Both the painted subjects and delicate scrawl of his signatures are evocative of Arabic and Japanese calligraphy as well as Minoan art's love of an ephemeral, idealized natural world. Perhaps Bugatti's ability to merge these historic referents in such a unique way is due to the fact that the designer never traveled far from his native Milan or his second home, Paris. His ideas came from seeing international expositions and reading natural history books. Consequently, his work boasts a fanciful distance from these sources, creating a stylistic domain acutely his own.

The set was created circa 1902 in Bugatti's Milanese studio at the height of his fame. During this time, his work boasted elegant sculptural forms and balanced, geometric shapes encased in vellum, causing an impression that each object was comprised of one organic whole. It is not only the multicultural references of the work that make it otherworldly but its strange materiality and physiognomy as well. While he embraced asymmetry, his work never caved to the streaming tendrils of his Art Nouveau contemporaries.
The humorous deconstruction of functionality and visual play seen in Ettore Sottsass and other Memphis designers' works hinge on Bugatti's radical œuvre.
The asymmetry of these chairs add to their idiosyncratic appearance, yet the pieces are tightly balanced. Like their matching table, they are heavily set on thick feet whose legs taper upward before bulging out around richly ornamented aprons. There, circles or half circles of repoussé brass plaques are surrounded by strips of inlaid pewter and copper designs that form a pattern of stylized insects – complete with brass eyes and wings – that are typical of Bugatti. Additional strips of repoussé brass, hammered to show a variety of geometric shapes in relief, are nailed into the surface edges of the chairs' seats and tabletop, respectively. The tabletop is hinged and opens to reveal an interior compartment, while the chairs' backrest continues upward and ruptures into a fan of dusky pierced metals and further inlaid ornamentation set into an inverted triangular back support.
Sketches inform us that Bugatti's studio practice relied on intensive variations on key themes. This is part of the reason why every Bugatti piece is distinctly of the artist, and why no two pieces are the same.