Sean Scully in his studio
© Sean Scully
My work is based on immersion…I am taking on the history of art, I'm immersed in it and I'm immersed in what I make.
Sean Scully's sumptuously rendered canvases celebrate the possibilities of the medium of painting, their rich strata of tonal variation and architectural linearity exemplary of his celebrated body of work. Comprised of three tessellated canvases, Dust—which comes to auction in our London 20th Century & Contemporary Day Sale on 8 March—encapsulates Scully's profound experimentation with austere geometry and lyrical contemplation, coalescing in an array of sublime striations of thickly applied impasto and translucent gradations of gray-blue, ochre and cherry tones.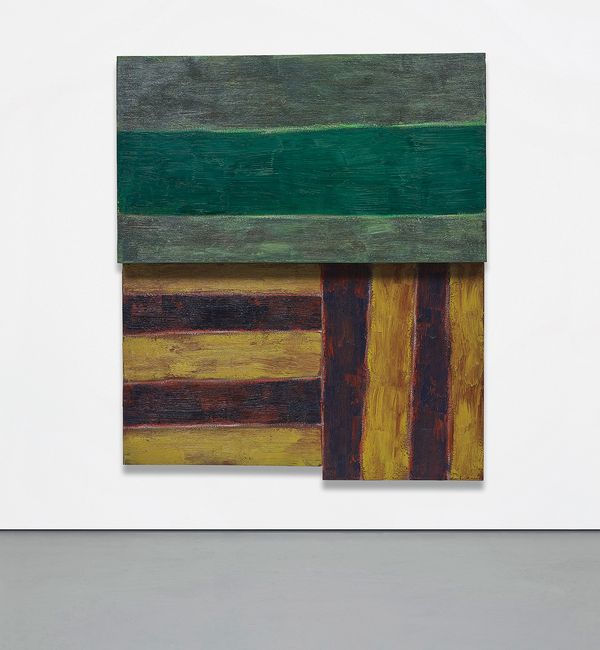 Sean Scully Dust, 1984
Evoking an emotive visual resonance through the artist's symbiosis of formal reduction and painterly poesy, the canvas subsumes our gaze through the hypnotic bands of rich color and rigorous geometric repetition. Executed in 1984, this work was painted the same year in which Scully was selected for An International Survey of Recent Painting and Sculpture at the Museum of Modern Art, New York—the year preceding his first solo institutional exhibition in America at the Museum of Art, Carnegie Institute, Pittsburgh, which later traveled to the Museum of Fine Arts, Boston.
Primarily drawing upon the tenets of abstraction to transport the viewer into his contemplative painterly sphere, Scully's repetitive formal pattern—his strips of worked brushstrokes which overlap and intertwine with one another—are hypnotic in their rhythmic vitality. Continuing an aesthetic dialogue with hard abstraction, the squares of Kazimir Malevich and the hard edges of Ad Reinhardt, Scully's linear bands reverberate through his expressive paint application. Removing the guidelines of tape he used to section his painted stripes in 1981, the artist began to paint freehand, allowing his brushstrokes to bleed, smudge and waver.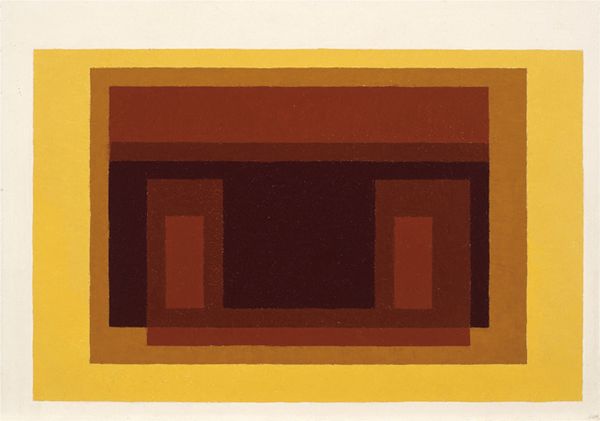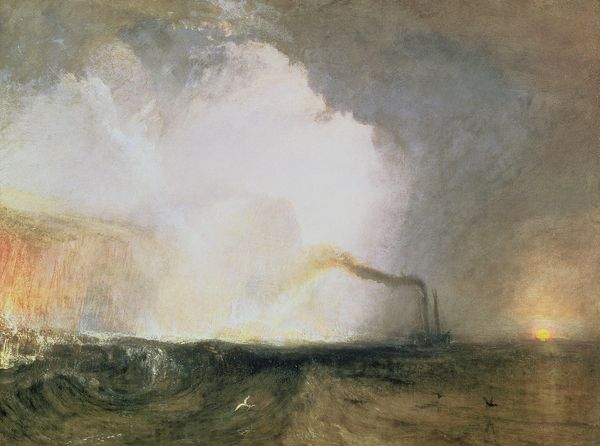 Above from top: Josef Albers Browns, Ochre, Yellow, 1948. The Josef & Anni Albers Foundation. © The Josef & Anni Albers Foundation/ VG Bild-Kunst, Bonn and DACS. Image: Josef & Anni Albers Foundation. Joseph Mallord William Turner Staffa, Fingal's Cave, 1832. Yale Center for British Art, Paul Mellon Collection, USA. Image: Bridgeman Images.
Scully creates radiated slithers of color that border his tonal sections. These contours glimmer through the intensity of his palette, demarcating the wall of sections like tonal channels, furrowing through his composition. The artist's presence in the creation of the work is felt through the evident stratifying of paint layers; Scully's abstraction bears the mark of its creator rather than aspiring to a polished, perfected and highly finished surface as displayed in the work of the Minimalists.
I distinguish between two spheres of reality: one is the physical reality of everyday life and the other corresponds to the realm of art. Abstraction is the spiritual art of our time.
In striking an emotional chord through compositional and tonal push and pull, Scully masterfully marries this duality while incorporating myriad differences, charging Dust with a natural visual dynamism. Drawing upon the world around him, Scully traveled to Morocco in 1969, and the light, sights and sounds left an unrivaled impression on his practice; Scully incorporated the stripes and patterns from local Moroccan textiles into his compositions. Four years before the creation of Dust, Scully traveled to Mexico where, like Josef and Anni Albers, the artist experienced the intense heat, vivid light and scorched, arid colors of the country's landscape. At odds with the colder climes of the artist's native Ireland and England, Dust conveys the equatorial divide between the North and South, emphasizing the split within his oppositional palette. Leading us on a visual adventure, Scully notes, "The need to create comes because you are split and forced to find some kind of unity. I believe that duality is a quality evident in all my work."
Capturing the essence of a fleeting or deeply felt emotion, a landscape or a memory, Scully's paintings strike at the core of human experience, uniting us all through our shared familiarities. Continuing a dialogue with Joseph Mallord William Turner's tumultuous land and seascapes which begin to explore the possibilities of abstraction, Scully here further reduces the essence of what surrounds us, communicating its organic quintessence through the subtlest expression of form and tone.
Opening later this spring in London, Sea Star: Sean Scully at the National Gallery will feature new paintings by the artist inspired by Joseph Mallord William Turner and the National Gallery Collection.