Roy Lichtenstein Girl in Mirror, 1964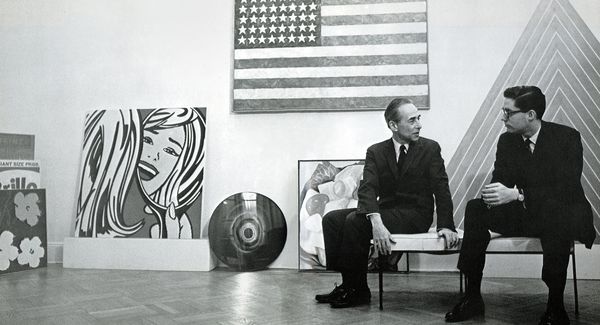 Leo Castelli and Walter Hopps with Girl in Mirror, 1964 at Castelli's 77th Street Gallery, 1965. Photograph: Hans Namuth. © Estate of Roy Lichtenstein / DACS 2019
One of the works leading our Evening Sale this March is Girl in Mirror, 1964, an early and iconic work by Roy Lichtenstein. Revolving around themes of American affluence, commercialism and consumption, and composed of colorful Ben-Day dots, the painting is emblematic of Lichtenstein's idiosyncratic practice, deployed in both painting and sculpture over the course of his four-decade career.
Girl in Mirror presents the iconic portrait of a graceful blonde woman framed within the constraints of a handheld mirror. Seized from the skewed, aspirational female heroines that populate the worlds of cinema and comics, the girl's generic appearance is at once aesthetically seductive and conceptually radical, raising questions on the fabricated ideals of consumer culture. The work was previously housed in the notable collections of Max Palevsky and Charles H. Carpenter and exhibited in the most prominent institutions worldwide.

Girl in Mirror captures the crux of Lichtenstein's painterly oeuvre. Created in 1964, it is reflective of his artistic output between 1961 and 1965, which centered on stills from advertisements and comic strips. Through the use and display of advanced printing methods, Girl in Mirror engages in the continuous debate on the relationship between high art and mass culture while simultaneously touching on the politics of gendered representation. It echoes the twenty-four-foot mural of a laughing female figure that Lichtenstein had made specifically for the 1964 World Fair taking place in New York that same year. As such, it marks the beginning of a well-known and persisting trope throughout the artist's painterly practice.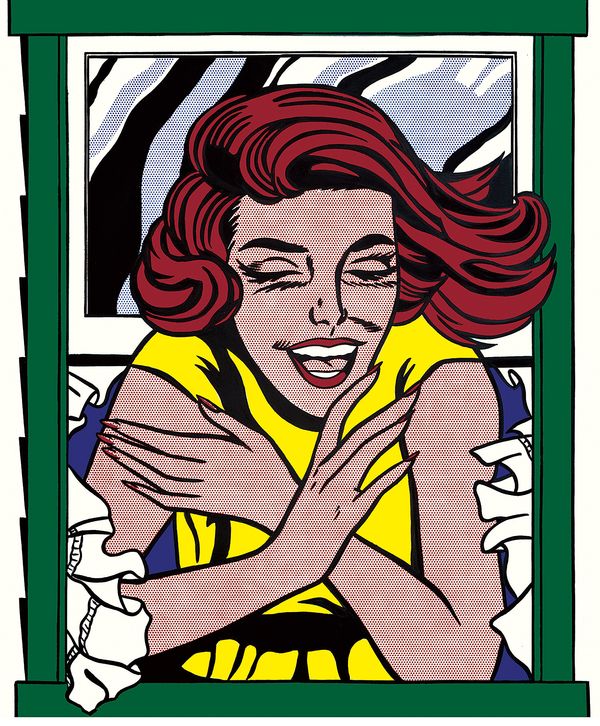 Roy Lichtenstein World Fair Mural, 1964. © Estate of Roy Lichtenstein / DACS 2019
Concerned with the phenomena of self-objectification and voyeurism in mass media, the painting serves as a potent commentary on the pixelated ideals of the role of young women in contemporary society, and the all-too-framing force of the male gaze. As noted by curator Diane Waldman, female protagonists "are to Lichtenstein what Liz and Marilyn were to Warhol, our society's clichés, though without any true identity of their own. They are products of a culture that puts celluloid glamour and consumer objects before human dignity or collective achievement." Taking commercial imagery as his point of departure, Lichtenstein's Girl paintings represent a provocative affront to artistic creation. They raise questions on legitimacy and transformation, rendered all-the-more urgent and transgressive by the impending threat of kitsch onto fine art in the 1960s.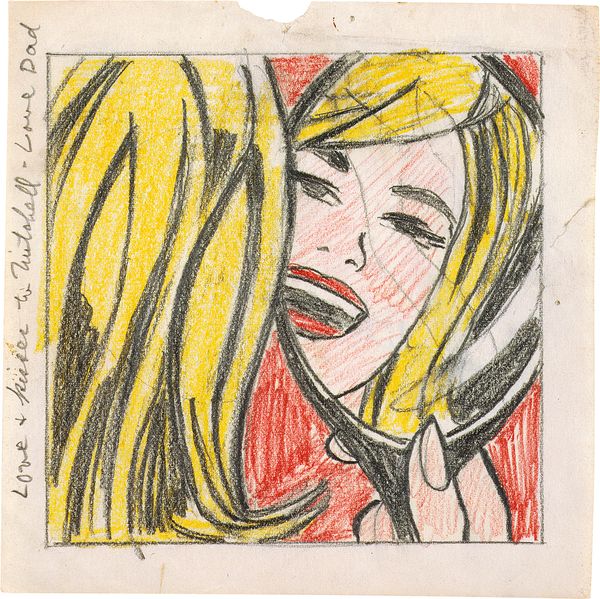 Roy Lichtenstein Girl in Mirror (Study), 1964. © Estate of Roy Lichtenstein / DACS 2019
Dexterously manipulating popular images since the 1960s, Lichtenstein became increasingly interested in the optically and intellectually intriguing subject of mirrors. Reveling in the appearance of her own reflection, the girl in the present work tilts her head in a manner that perfectly reveals her carefully traced eyes, flawless red lips and pristinely styled locks. Her strategic positioning facilitates a possessively inclined gaze. Through the mirror, often perceived as a metaphor for the complexity and multiplicity of perspective, Lichtenstein enters a discourse of sharp contemporary relevance. "Inspired by their cursory renderings, he began to take photographs of cosmetic mirrors used to magnify there face in which he noticed patterns that were already abstract of discovered shapes, shadows and reflections that he liked. He was interested not in a clear image reflected in a mirror but in images that did not reflect exactly."
I think that he was portraying his idea of the dream girl. — Dorothy Lichtenstein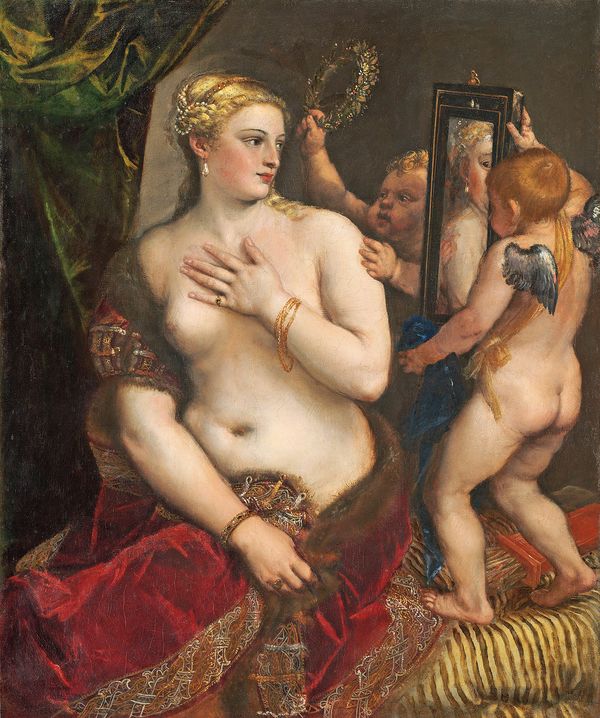 Titian (Tiziano Vecellio) Venus with a Mirror, c. 1555
Referencing an object loaded with significant literary and art historical precedent, Lichtenstein invokes centuries of artistic and cultural tradition. The mirror alludes to the theatrical compositions envisaged by the Old Masters, highly curated Mannerist and Baroque canvases, while simultaneously recalling strategic methods of illusion employed by the likes of Pablo Picasso, René Magritte, André Breton and Michelangelo Pistoletto. Conveying surrealist metaphors, a discursive vernacular and magical realism alike, the mirror carries with it the politics surrounding subjects of representation. Musing on the motif, the artist noted "There's no simple way to draw a mirror, so cartoonists invented dashed or diagonal lines to signify mirror. Now, you see those lines and you know it means mirror, even though there are obviously no such lines in reality. If you put horizontal, instead of diagonal, lines across the same object, it wouldn't say 'mirror'." Through the recurring theme of projection and reflection, Lichtenstein developed a graphic idiom that traces light activity and distinguishes between the fore- and background.

One of the earliest works that the artist executed in porcelain enamel on steel, Girl in Mirror is a rare graphic spectacle that belongs to a cycle of only three square editioned works boasting both the same subject and medium. Eschewing the evidence of the artist's hand, aside from subtle variations in the surface with the rigid black outlines of the figure and mirror, the highly glossy, almost reflective surface of the present work replicates the smooth surface of the mirror within the work itself.
The kind of girls I painted were really made up of black lines and red dots. I see it that abstractly, that it's very hard to fall for one of these creatures, to me...But I think I have in mind what they should look like for other people. — Roy Lichtenstein
Inspired by and appropriating the spatial arrangement and bold palette of Piet Mondrian's neo-plastic style, Lichtenstein conveys a modernist brand of pop. The painting's metallic support manifests a three-dimensional aspect that instills the composition with additional complexity. Playing on this compositional illusion, the swirling tresses of the female figure pre-empt the artist's iconic depictions of gestural brushstrokes that he commenced a year later, in 1965. Lichtenstein's graphic comment on the eminent content and laden gesture of the Abstract Expressionists materialized in this subsequent series, as he objectified the brushstroke as an emblem for artistic creation.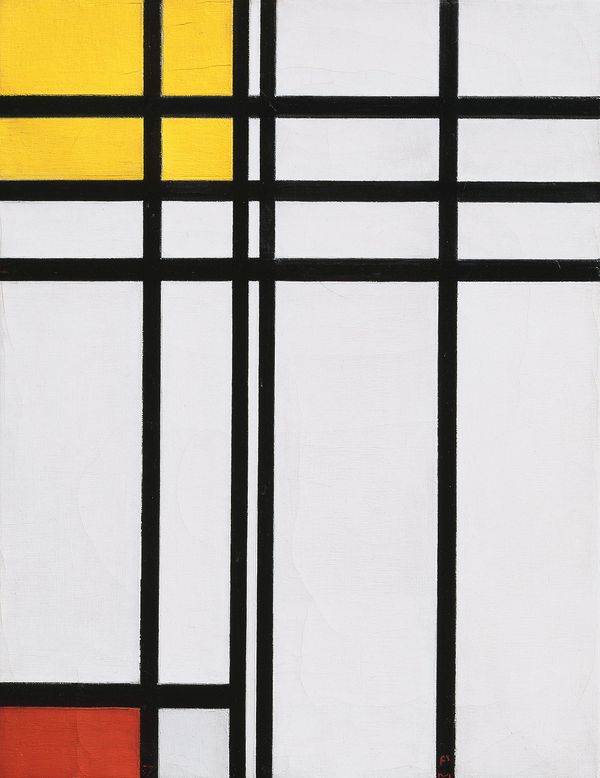 Piet Mondrian Opposition of Lines, Red and Yellow, 1937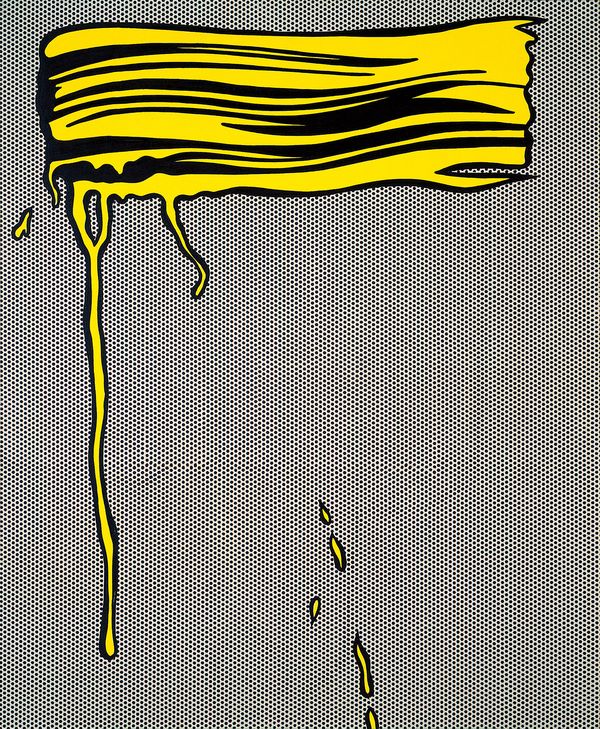 Roy Lichtenstein Yellow Brushstroke I, 1965
Celebrating the remarkable possibilities of popular imagery, and containing all the themes and symbols that populated his oeuvre throughout, Girl in Mirror epitomizes Lichtenstein's iconic and enduring style. At the heart of the artist's legacy, it balances effective simplicity and potent sophistication.