Alex Katz, Brisk Day: two plates, 1990, featured in Phillips x Artsy Wrapped/Unwrapped.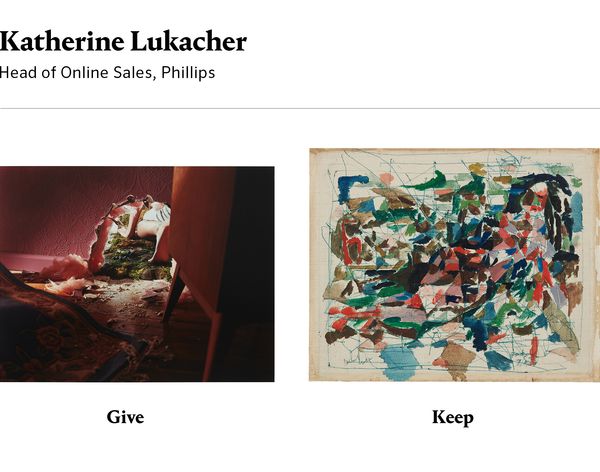 Katherine, which piece would you like to give, and to whom?
I would gift the Deborah Mesa-Pelly photograph, Rosy (Lot 37), to my sister. Mesa-Pelly was included in the famed exhibition Another Girl Another Planet organized by Jeanne Greenberg Rohatyn and photographer Gregory Crewdson in 1999. The 13 female photographers featured in the exhibition included Jenny Gage, Justine Kurland, Dana Hoey and Katy Grannan, who, along with Mesa-Pelly, were all Yale graduates and some were students of Crewdson. Mesa-Pelly takes her photographs in staged and extravagant domestic interiors. I would give this lot to my sister because of her love of photography, this work being especially interesting for recalling the intense film-like lighting of Cindy Sherman and the homey interiors of Laurie Simmons. The cutaway element seems to reveal an opening into another world—a very Alice and Wonderland-like effect of suddenly reemerging into a scene of dislocation. A glimpse of what lies beyond the safe indoors brings to mind the black and white photographs of Gordon Matta-Clark (one of my sister's favorites) in which he cuts circles into the walls of condemned buildings revealing the layers of the structure, creating an imperfect window to whatever lies beyond.
Which piece in the sale would you most like to keep for yourself, and why?
I would keep the Robert Goodnough, Reclining Nude (Lot 17). I like the diagram-like lines beneath the varying patches of color. Goodnough was an active figure in the downtown Manhattan art scene of the 1950s and '60s. Friends with Joan Mitchell and Willem de Kooning, Goodnough attended Hans Hofmann's prestigious summer school in Provincetown and also meetings of "the Club," a progressive downtown discussion group comprised of the varying members of the New York abstract painters. He showed with well-known galleries such as Tibor de Nagy and André Emmerich and received a one-man exhibition at the Whitney Museum in 1969. At this time of art historical rediscoveries, I think this is an interesting artist to explore.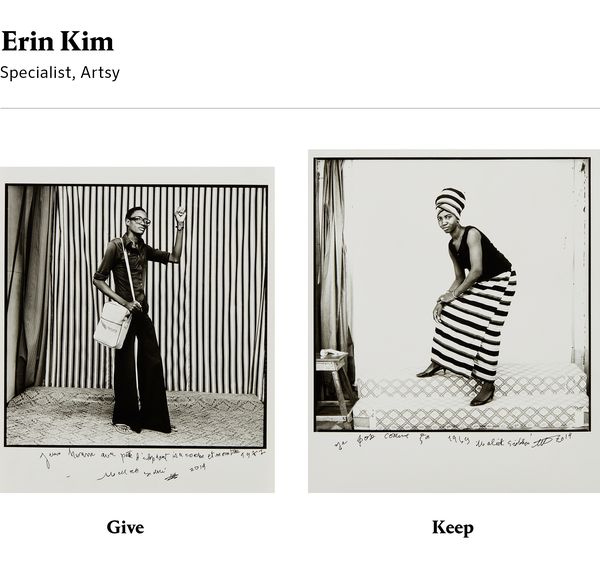 Erin, which piece would you like to give, and to whom?
The work that I would gift to a friend would be Malick Sidibé's Jeune Homme, pattes d'elephant, avec sacoche et montre (Lot 23). I would give it to my friend Christina who is an equally successful DJ and engineer. The exuberance she brings to life and everything she does is inspiring. Her music is heavily influenced by the music of the African diaspora and, like Sidibé, she understands how music is a vehicle and enabler for self-expression. Sidibé once said that, more than anything, music (in the form of soul, pop and rock n'roll) was the true revolution: "We were entering a new era, and people wanted to dance. Music freed us." Music gave the Bamako youth of Mali the soundtrack to this newfound independence. All of his photographs have a musicality to them that you can see and almost hear.
Which piece in the sale would you most like to keep for yourself, and why?
I would gift Sidibé's Je pose comme ça (Lot 24) to myself in a heartbeat. Malick Sidibé's photos overflow with fresh, authentic style and youthful cheerfulness that characterize his perspective—just check out that woman's sense of style and confidence! Sidibé dedicated much of his work to documenting the Bamako youth and the sense of optimism of post-colonial Mali, a country that gained independence from colonial rule in 1960. Sidibé was invited to all the dance parties and had a lightweight camera he brought with him; he took photos of the Malian youth dancing at beach parties, in the streets, nightclubs, graduations. In the '70s, he turned to embrace studio photography. The studio where this portrait was taken was itself a place where people came together to hang out, party, sleep and eat. Sidibé offered more than just snapshots of a unique, transitional point in time for his country. He offered a place and outlet where his subjects had control over their image and even encouraged to bring their own props. His photographs would find their way to a Western audience generally used to seeing a depiction of post-colonial Africa through a Western lens. His work has been exhibited extensively including at the Venice Biennale; he was the first African artist to win the Golden Lion for Lifetime Achievement. These images show a specific moment in time, yet have timeless, global appeal.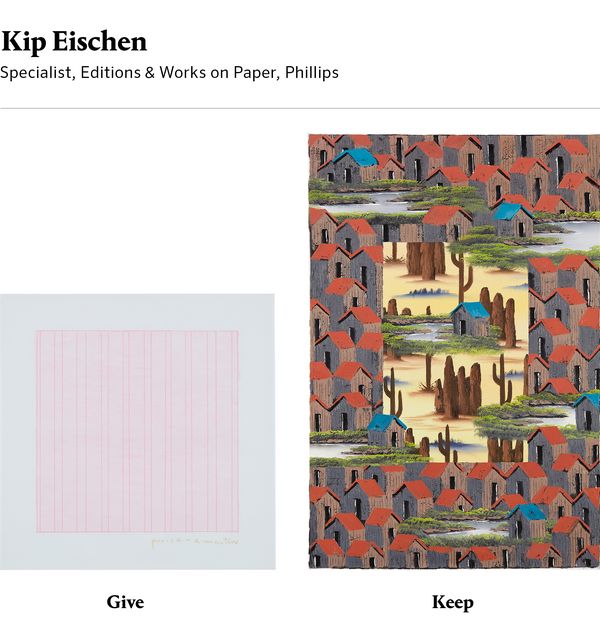 Kip, which piece would you like to give, and to whom?
Agnes Martin was notorious for driving hot rods across New Mexico at speeds that rivaled the Autobahn. Praise from The Rubber Stamp Portfolio (Lot 48) is a mighty and unabashed edition in powerful pink. I would gift the work to a diverse team of triathletes, Betty Squad, decked out in Martin's trademark color. They participate in an Iron Man taking place in my hometown, San Diego, that supports Operation Rebound, which provides veterans with permanent disabilities opportunities to participate in sports and strengthen wellbeing.
Which piece in the sale would you most like to keep for yourself, and why?
Southwestern enchantment and the memory of holiday road trips have me sweet for Neil Raitt's 2016 painting, Cabin Window Cabin (Lot 32). His limitless desert vista blends Saguaro cacti with an expanse of beige structures. These dwellings reference American homesteads as well as the architecture of native peoples, connecting past to present.
Along desert hikes, I sometimes find shells or sea dollars—relics from past times when oceans covered America. Lush ponds that Raitt intersperses throughout an otherwise arid canvas remind me of time's mythic changes and the land that connects us.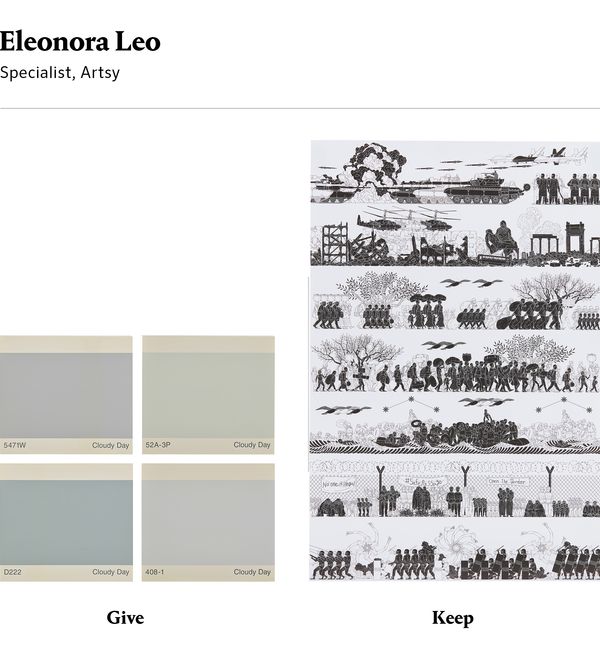 Eleonora, which piece of sale would you gift, and to whom?
I would give Cloudy Day/Cloudy Day/Cloudy Day/Cloudy Day (Lot 58) by Peter Wegner to my husband. He's a photographer and particularly enjoys taking pictures on the streets of New York during cloudy days. He believes the absence of harsh sunlight allows for better definition of color and, overall, a more pleasing image.
I find Wegner's analysis of human perception of color and shape incredibly interesting and nuanced. We think we know what a 'cloudy day' looks like, yet Wegner shows how much variation and nuance there is to what we consider a simple concept and common occurrence in weather. I think this would be the perfect gift for my husband who is attuned to this level of nuance in his own work.
Which piece in the sale would you most like to keep for yourself, and why?
Although I feel drawn to many artworks in this sale, I would definitely keep Ai Weiwei's Odyssey (Lot 9). A special edition created for Public Art Fund, this piece particularly speaks to me as it echoes Greece's black-figure pottery, an extensively present topic in my studies while majoring in Archaeology. The artist takes a well-known mode of expression within classical art history — the Greek vase — and brings attention to the contemporary, global issue of the refugee crisis. I've always admired Ai Weiwei's work and this is a great opportunity to own something by him at a very affordable price.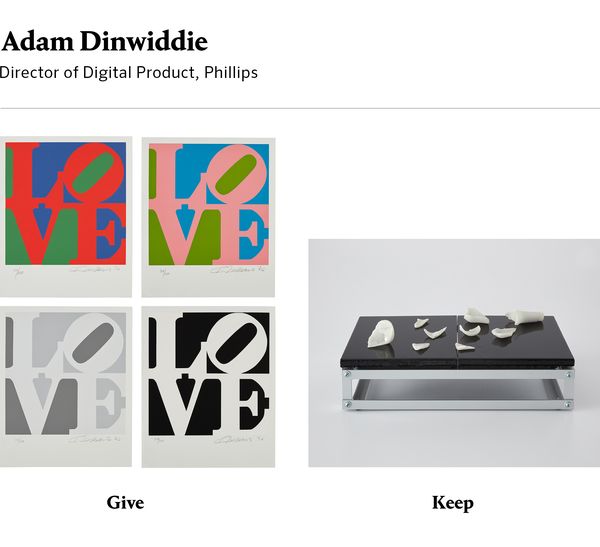 Adam, which piece of sale would you gift, and to whom?
I would give Robert Indiana's Book of Love: four plates (Lot 60) to a friend from high school. We used to hang out at Love Park in Philadelphia, which had a sculptural version of this work. Love Park was a haven for skateboarders, which I pretended to be, and I'll always associate this iconic image with our shared adolescence. The park is now gone, but the love message is a good one for her young daughter. I also love the associated poems on the back of each print that talk about the beauty and impracticality of love, and I think that my friend would appreciate them too.
Which piece in the sale would you most like to keep for yourself, and why?
Banks Violette's Not Yet Titled (broken beer bottle) (Lot 64). It's messy, beautiful, and a little bit somber, just like Christmas. I would keep this piece for myself. Banks has long been a favorite of mine, and I was happy to see him re-emerge at Gladstone Gallery earlier this year after a prolonged absence from the art world. This piece is a wonderful nod to the massive sculptures he created last decade, but at a scale that will work in my small apartment. The broken bottle looks like the quiet aftermath of something gone terribly wrong, which feels like the right mood for closing out 2018.
Bid on these and other works in 'Wrapped/Unwrapped' through 12 December.