Detail from Jean-Michel Frank's large "X" table lamp in terracotta
Jean-Michel Frank's pursuit of elemental forms is perhaps nowhere better illustrated than in his lighting designs. In keeping with his aesthetic of understated luxury, he favored austere, simple shapes in a variety of unexpected materials that he selected for their varying textures and colors.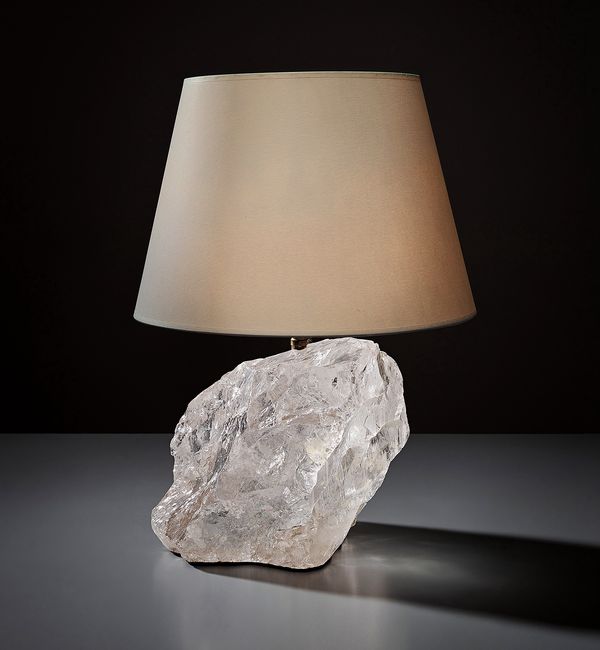 Jean-Michel Frank Rock Crystal Lamp, circa 1925
For the above rock crystal table lamp, Frank left the material in a rough-hewn state. He employed similar rock crystal lamp in a number of his interiors, placing them on side tables and sometimes directly on the floor. He particularly favored rock crystal lamps in the Hôtel Bischofsheim, the residence of Marie-Laure and Charles de Noailles (1926), scattering the lamps throughout the main sitting room. They also appeared in Templeton Crocker's penthouse (1929) as well as in Adolphe Chanaux's apartment (1930). In these interiors, the lamps were as intentionally placed as the rocks in a pitch-perfect Japanese Zen garden. The coarse crystalline forms stand like miniature mountains and inspire contemplation not unlike a Chinese scholar's rock. In fact, though Frank eschewed most historical references, he was inspired by Asian art and incorporated subtle motifs to that end into a number of his designs, such as the "Pagoda" side table.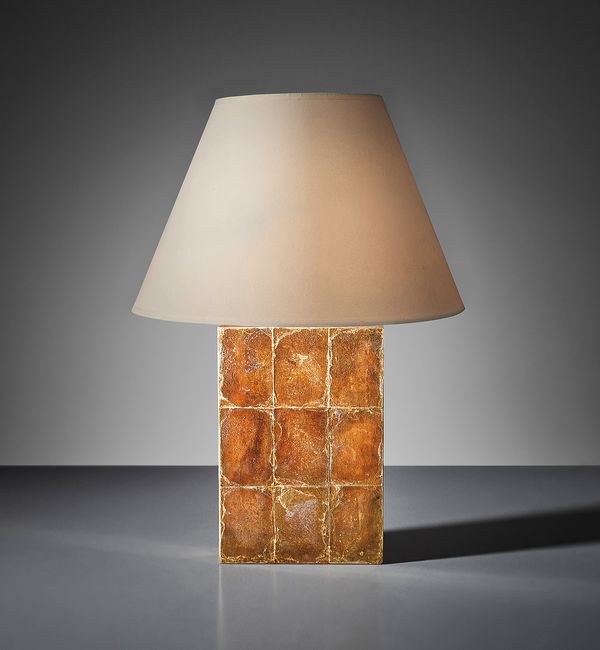 Jean-Michel Frank Large "Block" Table Lamp, circa 1928
The mica-covered "Block" lamp continues the theme of Frank's fascination for materials coupled with austerity of form. For this work, the designer covered a simple rectangular block in a regular grid of mica sheets. Mica has a natural metallic luster and, just like the rock crystal lamps, lent captivating texture and sparkle to his interiors. Frank reserved the use of mica for some of his most important commissions, such as the sitting room of Charles and Marie-Laure de Noailles, where he clad the fireplace surround in mica. The same treatment appeared again in Templeton Crocker's San Francisco penthouse. Mica-covered tables appeared in the designer's own smoking room (1938).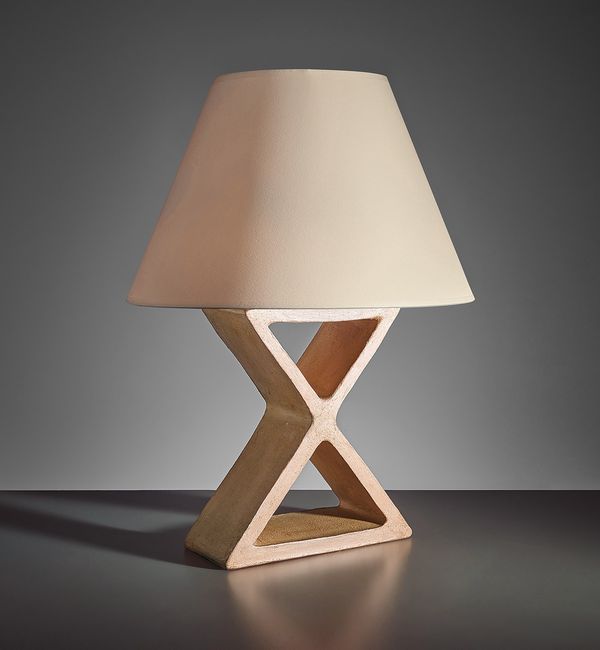 Jean-Michel Frank Large "X" Table Lamp, circa 1928
The above "X" lamp was also made in metal and in wood, but the present terracotta version, which is extraordinarily rare in this material, is arguably the most powerful, as terracotta was perhaps the most subversive in Jean-Michel Frank's repertoire of provocative materials. Also known as red earthenware, terracotta is traditionally associated with building materials such as bricks and tiles, and, if used in decoration, the clay body is covered with a colorful glaze, as is the case with faience.
However, Frank introduced terracotta into his interiors in its raw, unglazed state, which created a startling effect in his highly refined interiors. Terracotta is also related to Frank's collaborations with Alberto Giacometti, who favored the material in his sculptures and decorative objects in this period, which evoke archaeological relics.