The artist at his studio in Ridgewood, NY © Katherine McMahon 2017
Emblematic of the artist's fastidious and enduring investigation into the formal relationship between color and space, Stanley Whitney's Queen of Hearts represents a profound contribution to the history of painting. Structuring the surface of the canvas with a mesmerizing grid of multi-hued blocks, enlivened by gestural marks and the nuanced layering of tones that seamlessly bleed to create superficial depth, Whitney intuitively balances and contrasts colors to uniquely reformulate the structuring of abstract space. While Whitney has been an active proponent of color field painting since the 1970s, the artist has operated largely under the radar for much of his career. However, recent institutional attention has affirmed his historic importance within wider public consciousness: following his seminal solo exhibition, Dance the Orange, at the Studio Museum in Harlem, New York in 2015, Whitney was inducted into the American Academy of Arts and Letters in 2017.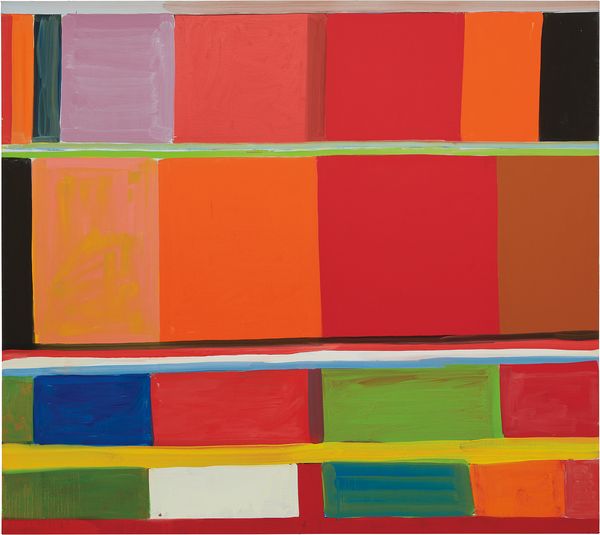 Stanley Whitney Queen of Hearts, 2004
Born in Philadelphia in 1946, Whitney developed his idiosyncratic style after moving to New York in 1968. In the wake of Abstract Expressionist predecessors, his color block paintings grew in tandem with and contributed to the groundbreaking schools of Color Field and Minimalist painting. Indeed, having taught Painting and Drawing at the Tyler School of Art for over 30 years, Whitney's ongoing influence on contemporary painting cannot be denied. While inevitably inspired by his original creative context, Whitney eschewed a totalitarian puritanism evident in contemporaries such as Mark Rothko, Josef Albers, Carl Andre and Kenneth Noland, instead seeking an intuitive and rhythmic use of color blocking that equally paid homage to masters of European painting: "I felt they were all giving too much up. They gave the hand up, they were focused on being flat against the wall, what you see is what you get—I didn't like that idea. I didn't want to give up Courbet, I didn't want to give up Goya, I didn't want to give up Velázquez—I didn't want to give up anything" (The artist quoted in Aruna D'Souza, 'The Color Makes the Structure: Stanley Whitney Paints a Picture', artnews.com, posted 30 May 2017.)
While Queen of Hearts evokes the flat collaged panels of Matisse's iconic L'Escargot (The Snail) from 1953, Whitney has imbued his blocks with depth by layering washes of paint over one another with a gestural flare that resonates with the nuanced fields and delicately composed plastic depth of Cézanne.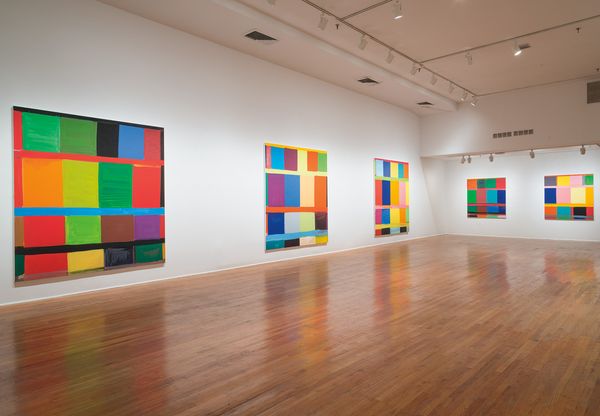 In the early 1990s, Stanley Whitney traveled to the Mediterranean. His experience of the ancient architecture of Egypt and in Italy—where decorative flourish is always supported by simple geometry—inspired the crucial structuring of abstract blocks that constitute his signature style. Summoning the monumental solidity of the pyramids and the Coliseum, here we see densely saturated blocks stacked upon one another like ancient brickwork, re-conceptualizing the modernist grid for an effect that is both architectural and emotive. To begin these compositions, Whitney paints a single rectangular block of color in the upper left of the canvas, proceeding intuitively to align and stack color, adding blocks freehand as if writing a jazz score that is emphasized with vibrant contrasts and sonorous tonal harmonies. This is all enacted with varied brushstrokes, where the artist layers transparent washes so that a grounded red might ring out from underneath a tonally juxtaposed verdant green while maintaining a matte sheen across his luxurious surface. It is only over time that the nuances of colorfully reveal themselves.
Whitney's paintings remind us, on a universal scale, of the ability of color to trigger feelings and sensations. — Lauren Hayes
As noted by Lauren Haynes, "Whitney's colors take on lives of their own. They evoke memory and nostalgia. This orange takes you back to your favorite childhood t-shirt; that blue reminds you of your grandmother's kitchen. Whitney's paintings remind us, on a universal scale, of the ability of color to trigger feelings and sensations." (Lauren Haynes, 'Orange That Blue', Stanley Whitney: Dance the Orange, The Studio Museum in Harlem, New York, 2015, p. 28.)
Whitney's titles always speak of an epic historical consciousness, in this case alluding to the tradition of playing cards and the Queen of Hearts in Lewis Carroll's classic tale, Alice's Adventures in Wonderland. Yet, saturated with deep, impassioned reds, here Whitney takes us to our own psychological associations with the fabled Queen of Love's greatest symbol.