Jackson Pollock Number 16, 1950
Created at the height of Jackson Pollock's creative powers, Number 16 a timeless icon whose formal command is matched only by its unique provenance, having been acquired by Nelson Rockefeller and donated to the Museu de Arte Moderna do Rio de Janeiro (MAM Rio) in 1952. But how did Number 16 find its way into this newly founded museum, just four years after it had opened its doors in Rio de Janeiro?
Pollock painted Number 16 in his famed barn studio in East Hampton, Long Island in 1950, the year that is widely regarded as the zenith of his famed "drip period." It was one of, in total, 16 known paintings on identical square pieces of Masonite that Pollock had obtained from his brother Sanford McCoy. Number 16 was selected to be included in Pollock's solo exhibition at the Betty Parsons Gallery in New York from 28 November to December 16, 1950, where it hung flanking Autumn Rhythm, 1950, the famous painting that Cecil Beaton eternalized in his Vogue shoot and which now resides in the collection of The Metropolitan Museum of Modern Art, New York.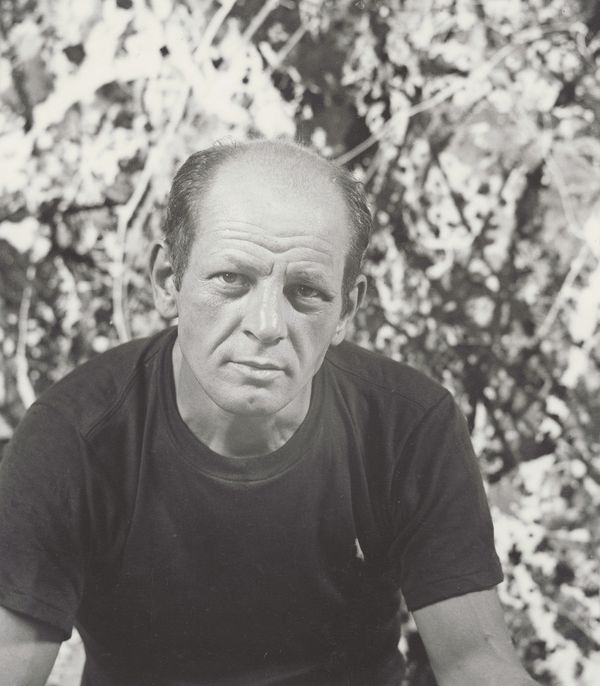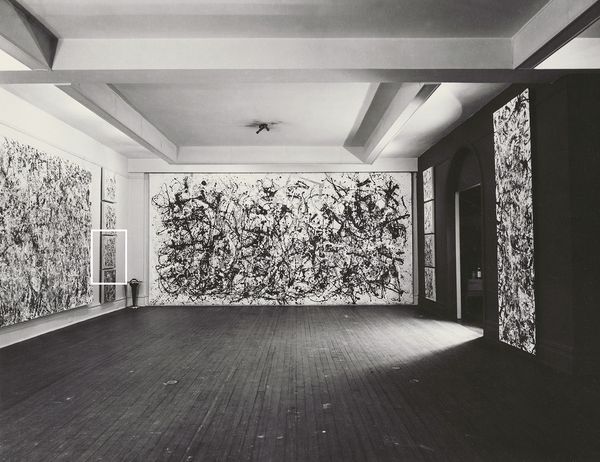 Above from top: Jackson Pollock in his studio by Hans Namuth, 1950. Image © 1991 Hans Namuth Estate, Courtesy Center for Creative Photography, Artwork © 2018 Pollock-Krasner Foundation/Artists Rights Society (ARS), New York. Installation views of Jackson Pollock at the Betty Parsons Gallery, New York, November 28 – December 16, 1950 (present work in bottom left corner). Image © 1991 Hans Namuth Estate Courtesy Center for Creative Photography, Artwork © 2018 Pollock-Krasner Foundation/Artists Rights Society (ARS), New York.
It was there that Nelson Rockefeller first saw Number 16 and purchased it for $306, as the gallery's invoice from December 20, 1950 shows. Rockefeller, an avid collector and patron of the arts, was a keen supporter of the emerging artists that Betty Parsons represented. It is likely that he first encountered the gallery via his sister-in-law, Blanchette Rockefeller, who purchased Pollock's Number 23, 1949, a year earlier based on a January 4, 1949 invoice from the Betty Parsons Gallery records, Smithsonian Archives of American Art.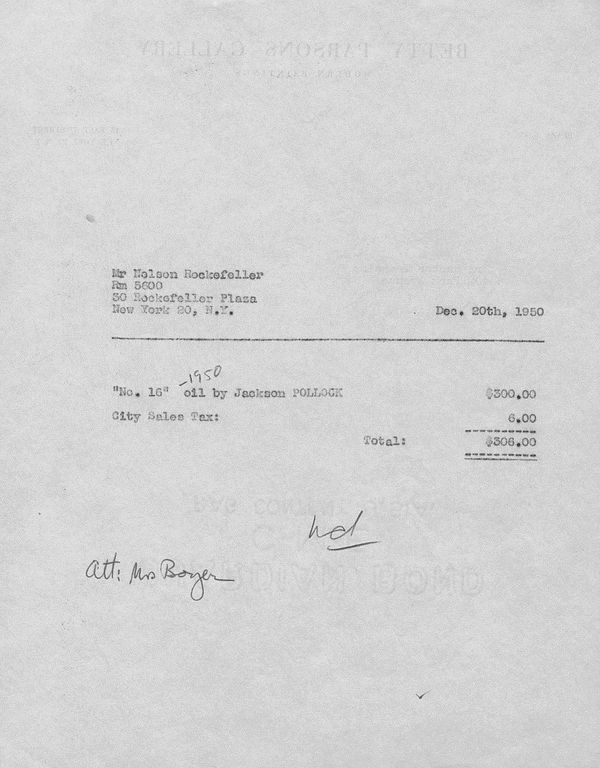 Betty Parsons Gallery invoice to Nelson A. Rockefeller, December 20, 1950, Archives of American Art, Smithsonian Institution Washington, D.C. 20560
Nelson Rockefeller got involved in The Museum of Modern Art through his mother, the driving force behind its establishment in 1929 and its ongoing operations. He subsequently served on MoMA's Board of Trustees and was critical in the financing and establishment of the museum's new headquarters in 1939. By the time he acquired Pollock's Number 16, he had been elected President of the board for his second term.
This passion in modern art would become a crucial asset in Rockefeller's return to public service in 1950 when President Harry S. Truman appointed him Chairman of the International Development Advisory Board. In this position, Rockefeller fused his experience as a politician and entrepreneur with his personal interest in Brazil. Two decades earlier, he had provided financial aid for commercial and educational programs, as well as helped fund an exhibition of Brazilian modern architecture at MoMA in 1943.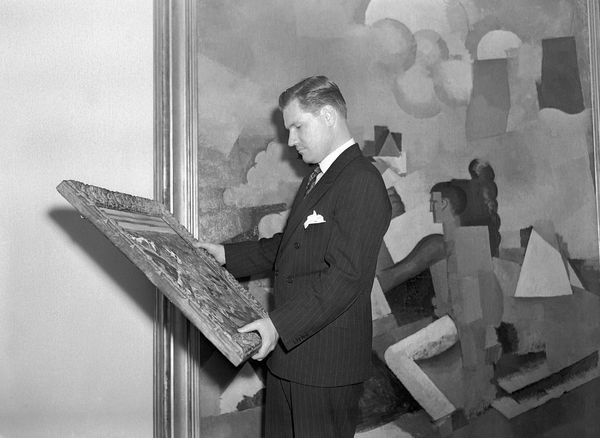 Nelson A. Rockefeller at The Museum of Modern Art, New York, 1939. Image Getty
As Zeuler R. Lima, Associate Professor at the Washington University in St. Louis, details in his Phillips-exclusive essay Nelson A. Rockefeller and the creation of modern art museums in Brazil: "Modern art, one of Rockefeller's passions, was a powerful symbolic instrument for negotiating the cultural insecurities of an increasingly globalized world." Rio de Janeiro, still the capital of Brazil at the time, was undergoing unprecedented industrial, commercial and urban development. While the booming city had hitherto looked towards Europe, it was now looking "at Rockefeller's actions as a model of philanthropy to stimulate the modernization of Brazilian art."
Rockefeller was deeply involved in the establishment of MAM Rio, which was founded with the idea of having a museum with a similar structure and philosophy as MoMA in New York. In January 1952, Rockefeller donated Number 16 to the museum. To acknowledge his generous donations, MAM Rio made him an emeritus member in late 1952.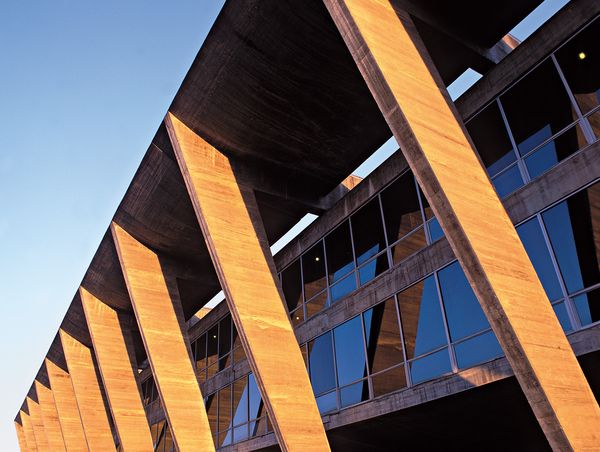 The birthplace of many of Brazil's artistic movements, MAM Rio has been a point of reference for different tendencies over the years, such as Grupo Frente, which was founded by artist and MAM Rio educator Ivan Serpa in 1954 and formed by artists including Hélio Oiticica, Lygia Clark, and Lygia Pape.
On the occasion of its 70th anniversary, it is the museum's aim to focus on its self-sustainability to further its mission of showcasing the art of Brazil and maintaining its unique position as one of the private non-profit institutions in the country.