Detail from triptych: Cristina de Middel The Afronauts, 2012
An exciting collaboration with Magnum Photos presents unique and sold-out works by Mikhael Subotzky, Cristina de Middel, Alex Majoli, Newsha Tavakolian and Jérôme Sessini. Providing the highest quality photographic content from across the globe, Magnum is an elite artist cooperative founded in 1947. Browse the entire selection below.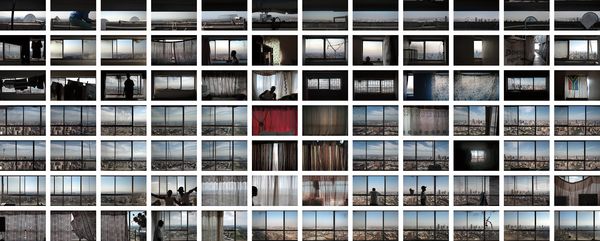 Mikhael Subotzky & Patrick Waterhouse Windows, Ponte City, 2008-2010
Ponte City, the distinctive circular tower with a hollow central core, is the tallest residential building in Africa. It was built in 1976 in Johannesburg as a home for the white middle class. Post-apartheid, the building attracted people relocating from townships followed by immigrants from other African countries. By 2000, decline and neglect had led Ponte to become a symbol of urban decay. In 2007, it was bought by developers who evicted half of the tenants for an ambitious regeneration project, which had failed by late 2008, leaving behind a semi-destructed structure.
It was during this turbulent period that Ponte became the subject of a creative collaboration between South African artist Mikhael Subotzky and British artist Patrick Waterhouse. Between 2008 and 2010, the artists photographed every door, every window and every television screen in the tower block to create three distinct typologies titled Doors, Windows and Televisions, respectively. Their investigation of Ponte as "a place of myth, illusion and aspiration" has resulted in over 2,000 images.
Offered here, Windows, Ponte City, 2008-10 is a unique polyptych, comprising 84 individually framed photographs. Arranged to follow the exact sequence of flats in Ponte, the grid is seven rows high (Rows 49-55) and 12 columns wide. The seven rows represent the top six floors of the 54-story building plus the rooftop.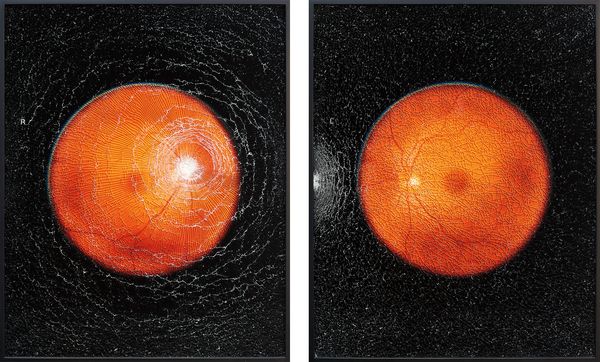 Mikhael Subotzky Self-portrait (with the help of optometrist) R and L from Retinal Shift, 2012
Also premiering in this season of ULTIMATE is Mikhael Subotzky's unique smashed self-portrait diptych – showing his right and left retinas – which he has chosen as the last smashed work he will ever create.

In 2011, Subotzky smashed his first work Christopher Sibidla's Body I, Maitland Morgue, 2004 from his first series Die Vier Hoeke [The Four Corners], an in-depth study of the South African penal system. Requested by the deceased prisoner's mother, Subotzky photographed the charred corpse of this prisoner who had tragically died after his cell was set on fire. "The image haunted me for years and I had a strange but strong instinct that I wanted to smash it," he recalls. "This felt like a very scary, violent thing to do, in some ways re-enacting the violence done to Chris, but I soon realized that conversely, in smashing the glass, I was also covering up the burnt nakedness of his body." This was the first of nine smashed works he produced for his installation I was looking back as part of his 2012 Standard Bank Young Artist Award exhibition, Retinal Shift. For the last eight years, he has continued to smash photographs that for him holds a particular tension with regards to the representational relationship between himself, the subject and the viewer.
Cristina de Middel The Afronauts, 2012
After a 10-year career as a photojournalist, Cristina de Middel began researching stories that are fictional but believed as real and ones that are real but unbelievable. This led her to the 1964 Zambian Space Program and its attempt to send Africa's first astronauts to the moon. The Afronauts explores the true story of Edward Mukuka Nkoloso, a Zambian science teacher, who during the height of the space race decided to train the first African crew to travel to the moon and then to Mars via catapult. Mukuka chose to send a woman, two cats and a missionary, and they underwent specific 'training' at his secret HQ near Lusaka.

Approaching the project like a director would a film, de Middel staged re-enactments of how she thought this strange moment in Zambian history might have taken place. She scouted locations in her own native Alicante (having never been to Zambia), used found props, such as streetlamps for helmets, hired actors and made costumes. The costumes were inspired by clichéd outfits from space programmes at the time but used African fabrics with their bright colours and designs. In this unique triptych, we see the afronaut exploring this world that de Middel has created.

We see his face as he imagines this brave new world, him leaping up the rocks in training for whatever lies ahead. The images themselves, both in colour and shape, mirror the format of 1960s television. Seeing these images side by side, the viewer is transported to another world. The Afronauts documents an impossible fantasy and in doing so challenges the traditional depiction of the African continent.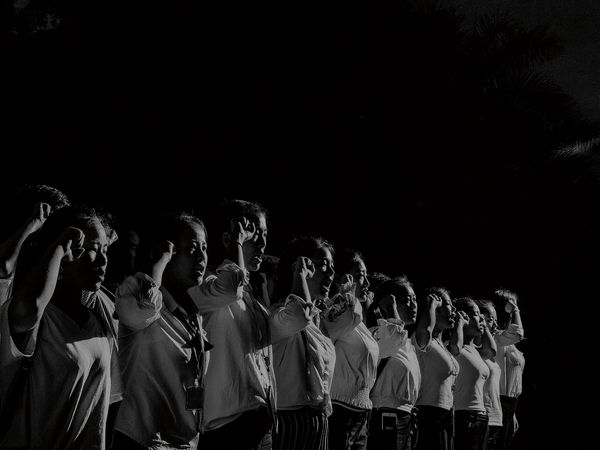 Alex Majoli Scene #1350, 2017
Alex Majoli explores the idea of people being actors within their own lives. Scene #1350, offered here, depicts beauty parlor employees in Shenzen, China, participating in a patriotic pep rally before starting their day's work. The women emerge from the darkness, standing in a line as they salute, the light hitting their faces as they look ahead. In this monochromatic image, Majoli's theatrical use of artificial light blurs the line between journalism and art, uncovering the inherent drama in everyday life.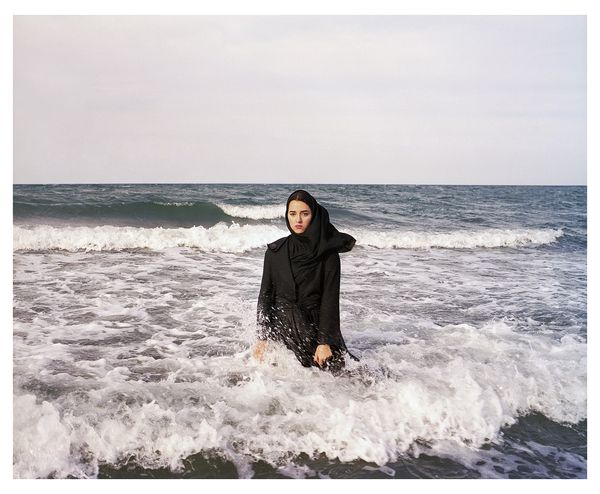 Newsha Tavakolian Untitled from Listen, 2010-2011
Standing in the sea, an Iranian woman stares fiercely at the viewer, fully clothed as the waves hit her. From Newsha Tavakolian's interpretative portrait series Listen, this work is one of six imaginary CD covers that she designed for Iranian women singers who are not allowed to perform solo or produce their own CDs due to Islamic regulations in place since 1979. Tavakolian explains that this project "echoes the voices of these silenced women. I let Iranian women singers perform through my camera while the world has never heard them."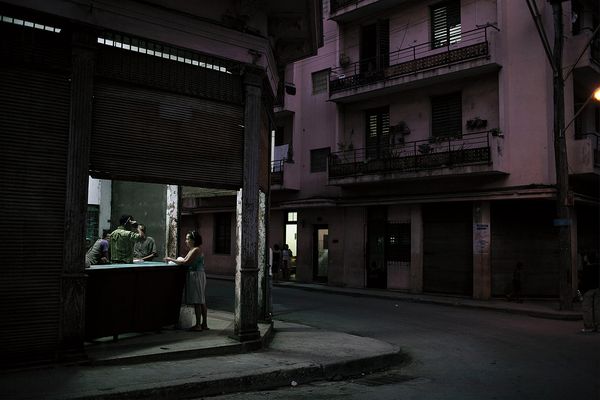 Jérôme Sessini Rationing Store - La Havana from Cuba in Suspense, 2009
Here, we see a typical Cuban scene at dusk: a corner shop with a few people inside, the bright colors found on the streets of Havana are muted in the evening light. Jérôme Sessini's Rationing Store references Cuba's food distribution system known as Libreta de Abastecimiento. Instated in 1962, the system administers individual rations and frequency of supplies. Most of the products are circulated at the local bodega (a rationing store) as depicted here. In this work, Sessini has created a dramatic scene out of a mundane activity.