Detail from Ettore Sottsass Prototype 'Commode column', circa 1963
Renzo and Ettore

From my memory, the relationship between Ettore Sottsass Jr. and my father had always existed. Ettorino was considered as part of the family, and as with the other members of my family, I took his presence for granted. So now I find it difficult to recall when and how the two met each other. It is certain, however, that my father embraced the Milanese movida during the post-war period, which was an effervescent moment filled with ideas about the possibility of building a new future. During this period, my father frequented the bar Jamaica in Brera, Milan, where he gathered with workers, artisans, journalists, intellectuals and artists, some of whom would write the history of post-war art. Despite their many different backgrounds, they would all sit together around a table, playing cards and discussing anything and everything. It was in this context that my father and Sottsass met.

Their friendship expanded to their families. I remember being told stories of evenings spent in Ettore and Nanda's (Fernanda Pivano) house, along with writers, artists, and engineers (Ettore was working for Olivetti at that time, developing the prototype for their typewriter). I also remember parties they had in my father's workshop, his second home, which was conceived by Ettore as an open space with a central skylight and load-bearing perimeter walls. The world of Sottsass fascinated my father, who saw it as an opportunity to experience the world outside of Lissone.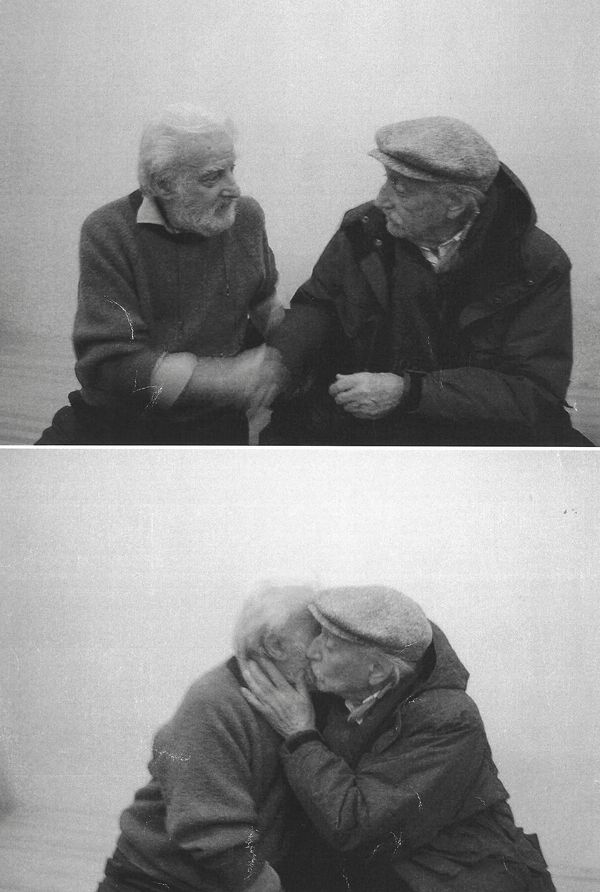 Ettore Sottsass Jr. and Renzo Brugola ©ADAGP, Paris and DACS, London 2018. / Courtesy of the Brugola family
While growing up in the 1970s, I remember occasional stories related to my father and Sottsass' professional and personal association, but without any particularly defining moments, until the day my father came home with a new project: Memphis. My mother was terrified because following a challenging period, our circumstances had begun to improve and so, the idea of my father becoming involved in a new, uncertain project, in order to fulfill his own creative pursuits… In short, it was a difficult decision for my family.
However, Renzo, my father, perhaps fascinated by Ettore or by the possibility of creating new types of furniture, or simply because he understood the uniqueness of the project, began this new adventure. In 1981 he became one of the four founding members of Memphis. From that period, I remember the meetings in my father's workshop with the youngsters of the studio Sottsass Associati (which included designers such as Michele De Lucchi and Aldo Cibic), discussing their project. Such conversations often involved the practicalities of realizing their highly imaginative designs ('it is beautiful, but it doesn't stand'). I also remember Barbara's visits and the first Memphis collection (there was not a 'traditional' piece of furniture, all colored, strange, unconventional).
The world of Sottsass fascinated my father, who saw it as an opportunity to experience the world outside of Lissone, Italy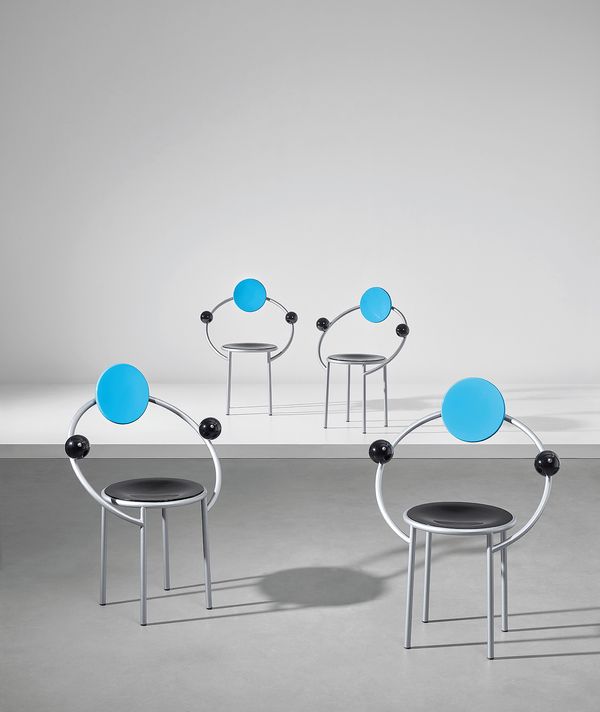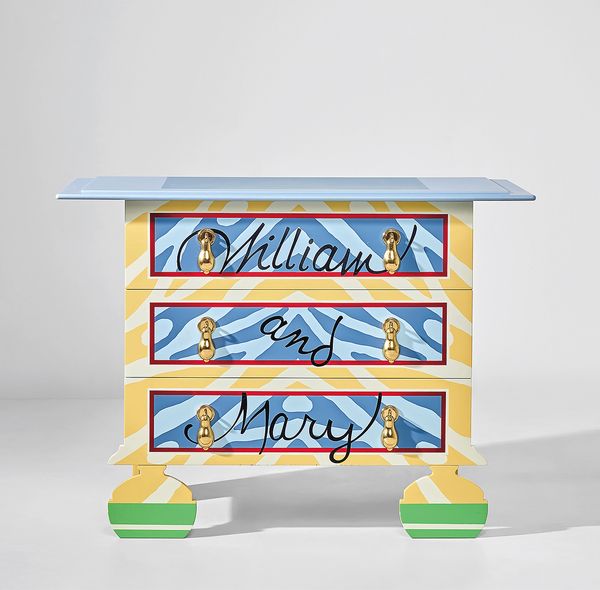 The Collection of Renzo Brugola also includes postmodern design by Sottsass' contemporaries, including Michele de Lucchi Set of four 'First' chairs, circa 1983 and Robert Venturi 'William and Mary bureau', designed for the XVII International Triennale, Milan, circa 1984
When I told my father that I would like to have some of the pieces exhibited, his face brightened into a smile. The idea that his son, an engineer, appreciated this furniture and therefore the decision he had once made with Ettore, was of great satisfaction for him.

The relationship between Ettore and my father was revived. Part of the same vision, they were changing the shape of furniture and leaving an enduring mark in the world of design. Following Memphis, Ettore and my father continued to collaborate on other commissions and their bond never stopped growing. My father never missed an exhibition opening of Sottsass' work and, when possible, he always wanted to realize Ettore's projects.
The loss of Ettore was immensely painful for my father. Their ages had advanced, and now his friend of so many adventures was gone. Ettore remained in my father's heart until his last days; he never stopped remembering, commemorating and enhancing his skills as an artist, unique of his kind. It was a beautiful friendship.

— Barnabò Brugola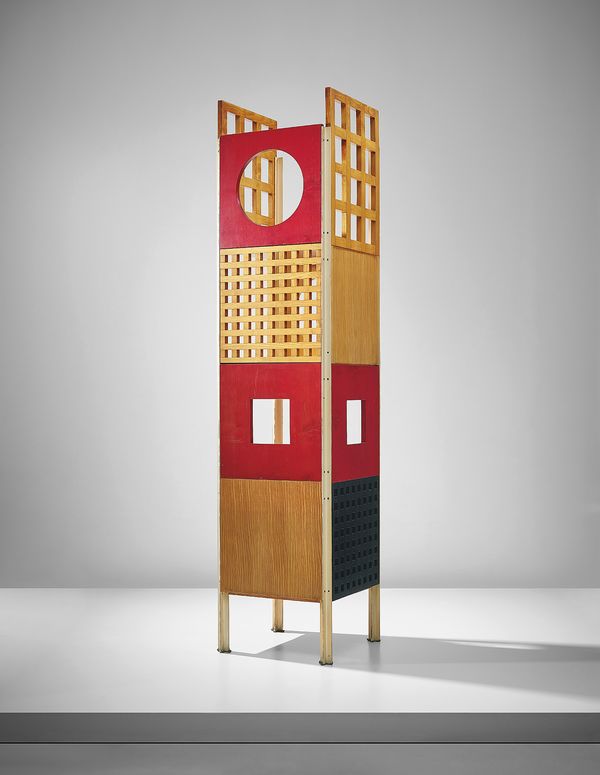 Full view of Ettore Sottsass Prototype 'Commode column', circa 1963. Oak-veneered wood, oak, maple-veneered wood, painted maple-veneered wood, painted wood, painted steel.
Ettore Sottsass Jr. - The Tower Furniture
The idea of the multifunctional tower furniture first appeared in Ettore Sottsass Jr.'s work in the early 1960s. He introduced the design into his interiors for Casa Tchou, Milan in 1960 and subsequently developed it for 'La casa abitata', an exhibition held in Palazzo Strozzi, Florence in March 1965. For the exhibition, which was financed by Poltronova, Sottsass designed a domestic interior comprising two tall wooden towers framing a bed in the center of the room. These two towers featured related formal characteristics to the present model 'Commode column', namely their composite shelving and multi-colored grid frames.
The iconic, totemic piece [was] conceived by Sottsass as a mysterious domestic deity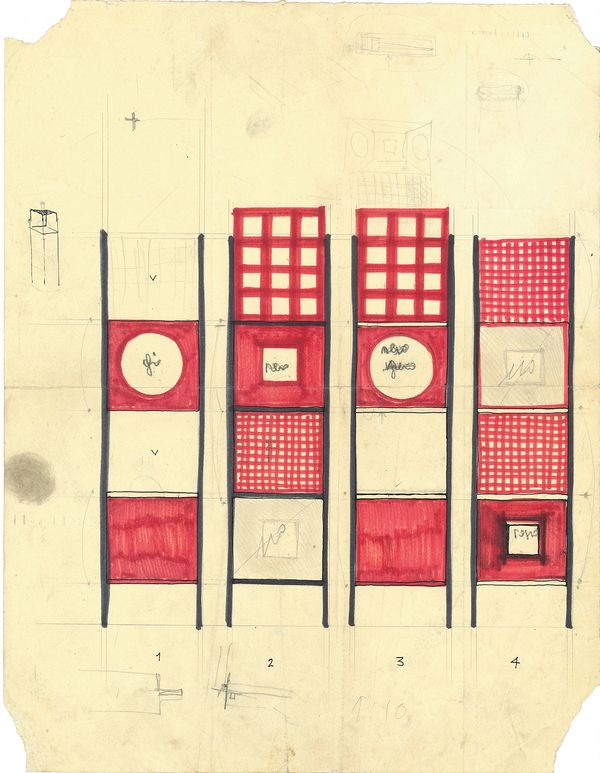 Ettore Sottsass Jr. Preparatory drawing of a similar example of the model. ©ADAGP, Paris and DACS, London 2018. / Courtesy of the Brugola family.
Among the most notable of Sottsass' designs of the sixties, these works illustrate the considerable contribution of Renzo Brugola, whose carpentry workshop was based in Lissone, near Milan. The collaboration between the designer and the carpenter continued to develop for over forty years, and together they realized a significant number of prototypes and furnishings.

The tower furniture, continually enriched with new forms and meanings, became Sottsass' preferred vehicle to communicate the evolution of his thoughts and the resulting design language. The iconic, totemic piece, conceived by Sottsass as a mysterious domestic deity, would characterize both his current and future work, beginning with Poltronova and continuing through his collaboration with Alchimia and Memphis in the 1970s and 1980s. Such works would eventually become part of the most important galleries and museum worldwide including the Metropolitan Museum of Art, New York and the Centre Georges Pompidou, Paris.

— Arch. Milco Carboni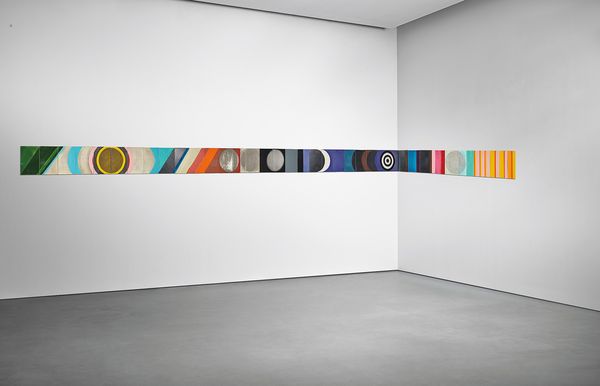 Ettore Sottsass Important frieze, circa 1965. Glazed earthenware.
A 'Fresco of Tiles'

Florence, 1965. In the city universally recognized as the Italian capital of antiques dealers, Giovanni Michelucci, president of the 'Biennale degli Interni di Oggi', organizes the exhibition 'La Casa Abitata'. The catalogue outlines his ambitions: "to reunite the conflict between the new configuration of the world, life and the relationships between men, created by the emerging needs of the so called 'mid cult' (mass culture), and by the industrial and technological civilization, from the dilation of known spatial dimensions which deface contemporary living and threaten an ever terrifying transformation of the future, together with the need for mankind to find at least one hope for continuity within its own dimension." The exhibition program required each architect to design a fully-liveable room, fully equipped with towels in the bathrooms, pots in the kitchens, pyjamas in the wardrobes. The multi-faceted architect Ettore Sottsass Jr., who never ceased to surprise for his almost endless vernacular, was invited to participate, alongside Vico Magistretti, Achille Castiglioni, Angelo Mangiarotti, Vittorio Gregotti and others.

His interior was called 'Camera da letto' and indeed comprised a bed, wardrobes, a sofa and side tables, bedside tables, columns and ceramics. It also contained an unusual and long 'fresco of tiles', which, as visual representation, brings us straight to what he will write about himself in his self-financed illustrated book (Super Cahier 1966) a year after the exhibition in which these ceramic elements were first shown.

"Architect decorator, hypothetical colorist and potential builder of villas, private houses, places of idleness, pleasure and leisure, terrible designer of buildings and places for public assemblies, enemy of barracks, ministries, moralization centers in general and similar, general lover of peace and smile, a man of little seriousness and reliability, respectful lover of death, has only built for friends, no collector nor museums have ever bought him, he has never taught, nor directed any association or club, nothing. He greets and send his regards..." In this context, it is perfectly clear how the 'Camera da letto' became within the Florentine exhibition a more poetic 'Room for Love'; Sottsass writes "inspired by the Kama Sutra, the antique Indian book on the art of making love – and Indians knew how to make love." The room vibrates with desire, it is designed "around true love, the one that is made in bed, embracing one other, momentarily gasping a breath which comes from nowhere, from the origin of life."


Soon after in his text, he perfectly explains the meaning of the long 'fresco of tiles', which he describes as 'row of ceramics'. "It is the visual instruments placed high on the walls, where it meets the ceiling, it evokes the oblivion of time and connects the moon, and all of the emblematic lunar phases, all of the skies, more or less dark or blue, to the Room of Love." A short time before all of this, Mina, an Italian singer, topped the charts with the song 'Il cielo in una stanza'. Nothing can more successfully underline the intuition and harmony within arts, of Art, than the wonderful coincidence translated into music with lyrics that talk of "rooms that no longer have walls, lilac ceilings that no longer exist, of sky above us."
Ettore's 'Row of ceramic' has discarded the walls of architecture to reach the ineffable, an attempt to and hope that the way young people make love one day will win over all the hate and all the pain: a project of Architecture of Life.

— Fulvio Ferrari
Browse all works by Ettore Sottsass on offer during our 18 October sale of Important Design >