Installation view of Carlos Cruz-Diez: Luminous Reality at Phillips Berkeley Square in London
By Arnold Lehman
Throughout art history, both natural and artificial light have captured the imagination of artists and viewers alike. Light's function made itself manifest in the ancient Egyptians' depictions of the sun god Ra, the Renaissance's development of chiaroscuro and sfumato techniques and the advent of photography. However, it was only with the commercialization of the incandescent light bulb at the beginning of the 20th century that light became a specific focus and material element in art. The breakthrough works of Marcel Duchamp and László Moholy-Nagy brought about a reconsideration of the utilization and potential of light, an inquiry that exploded after World War II as artists began addressing the concept in increasingly complex ways. This was the subject of the group exhibition Light/Source, which I curated at Phillips New York in 2016, and it is therefore apt that London's Carlos Cruz-Diez: Luminous Reality—the inaugural show for Phillips X, our exclusive new selling exhibition program—continues this investigation by focusing on one of the key pioneers at the intersection of light, color and art.

Carlos Cruz-Diez is often called a master of color, but we might also call him a master of light. Indeed, color as Cruz-Diez conceives of it does not entail pigment on canvas, but rather color as the perceptual phenomenon of light. Cruz-Diez summed the issue up in writing that, as quoted in the exhibition catalogue for Americas Society's (In)formed by Color in New York in 2008, "Color is not simply the color of things or the color of form. It is an evolving situation, a reality which acts on the human being with the same intensity as cold, heat, sound, etc. It is a raw perception which cultural tradition prevents us from isolating from the artistic color and from its esoteric or anecdotic notion."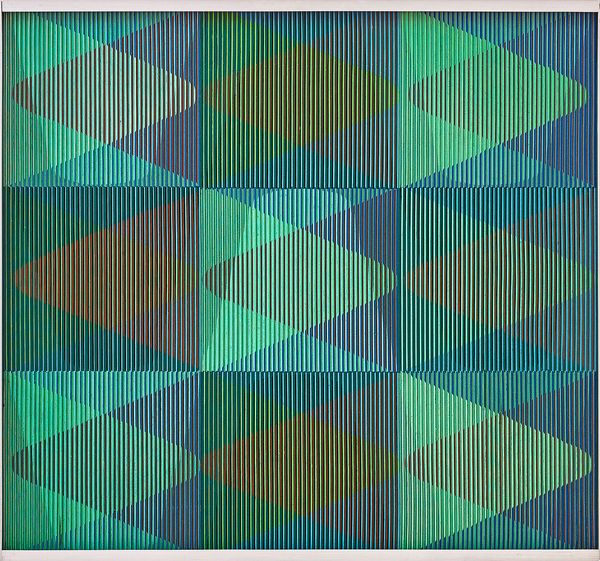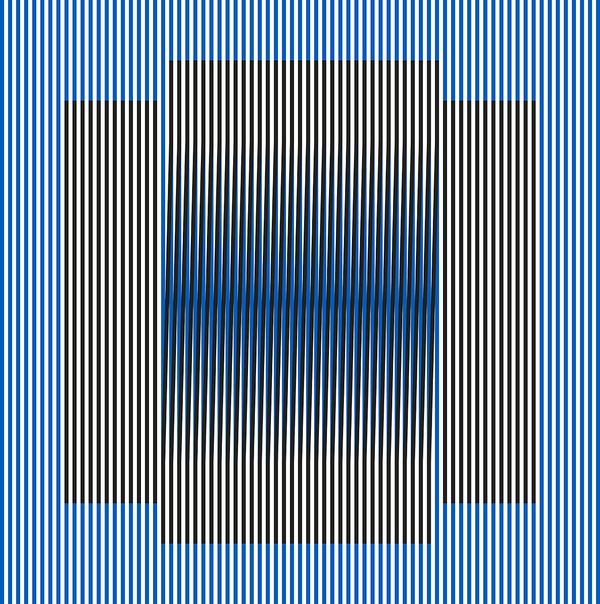 Above from top: Carlos Cruz-Diez Physichromie 153, 1965; Carlos Cruz-Diez Induction du Jaune 221 Fabiana, 2018
One of the most striking aspects of Cruz-Diez's legendary artistic career has been the profound determination with which he has pursued his core color investigations over the past six decades. It was in 1959 in Venezuela that Cruz-Diez had his "color"–in motion epiphany when he initiated the seminal Physichromie series. Acting akin to "light traps," these two-dimensional structures consist of various strips of color placed parallel or at right angles to each other at interspersed levels. In lieu of a colored plane or surface, color blended in the viewer's retina, changing according to the viewer's movement and the intensity of light. Revealing the fluctuating circumstances and conditions of perceiving color, the Physichromie put forth a visual paradigm for much of Cruz-Diez's ensuing practice that assured his reputation as one of the key protagonists in the field of kinetic and optical art.
Art is a complex structure of communication, expression, discovery and invention.
— Carlos Cruz-Diez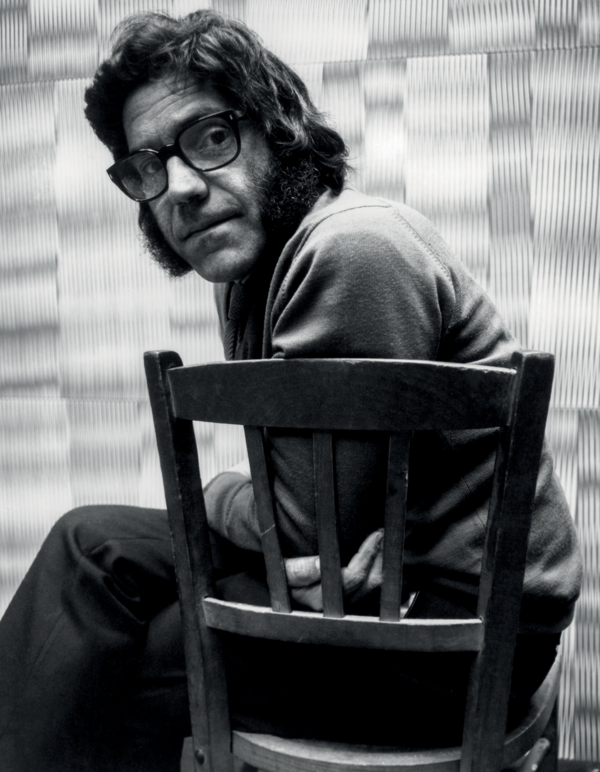 Carlos Cruz-Diez, 1975 © Photo: Atelier Cruz-Diez Paris
By the beginning of the 1960s, Cruz-Diez had settled in Paris where avant-garde artistic circles provided a fertile ground for his studio practice. Cruz-Diez further developed this line of optical inquiry with his Induction Chromatique series in 1963 by probing the phenomenon of the "after image" or retinal persistence that occurs when one gazes at a colored plane for a length of time. "I would notice that when the light hits the modules they take on color and that microcosm turns into a whole world, it's wonderful," wrote Cruz-Diez. "As soon as one moves the light, it changes. That's tiny, but when multiplied it can generate something bigger, something one can experience. So, I had the idea of making some plastic booths in which the viewer, and the viewer's nature, becomes color. That was the basis…of the idea of the Chromosaturation."
It is testament to Cruz-Diez's intensive research and innovation that these initial investigations would culminate in the mid-1960s in his emblematic light-space environments, Environnement Chromointerférent and Chromosaturation series. Driven by the notion of "becoming color," Cruz-Diez took the revolutionary step of projecting color into constructed environments. In doing so, he essentially separated color from form and abstracted it into an immersive environment.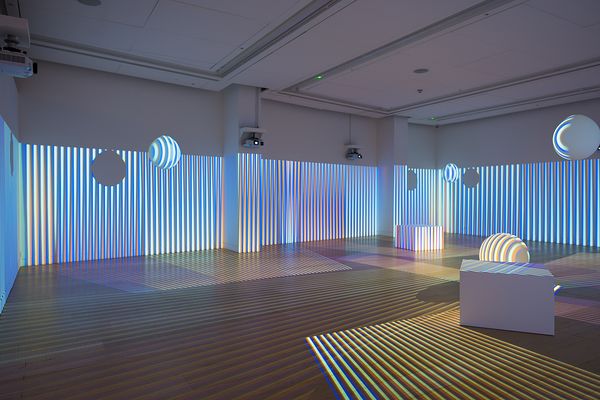 Carlos Cruz-Diez Environnement Chromointerférent, 1974/2018
Although Cruz-Diez is often considered alongside fellow Venezuelan artists Jesús Rafael Soto and Alejandro Otero in his investigation of kinetics and color, these light-spaces also position him alongside vanguard light artists such as Dan Flavin and James Turrell. Indeed, one could argue that Cruz-Diez was attempting the reverse of Flavin's fluorescent light work on the other side of the Atlantic. Both artists were engaged with the concept of light-as-object subject to the viewer's sense of looking. Vastly stretching the concept of what art could be, Cruz-Diez and Flavin's remarkable achievements marked the beginning of "light art" as it is thought of today. Perhaps Cruz-Diez best summarized these intentions when he said, "I want to bring the spectator to live a changing situation which allows him to discover color becoming itself, as well as the possibility to find his own emotional resonance."
The Environment Chromointerférent series, 1974-2018, invites viewers to enter a three-dimensional chromatic experience into which rays of multi-colored light are projected across surfaces and participants. As the rays of light intersect on the walls and the visitor's bodies, a range of color interferences appear — the resulting displacement of striped patterns, in turn, generate waves of movement. Closely related to these environments are Cruz-Diez's emblematic Chromosaturation works, a series which immerses viewers into a luminous cocoon composed of a red, green and blue color chamber. Cruz-Diez realized his first Chromosaturation in 1968, the same year as Flavin filled an entire gallery with ultraviolet light at the Documenta 4 in Kassel and Turrell was experimenting with light projections some 9,000 km away. Despite conceptual and concurrent developments in light art, there is an important sensibility to Cruz-Diez's unique work that sets it apart. Cruz-Diez always maintained the centrality of public participation in his works, a concern that refers back to the political and aesthetic debates he experienced in Venezuela during the 1940s and 1950s. Color, as a variable physical experience accessible to everyone, provided Cruz-Diez with the conduit to encourage a greater grasp of the instability and constant flux of reality. The Chromosaturation works, too, are based on the idea of the sensory experience of color, one that is universal to all people.
The discourse of art is the path that leads us to the sublime.
— Carlos Cruz-Diez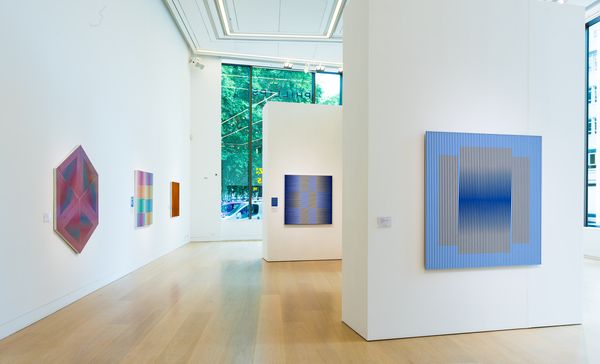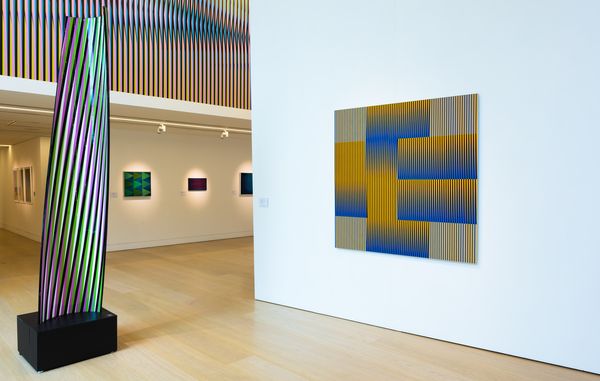 It is almost impossible to appropriately convey Cruz-Diez's amazing light spaces through photographic reproduction. They are tangible examples of the physicality of light acting on multiple levels beyond the object's abstract beauty. When they are experienced, vision is liberated from the burden of interpretation in favor of pure, all-encompassing sensory experience. Engagement with the work of art is no longer passive.
Rather the participant (formerly the viewer) becomes part of a work of art that unfolds in real time and space — an immersion into a new luminous reality.