Roger W. Smith is part of a new generation of watchmakers who produce very few timepieces — less than a dozen per year, in his case — working mostly with their own two hands. Using classical methods learned during his years of training under George Daniels, the man who defined independent watchmaking, Smith began making watches under his own name in 2006 when he launched the Series 2.
Smith spent the following decade studying ways to improve the efficiency and accuracy of Daniels' famous co-axial movement. In 2015, he presented his findings when he introduced The Great Britain, a one-of-a-kind wristwatch based on his Series 2 which became the first watch powered by movement with the new, lightweight, single-wheel design of Daniel's co-axial escapement.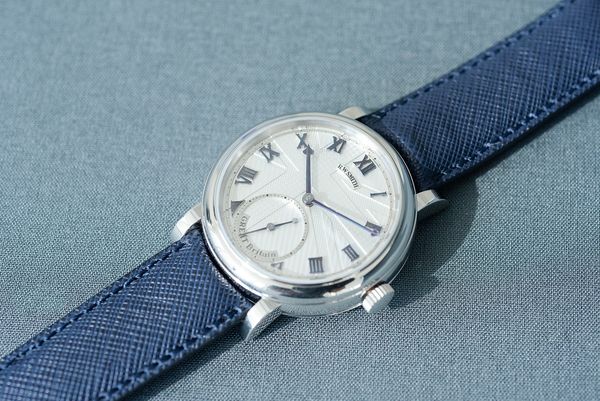 Roger W. Smith The Great Britain watch
Created for the "GREAT Britain" campaign, a governmental campaign for which Smith assumed an ambassadorial role following an invitation from the British Prime Minister, the new piece marked a significant step forward in mechanical watch movement design.
While the watch began a lengthy, multi-stop tour celebrating British innovation and technology all around the world, back on the Isle of Man, where Smith is based, it provided the stimulus for a new range of watches, starting with the Series 1—Smith's interpretation of what a good, classic, time-only watch should be.
The changes made in order to create The Great Britain proved pivotal for Smith's collection, which has since expanded to include five separate models, and it is, according to the watchmaker, responsible for many of the decisions he still makes today, including recently moving his workshop to a larger facility on the island.
Last week, just days after being made an Officer of the Most Excellent Order of the British Empire (OBE) for his contributions to British watchmaking, Smith was reunited with The Great Britain during his visit at Phillips Berkeley Square, where we hosted an exhibition displaying his watch. We sat down with him to learn about the changes that have taken place since the watch's introduction and to find out how it felt seeing a watch several years after making it.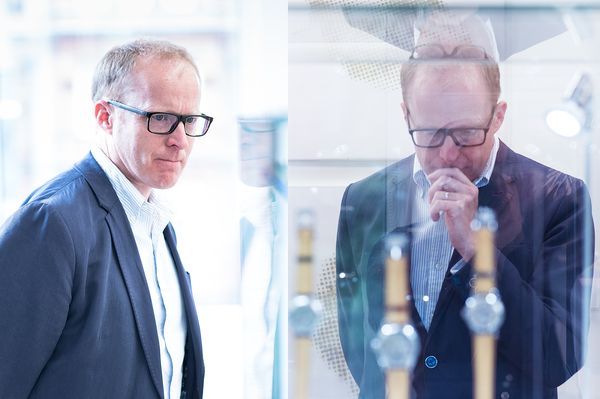 Phillips: Roger, first, of all, congratulations on your OBE; you and your family must be incredibly proud…
Roger W. Smith: Thank you, it's quite remarkable really. It's very nice to receive that recognition, and we're all very happy.
Phillips: So, tell us, how did it feel seeing The Great Britain again—and, what's more, back on home soil?
RWS: Well it was very nice actually. It brought back the challenges of making the piece, including the dial, which was a very complicated idea that I came up with. Interestingly it was the first watch I made that had the lightweight single-wheel escape wheel, so it was really nice to see and it brought back many memories, I suppose.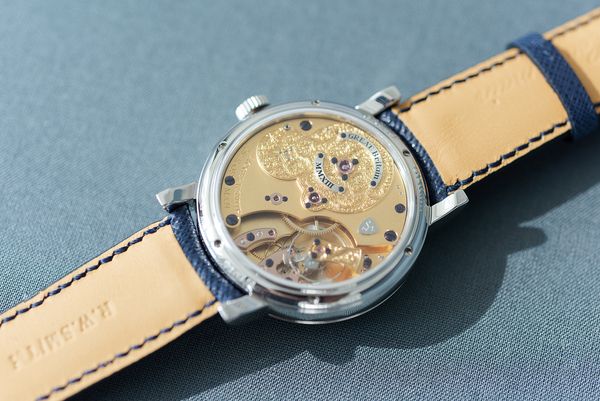 The Great Britain was the first watch to house Smith's new co-axial escapement design
Phillips: How long has it been since your reunion with the watch?
RWS: It could easily have been two or three years. The curious thing about watchmaking is that obviously you are always happy to see a piece but you're always thinking about what you are making at the moment. It was an interesting reminder as to where we were in 2013 and how far we've come since then. That was a snapshot of our work at that moment really but a lot has happened since, including the Mark 2 movements which are producing some astonishing results, so it was nice to see where we were then.
Phillips: Could you explain, for those who don't know about this watch, the project that led to its creation?
RWS: I'd had several meetings with Cabinet Office at Downing Street to discuss the "GREAT Britain" campaign which is a campaign designed to promote the British Isles all around the world, and they were interested in the way I make my watches, and they wanted to talk about ways in which we could help promote and explain creativity and inventiveness to a wider audience. The idea of making a new watch was born out of that conversation. I agreed to design a watch, and obviously, I wanted it to be English in feel.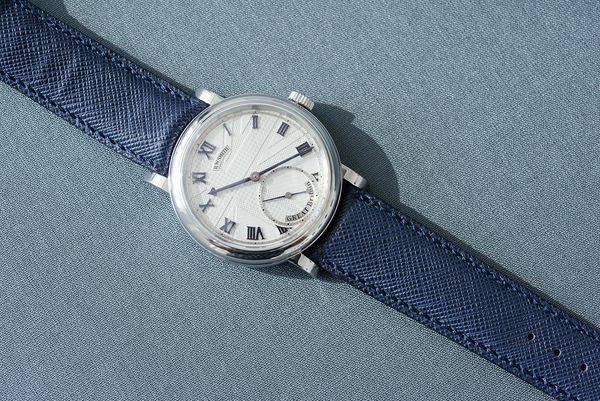 The Great Britain watch features one of the most complicated dials ever made by hand
Phillips: And for this watch, which is based on your Series 2, you focused on the art of guillochage, one of the pillars of the George Daniels method and a feature that is present in all of your work…
RWS: You know, the good thing about the Union Jack is it lends itself very well to creating a symmetrical-type dial. Usually in the past when I've seen these dials, the designer has drilled a hole at the center of the flag to position the dial centrally, which is fine, but for my own work, I didn't think that would really suit because it would have been too obvious. It just wouldn't have sat right with my approach to watchmaking, so I positioned the dial off-center so that perhaps it wasn't so instantly recognizable as the Union Jack. But really what's it enabled me to do, was bring out the engine-turning and the way in which we conceive and fabricate the dials. I wanted to bring out the contrasting colors of the flag using engine-turning but again to make it more interesting, I wanted to create all the different levels. The dial is incredibly three-dimensional and every single color is depicted with a different engine turning pattern and a different height.
Phillips: And to achieve that effect, you decided to use multiple cuts of sterling silver instead of working with a single plate.
RWS: Right, I think from memory, and I'd have to recount them, but I think there were approximately 34 individual pieces which had to be cut and soldered into position and that's where the challenge took place. It took about three months to work out how best to create the dial, and of course, the silver-soldering itself was a real challenge because too much solder and it will run onto the front of the dial, ruining the engine turning. So it was a huge challenge which kept us occupied in the workshop for a long time.
Phillips: And you used a lathe that once belonged to George Daniels to create the Union Jack dial…
RWS: That's correct. With George bequeathing me the workshop, we used his engine turning for all our work. The traditional approach to dial-making is very important to the way I build my watches, and the engine turning is a major part of that. It gives us our identity.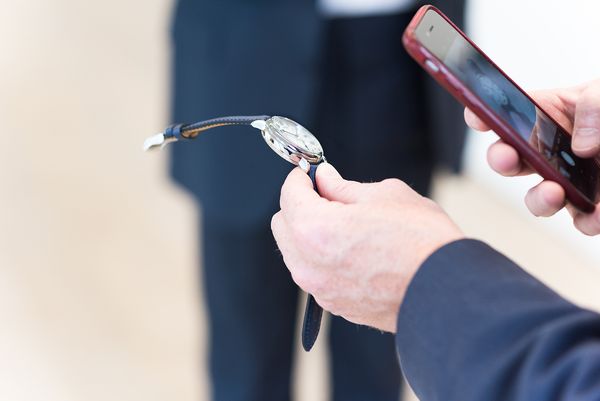 The Great Britain wristwatch has become one of Smith's best-known timepieces through its participation in the GREAT Britain campaign
Phillips: Have you been able to measure the impact the GREAT campaign has had on your own work...
RWS: It's very difficult to measure the impact of such a large campaign. But what's it done is raise awareness of what we're doing and you know how unusual and focused my approach is to watchmaking. Actually, the GREAT campaign is still carrying on and my involvement as an ambassador is still current and there are more things in the pipeline which will be coming out in the next 12 to 18 months. It's an on-going process and it seems to work very well for both myself and the campaign.
Phillips: It was for us an immense honor and pleasure to show the watch in London for what will be its only public appearance in 2018…Can you tell us where it will be going next?
RWS: We really don't know, actually. The GREAT campaign is constantly evolving and adapting to what's happening politically worldwide, so I honestly can't tell you. When it will appear again, I'm not sure, but they have the use of it.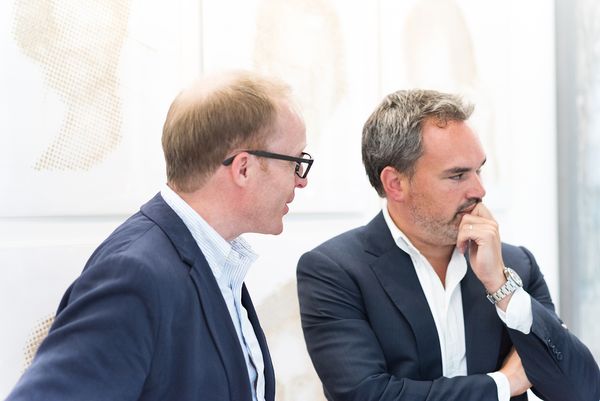 Roger W. Smith (left) with James Marks, International Specialist for Phillips Watches in London
Phillips: What was it like, for you, seeing enthusiasts discover your work, sometimes for the first time, and being able to speak to them about your approach to watchmaking?

RWS: It was a wonderful event and I think all the watches on display are very rare watches, and having the ability to see them close hand was a super experience. Even for myself, I was able to see watches that I've never seen before so it's great and I hope the visitors felt the same way.
Phillips: Growing up as a watchmaker grasping to come to terms with the Daniels method, did you ever imagine such a collection of watches and independent brands as a whole coming to an exhibition like this?
RWS: The fact that you can hold an exhibition with independent makers from all over the world is fabulous. I remember when I first became interested in making watches, back in 1989, there was only George Daniels and Derek Pratt. There was nobody else. Very soon after I think Philippe Dufour appeared, and then Vianney Halter a few years after, and that was it. And now you are hosting a full exhibition, which is wonderful. It shows that people want to create and that they now have the ability to create some very unusual pieces.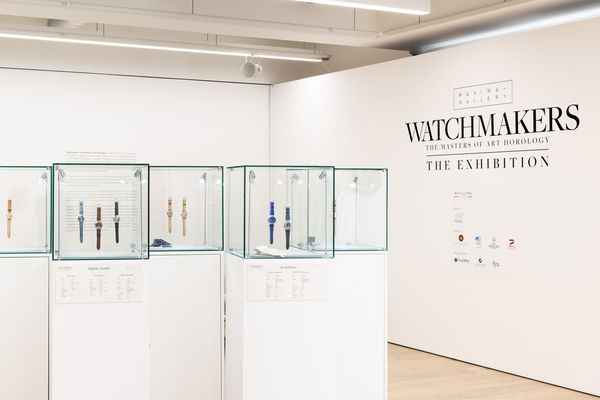 A view of the exhibition in London
Phillips: What's next for you?

RWS: There's a lot I want to do, many different complications I want to work with, but ultimately it's about making good watches. All my work with the co-axial escapement, since 1998, has been about trying to improve the co-axial escapement. George gave us this astonishing escapement and put it in our hands, in my hands, and we've improved it slightly. We're now producing Mark 2 watches which have this incredibly efficient movement. I always say that if I deliver a watch to a client and I never see it again, it never comes back to service, that's great news for me as it means I've done my job well. So that's what really drives me. Whether George fully appreciated what he had created, I don't know. But he did a good job (smiles).

Phillips: I believe you recently moved to a new facility on the Isle of Man, nicknamed The Barn…
RWS: (laughs) Actually, it's a tractor shed, but we still call it the workshop.

Phillips: How has that move helped in terms of production?

RWS: Hugely, really. Because the facility we had before was basically a cottage and we were a cottage industry. It was very cramped; we had no room for extra staff or office equipment, so this gives us more room to take us to the next phase.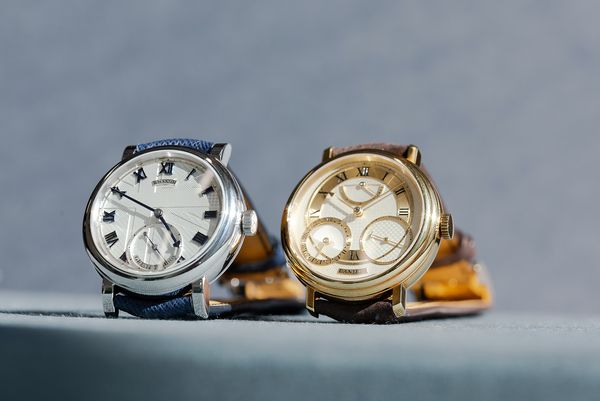 The Great Britain next to a Daniels Anniversary, a watch made in collaboration between George Daniels and Roger W. Smith
Phillips: The biggest question I'm sure you get from collectors is "Roger, when can I have a watch?" How has the new facility allowed you to adjust your delivery times for clients?
RWS: Well, we've only been there for two months now, so it's still very early days for it to have really made an impact. But in theory…well, we've always had a waiting list, from day one we've had a waiting list and the hope is that the new move and being able to take on some extra staff will enable us to keep a hold on that waiting list and for it not to run away.
Phillips: Is it still currently about four years…

RWS: Yes, about four years. What it's allowed me to do is just to take on extra people and put more time towards training. The watches are going to be made in exactly the same way as we always have done, with the same attention to detail, but really that's it. At the moment, we make about ten watches a year; maybe in eighteen months, we could be up to the dizzying heights of maybe twelve or thirteen pieces a year. Our business is very much person-led.
Phillips: Could you give us an idea how the model range will evolve as you find new watchmakers and continue to develop the new facility?
RWS: We're up to Series 5 now and there could be another three to five pieces. What I'm trying to do is create a body of work. A good, solid, body of work that in theory will always be able to be produced.
Roger W. Smith was interviewed by Arthur Touchot and James Marks during the 'Watchmakers : The Masters Of Art Horology' exhibition hosted by Phillips in London.