Fredrik Berselius, Aska, New York. Picture credit: photography by Gentl and Hyers
Having debuted last week with Phaidon, Aska is the very first cookbook from chef Fredrik Berselius following the reimagining and reopening of his two-Michelin-starred restaurant in Brooklyn, New York. From an early age, Berselius knew he not only wanted to make a living from cooking but also own his own restaurant. As he explains in the book, this goal came with "wanting creative freedom and expressing my ideas—in food, in a way of eating, and through the restaurant itself."
As a Swedish native, Berselius found himself at home in New York where, through frequent visits to upstate New York and the Northeast, he can access vast forests, dramatic landscapes and plant life reminiscent of Sweden, all within reach of his urban base. He originally opened Aska in 2012 but moved the restaurant to a new location—an 1860s building from the old manufacturing neighborhood of Brooklyn that included the now-defunct Domino Sugar factory—in 2016. Once the location was chosen, he turned his attention to design.
Design is about utility and beauty, but it can also serve to tell a story.
— Fredrik Berselius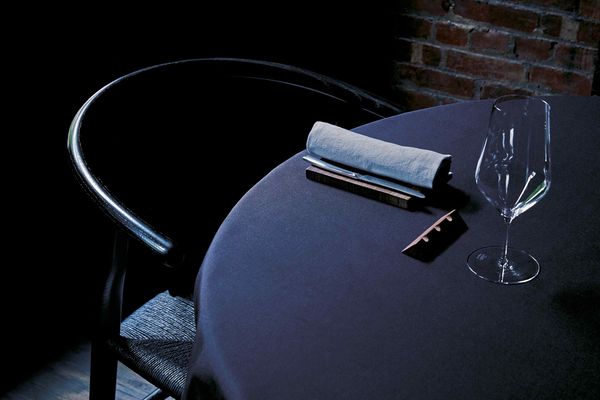 From top: Fredrik Berselius (right). Aska, New York, featuring the Hans Wegner Wishbone Chair in the dining space. Picture credits: photography by Gentl and Hyers
Although not a conventional decision, Berselius chose to paint the interior walls black, which, in tandem with the restaurant's thoughtful lighting, "enhances the sense of welcoming and warmth." He paired Hans Wegner's iconic Wishbone Chairs, produced in Danish oak, with ceramics and serveware custom-made by a designer in upstate New York. Berselius tells us in his book that he "tried working with designers, but they would always talk about what they would add to the space, and I just wanted to remove and clear things away."
During his book tour, we caught up with Berselius and asked him to translate his design ethos to pieces from this week's auction at Phillips New York. In selecting his favorite works on offer, the chef applies his methodical approach and singular vision from his restaurant to our galleries, picking up on clean, smooth lines and warm minimalism that appeal to him in his work.
Discover a grouping of his Design favorites here, and head to Phaidon to browse and purchase his first book, Aska.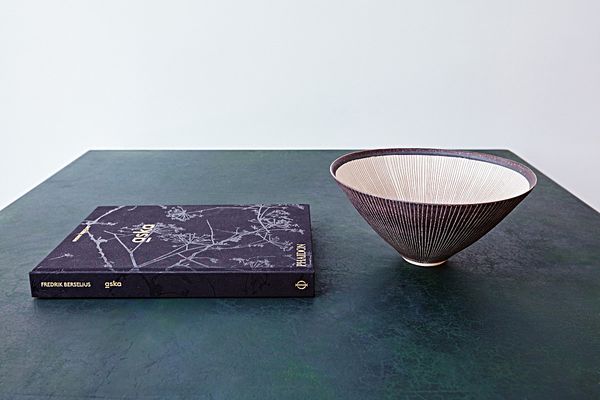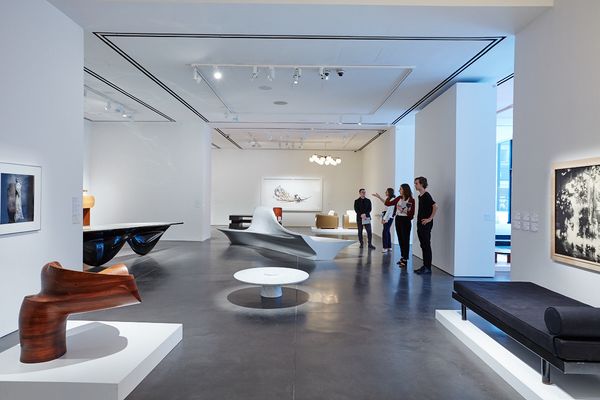 From top: A copy of Aska by Fredrik Berselius sits on a Jean-Michel Frank table alongside a ceramic by Lucie Rie. Below, Head of Department Cordelia Lembo walks Fredrik Berselius through our Park Avenue galleries, with design pieces on view—from left to right—by Wendell Castle, Zaha Hadid, Marc Newson and Jean Prouvé.
Piero Fornasetti "La Stanza Metafisica" (Metaphysical Room), 1958
Lithographic transfer-printed wood, painted wood, brass hinges
Estimate $200,000 - 300,000
Berselius: "I saw this piece in the catalogue and knew instantly that I would like it, but I couldn't tell the actual scale until I walked into the room and saw it in person. I love these panels; I'm blown away by the details, the different sections, the illusionary stairs and Fornasetti's very particular style. It transports you as a two-dimensional piece with a very three-dimensional, architectural feeling. It pulls you in different directions."

Jean-Michel Frank Pair of side tables, circa 1938
Painted iron, leather
Estimate $20,000 - 30,000
Berselius: "With these tables from Jean-Michel Frank from the 1920s, I can't stop staring at the finish — this green leather that's aged so incredibly and beautifully. The tables themselves are so simple and pretty, with very thin iron legs and a surface that resembles a patina. I wish I could have these in the restaurant. For me, they would fit in the restaurant as pieces that aren't pure black."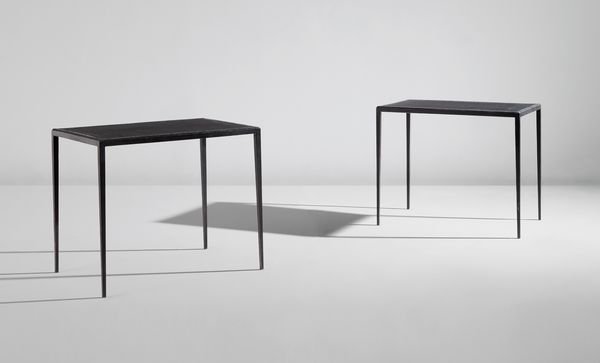 Lucie Rie Large conical bowl, circa 1980
Stoneware and mixed clays producing an integral spiral of color and texture
Estimate $20,000 - 30,000
Berselius: "This piece from Lucie Rie was made sometime in the 1980s, around the time I was born. I love pottery and have for a long time now, especially when it comes to the relationship between food and how we serve it at the restaurant. This particular piece — which of course we wouldn't serve food in — has so much beauty, character and depth with the glaze. The glaze is so particular with its nuanced bluish color. The way the piece is cooked lends it an organic life. You can see the weight to it; you can feel the weight to it...it conveys a sense of time."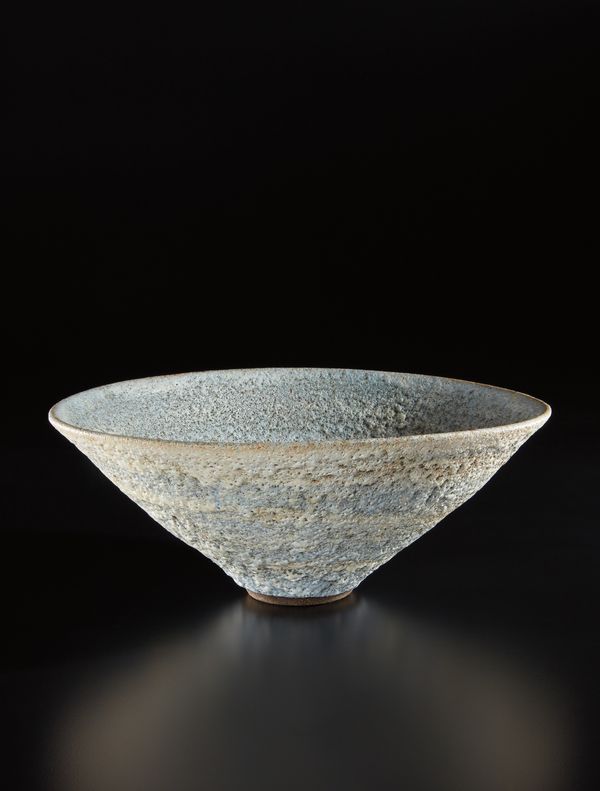 Wendell Castle Unique "Pedestal" chair, 1967
Stack-laminated walnut
Estimate $40,000 - 60,000
Berselius: "I always love wood as a material—to work with it, to appreciate the natural shapes from carving it. And chairs are probably my favorite furniture pieces in general, and this piece by Wendell Castle is just so particular. I love the organic feel of it, the uniqueness of it, that all these layers of walnut create this unique shape. It's so organic in shape that it almost looks like it was pulled directly out of a large piece of wood."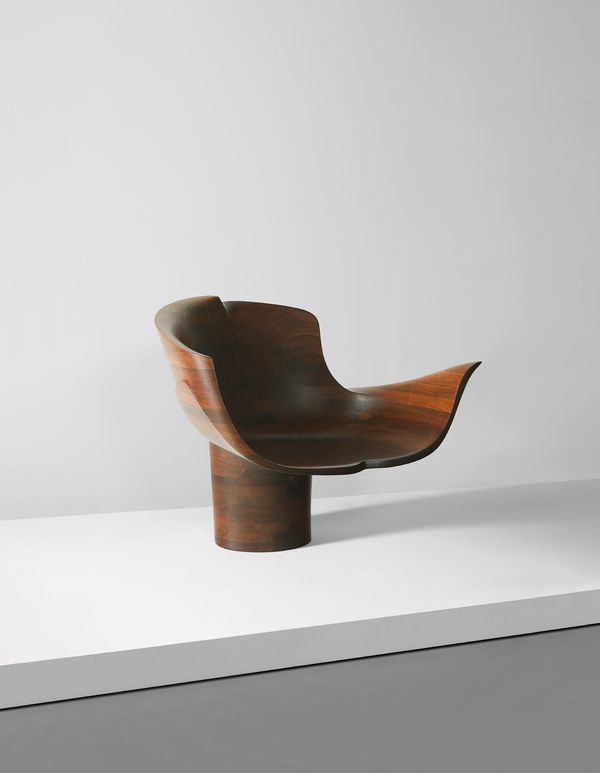 Jan and Joël Martel "Pie", circa 1929
Partial-gilt and patinated bronze
Estimate $12,000 - 18,000
Berselius: "I just liked this piece, titled "Pie," as soon as I saw it in the catalogue. I love it because of its simple nature, and because it's a bird. I think it's a fun piece that still has some significant weight and meaning behind it. To me personally, my uncle always loved birds and I love them as well. Throughout the sale, I thought this is one of the pieces that had the most lightness to it."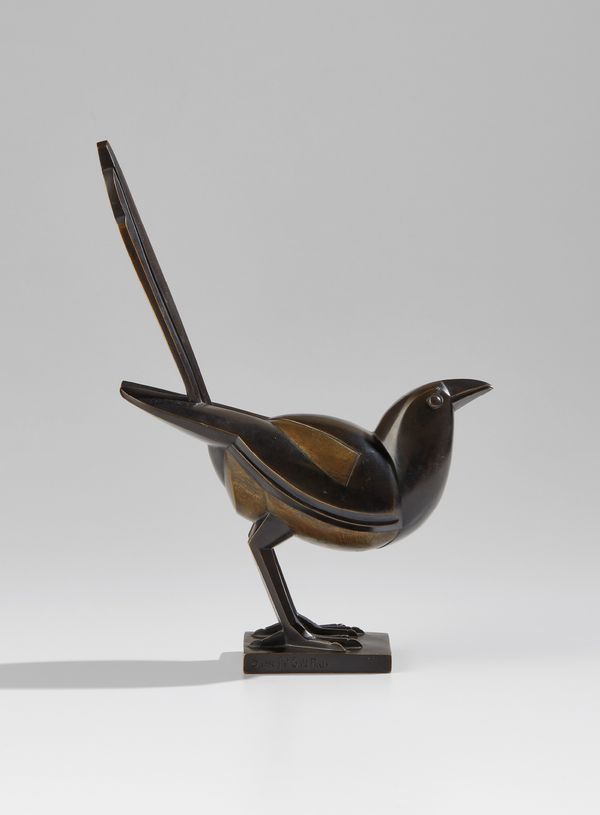 Serge Mouille Pair of "Antony" desk lamps, circa 1955
Painted steel, painted aluminum, brass
Estimate $20,000 - 30,000
Berselius: "I love these two table lamps by Serge Mouille from the mid-1950s. I love their form, with the very oversized shade matched with very narrow shaft. They're timeless, with a great finish, and subtle signs of age from use when you look inside. These lights really stood out to me in the sale."