The results are in and they confirm what we've known for a while now. The Rolex Cosmograph Daytona is one of the hottest and most sought-after collectible wristwatch at the moment. The combined total achieved by the 32 Rolex Cosmograph Daytona watches offered in the Daytona Ultimatum was $22,182,281 (CHF 22,184,500/€18,570,645), and all of the watches were sold. Incredibly, that makes the average result per lot of the sale almost $700,000.
The results were led by 'The Unicorn,' a white gold Rolex Ref. 6265 and the only-known example of a white gold Rolex Cosmograph Daytona. In total, five Daytona watches cleared the CHF 1 Million mark, four of which were made in stainless steel. The results acheived by these pieces can be attributed to both their rarity - two of these watches are so far unique to the market - and the incredible condition they were offered in. Here's a quick rundown of the top ten lots.
LOT 8 - Rolex Ref. 6265 'The Unicorn'
Estimate: In excess of CHF 3 Million; Sold For: CHF 5,937,500 / $ 5,936,906 / € 4,970,281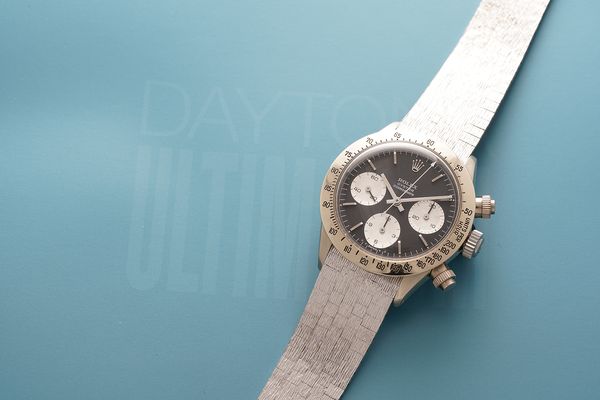 Bearing reference number 6265, this white gold Rolex Cosmograph Daytona is an exceptional example, the one and only-known manual-winding white gold Rolex chronograph. When this watch made its public debut in 2013 via Hodinkee, a well-known online watch magazine, the news of a white gold vintage Daytona sent reverberations throughout the watch community. Research shows that this watch was manufactured in 1970 and delivered in 1971, and was made upon special order for a German retailer. At the time of production, it was very likely the rarest, most luxurious and special Cosmograph available on the market. Some 45 years later, this claim still rings true today. Sold to benefit Children Action, it is the first and most likely only time the white gold reference 6265/9 will ever appear in the public sphere in our lifetime.
LOT 32 - Ref. 6240 'The Neanderthal'
Estimate: In excess of CHF 2.5 Million; Sold For: CHF 3,012,500 / $ 3,012,198 / € 2,521,763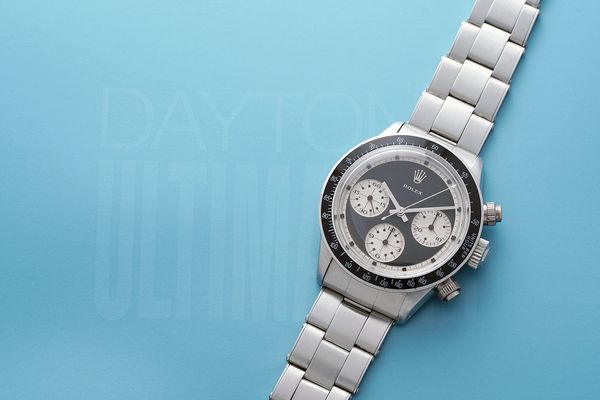 First launched in 1965, reference 6240 was manufactured exclusively in stainless steel and featured an acrylic bezel that displayed the tachymeter. It was most notably the first "Cosmograph" wristwatch equipped with screw-down chronograph pushers, which provided improved water resistance. Produced for a few years only, reference 6240 eventually evolved to the well-known references 6263 and 6265. Most probably unique and incredibly important, this reference 6240 presents a completely novel and unprecedented way of understanding the "Cosmograph". To the best of our knowledge, there is no other timepiece that features this dial configuration.
LOT 21 - Ref. 6263 'The Arabian Knight'
Estimate: In excess of CHF 1.5 Million; Sold For: CHF 1,932,500 / $ 1,932,306 / € 1,617,695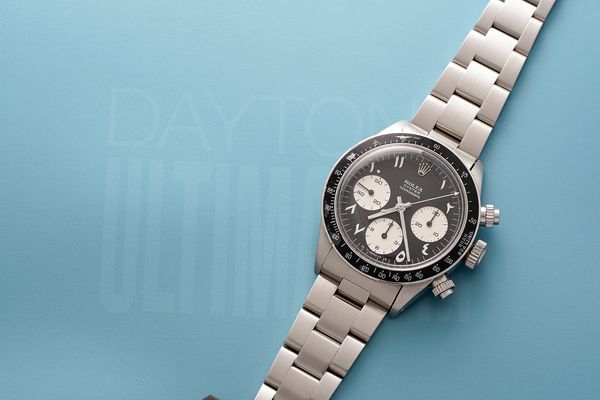 Rolex has created some of the most surprising, beautiful and unusual watches for the Arab States in the Gulf. The manufacture's custom pieces date back to the 1950s, when Rolex fitted Arabic discs to the most luxurious Day-Date watches. Most probably unique, this watch is unlike anything the market has ever seen before. In lieu of white gold markers are white Arabic-Indic numerals printed directly on the black dial. Having never appeared at auction, it has only previously been published in literature. The visual effect of the bi-colour is dazzling and compelling. The "Sigma" designation at 6 o'clock refers to the white gold Rolex crown at 12 o'clock. Most interestingly, the design and font of the Arabic-Indic numerals is incredibly similar to a modern Rolex production watch – the platinum Day-Date 40 with Arabic-Indic numerals sold only by Middle East retailers.
Lot 14 - Ref. 6263 "The Oyster Sotto" inside case back stamped 6239
Estimate: CHF 1 Million - 2 Million; Sold For: CHF 1,662,500 / $ 1,662,333 / € 1,391,678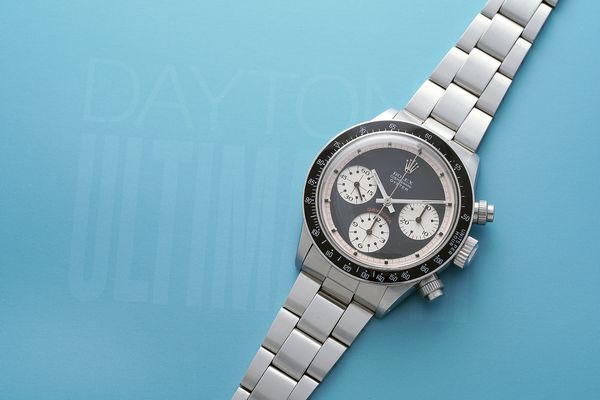 The most unattainable and sought-after variant of all Paul Newman wristwatches is unequivocally the "Oyster Sotto Paul Newman". The moniker "Oyster Sotto", meaning "Oyster Underneath" in Italian, signifies the correct dial configuration of a reference 6263 "Paul Newman" fitted with a black dial. A correct one displays "Rolex Cosmograph Oyster" rather than "Rolex Oyster Cosmograph", the latter of which is the correct configuration of a "Paul Newman" with white dial. "Oyster Sotto" dials were fitted to the earliest 6263s, the "Oyster" designation referring to the model's water-resistant screw-down pushers. Scholars estimate that less than 20 examples have appeared and no more than a handful have been sold at auction thus far.
LOT 27 - Ref. 6263 'The Red Sultan'
Estimate: CHF 600,000 to 1,200,000; Sold For: CHF 1,212,500 / $ 1,212,378 / € 1,014,983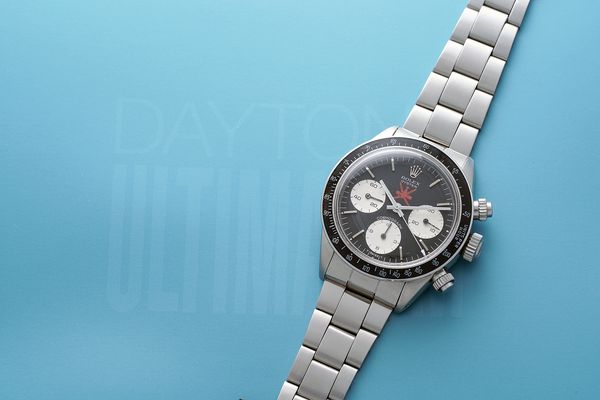 One of the most striking Daytona watches to ever appear at auction, this timepiece was ordered through Asprey and made upon special request by His Majesty Qaboos bin Said Al Said, the Sultan of Oman. Timepieces fitted with custom Middle Eastern dials were often presented as gifts for the most loyal servants, dignitaries and citizens. It was an honor to be presented with a Rolex timepiece bearing the state symbol. Many of these wristwatches are cherished by their original owners, and passed down from one generation to the next. Ordered through Asprey, this timepiece bears the retailer's logo engraved on the case back. Of particular note is the 'hole' near the crisp milled edge of the case, which was used to secure the back in place when Rolex did the engraving. The inside case back is furthermore repeated with the serial number, confirming it was manufactured upon special order.
LOT 7 - Ref. 6239 'The Golden Pagoda'
Estimate: CHF 300,00 to 600,000; Sold For: CHF 948,500 / $ 948,405 / € 793,989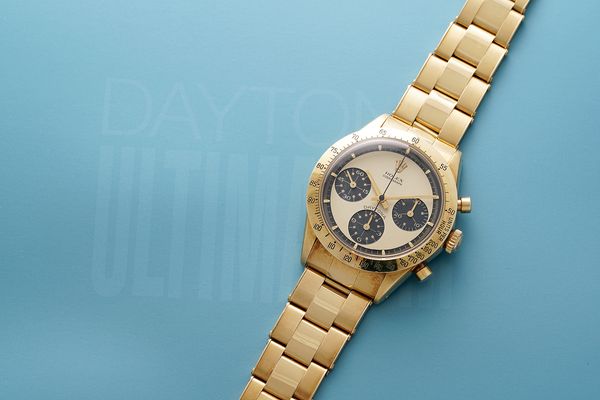 Featuring a champagne dial with gold graphics inside the sunken subsidiary registers, this timepiece was one of the most luxurious Cosmographs available on the market during the late 1960s. Glamorous and eye-catching, it is yet another variant of the beloved "Paul Newman" model. Reference 6239 was hardly ever cased in gold. During the reference's life span, approximately 300 examples were cased in yellow gold, which is quite astounding when one takes into account the model's approximate 14,000 unit production run.
LOT 24 - Ref. 6241 'John Player Special'
Estimate: CHF 500,000 to 1,000,000; Sold For: CHF 912,500 / $ 912,408 / € 763,853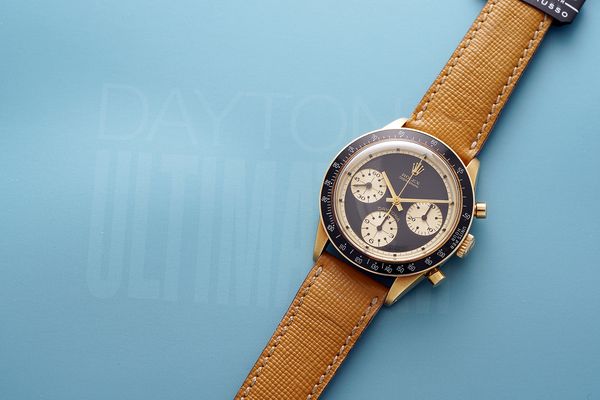 Reference 6241 was manufactured from approximately 1966 to 1969. It is among the rarest Daytona models ever produced. Research indicates that less than 300 examples were cased in 18K yellow gold. A so-called "John Player Special", the present watch is an exceedingly rare variant of the "Paul Newman" model. It is notably one of a few handful of known "John Player Specials" cased in 18K yellow gold. In 1972, John Player & Sons sponsored the Lotus Formula One team, which emblazoned the cigarette maker's logo on its cars. Clad in black and gold livery to match John Player & Sons' corporate colors, the Formula One car became an instant hit and icon. Donning the same colors, the "John Player Special Paul Newman" shares its name with the racing vehicle. While the watch was conceived some years before the car and has no relation to the sporting event, the similarities between the two are absolutely uncanny, from the contrasting black and gold graphics, to the intricate trim and details.
LOT 17 - Ref. 6263 'Ricciardi Panda'
Estimate: CHF 400,000 to 800,000; Sold For: CHF 756,500 / $ 756,424 / € 633,266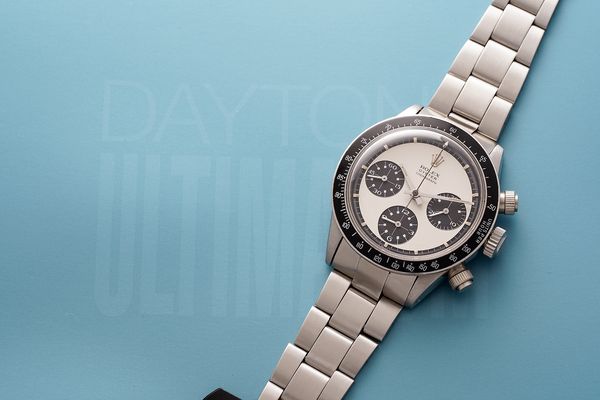 This "Paul Newman" Daytona not only displays the correct attributes of a Mk 1 Panda' dial, it was also retailed at Joyeria Ricciardi, the famed boutique in Buenos Aires, Argentina. One of the earliest reference 6263s ever produced, this watch is fitted with a Mk 1 dial, which is absolutely correct for the 2.085 million serial number. The small "R" in Rolex, along with non-serifed "Oyster Cosmograph" text distinguishes first series dials. One of the most important features of any "Paul Newman" watch is the dial condition, and this one is as good as it gets. Having aged to a beautiful ivory tone, the dial is free of blemishes or tarnishing. The counters are sunken in, and the ivory 'deco-style' graphics are clear and defined. The luminous dots are round, intact and have aged with warm patina, matching the hands.
LOT 19 - Ref. 6269, inside case back stamped 6263 'Le Hibou Grand-Duc'
Estimate: CHF 400,000 to 800,000; Sold For: CHF 606,500 / $ 606,439 / € 507,701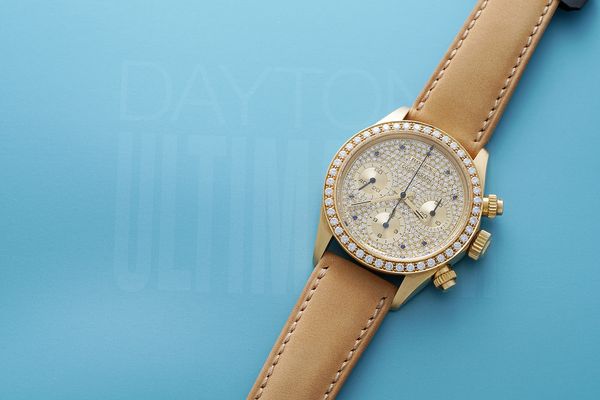 Showcasing a bezel set with 44 brilliant diamonds and pavé dial with 240 diamonds, this Reference 6269 is among the most regal, glamorous and luxurious Cosmograph models ever made. Research shows that Rolex made no more than thirty pieces in total. It is considered a trophy watch for many collectors. This example is especially interesting as the outside case back is punched with French import marks and Rolex France's logo. The owl marks are the inspiration behind the name 'Le Hibou Grand-Duc'. Furthermore, the tops of the lugs are sharp, demonstrating how little if any intervention the watch has seen throughout its lifetime.
LOT 12 - Ref. 6241 'The Bumblebee'
Estimate: CHF 250,000 to 500,000; Sold For: CHF 516,500 / $ 516,448 / € 432,362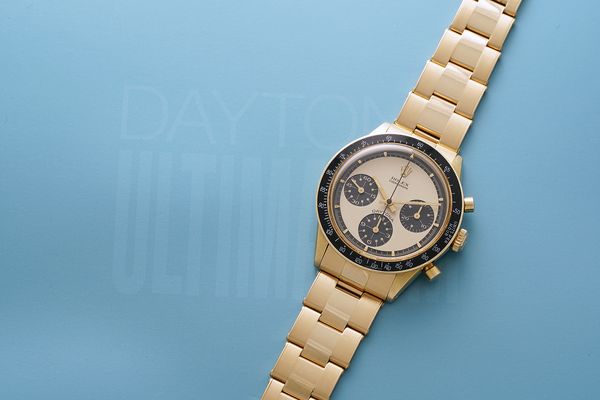 Donning a beautiful champagne dial, this reference 6241 is cased in 18K yellow gold. Launched in 1966, reference 6241 was mainly cased in stainless steel. Scholars estimate that no more than 3000 examples were made during the model's production period. Of these, less than a quarter were dressed in precious metal. Featuring a large 'T Swiss T' designation at 6 o'clock, this bi-color dial configuration is correct for a Cosmograph bearing a serial number of 1.9 million. Now flaunting a warm and subtle honey color, the original champagne sheen has toned down over time. Displaying two crisp hallmarks beneath the lugs and a Mk 1 bezel, this timepiece has been untouched and unaltered since its original sale at auction five years ago when it tripled its pre-auction estimate.
For full results of the Daytona Ultimatum, please visit the auction's catalogue page, here.