Cady Noland Tower of Terror, 1993-1994. Cast aluminum stockade, bench, link chain, padlocks, key. This work is accompanied by a certificate of authenticity signed by the artist.
By Francesco Bonami, Curator and Author
Since Andy Warhol's car crashes, electric chairs and other death-related works, American art has always been fascinated and attracted by violence as a major force in American society. Whether this fascination is merely formal and aesthetic, like in Warhol, or politically charged as in the case of Jenny Holzer, it nevertheless remains a major motif for many artists. The recent new body of paintings by younger artist Nate Lowman about automatic weapons displayed in a supermarket reveals how critical artists such as Warhol, Cady Noland and Holzer have been in defining the next generation of artists.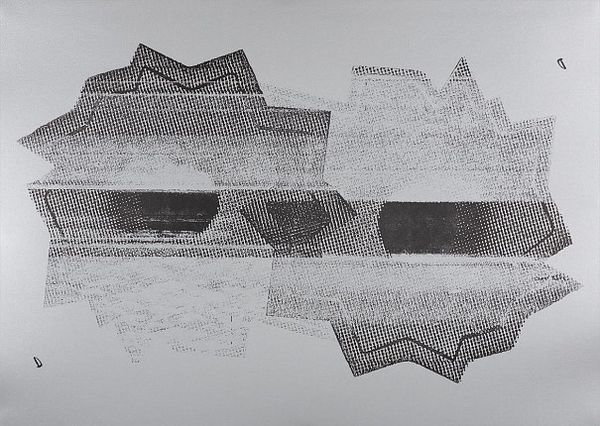 Nate Lowman Bullet Hole, 2010
Violence has undeniably been part of the fabric of American pop culture over the past half-century, with the well-known motto "In God We Trust" replaced with a sense that it is "In Violence We Trust." Violence has always been a significant part of art history since it so closely relates to the human condition; and for the American artists here, Jenny Holzer, Cady Noland and Mark Bradford, violence takes different forms and shapes. Each artist has her or his individual approach to the subject: at times obvious, at times subtle and subliminal.
Jenny Holzer, a leader in language-based art, in the 1980s began to use the "truism" as her self-defense weapon against an abusive environment. A "truism" is a claim that is so obvious or self-evident as to be hardly worth mentioning, except as a reminder or as a rhetorical or literary device. But in Holzer's LED signs, such as Truisms: UNEX sign, 1983, what could appear obvious or self-evident takes on a powerful and impressive new meaning. A basic advertising device in a political and artistic instrument was utterly new for an art world that was just coming out from under a conservative age where Neo-Expressionist and figurative painting were the predominant mediums. Holzer's work was openly challenging the male-dominated art world, the political abuses of power and, more generally, daily social injustices that were happening under people's noses but hardly addressed at a political or artistic level.
Yet Holzer's work was not just a dry expression of protest; it also had an extremely strong architectural and visual presence. The powerful elegance of the work paired with its strong content allowed Holzer to enter both important private collections and those of the major museums around the world. Holzer clearly understood that the best protests had the best chance of being effective if one could use the Trojan horse of slick aesthetic and alluring technological presence that mirrored the advertising and marketing tools used by corporate and commercial brands around the world.
Jenny Holzer Truisms: UNEX sign, 1983. Horizontal LED sign, red, green, and blue diodes, flat black housing. Signed "Jenny Holzer" on a label affixed to the reverse.
On the heels of Holzer, just a few years later, another artist, Cady Noland, was able to address through her work the dark side of suburban America—its inner violence and its legacy in the country's most recent history. Tower of Terror, a slick aluminum three-man pillory is a work where Noland, by now one of the most respected and mysterious artists of her generation, was able to weave together traditional Americana with Minimalism to create a chilling sculpture where violence is clean and sanitized but remains visible in its most terrifying expressions of harshness and coldness.
Noland was able to weave together traditional Americana with Minimalism to create a chilling sculpture...
Cady Noland Tower of Terror, 1993-1994
If Holzer and Noland are relying on their jargon of technology and hardware, a much younger artist, Mark Bradford, is subtly inserting social violence, quoting the roughness of street life drawings with scraps and remnants of what could appear to be discarded materials collected in recycling bins and garbage cans, to create an aerial map of a city or a neighborhood—most likely a Los Angeles one. Bradford's work brings to mind police mapping a city, monitoring order and facing violence in its many different guises. His craft carries the patina of collective social effort and the shadow memories of urban guerrilla warfare carried out by the underclass during racial unrest and protest.
Violence and injustice exposed, hidden or quoted, remain...the playgrounds to which their artistic expression has chosen to be sentenced.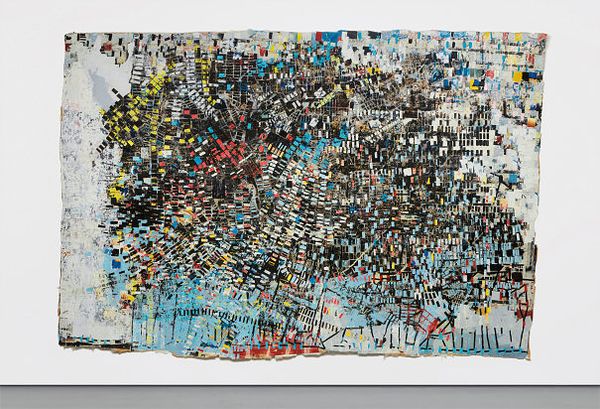 Mark Bradford Black Venus, 2005. Mixed media collage.
While Jenny Holzer, Cady Noland and Mark Bradford are not age-wise so distant from each other, the approach and difference engendered in their work is at once completely different and, paradoxically, extremely complementary. Each of these three works speaks to each other, and at the same time, to the transformation of American society over the last three decades.
All bear critical witness, vocally and visually, to the social unbalance of American society and its quest to find healing, even if always just beyond society's collective grasp. Violence and injustice exposed, hidden or quoted, remain for these artists the playgrounds to which their artistic expression has chosen to be sentenced.