Portrait of the artist
I only feel safe when I am standing in front of a blank sheet. It is the only thing that relieves my fears. Painting is my transgression.
— Carol Rama
This spring in New York, we are thrilled to be offering two masterworks by Carol Rama: Senza titolo from 1963 and Luogo e segni from 1976. Born in Turin in 1918, Rama lived and practiced there until her death in 2015. Completely self-taught, Rama has only recently begun to receive the critical, international acclaim that she deserves. With a renewed interest in her diverse and prolific oeuvre over the past four years, the breadth of Rama's work has been showcased at the New Museum, Irish Museum of Modern Art, Musée d'Art Moderne de la Ville de Paris and other institutions around the world.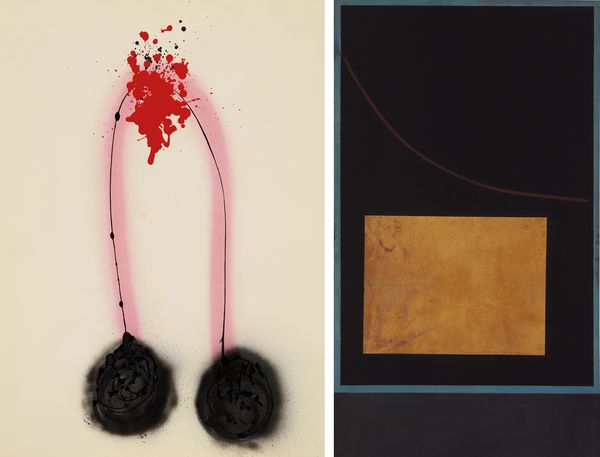 Left: Senza titolo, 1963; Right: Luogo e segni, 1976
Rama's most recent show, Antibodies, held at the New Museum in 2017, was the artist's first solo museum show in New York and the largest presentation of her work in the United States to date. According to Jason Fargo of The New York Times, "This is a show that will take you to the edge of madness and will force you to acknowledge the fine line between genius and lunacy. It will also force you to reckon with the artistic significance of gender and to consider just how much Rama's womanhood informed the frenzy that fired her art" (Jason Fargo, "The Psychosexual World of Carol Rama Still Shocks", The New York Times, May 11, 2017). As part of the exhibition catalogue for the 2015 show of Rama's work at Museu d'Art Contemporani de Barcelona, Barcelona, Anne Dressen wrote, "Expressionist, Surrealist, Pop, Minimalist: Rama is all those things, and sometimes even appears anachronistic, knowingly outside the big identified movements and, for that very reason, eternally contemporary."
Indeed these shows came at a time when museums have begun to give more attention to female artists, paying homage to their importance within the trajectory of art history.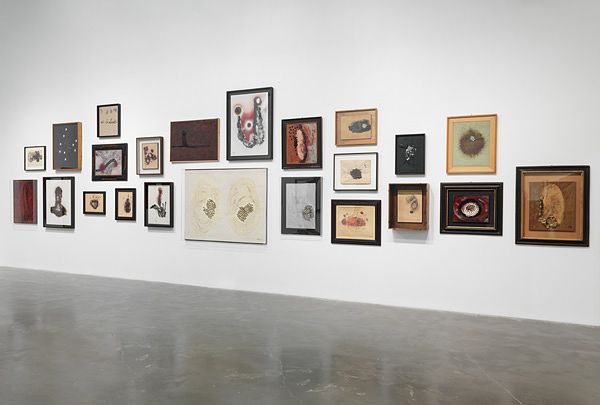 Installation view of Carol Rama: Antibodies, 2017. New Museum, New York. Photo: Maris Hutchinson / EPW Studio
We all have our own tropical disease within us, for which we seek a remedy. My remedy is painting.
— Carol Rama
On the heels of this celebrated exhibition, the two works from our 20th Century & Contemporary Art Day Sale Morning Session are being offered at the height of a newfound appreciation for Rama. Senza titolo is characterized by organic forms and abstract applications of media, while Luogo e segni emphasizes her use of unconventional art materials including rubber and leather. Together, these works exemplify the diversity found in Carol Rama's practice.
Read here to learn more about these works, which are now on view at 450 Park Avenue ahead of our auction at 10am EDT on 16 May.