Donald Judd Untitled, 1985, in the home of Diane Segard Venet, Residences Magazine, July. Image © Antoine Baralhe, Artwork © 2018 Judd Foundation/Artists Rights Society (ARS), New York
Art historian and curator Rudi Fuchs is one of the leading experts on Donald Judd works. In his accomplished career, he was Director of the Van Abbemuseum in Eindhoven, the Gemeentemuseum in The Hague and the Stedelijk Museum in Amsterdam, and President of the Chinati Foundation, among other institutions. He is currently organizing a joint exhibition of printed works by Judd and Arnulf Rainer, which will open in June 2018 at the Arnulf-Rainer-Museum in Austria.
On the occasion of the sale of Donald Judd's untitled from the collection of Diane Venet in our upcoming Evening Sale, Patrizia Koenig, Researcher & Writer for 20th Century & Contemporary Art at Phillips New York, speaks to Fuchs about Judd's approach to color within his practice.
Patrizia Koenig: Rudi, thank you for sharing your unique insights on Donald Judd's multicolored pieces. These works seem to have cultivated new critical attention at the turn of the millennium, thanks in part to your fantastic essay discussing Judd's use of color in Tate Modern's 2004 retrospective catalogue. What is the larger significance of this series within Judd's oeuvre?
Rudi Fuchs: Judd was a colorist at heart — he never could handle the term minimal art; he didn't like it very much, because in that sense he was never a minimalist. With those boxes of metal, which were made in Switzerland, he made volumes of shapes and gave them color. The shapes are simple because they are only meant to be carriers of color. They have to carry the color, to transport the color.
His use of color became more complex because there simply was no reason to restrict color. He had no limits. There's no reason to restrict color like Mondrian did. Why should you do that? With Mondrian, it's maybe different, because he had a whole ideology of simplicity. And he was still making paintings, or compositions, as he called them. Mondrian was all about balance between one side and the other. With Judd, it's all very free. It's like a deck of cards. You see colors changing position all the time. It's always moving, it doesn't stop.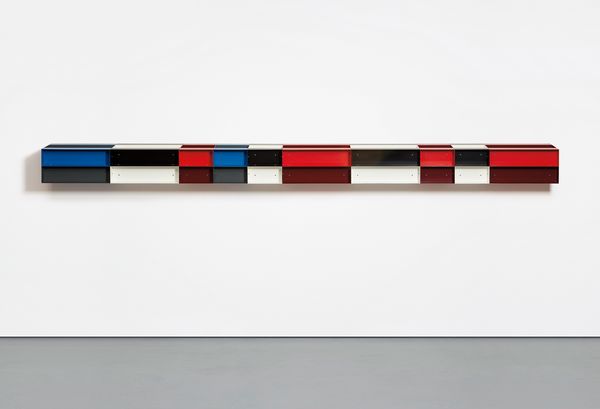 Donald Judd Untitled, 1985. This work will be offered in our New York Evening Sale of 20th Century & Contemporary Art on 17 May 2018.
If you compare the different multi-colored versions, this one here, in particular, is a very bright one because there's light blue, gray, black, white, this very clear red, and then this Venetian red. The colors don't mingle. The blue and the gray are an especially good group; the blue is bright, the gray is softer, but they are still extremely separate. That's what they are — colors combined in shapes.
PK: Can you elaborate on how Judd thought like a colorist? Which artistic predecessors do you feel he specifically looked to for the multicolored pieces?
RF: Judd was without a doubt a first-rate colorist. In that sense, he is the right successor to Barnett Newman. And I also remember when Dan Flavin was on German television and he was asked about Donald Judd, who was a friend, Flavin said, "Judd is probably the best American artist. Probably better than Pollock." And I think he's right. The way he uses color in these rectangular shapes is very precise, very sharp. Right now I'm actually doing an exhibition of Judd's woodcuts…I think with the woodcuts and the multi-colored pieces — it's like Mozart playing the piano. Crystal clear, bright, clear, refined and there's no misunderstanding.
Judd was without a doubt a first-rate colorist. In that sense, he is the right successor to Barnett Newman.
— Rudi Fuchs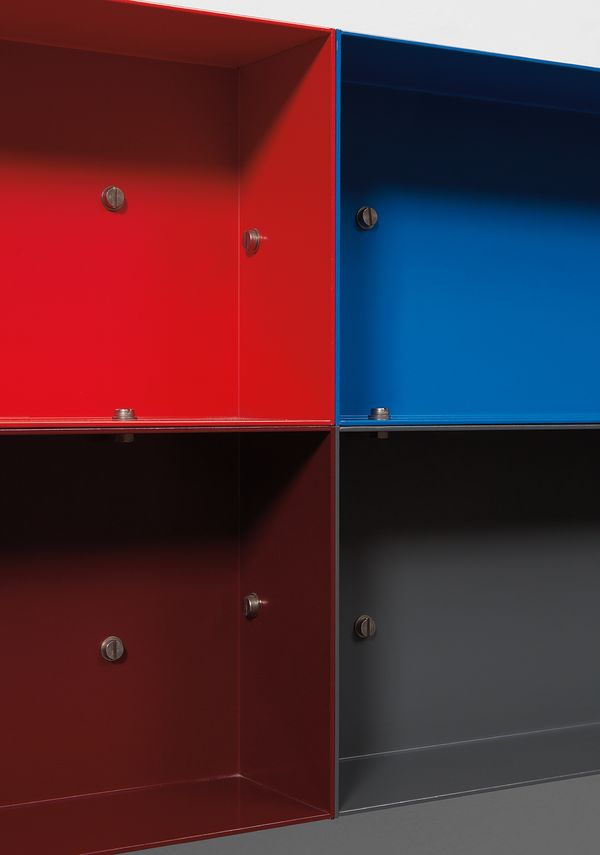 PK: You speak of precision and avoiding misunderstanding — what was the significance of this for Judd?
RF: Judd was an extreme abstractionist but also an extreme humanist. He hated when people lied. The truth was what it was all about. In correspondence between Thomas Jefferson and John Adams, they discuss language at some point, and they say it's necessary to be very precise in the formulation of language of words because, otherwise, people misunderstand them. As long as words are ambiguous, communication is very difficult. Misunderstanding would be a failure.
Judd had the same idea about shapes — shapes that would be very simple, very precise, very unambiguous. There can't be any misunderstanding about their meaning. They are what they are and that's very important. They don't suggest things that you don't know and that you have to find out.
PK: Nevertheless, people often approach Judd's works wanting to discover some underlying system or a broader mathematical equation. To what extent was there an underlying system and an interest in measuring things out? What concerns drove Judd in choosing color combinations?
RF: It makes no sense to go in to find out if there's a system in the arrangement. It's instinct. Any system would be a limitation. Judd had little shapes of color, made from plexi-glass and other materials, and he worked very instinctively. He would have made a decision to use black, white, red, blue, gray, white...and then he would use pieces of paper and lay them out on a table of what it looks like. That's how he worked, very physical, very straightforward.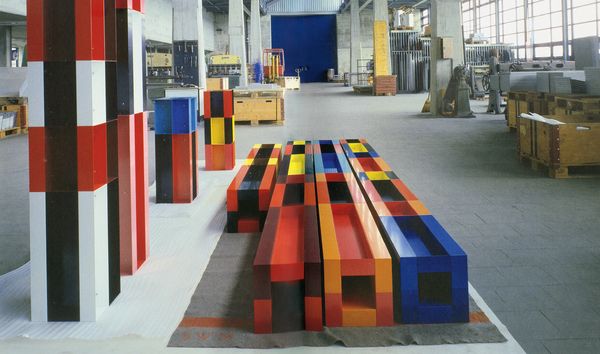 Lehni AG Switzerland, RAL numbers and metals used in works. Image Judd Foundation Archives
People thought they were too simple. They wanted them to be more complex, some sort of story that would make them more interesting. But what people have to understand, and that's what Judd was very convinced about — it's about what you see. And maybe what you see is something you have to get used to, maybe you don't understand it. And the only way you can see it is by looking at it. One thing that people also don't understand or forget — all this art is not invented, it's all real, it's all physically made.
Does it mean this or that? He hated that. I remember when I was President of the Chinati Foundation, I was in Judd's office and he was giving an interview for German television. As they always do, they asked what his work meant. They never ask you what you make, but what it means. And of course, he had no idea, like Barnett Newman had no idea what that means. In my position, I would often have to give speeches, which necessitated giving some kind of narrative. So I always told them that the pride of Marfa was utopian. That's what people understand. Because that's what America is. When Judd, in that interview, was asked what his work means, he said, "well, Rudi thinks it's utopian, but for me it's just real." And that difference between utopia and reality makes his art an abstract realism in a very extreme sense. It's completely new. Nobody did it before. He made something completely new in terms of color.
Judd is probably the best American artist. Probably better than Pollock.
— Dan Flavin
PK: Lastly, can you share what Judd's works mean to you personally?
RF: I like Judd's work because of its clarity; it's concrete and it's real and it is extremely exciting art. It's also very rich. I mean so many things happen. Just sit in front of the piece and sit in front of it for half an hour — it continues to unfold itself. The longer you look at it...you can only compare it to the melody of the flute on the horizon, somewhere…I must be careful of becoming too romantic about these things.
Judd was a good friend. I mean, I think of him every day — because he is a moral authority in a sense. He makes art moral in a very straightforward way. People should not accept shit. That's why he makes art. And the thing should be as beautiful and precise as possible.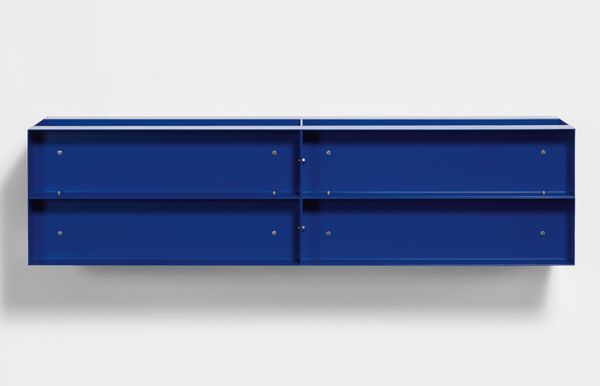 Donald Judd Untitled, 1989. This work will be offered in our New York Day Sale Morning Session of 20th Century & Contemporary Art on 16 May 2018.