Carlos Alfonzo Untitled, 1989
For this season's iteration of New Now, keeping with our tradition of identifying emerging talent and underappreciated movements, we shine a spotlight on Cuba—a country that radiates a tantalizing mystique and draws collectors from all over the world to experience its art and culture firsthand. This selection of 15 lots has been culled from a pioneering private collection and carefully curated to include 13 Cuban artists, each of whose work gives voice to an individual experience of Cuban history and society.
The artworks span from 1936 to 2010, showcasing a multiplicity of aesthetic and political approaches, thereby challenging the notion of any single national perspective emanating from this complex and intriguing country. At various times, these artists have been supported, censored, embraced and restricted by a Cuban government that has often used their art as a vehicle for diplomatic relations and political projections to the outside world. However, through their artistic practices, the artists represented here have responded in thoughtful and sometimes critical ways to outside opinions of their country as an exotic utopian—or dystopian—destination at the periphery of conventional capitalism and democracy.
International recognition of modern and contemporary Cuban art took center stage in 2017 with the exhibition Adiós Utopia: Art in Cuba Since 1950 at the Museum of Fine Arts Houston followed by the Walker Art Center in Minneapolis. Many of the artists in this sale were represented in these lauded institutional exhibitions, including Yoan Capote whose sculpture and watercolor present viewers with ironic visual poetry, as well as Carlos Garaicoa whose lightbox illuminates two indifferent Cuban pedestrians as they pass a crumbling façade so typical of contemporary Havana. Also included here is the late Belkis Ayón, who participated in the 1993 Venice Biennale and whose recent retrospective at El Museo del Barrio received critical acclaim and praise for her elegant representation of secrecy and exclusion, particularly of women in the Afro-Cuban Abakuá society.
The selection presented here is in no way comprehensive, but rather a means of whetting the palate for collectors interested in delving into the uncharted waters of a creative nation on the rise.
Belkis Ayón My Vernicle o ¿tu amor me condena? (My Venicle or Your Love Condemns Me), 1998

Belkis Ayón died tragically by her own hand at the age of 32, leaving behind a prolific body of work that is finally being revisited in recognition of her significant contribution to the field of contemporary printmaking. Ayón first received international acclaim in 1993 with her exhibition at the Venice Biennale, and recently a retrospective of her work at the El Museo del Barrio in New York, which has reinvigorated an international interest in her practice. Her choice medium was collography, a labor-intensive method of engraving that produces flattened, monochromatic shapes, which Ayón would transform into haunting figures covered in complex textures, suggestive of embroidery or embossing.
The present lot reflects a recurring leitmotif in Ayón's work: the Abakúa religion, a secret society restricted to male initiates. However, in her work, this patriarchal narrative shifts as the artist repositions women as the protagonists. Interestingly, Ayón's figures are reminiscent of Kara Walker's silhouettes with their almost featureless faces and simplified shapes, yet their proud and defiant eyes confront the viewer.
In this work, the figure appears to be removing a mask. The word "vernicle" in the title refers to an obsolete term meaning an image of Jesus, yet Ayón has chosen to depict a woman, as she so often does. In the artist's own words, this important print symbolizes "indecision, confusion, of wanting and not wanting, desire and not being able to desire, it is a fight against the mask or façade that as humans we desperately hang onto."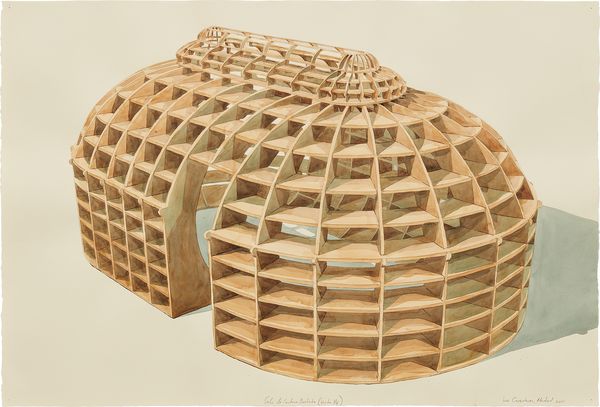 Los Carpinteros Sala de Lectura Ovalada (Oval Reading Room), 2011
Los Carpinteros is an artist's collective that was founded in 1992 by Marco Antonio Castillo Valdés, Dagoberto Rodríguez Sánchez and Alexandre Arrechea. In 2003, Arrechea pursued his own artistic career, while Castillo and Rodríguez continued as a collective based in Havana and Madrid. Their name, meaning "The Carpenters," is attributed to the paintings and sculptures they made using self-taught carpentry techniques. They have exhibited extensively throughout Europe and the United States and their work is included in prestigious collections such as the Centre Pompidou in Paris, The Museum of Modern Art, New York and the Thyssen-Bornemisza Art Contemporary, Vienna. Their oeuvre explores the intersection between art and quotidian life by merging architecture, design, drawing and sculpture into conceptual works that negotiate the space between the functional and non-functional. Watercolors, such as the present lot, are used as a mock blueprint or technical draft that suggests the planning stages involved in the making of art, yet they function exquisitely on their own and have become recognizable worldwide.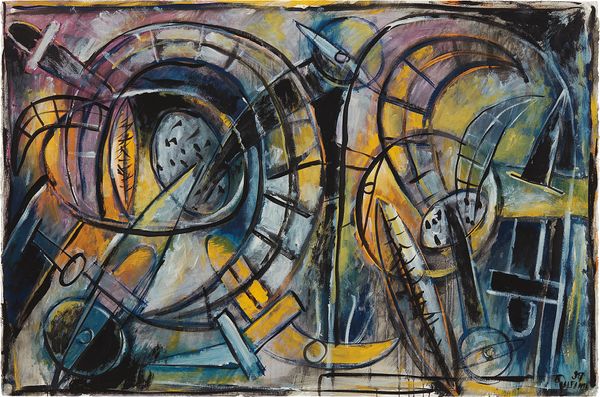 Carlos Alfonzo Untitled, 1989
Constrained by national restrictions on artistic production in Cuba, Carlos Alfonzo immigrated to Miami in 1980 amidst the onset of the AIDS endemic. There, his artistic practice would reach new levels, culminating with his inclusion in the Whitney Biennial in 1991. Characterized by strong lines juxtaposed with organic forms, his mature work includes symbols relating to Santería, evincing the influence of fellow Cuban and renowned surrealist Wifredo Lam.
Ultimately, Alfonzo found the artistic freedom he yearned for in a contemporary version of Abstract Expressionism. His gestural brushstrokes and luminous colors reference Willem de Kooning, while his expansive treatment of the canvas is reminiscent of Jackson Pollock. The striking composition in this present lot features vibrant geometric tongue-like shapes pierced by daggers, subtly alluding to his homosexuality as well as a fearful rage generated by the AIDS epidemic. Tragically, he would succumb to AIDS-related complications at the tender age of 41, but Alfonzo's art remains a testament to his continued significance today in a world still rife with polarizing perspectives on immigration and homosexuality. Alfonzo's work is included in the collections of Smithsonian American Art Museum and the Hirshhorn Museum and Sculpture Garden in Washington D.C.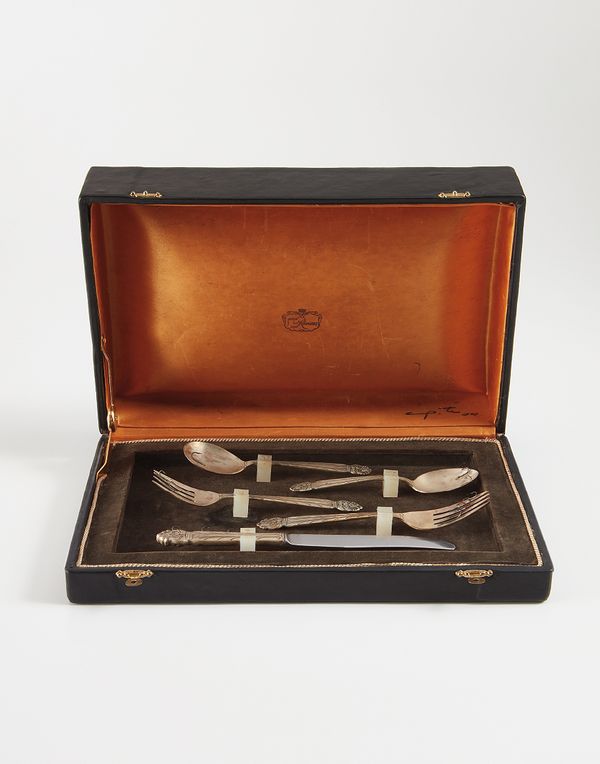 Yoan Capote Como los peces (Like Fish), 2000
Yoan Capote studied at the famous Instituto Superior de Arte in Havana, where he still lives and works today. He has exhibited extensively in Cuba and abroad, including solo exhibitions at Jack Shainman Gallery and the acclaimed institutional exhibition, Adiós Utopia; Dreams and Deceptions in Cuban Art that traveled from the Museum of Fine Arts Houston to the Walker Art Center in 2017. Capote's work tackles themes of migration or government, referencing important aspects of Cuban identity since the Revolution. He uses sculpture and other media to create analogies between visual poetry and lifeless objects by merging conflicting and disparate objects to create paradoxical images imbued with political and psychological undertones. This approach results in witty, thought-provoking artworks that investigate power and difference based social constructions.
The present work is an iconic example. At first glance, the viewer is confronted by fine silver cutlery contained in a velvet-lined, leather case, symbolizing the affluent Cuba prior to Castro's revolution. However, Capote has embedded these eating devices with sharp fish hooks, thus referencing the title Como los peces, meaning "like fish." This tiny intervention changes our interpretation entirely, thereby referencing not only the food shortages in Cuba that Capote's generation experienced after the post-Soviet economic crisis but also the tantalizing draw of political ideologies—both communism and capitalism—that lure the common man into perilous behavior.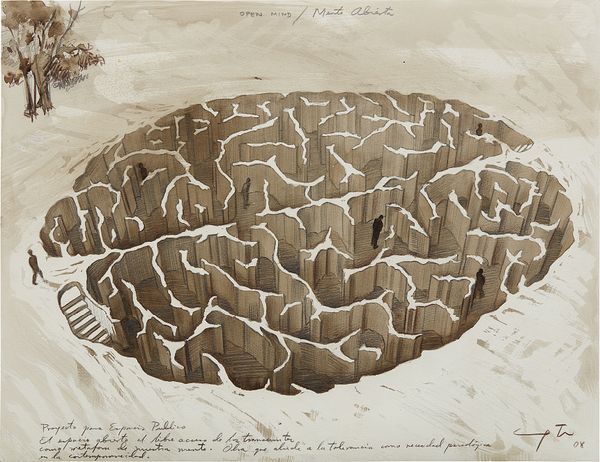 Yoan Capote Open Mind / Mente Abierta, 2008
The above work is a study of an important installation that was presented at the 10th Havana Biennial in 2009. With this important preliminary watercolor, Capote presented a plan for a large-scale labyrinth that would fill an entire room, allowing viewers to become participants in a complex journey. When viewed from above, the labyrinth resembled the human brain and visitors could imagine themselves as neurons traveling through the pathways, carrying with them various notions, histories and dreams. This beautifully rendered watercolor brings to life the artist's vision for a neutral public space of tolerance, where one can meditate and exchange ideas regardless of political, cultural and religious differences.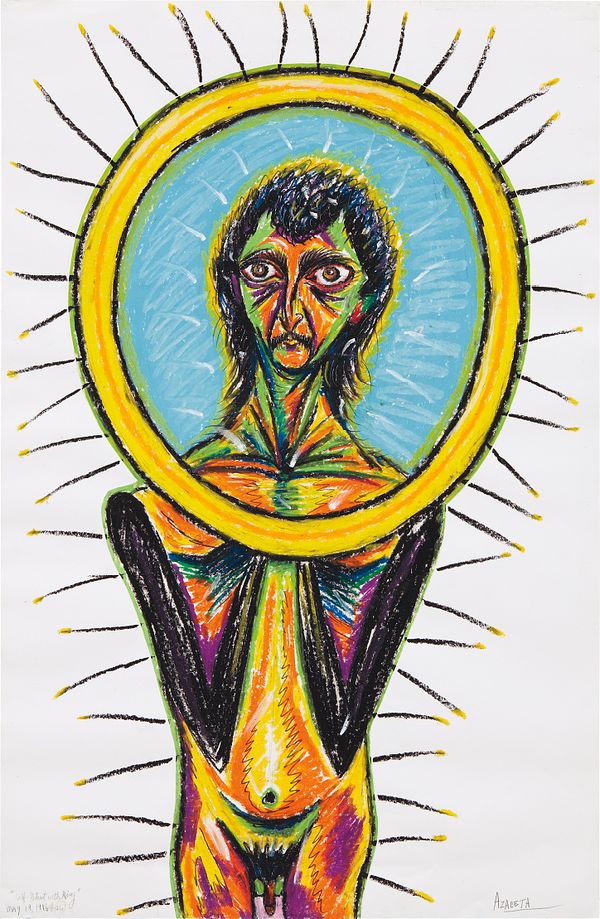 Luis Cruz Azaceta Self-Portrait with Ring, 1981
Luis Cruz Azaceta left Cuba for the United States at the age of 18 after experiencing both the Batista regime and the post-1959 Revolution under Fidel Castro. The violence, human cruelty, alienation and injustice he witnessed would become central tenants of his work, which spans more than 40 years. With his expressionist style and visceral subject matter, it comes as no surprise that the artist credits the influence of artists like Francis Bacon, Egon Schiele and Francisco Goya.The present work comes from a period when self-portraits dominated his compositions and the AIDS epidemic was rampant. In Self-Portrait with Ring, the emaciated figure symbolizes the fear and ambiguous dread of exodus and migration, in a way reminiscent of Leon Golub's paintings. Yet the purposefully distorted self-portrait enveloped by a large floating ring also has a mystical quality that may also harken back to an understanding of Santería from his native Cuba. Cruz Azaceta's work has been widely exhibited and is included in the collections of the Museum of Modern Art, New York and the Blanton Museum of Art, among other important institutions.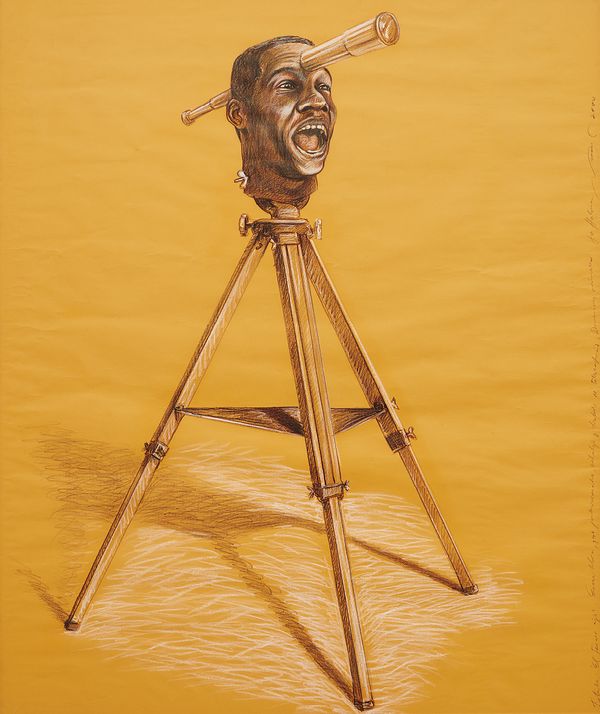 Armando Mariño El tercer ojo (The Third Eye), 2000
Armando Mariño is celebrated for his unique and satirical approach to issues on race, gender, power, and disorder. The artist appropriates images, references and techniques to bring stereotypes and erroneous concepts to the surface in an attempt to reshape discourse set by the Western world that excludes the 'other.' The subject in the present lot features a violent image of a telescope javelined between the eyes of a decapitated head fixed atop a tripod. Known for his saturated palette, Mariño uses color as an agent to engage viewers with his work. He inundates the viewer with color and visual violence, encouraging viewers to consider their relationship to the work.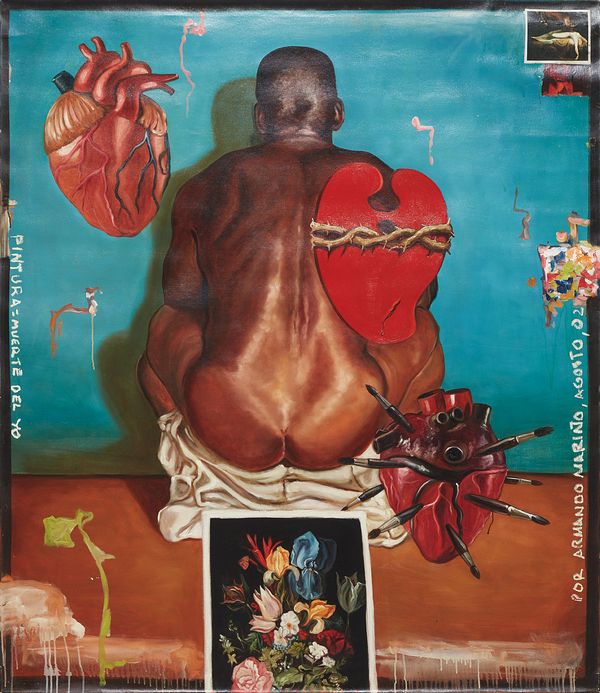 Armando Mariño Muerte del yo (The Death of the Ego), 2002
Armando Mariño studied first in Cuba and then abroad in Amsterdam, and his work has been exhibited widely in Europe and the United States. The present lot features a seated male nude facing a vivid blue wall. In this position, the figure reveals his sensual bare back to the viewer, demonstrating the artist's masterful painting technique and tendency towards rich, saturated colors. Reflecting on his own racially mixed identity, Mariño's narratives comment on the politics of power and exclusion. As a result, his works are doused with cultural symbols yet they are left ambiguous, utilizing humor and parody to allude to the stereotypes that Western society falls back on when considering otherness.
The figure here is faceless, leaving only his body to be admired, thereby referencing what many see when confronted with the black male body. But consider the subject's perspective, who based on his positioning appears to be a model sitting for an artist; yet he is forced up against a wall, admired only for his rippling musculature, both as a symbol of brute force and sexual desire. The composition further references the act of painting by including anatomical studies, a still life and collage, bringing the viewer into the position of the painter himself, working in his studio.
Manuel Mendive Untitled, 1987
Manuel Mendive's artistic vision is shaped by Cuban culture, Santería, daily life and the creative spirit. The world Mendive designs in his artwork often combines water, fish and plants that together create a fantastical accord. The present lot has a mystical quality and includes Mendive's signature anamorphic figures situated in an elaborate, mythological landscape. Commonly regarded as a key player in the Cuban vanguard movement of the 1960s, Mendive is concerned with the sociocultural promotion of Afro-Cuban culture and its impact on Cuban identity. His works are infused with imagery that relates to his African heritage and Santería as both a religion and cultural staple of Cuba. The artist's work is included in many museum collections including the National Museum of Fine Arts in Havana, the Ethnographic Museum of Budapest, and the Museum of Modern Art in Paris, among others. He will be the subject of a major exhibition opening at the Bronx Museum of Art in July of this year, titled Manuel Mendive: Nature, Spirit, and Body.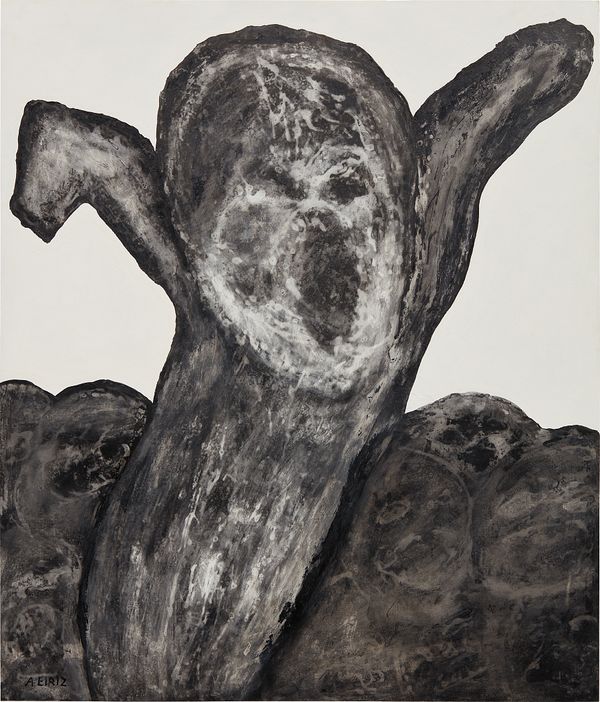 Antonia Eiriz Untitled, circa 1960
Cuban-born Antonia Eiriz played a key role in the neo-figurative Cuban movement during the 1960s and '70s. In 1958, she graduated from the Escuela Nacional de Bellas Artes San Alejandro in Havana and later taught young Cuban artists, such as Tomás Sánchez at the Escuela Nacional de Arte de Cubanacán. Despite her academic training, much of her artistic education is credited to the insight she gained from her mentor, Guido Llinás, a founding member of the abstract expressionist group, Los Once (1953-55). Best known for her expressionist paintings and works on paper, Eiriz creates images that emanate a uniquely dark presence. The present lot exhibits Eiriz's signature approach to depicting suffering through an abstracted form of figuration. By omitting detail in her figure, the artist urges the viewer to focus on the feelings and reactions that the painting conjures. Rendered with dark pigment, this work's monochromatic palette does not mute its vibrant emphasis on emotion. Instead it explores outbursts of rage and expressionistic human forms set within the context of Cuban life in the 1960s. Eiriz's work was recently included in Radical Women: Latin American Art, 1960-1985 at the Hammer Museum in 2017, which will travel to the Brooklyn Museum this year.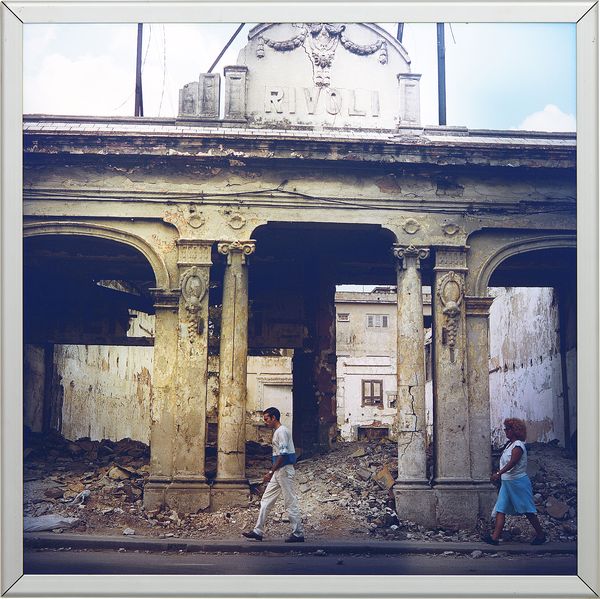 Carlos Garaicoa Rivoli (The Place where Blood Flows), 2002
Carlos Garaicoa's hometown of Havana became the first city featured in his body of work surrounding themes of architecture, ruins and utopia. In this series, he "assumed the fictitious identity of an architect whose mission was to renovate and restore buildings on point of collapse" (Abelardo Mena Chicuri, ed., Cuban avant-garde: contemporary Cuban art from the Farber Collection, 2007). Following Havana, he subsequently explored great metropolises like New York, Valencia and Minneapolis using these lenses. Despite international shifts in perspective, Garaicoa's work primarily focuses on Havana's policies following the 1959 revolution that put new construction and preservation renovations in the city to a halt. These policies reduced Havana's image of grandeur into crumbling symbols of social instability and disrepair. Long recognized internationally for his thought-provoking work, Garaicoa has exhibited extensively in Europe, the United States and Latin America. His work is included in the collections of the Museum of Modern Art, New York, the Bronx Museum of Arts and the Museum of Contemporary Art in Los Angeles, amongst others.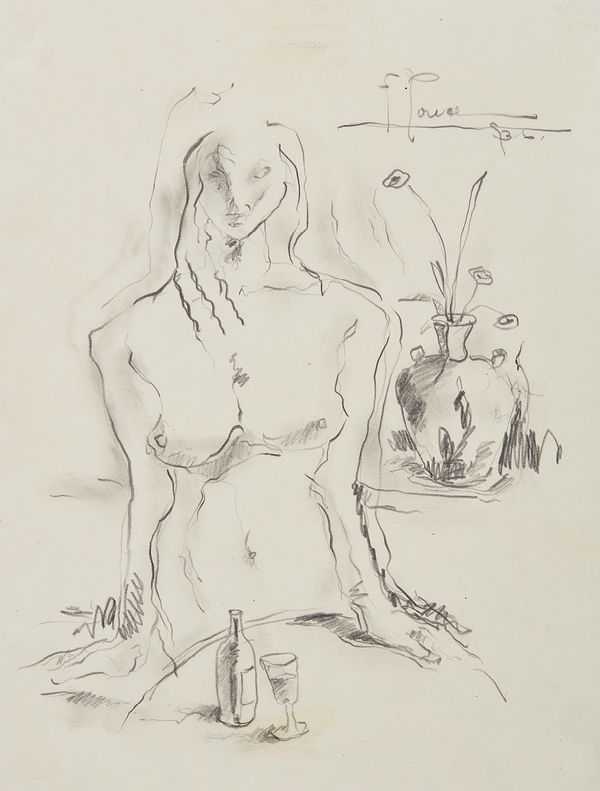 Fidelio Ponce De León La espera (The Wait), 1936
Fidelio Ponce de León emerged from the Cuban Vanguardia movement that was informed by European modernist ideals. He studied at the Escuela Nacional de Bellas Artes San Alejandro in Havana with some of the greatest Cuban modernists—namely, Amelia Peláez and Wifredo Lam. Shortly after graduating in 1918, he disappeared from the art scene, reemerging in 1923. In 1934, during his first exhibition at the Havana Lyceum, Ponce de León revealed a remarkable understanding of Western academicism with the presentation of a mature body of work. He would go on to exhibit extensively at galleries and institutions in New York throughout the 1940s and '50s, including the Museum of Modern Art at the request of Alfred H. Barr.
Unlike his contemporaries, Ponce de León steered away from the nationalist discourse and refrained from incorporating Cuban iconography in his work. Instead, his classical-yet-expressionist paintings depict more traditional and universal subject matters, such as landscapes, still lifes, biblical scenes and female nudes. Despite never having traveled to Europe, his works reference many of the great European painters such as Amadeo Modigliani, Diego Velásquez, Zurbarán, El Greco, Edward Munch and William Turner. Ponce de León's turbulent and desperate financial situations are reflected in his tragic portrayals of poverty and illness, painted in a muted palette. The present work, La espera, reveals a simple-yet-elegant line drawing of a somber female nude awaiting an unforeseen event.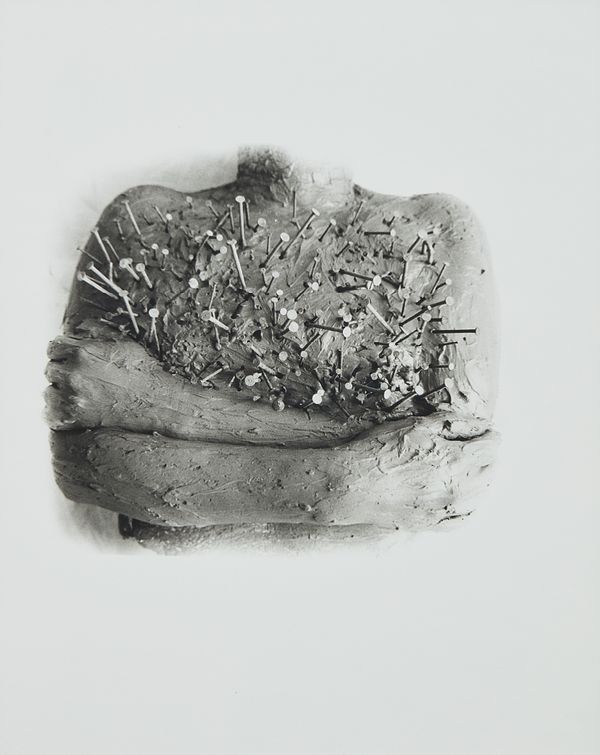 Marta María Pérez Bravo Ya no hay corazón (Heartless), 1999
Marta María Pérez Bravo studied art at the Escuela Nacional de Bellas Artes San Alejandro and the Instituto Superior de Arte in Havana. She moved to Mexico City in 1995 escaping the aftermath of the Cuban revolution of 1959. Early on, she employed her body as a vessel to reflect her cultural and religious perspectives with a particular focus on Santería and other Afro-Caribbean religions. Her signature photographs often depict staged self-portraits created in small format black-and-white film, allowing viewers a more intimate experience. Her representation of the female psychological experience separated her from other contemporary Cuban photographers, who mainly documented the participation of women in the military and economic production in the post-revolutionary press.
Ya no hay corazón (Heartless) is part of her renowned series Cultos Paralelos (Parallel Cults) that she began in 1990. This self-portrait exemplifies her internal saga by depicting herself as the Afro-Cuban deity, Nkisi Nkonde, who possesses a worshiper's body and grants petitions in exchange for offerings and promises. The nails both symbolize the devotion of the petitioners and the piercing of her heart, thus making her heartless.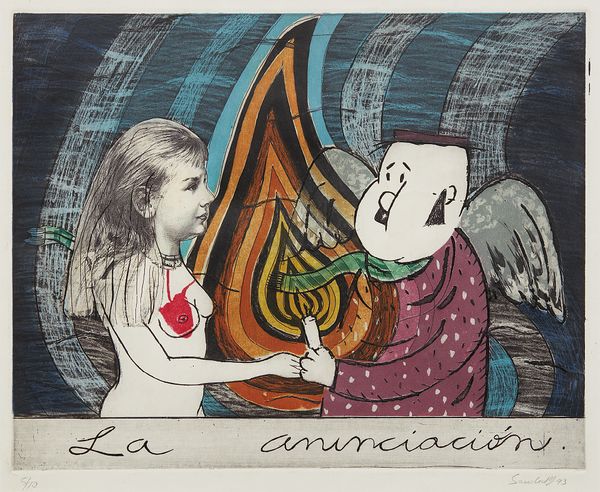 Sandra Ramos La anunciación (The Annunciation), 1993
Sandra Ramos studied at the prestigious Escuela Nacional de Bellas Artes San Alejandro in Havana under notable artist José Bedia. Her career began during a pivotal time in Cuba—the 1990s—marked by the dissolution of the Soviet Union and a declining economy with extreme food shortages, which resulted in an unprecedented exodus of Cuban natives. This was a troubled period in Ramos' personal life as her husband and family members all migrated while she remained in Cuba. Thus, her works reflect isolation, despair, loss and sorrow, with a Surrealist undertone. She works in a variety of mediums including painting, etchings, collage, installations and digital animation, making mordant comments on Cuban sociopolitical issues. An ongoing leitmotif in her work is the use of a fictional character based on Greek mythology who represents an innocent girl oblivious of life's struggles. Ariadne's face is a self-portrait of the artist much like a Cuban Alice in Wonderland, embodying a child explorer under the Fidel Castro regime. Here, La anunciación is part of one of her most famous series in which Ariadne receives miraculous news from an animated Angel Gabriel. In Catholicism, The Annunciation alludes to the beginning of Jesus' life on earth. However, this particular version of La anunciación reminds viewers of the artist's solace under the Castro regime. Ramos has exhibited extensively in Europe and the United States and her works are held in prestigious collections of institutions like the Museum of Modern Art, New York and the Museum of Fine Arts Boston.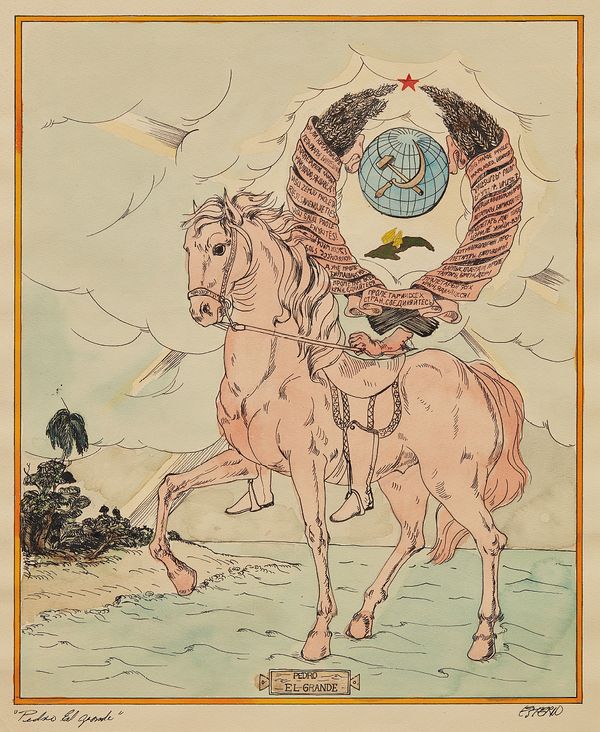 Esterio Segura Pedro el Grande (Peter the Great), circa 1994-1996
Although Esterio Segura studied sculpture, he works in many mediums including drawing, painting, film and photography. Despite the negative social climate that led many fellow artists to depart Cuba, Segura chose to remain in his home country where he uses iconic images from mythology, history and religious art to project witty political messages and parodic questions about Cuban history. In the present work, Segura portrays Peter the Great conquering Cuba, depicting him as a Communist symbol riding a regal horse. Segura reminds viewers of Peter's successful Tsardom and his cultural revolution that replaced the previous socio-political system with a modern, Westernized version based on the Enlightment, converting Russia into a major European power. Ironically, Russia and Cuba today symbolize Communism, whose leaders led successful revolutions that replaced the old socio-political systems with dictatorial regimes. Thus, the great economic and cultural powers that Russia and Cuba once were have come to symbolize violence, human cruelty, alienation and injustice.
Segura has exhibited quite extensively, including in the recent exhibition Adiós Utopía: Dreams and Deceptions in Cuban Art Since 1950 that opened at the Museum of Fine Arts Houston in 2017 and continued on to the Walker Art Center later that year.