A fascination for materials was central to Jean-Michel Frank's practice as a designer. His contemporaries in the Union des Artistes Modernes (UAM) shared his love of materials, but for Frank, who never formally belonged to any modernist movement, materials were a means, not an end.
Though his furniture was rooted in the tradition of fine cabinetry, he never devoted himself to a particular craft in the sense that Eileen Gray was a student of lacquer or Pierre Chareau favored wrought iron. He selected materials and their various textures—from straw to mica, plaster, terracotta, shagreen, obsidian and parchment-like paints in a palette that contributed to the greater decorative scheme. In keeping with his modernist contemporaries, however, Frank did not subscribe to a hierarchy of materials. To this end, he was among the first designers to clad furniture in shagreen and parchment, but he also applied traditional materials in novel ways, for example covering walls in straw marquetry and upholstering with canvas.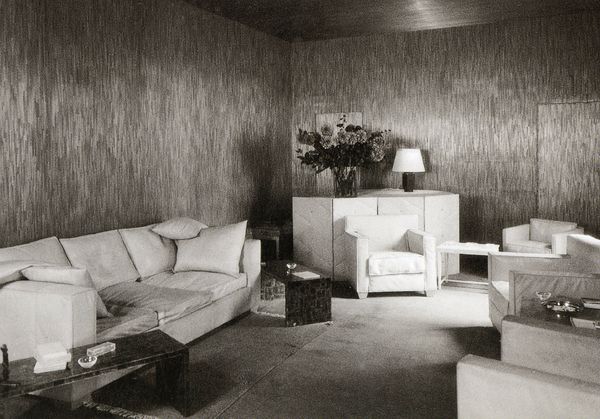 Jean-Michel Frank's smoking room, circa 1938
A group of seven pieces from our Design Evening Sale, culled from several private European collections, are a celebration of Jean-Michel Frank's inventive use of materials, from the mica-covered table to the obsidian lamp; the white plaster ceiling light; the terracotta-topped guéridon; and the terracotta candle holders, gilt "Trépied à feuille" table lamp and tall patinated bronze "Figure Version Étroite" floor lamp created by Alberto Giacometti for Frank.
Like [Louis XIV's chief architect] in times past…J.M. Frank has gathered around him as craftsmen the best of today's young artists.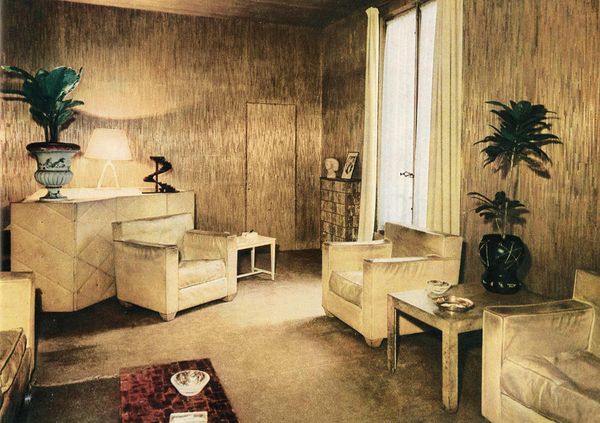 Jean-Michel Frank's smoking room, illustrated on the cover of Le Décor d'Aujourd'hui, 1938
Each of these austere objects exhibits perfection of form, stripped of everything but the essential and independent of historical references and styles. The dignity and beauty of the materials hold forth, unencumbered by excess ornament. Frank's radical-yet-sophisticated style earned him the patronage of compelling figures, from the Parisian couturier Elsa Schiaparelli to American millionaires Templeton Crocker and Nelson A. Rockefeller. Yet he was much more than just a society decorator. He operated at the very center of interwar Paris' artistic and intellectual life. Clients included composers and writers; Man Ray documented his interiors.
In particular, Frank's collaboration with contemporary painters and sculptors set him apart from other designers during this period and captured the attention of the press. La Flèche de Paris compared him to Louis XIV's chief architect: "Like Mansart in times past…J.M. Frank has gathered around him as craftsmen the best of today's young artists."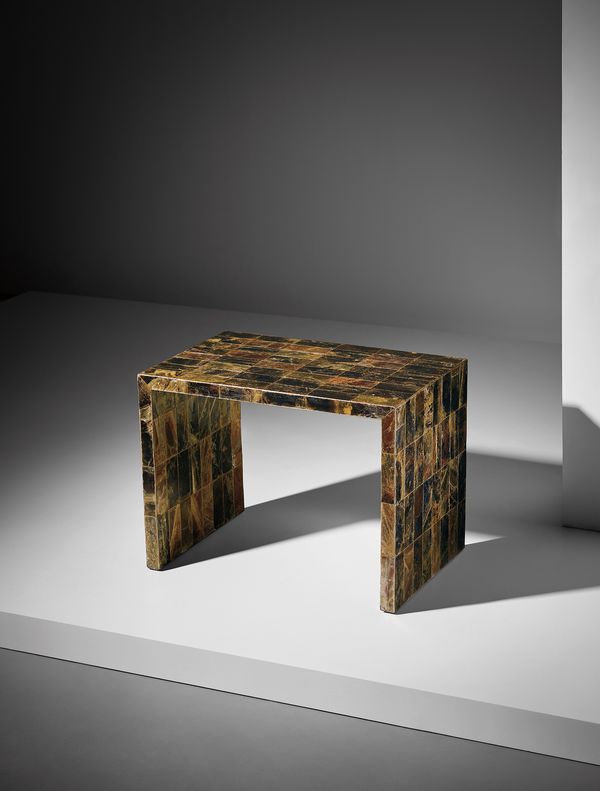 Jean-Michel Frank Low table, circa 1928. Mica-covered wood, macassar ebony-veneered wood.
Mica
The physical properties of mica have been revered by artisans since ancient times. A mineral composed of aluminum silicate, it is heat resistant and naturally cleaves into perfect sheets, which makes it an ideal material for glazing windows, as the ancient Romans did. Japanese artisans admired its metallic luster, inlaying it in lacquer and applying the luminous powder to block prints.
It's clear that Jean-Michel Frank revered mica as much as his ancient predecessors did and reserved its use for some of his most important commissions, such as the sitting room of Charles and Marie-Laure de Noailles, where he clad the fireplace surround in mica (1926). The same treatment appeared again in Templeton Crocker'ss San Francisco penthouse (1929). Similar mica-covered tables appeared in the designer's own smoking room (1938). A stunning example of Frank's work in this material, the low table, circa 1928, features prominently in our Design Evening Sale.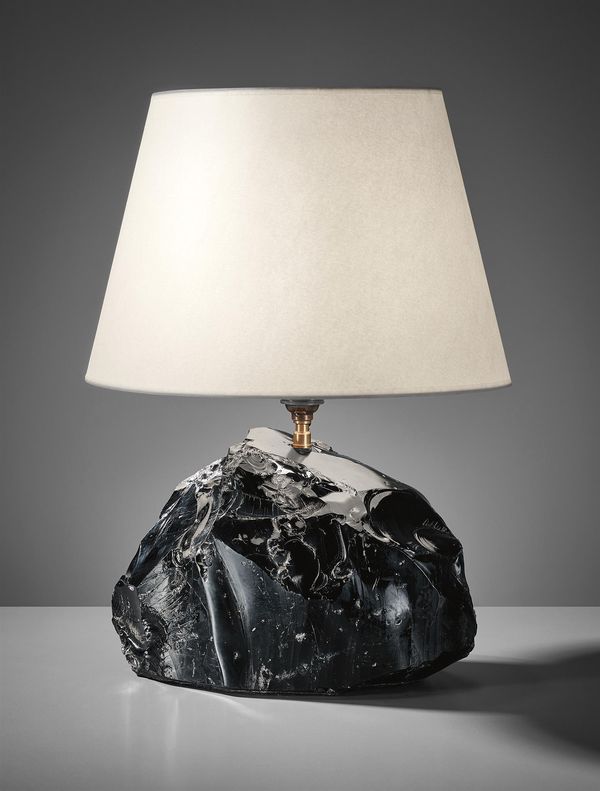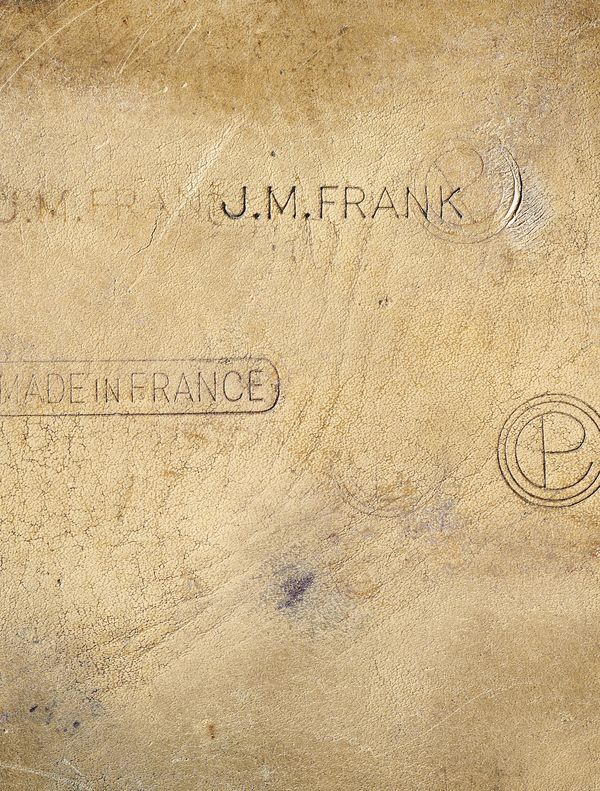 Jean-Michel Frank Table lamp, circa 1925. Obsidian, leather, brass, paper shade. The underside of the lamp is impressed twice with the manufacturer's mark.
Obsidian
Obsidian is natural glass formed by the rapid cooling of lava. Like mica, since ancient times, humans have admired and adapted this shiny black material for artistic purposes: it was used for tool-making during the Stone Age, for seal stones in the Ancient near East, inlaid into the eyes of mummies in ancient Egypt, and as a gemstone by the ancient Greeks and Romans. The Aztecs believed it to be sacred and used it for mirrors. Jean-Michel Frank placed his obsidian lamps in the music room he designed for Cole Porter (1928), in Templeton Crocker's penthouse (1929) and in Claire Artaud's apartment (1936).
I realized I was developing a vase exactly as I would a sculpture...
— Alberto Giacometti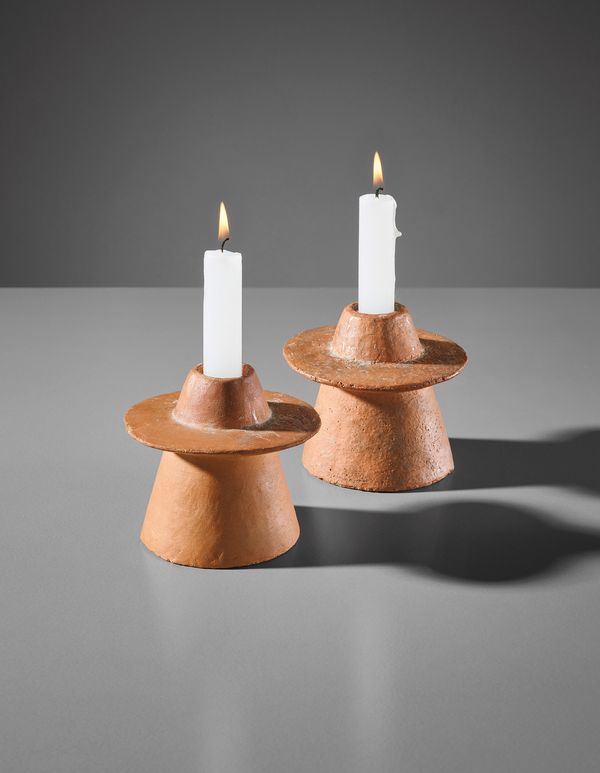 Alberto Giacometti Pair of candle holders, circa 1930. Terracotta.
Terracotta
This rare candle holder design, shown above, was executed in several materials, including bronze, gilt plaster and terracotta, in collaboration with Jean-Michel Frank. Frank is believed to have discovered Giacometti's work at the 1929 Salon de Tuileries exposition held at the Palais de Bois.
Giacometti went on to design over seventy objects for Frank, including seventeen lamps, eleven floor lamps, thirteen vases, ten wall lights and other small accessories. Among the more notable Frank interiors to include Giacometti designs were Elsa Schiaparelli's showroom on Place Vendôme—she in fact kept two of the present candle holders, executed in white plaster, on her desk (1934); Jean-Pierre Guerlain's apartment (1935) and Jorge Born's villa, Buenos Aires (1939). Giacometti assigned equal importance to his decorative works and sculptures. As he explained in a 1962 interview with André Parinaud, "For my livelihood, I accepted to make anonymous utilitarian objects for a decorator at that time, Jean-Michel Frank...it was mostly not well-seen. It was considered a kind of decline. I nevertheless tried to make the best possible vases, for example, and I realized I was developing a vase exactly as I would a sculpture and that there was no difference between what I called a sculpture and what was an object, a vase!"
Browse more works by Frank, Giacometti for Frank and other notable 20th-century designers in our upcoming December Day and Evening Sales, on view at 450 Park Avenue from 5 - 11 December.