Jean-Michel Basquiat Untitled (Halloween), circa 1982
"But what is it all about?" is an all-too-common question that arises when viewing an artwork—whether abstract, figurative, or somewhere in between. While there are numerous aspects and perspectives to consider, our 'Breaking it Down' series offers insights into key highlights from this season's 20th Century & Contemporary Art Evening Sale.
This season we celebrate one of the most important American artists of the past century: Jean-Michel Basquiat. In tandem with the major retrospective Basquiat: Boom for Real at the Barbican Art Gallery in London, the pioneering oeuvre of the 1980s art prodigy is currently also a highlight at Phillips New York, with his Untitled (Halloween), circa 1982, coming to auction during our 16 November Evening Sale.
Basquiat's Sampling Approach.
None other than David Bowie once remarked of Jean-Michel Basquiat: "He seemed to digest the frenetic flow of passing image and experience, put them through some kind of internal reorganization and dress the canvas with this resultant network of chance."
Basquiat DJ-ing, New York, 1984
Untitled (Halloween)'s dense composition is the result of Basquiat's creative stream-of-consciousness approach, which saw him channel his everyday lived experience while simultaneously drawing on such disparate fields as popular culture, music, poetry, African-American and Aztec cultural histories and a broad range of art historical sources.
I don't know how to describe my work. It's like asking Miles [Davis], 'How does your horn sound?'
—Jean-Michel Basquiat
Charlie Parker.
As with all his greatest paintings from 1982 and 1983, Untitled (Halloween) vividly articulates how, during this groundbreaking period, Richard Marshall observed, "all hell broke loose. The young master was ready. Painted evocations of classic forties jazz became a medium of emergence."
Feverishly working against the pulsating beat of music in his studio, Basquiat ushered his idiosyncratic vocabulary onto the vast canvas with palpable unbridled energy. Untitled (Halloween) notably evidences Basquiat's utter admiration for jazz musician Charlie Parker, one of the most influential improvising soloists in jazz and a key figure in the development of bebop in the 1940s.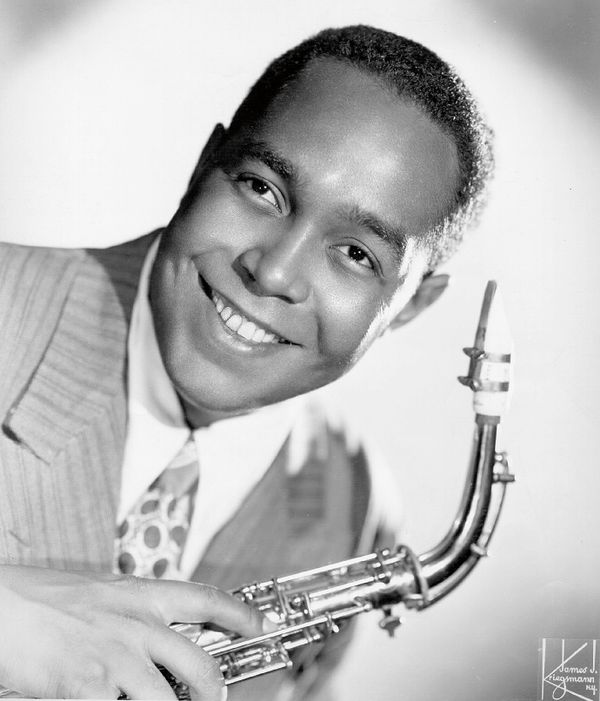 Posed studio portrait of Charlie Parker with saxophone, 1945. Photograph Gilles Petard/Redferns
Basquiat felt a particularly deep affinity for the accomplishments and struggles of Charlie Parker, whose groundbreaking-yet-tragic career ended prematurely after years of struggle with substance abuse. While Charlie Parker is referenced in many of Basquiat's works, he is rarely depicted in the semi-naturalistic manner captured in Untitled (Halloween) and its related works.
Taking a press photograph of the jazz musician from the beginning of his exciting career in 1945 as a point of departure, Basquiat has transformed Parker's smile and glinting eyes into a mask-like apparition. Of the few known paintings that saw the artist integrate this striking portrait — Joy, Red Joy and 2½ Hours of Chinese Food, all 1984, featured it in the form of Xerox copies — Untitled (Halloween) appears to be the only one in which he did so in the painterly, free-hand realm.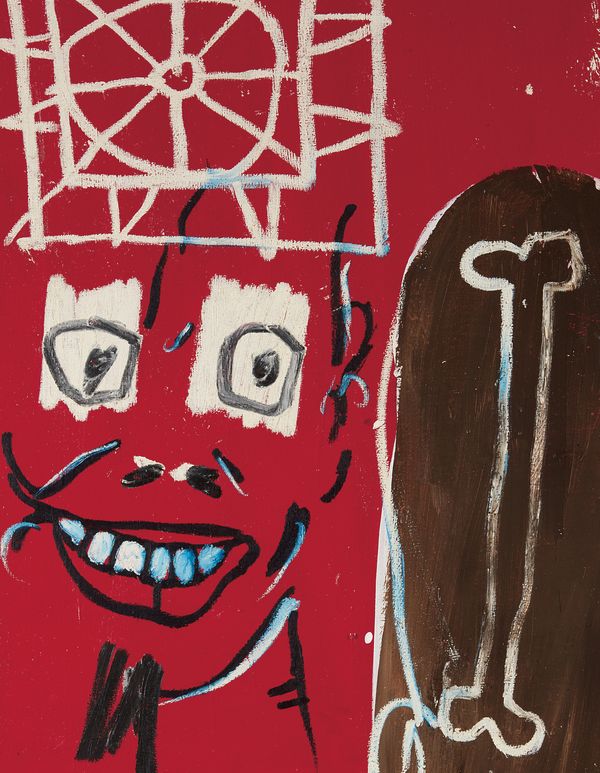 Demonstrating Basquiat's habit of revisiting and resampling motifs in his work, the figure notably recurs in the seminal drawing Untitled (Charlie Parker), 1983, which is currently celebrated in the Barbican's Basquiat: Boom for Real. Here, Parker is depicted with his dotted necktie and saxophone alongside a flurry of musical notes, names, titles and words related to Parker's history.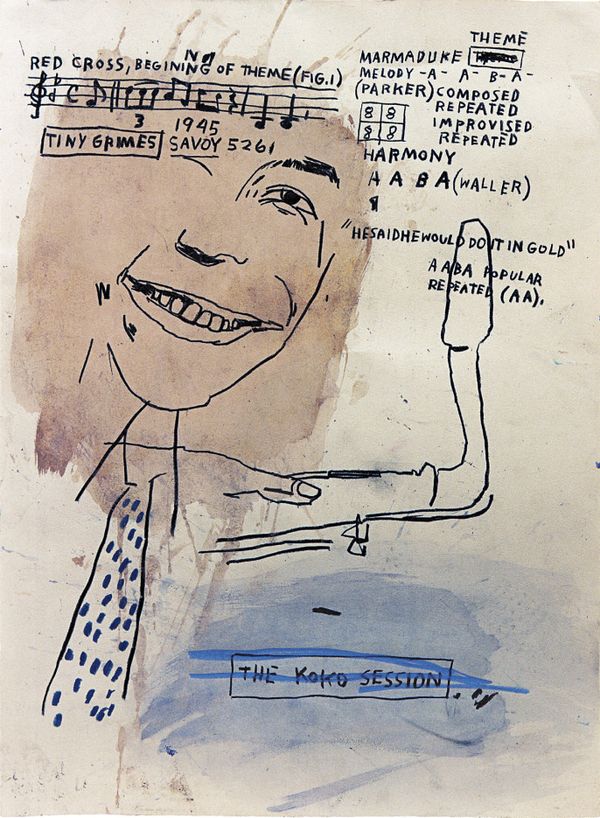 Jean-Michel Basquiat Untitled (Charlie Parker), 1983. Schorr Family Collection, Image Justin Piperger, Artwork © The Estate of Jean-Michel Basquiat/2017 Artists Rights Society (ARS), New York/ADAGP, Paris
Symbols.
As Glenn O'Brien recalls of Basquiat's amalgam of symbols and words, "He ate up every image, every word, every bit of data that appeared in front of him, and he processed it all into a bebop Cubist Pop Art cartoon gospel that synthesized the whole overload we lived under into something that made astonishing new sense."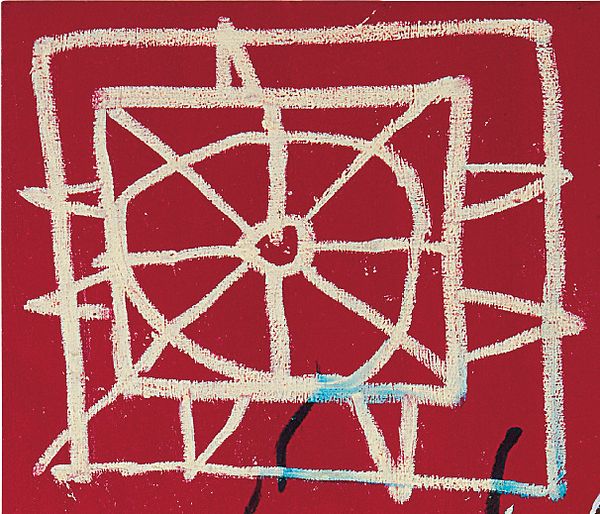 Basquiat not only integrates his own drawing of Charlie Parker into the composition but also includes references to the everyday ("Halloween"), as well as symbols and motifs derived from his favored reference sources, including Henry Dreyfuss' Symbol Sourcebook. The prominent hex symbol on the upper left is a reoccurring motif in Basquiat's oeuvre, which in Dreyfuss' Symbol Sourcebook is described as a sign with often magical powers to ward off trouble or attract good luck.
Anatomy.
Untitled (Halloween) demonstrates the young artist's fascination with human anatomy that began figuring prominently in his work starting in 1982. Basquiat's vision of the human body as fractured and dislocated was notably shaped by an early childhood trauma, having been struck by a car as a seven-year-old and subsequently being hospitalized for a prolonged period of time. In hopes of providing him with "a diagram for healing," Basquiat's mother gave the young boy a copy of Gray's Anatomy.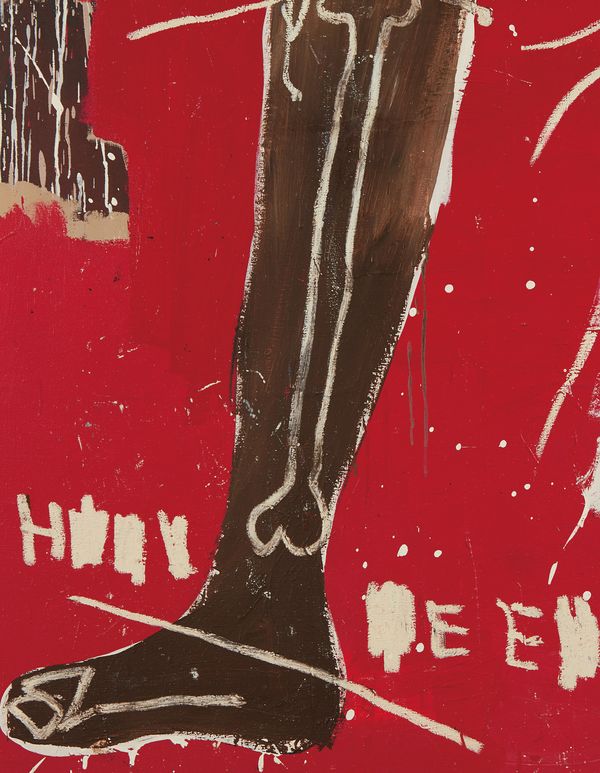 The fragments of the human body that occupies the canvas many of his canvases also testifies to his more recent fascination with Leonardo da Vinci's anatomical studies, having been gifted a book on the Renaissance master by art historian Fred Hoffman in the early 1980s.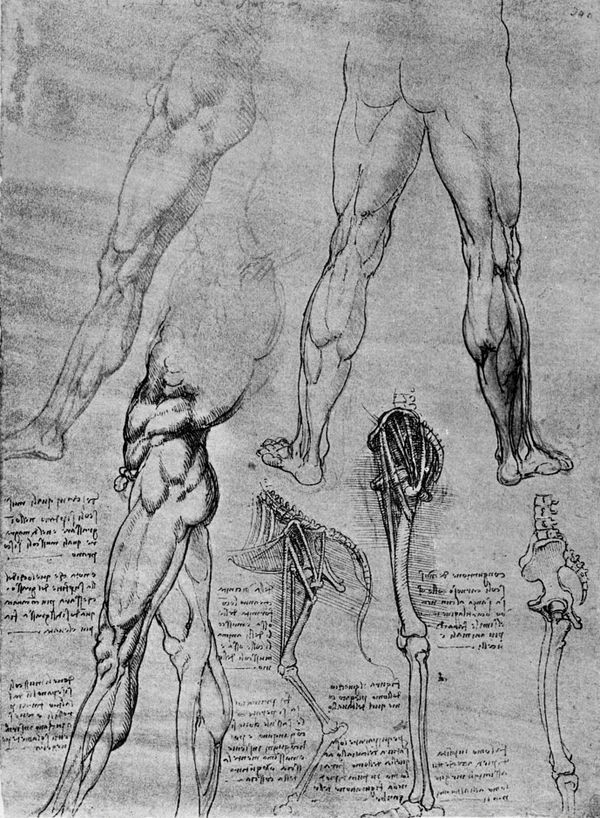 Leonardo da Vinci 'Studies in comparative anatomy', 1507. The Prints Collector, Great Britain, Photograph HIP/Art Resource
Exorcising Creative Demons.
Embedded within Basquiat's vision of the fractured human body, the reference to Charlie Parker powerfully articulates Basquiat's own reckoning with his meteoric rise to fame. Like Parker, Basquiat's legendary career would be put to a halt only by his untimely death a few years later.
I made the best paintings ever. I was completely reclusive, worked a lot.
—Jean-Michel Basquiat
Pulsating with the frenetic pace, raw energy and creative exuberance that pushed Basquiat to artistic heights, Untitled (Halloween) speaks to the way in which Basquiat exorcised his own creative demons within his art.