Head of Sale Rebekah Bowling poses in front of Nicole Eisenman's Foos Ball Trilogy
Artsy: What are key themes that define this season's edition of New Now, a sale known for presenting artists who push boundaries?
Rebekah Bowling: In this season's sale there are a number of artists whose works are dealing with themes and issues that feel especially relevant to the current political climate. Ramiro Gomez's Energy and Soul, a work from his "Magazine" series, calls attention to the issue of class dynamics with its depiction of a luxury lifestyle magazine advertisement interrupted by a domestic worker.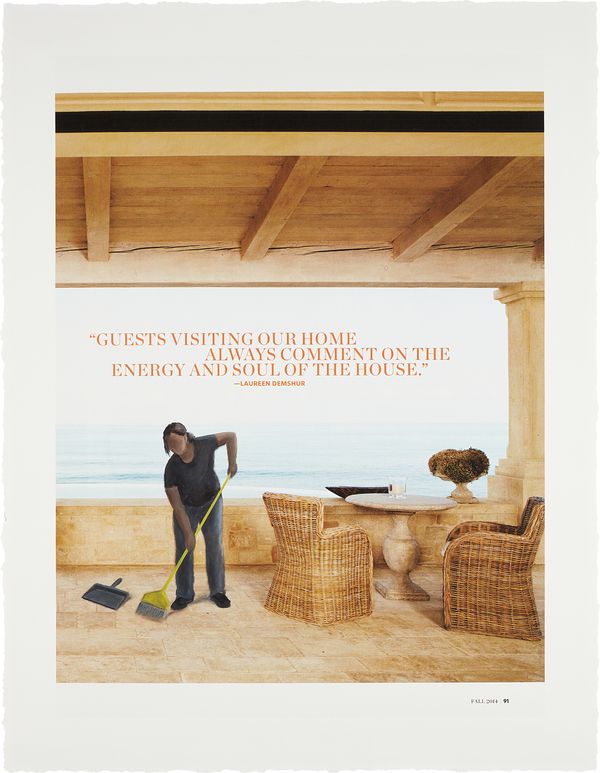 Ramiro Gomez Energy and Soul, 2015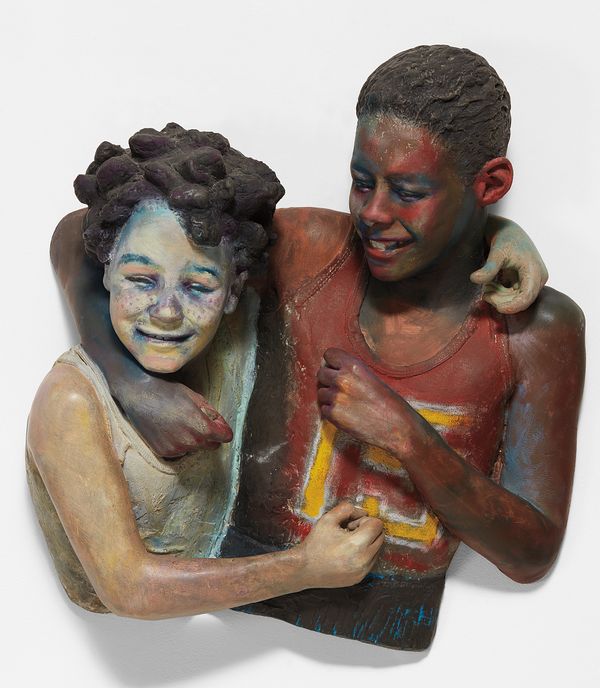 John Ahearn Victor and Ernest, 1982
Also, at a time when questions of memorialization are at the forefront, the inclusion of John Ahearn's sculpture, Victor and Ernest from 1982 feels more timely than ever. His live cast sculptures of neighborhood figures from the Bronx, New York place the authentic and unromanticized on a pedestal, challenging the notion that only a certain kind of individual is worthy of this type of reverence.
A: As you compile and curate your sale, do you take inspiration from what's happening at the downtown New York galleries?
RB: It's always ideal to have artists represented in the sale who have concurrent gallery or institutional shows, especially in September when there is so much excitement around new shows opening after the art world's summer hiatus. I feel fortunate to be offering works from Celeste Dupuy-Spencer, Brian Calvin, Kara Walker and Allen Ruppersberg, all of whom have solo shows in Chelsea right now, along with works by Nicole Eisenman who has a solo presentation opening at the Vienna Secession on 14 September and Amy Sillman whose solo show at Albright Knox opened this summer.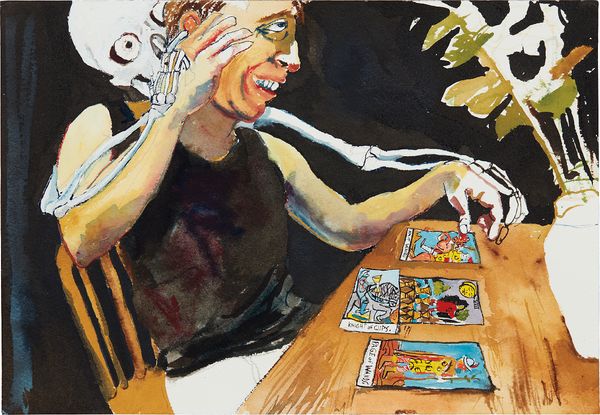 Celeste Dupuy-Spencer Past Present Future, 2011
A: Can you tell us about the collection of interior designer Masamichi Katayama and what drew him to Phillips this season?
RB: I'm so pleased to have the opportunity to offer The Katayama Collection alongside our New Now sale this season. I think the spirit of his collection can be best summed up in the exhibition title for a recent presentation of works from his collection at Tokyo Opera City Gallery, "The Encyclopedia of Masamichi Katayama—Life is Hard… Let's Go Shopping." This provocative title alludes to both the scope of his interests and his refusal to be influenced by preoccupations with traditional distinctions between "high" and "low" art. While Katayama's approach to collecting eschews strictly academic categorizations, several overarching interests represented in the sale include Pop Art, conceptual art, photography and modern design.
I think the opportunity to present his collection as a cohesive, stand-along grouping was appealing to Mr. Katayama, along with having it aligned with the New Now sale—a venue that highlights what's happening right now in the contemporary art world.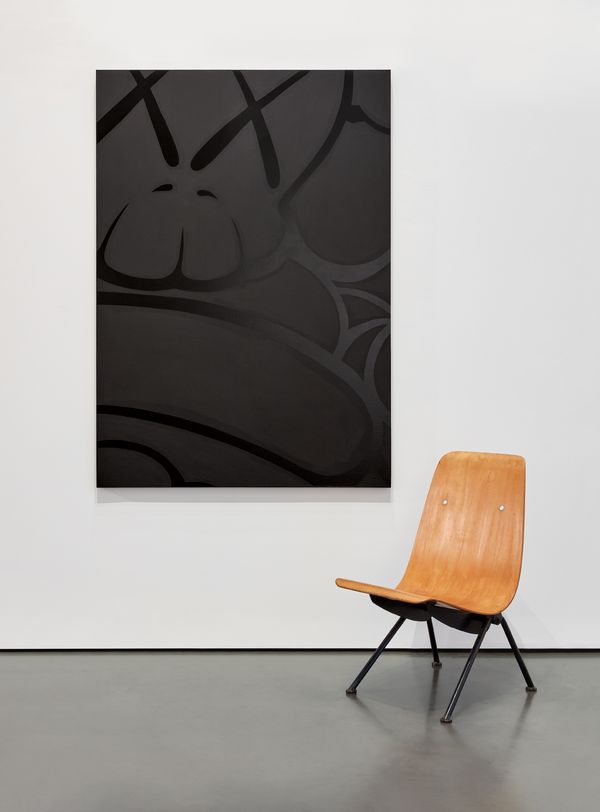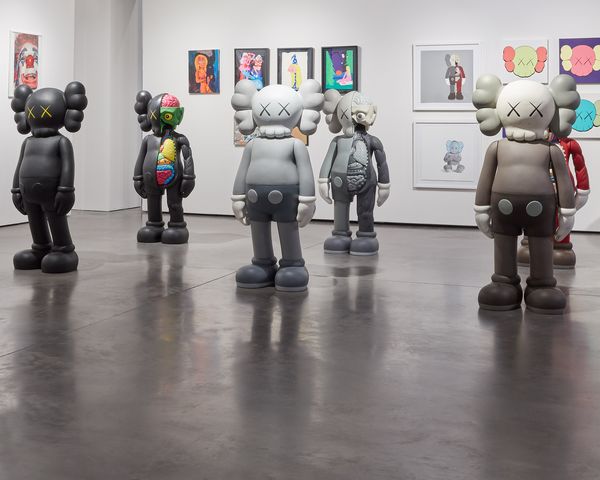 Works by Jean Prouvé and KAWS, a frequent collaborator of Mr. Katayama's, feature prominently in his personal collection.
A: How does his work practice intersect with his aesthetic for collecting?
RB: Mr. Katayama made a name for himself in the interior design world with his innovative retail environments that defied expectations. The same type of spontaneous and unbridled creative thought process drives both his activity as a designer and collector. In Katayama's world, anything that catches his eye is potential material and stimulus, and it is that same instinctive, idiosyncratic and eclectic aesthetic vision that informs his activity as a collector.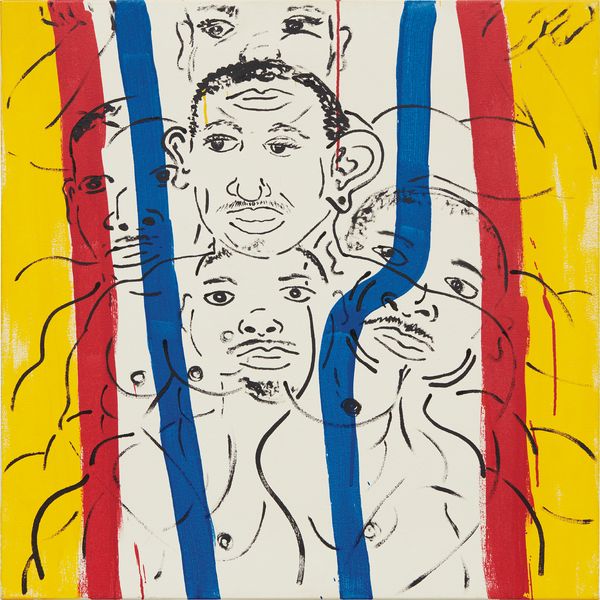 Keith Haring Red-Yellow-Blue #16 (Portrait of Adolpho), 1987
A: There are also a number of unusual and intriguing Keith Haring works in New Now, from a series of Pop Shop signage in marker to a colorful portrait of the artist's last studio assistant. What opportunity does this present for either new or seasoned collectors?
RB: Both the signs and the portrait of Adolpho belong to the Pop Shop's general manager from the late 1980s to the early 1990s. These signs advertised the branded merchandise sold in Haring's famous retail store and they serve as timeless reminders of his desire to make his widely popular imagery accessible to everyone. The painting Red-Yellow-Blue #16 (Portrait of Adolpho) is equally special and a rare example of Haring evoking a unique personality in its depiction of his last studio assistant and friend, Adolfo Arena. These special and deeply personal works present an excellent entry point for a new collector and will also appeal to those who collect Haring's work in depth.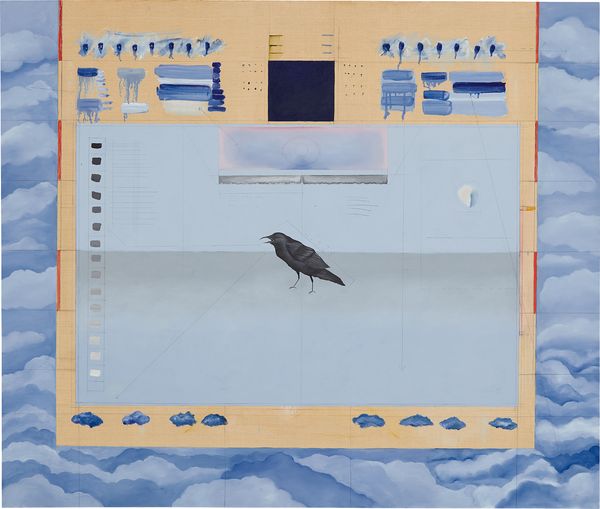 Pat Steir Blue, 1971
A: What are other examples of accessible works by very well-known artists?
RB: We have five fantastic Sol LeWitt works on paper, lots 148 – 152, all with estimates at $10,000-15,000 or below. These are beautiful examples of his characteristic minimalist works on paper. We also have an early conceptual work from Pat Steir (lot 157) that she executed in 1971—very few examples of these early works that inform her later Waterfall series have come up at auction.
Additionally, beginning with lot 160, there are several Gerhard Richter editioned works included in the sale.