Life is hard… Let's go shopping.
"When I was a boy," said designer Masamichi Katayama, "punk rock hit me hard, leaving me with just one overarching value – I like stuff that puts the boot into conventions and preconceptions. That's the brutal truth behind what I've collected." Masamichi Katayama's exceptional collection embodies the very unconstrained creativity, curiosity and eclectic approach that has made him one of the world's leading creative visionaries.
As the Principal and Founder of the Tokyo-based interior design practice Wonderwall, Masamichi Katayama in his over twenty-five year career has become known for his unconstrained approach in conceptualizing impeccably designed, distinctive and experiential environments. Since his very first project with NIGO® in 1998, which became a benchmark for fashion brand design at the time, Katayama has continued to set precedence with a number of groundbreaking international projects, including retail spaces for colette, UNIQLO New York Fifth Avenue and Pierre Hermé Paris Aoyama, as well as with his design for KAWS' Brooklyn studio.

Images: The Encyclopedia of Masamichi Katayama (exhibition catalogue). Book Design: Naomi Hirabayashi. Photo: Mitsuo Okamoto. Publishing House: Parco Co., Ltd.
As Paola Antonelli, Curator of Architecture and Design at The Museum of Modern Art, New York City, has acknowledged, "Like very few other designers in recent history — giants like Andrée Putman, Shiro Kuramata, Ettore Sottsass, Philippe Starck — Katayama has defined the 1990s and 2000s and changed the world of interior and retail design" (Paola Antonelli, in Wonderwall Case Studies, Berlin, 2016, online). It is that same inquisitiveness, innovative way of thinking and aesthetic vision that underlies Katayama's encyclopedic collection. Paralleling the scope and diversity of Katayama's myriad design projects, the collection is exuberantly multifarious – ranging from conceptual art, painting, photography and mid-century design, to books, succulent plants, antiques, taxidermied animals, CDs and various other artifacts from both the past and present.
In order to create an atmosphere, I have to be connected to other fields other than interior design.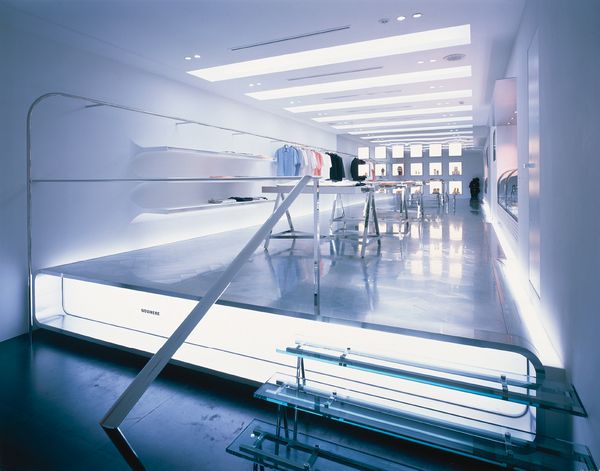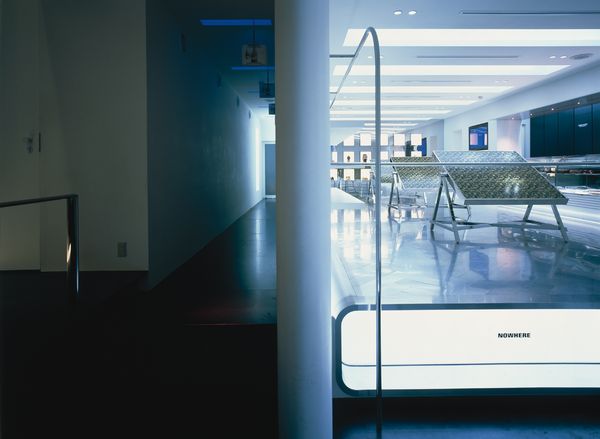 Images: NOWHERE (BUSY WORK SHOP® HARAJUKU), Harajuku, Tokyo, 1988 Interior Design: Wonderwall® Photo: Kozo Takayama
Katayama spent much of his early career reimagining the very purpose of design. Rejecting the singular, ego-driven design philosophy that had driven much of the creative extravagancies of the 1980s in Tokyo, Katayama pursued an approach that was built on sensibility, sensitivity and skill. Katayama achieved his creative breakthrough with the redesign of Japanese cult streetwear mogul NIGO®'s NOWHERE (BUSY WORK SHOP® HARAJUKU) boutique in Tokyo in 1998, which, with its unprecedented mash-up of amusement park and minimalistic, Science Fiction-inspired aesthetics, is widely considered as a milestone in retail design.
The founding of Wonderwall Inc. in 2000 soon followed, now one of the most respected global Interior Design, Creative Direction and Architectural Design Direction companies. As Katayama explained, "I call myself an interior designer, but my ideal interior designer is someone who can create atmosphere, not the form. And in order to create an atmosphere, I have to be connected to other fields other than interior design. My way of interior design might need another name" (Masamichi Katayama, quoted in Aric Chen, "Masamichi Katyama", Wonderwall Case Studies, Berlin, 2016, p. 11). Gaining acclaim in the accelerated retail environment of the late 1990s, Katayama was at the vanguard of a burgeoning movement in Japan that unapologetically brought together art, commerce and subculture – presenting limited-edition sneakers, vinyl dolls and graffiti art in pristine glass vitrines that imbued these items with a museum-like aura.
When Katayama thus playfully and provocatively compares his act of collecting to shopping, it is not meant to refer to a type of collecting driven by financial motives. Rather, it is a tongue-in-cheek reference to the innovative retail environments he designed throughout his career and, more importantly, to the spur-of-the moment creative thought process that drives his activity as a designer and collector without differentiation between 'high' or 'low' art. In Katayama's world, anything that catches his eye is potential material and stimulus. It is that same instinctive, idiosyncratic and eclectic aesthetic vision has also informed his activity as a collector.
I didn't even begin to think about the concept of 'concept' until I discovered conceptual art.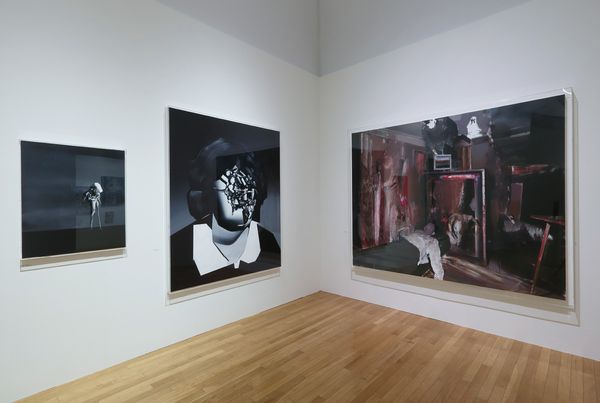 The Encyclopedia of Masamichi Katayama "Life is hard… Let's go shopping." Installation view at Tokyo Opera City Art Gallery, 2017 Photo: Keizo Kioku. Featuring Adrian Ghenie The Collector 4 (right).
As the recent exhibition of The Katayama Collection at the Tokyo Opera City Art Gallery highlighted, the multiplicity of objects that comprise the collection make it a kind of 21st Century Wunderkammer. A concept with origins in 15th century Italy, the Wunderkammer is a form of undifferentiated display that combines works of art, antiques and other objects from across the globe and across centuries. As chief curator Motoaki Hori argued, we find the same sense of anthropological curiosity and spirit of exploration in the encyclopedic collection of Masamichi Katayama: "Katayama trusted his momentary intuition in creating a selection that offers up to its viewers a new kind of value system, a fresh take on the world around. The collection...surely shares much on a deep level with the essence of designer Masamichi Katayama's professional creations" (Motoaki Hori, quoted in The Encyclopedia of Masamichi Katayama "Life is hard... Let's go shopping.", exh. cat., Tokyo Opera City Art Gallery, 2017, p. 7). A true Renaissance man, Katayama pulls without bias from disparate sources to create his own 21st century Wunderkammer. Katayama's long-standing interest in things that challenge conventions and preconception – something he traces back to his love for punk rock – is thereby the driving force behind every choice.
While Katayama's approach to collecting is by no means systematic or academic, the fine art collection he so ingeniously accumulated speaks to several overarching (and often overlapping) interests, which can loosely be defined as Pop Art, conceptual art, abstract art and photography. Conceptual art has been of central importance to Katayama from the very beginning, ultimately leading to the acquisition of such iconic masterpieces of conceptualism as On Kawara's Friday July 14, 2000 (Today series no. 26). As Katayama explained, "I didn't even begin to think about the concept of 'concept' until I discovered conceptual art. The artists, my heroes, who produced the works presented here have taught me to question, to believe, and they have furnished a magnificent difference to my life" (Masamichi Katayama, quoted in The Encyclopedia of Masamichi Katayama "Life is hard... Let's go shopping.", exh. cat., Tokyo Opera City Art Gallery, 2017, p. 175).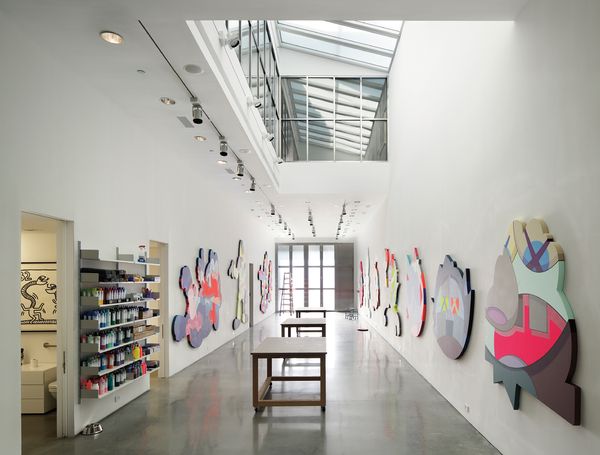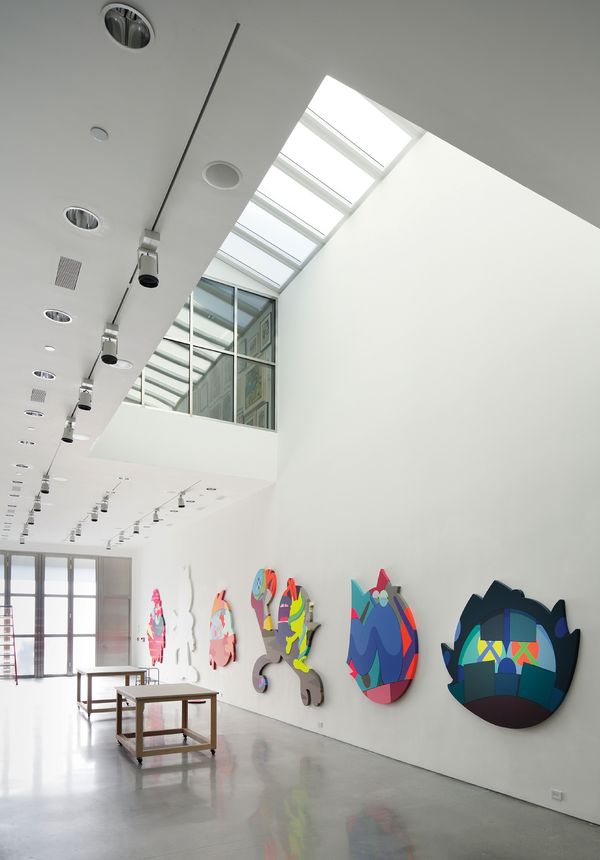 Images: KAWS Studio, New York, 2013 Interior Design: Wonderwall ® Photo: Nacása & Partners Inc.
It is not unsurprising that Katayama, whose practice equally embraces art, commerce and subculture, would also find an affinity with the wider Pop Art movement – collecting seminal works by, amongst others, Andy Warhol, Jeff Koons, Takashi Murakami and KAWS. Within this stellar grouping, the relationship to Brooklyn-based pop artist and designer KAWS (Brian Donelly) is central. Katayama began supporting Brian Donelly's career from early on, seeking an introduction via the creative director at NIGO® and purchasing several works on the occasion of their first meeting. Developing a close friendship with Brian Donnelly, Katayama was eventually asked to design the architecture of KAWS' Brooklyn studio in 2013. It was notably also through Katayama's connection to UNIQLO, whose flagship stores he had designed from 2006 onwards, that the collaboration between the retail brand and KAWS emerged.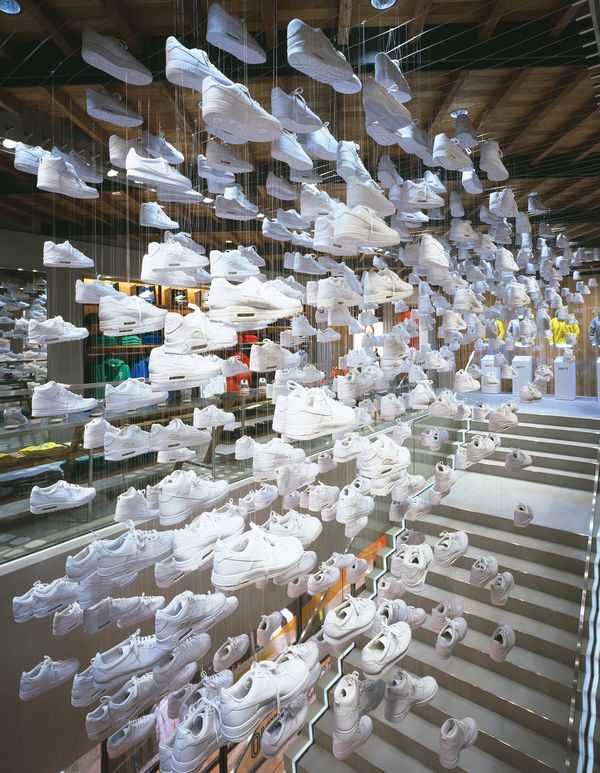 Nike Harajuku, Harajuku, Tokyo, 2009 Interior Design: Wonderwall ® Photo: Kozo Takayama
Collaboration is at the heart of Katayama's practice and it is through the objects he surrounds himself with and the personal relationships with artists and designers he develops, that he finds further inspiration for his own creative process. Many of the pieces of his collection were exhibited in The Wonderwall Office in Tokyo – a space that Katayama considers as a key tool for clients, friends and artists to gain a better understanding of himself and Wonderwall at large. Within this creative incubator, the exhibited artworks, furniture and artifacts function as a type of mood-board – bringing together objects and images hitherto deemed unrelated, new meaning and connections are generated and ultimately stimulate Katayama's creative practice in often thoroughly unexpected ways. It is this reciprocal relationship that makes The Katayama Collection so unique.
As such, the works for sale at Phillips, curated by Katayama himself, are a testament to the discerning eye and irrepressible curiosity of one of today's foremost creative visionaries and a collector in the truest sense.