Anne Hardy Falling and Walking, for Art Night 2017 © Anne Hardy
Now in its second year, Art Night is an annual contemporary arts festival that transforms London for one summer night. This year's edition, curated by Fatos Üstek in association with the Whitechapel Gallery, takes over the East End and draws influences from its vast social and political history. We sat down with British artist Anne Hardy to discuss her multilayered process and practice, her commission for Art Night and the build-up to this summer's eagerly anticipated event.
Phillips: How do you consider your installation works, which have been commissioned for specific sites or events such as Art Night, in relation to your works of photography?
Anne Hardy: I construct, light and build spaces for all of my works. The immersive works are expanded versions of the worlds l create in my studio for my images, and in turn the images perform as generators for these larger-scale physical works.
P: Your work does span sculptural installation, audio and photography, and as recently as last spring we presented your photographs at Phillips. Would you say you get the most satisfaction watching people interact with your pieces physically?
AH: The photographic works are very much to do with there being an illusory space for your mind to be, a physical space to project into imaginatively but one you could never touch and as such resolve. The sculptural installations are an attempt to embed images into your mind via a physical experience that leaves a different trace with you. My aim with the sculptural installations is that they somehow make you drop a layer of protection or distance: they demand you have to move through them in a certain way that might be awkward or delicate physically, and this in turn creates a different imaginative space.
All the works have a very physical process for me — I build and make everything that's in my images as well as my installations — and I wanted to bring that more directly into the exhibition space. The tactile engagement with material, light and process is at the core of my practice, and I want the work to have a sense that it is an active presence that changes around you. This is a moment in time, but the next one will be different.
I think about all the different mediums I work with in a very sculptural way, to define space, how it is used and where to place your body within that, and within the world we live in. How does the physical world in turn makes our psychological world, that in turn affects the world we form around ourselves?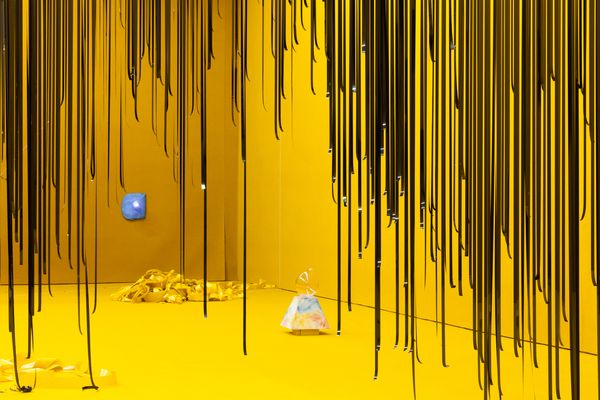 Anne Hardy An Abandonment was accountable for the Accumulation of Acid After Dark - Punctuated Remains (detail), 2015
[My installation] is inspired by thinking about the city itself as a kind of slippery, visceral object that is in constant flux...I am making something that is part architectural and part organic in form.
P: And what inspired the work you've been developing for this particular occasion, Art Night? How did you come about scouting and deciding on a location?
AH: Fatos [Üstek] and I started by taking walks around the East End, looking at different buildings and discussing ideas. We were looking for somewhere that was not too defined as anything in particular, which turned out to be quite difficult as the area is subject to so much rapid development. The current building that was selected has a history with builders merchant suppliers, which felt appropriate, but it's also in a kind of suspended state, waiting to be developed at the moment. I like that it feels like something removed from the current condition of the surrounding area — a kind of forgotten or hidden corner that is perfect for my work. Early on, Fatos talked to me about her curatorial approach and her interest in the layered histories of this part of London, and this really connected to how I've been making my work for the last 15 years, based in this area, constantly hunting for materials, watching the ebb and flow of 'stuff' and using it as a resource for my work.
Falling and Walking (phhhhhhhhhhh phossshhhhh crrhhhhzzz mn huaooogh) is inspired by thinking about the city itself as a kind of slippery, visceral object that is in constant flux, its eddies and tides depositing 'things' in drifts and swathes — like flotsam on a beach when the tide goes out — and the place for our bodies in the 'soup' that it produces. I am making something that is part architectural and part organic in form, unstable and fluid. The work combines a large-scale sculptural installation with sound and scored lighting, as if a living 'performing' entity.
I try to spend as much time as possible in the location where [my pieces] will be shown, often working in situ for up to a month.
P: You've mentioned that this particular FIELD work relies on use of outdoor street space and found objects as sound instruments. How has that changed your creative process, and what elements have been most challenging or exciting to adapt to?
AH: I have always gathered materials from the street for my works, both the photographic and the FIELD works. Materials and objects found this way seem to be in a state where they have lost their purpose; they are in some way cut free from language and order, and have become adaptable to new purposes and thoughts — ambiguous with intent, perhaps. I think the same way about space and have an inventory of places which have this feeling too: street corners, or a piece of land trapped between several roads (like J.G. Ballard's Concrete Island) that I go to gather materials or just to feel the atmosphere to translate into a work.
The Art Night project has pushed this process into my work even further in that I have considered the landscape exterior space as the subject. This created new challenges, particularly with the audio, in that previous audio concentrated very much on the sound of an interior space. With this project, I've had to think about building the audio for an exterior space, which of course has the weather and a much larger spatial structure. I've also spent a lot of time recording audio outdoors, finding objects and materials on the street and generating sound with them; for example, the sound of a metal bar brushed across a fence or concrete dropped into a hole.
I'm also working with a quadraphonic sound space for the first time, which is exciting and spatially much more challenging. This creates the possibility to locate sounds much more precisely around you, expanding my interest in audio as a sculptural medium.
I love this idea of colour as a physical material that can define and shape space.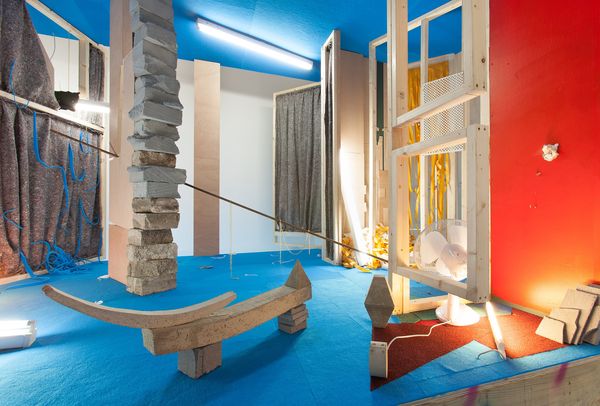 Anne Hardy TWIN FIELDS (detail), 2015
P: As you create one of your installations, how much testing goes into the acoustics and finding the right balance of structures, objects and sounds?
AH: With all the large-scale works, I try to spend as much time as possible in the location where they will be shown, often working in situ for up to a month so the work can really shape itself to the building. Art Night is different in that I have a quite short period to install so it will be a more fluid and dynamic relationship between the work and the building, although we have been making site visits on and off for many months now and I have a good idea of how I want it to work.
The relationship of the audio to the space is probably the hardest to work out until is actually running in the space, as the building will have all kinds of acoustic quirks I'll need to adapt to. Also it's only once we get into the building that the lighting can be programmed, again in relation to the audio and the physical elements. So overall it's a balancing process of all the elements against each other and usually remains pretty fluid until the last possible moment. I see these large-scale works as 'living' or 'sentient' in some way: you see them at a moment in time but they can also adapt to new situations. Which will be the case with this work when it moves to the permanent collection at Leeds Art Gallery (gifted by the Contemporary Art Society who are the co-commissioners) and is shown there next year.
P: Each of your works also takes on a very unique color palette. Does this come about naturally as you create, or do you have a vision in mind as you begin to piece together the different elements?
AH: For me, colour, as much as light, is one of the fundamental structural elements of a work, for instance whether you feel you sink into it or sit on the surface, and the kind of atmosphere it creates. So it's often something that is defined very early on in a work, but also often needs a lot of testing to see how a colour performs when I create a large expanse of it like I have been doing with my carpets in recent exhibitions. For example in my solo show, TWIN FIELDS, at The Common Guild in 2015, we ran a 'process blue' carpet all the way through the building as a surface for the works to sit on, as, to me, that blue
created a very solid surface feeling but also suggested a kind of infinite blue screen space that you could fall into. Process blue as a colour is pure cyan, and I love this idea of colour as a physical material that can define and shape space.
For Falling and Walking (phhhhhhhhhhh phossshhhhh crrhhhhzzz mn huaooogh) at Art Night, I am using a scoop of carpet as a container for both you and the work. I think of these surfaces as image fields a bit like the surface of the photograph that holds all the other elements together.
P: After this weekend concludes, can you imagine taking on more outdoor installation projects in the future?
AH: I would love to work on an outdoor installation, something which could perhaps be sited more long-term that you could come across by accident, and that maybe wouldn't even be clear if it was a piece of art or not.
Learn more about this and other projects for Art Night here, and tune in for live updates on our Facebook and Instagram pages during the nighttime festival on Saturday 1 July.