Our first live auctions of the fall 2023 season are here! The PHILLIPS Hong Kong Watch Auction: XVII, takes place on November 24 and 25, at our West Kowloon headquarters. The auction includes more than 200 of the world's finest watches – including all the timepieces featured in our highlights below.
---
We're in the thick of the fall auction season. Geneva is now in the rearview mirror, and Hong Kong is rapidly approaching. Our team kicks off the Hong Kong preview this weekend, and the sale will take place the following weekend, on November 24 and 25. Before we head into the auction room (inside our newly opened West Kowloon headquarters), our team of specialists sat down to think and write about a small selection of the more than 200 watches they spent months studying and cataloguing for this season's sale – all their favorites are listed below.
Estimate: HKD $5,500,000 - 11,000,000
Jill Chen, Head of Watches, Hong Kong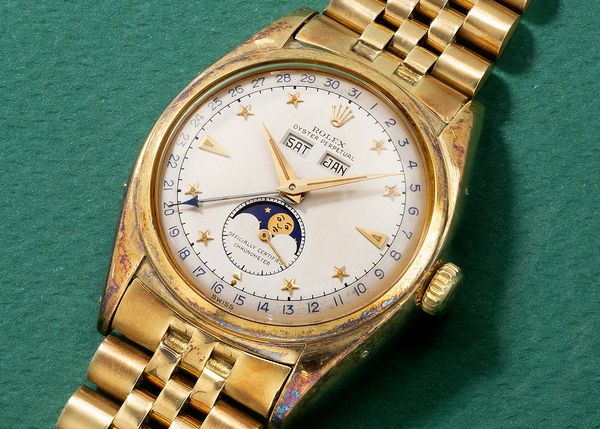 I was deeply entranced by the reference 6062 "Stelline" when I laid my eyes upon it. It is breathtakingly stunning, fulfilling the highest level of aesthetic standards. On top of the mesmerising case, the dial of the watch is absolutely sublime. From the exquisite star-set indexes, to the grainy texture of the surface, all the details exhibit an irreproachable beauty. I am very thrilled to present this classic to our esteemed collectors worldwide. An unforgettable timepiece which manifests perfection, this is what a grail watch is all about.
Estimate: HKD $800,000 - 1,600,000
Zi Yong Ho, Co-Head of Sale, Specialist, Hong Kong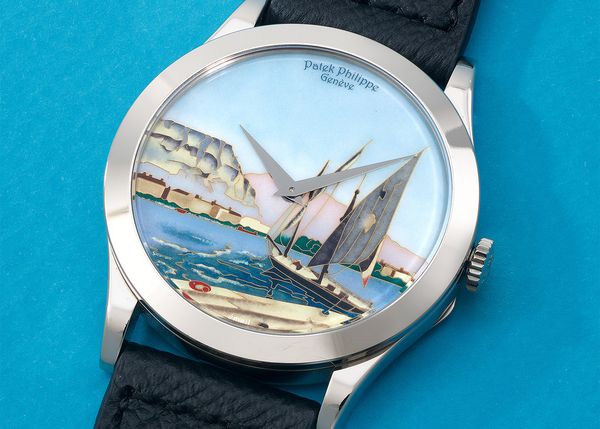 This rare Handcraft is probably top on my list in this sale. "Lake Geneva Barques" showcases the exquisite artistry of the famous enamelist Anita Porchet. in cloisonné enamel techinque, thin strip of gold wires are used to form the outline of the design and in this case, a mere thickness of 0.5mm and a length of 40cm to 70cm are meticulously placed on the dial. Once it's in place, colours are applied one at a time requiring multiple firing which is very delicate process, and in this creation, as much as 20 colours were used to denote the natural enchantment of the Lake Geneva.
Anita Porchet's mastery of the cloisonné enamel technique is evident in the reference 5089G-035. The vibrant colours creates a captivating visual spectacle of 'Lake Geneva Barques' that brings joy and pride when the watch is put on the wrist.
Estimate: HKD $620,000 - 1,240,000
Gertrude Wong, Co-Head of Sale, Specialist, Hong Kong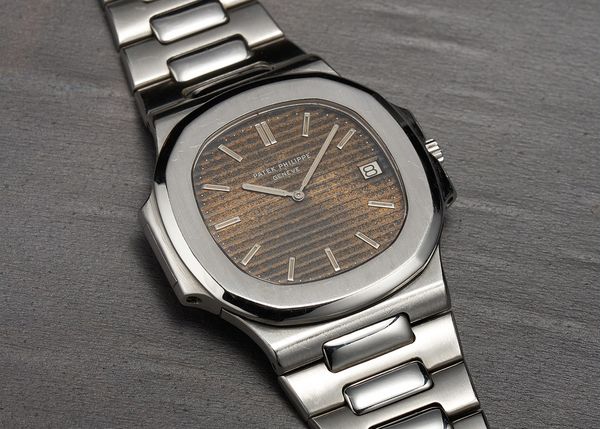 The Patek Philippe Nautilus really needs no further introduction, what captivates me the most of this ref. 3700/1 from 1977 is its intense golden tropical dial. Not often does one come across a watch with such an amazing patina, adding an extra flair that cannot be replicated. For me, the charm of this watch is far beyond your everyday blue dial. Highly collectible and accompanied by its famous cork presentation box and a pair of Nautilus cuff links, this is what vintage collecting is all about.
Estimate: HKD $350,000 - 700,000
Alvin Lau, Specialist, Watches, Hong Kong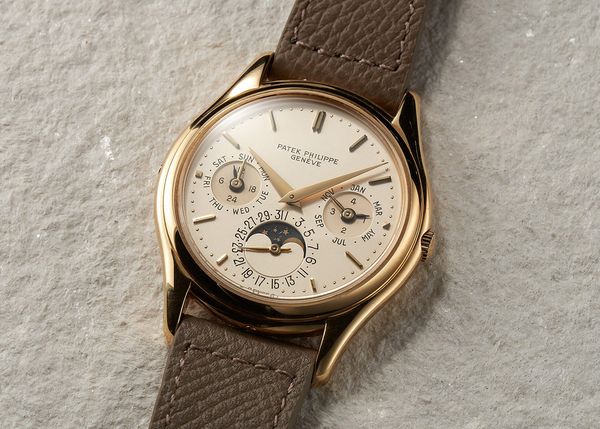 I have always been enamored with Patek Philippe's perpetual calendar watches, particularly the 3940. This reference stands out as one of the greatest timepieces in Patek Philippe's watchmaking history, marking a departure from vintage traditions and embracing the era of "mass-producing" complications. The dial has been beautifully redesigned, departing from the double aperture of the 3450, and giving it a modern touch while retaining the essential information that needs to be displayed. While maintaining the aesthetic that defines a Patek Philippe wristwatch, the watch's perfect fit and comfort are achieved through the ingenious use of the thin and versatile base calibre 240.
However, this particular first series ref. 3940 is far from ordinary. With the first 25 movements (770'001 – 770'025) reserved for the Beyer series, the current watch, bearing movement number 770'034, is the 9th example produced after the Beyer series and one of the earliest first series you can find in recent years. Even complete with Certificate of Origin, presentation box, and all the accompanying accessories, it is undoubtedly one of the most collectible 3940s in the current market.
Estimate: HKD $500,000 - 1,000,000
Lydia Ip, Cataloguer, Hong Kong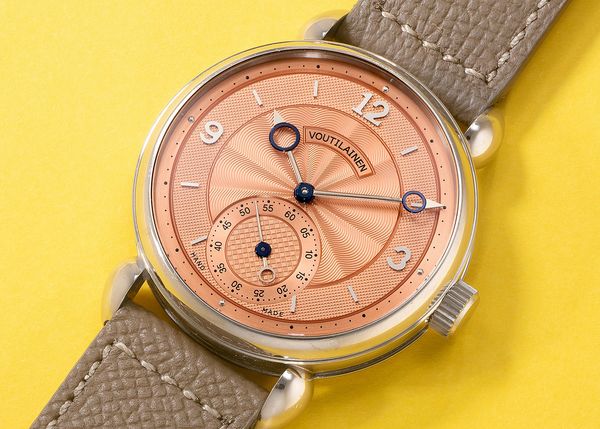 Some watches are capable of instantly captivating even the most innocent eyes, and offering a superbly gratifying sensory experience. Lot 892 Voutilainen Vingt-8 is precisely one such example. It features a tantalising salmon dial decorated by an alluring platter of guilloché, which emits a mouthwatering hue of pink under the reflection of light. As the Observatoire hands on top sweep across the dial and the applied indices, it is impossible not to yield to its seductiveness and indulge oneself with endless looking. Flip the watch over, and one is served with the dessert of the menu, two delicate blued escape wheels oscillating in perfect synchronization amidst a sea of screws, rubies and gold chatons. Further garnished by full accessories, with a Kari Voutilainen signed certificate, I am tremendously pleased to share this splendid delicacy with all of you.
Estimate: HKD $200,000 - 320,000
Yunyi Xu, Cataloguer, Hong Kong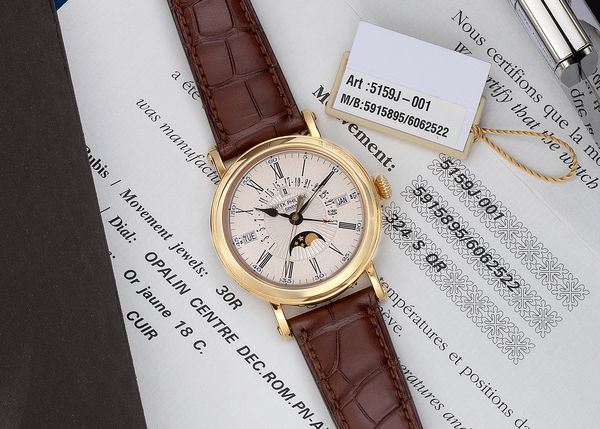 I have always been attracted to Patek Philippe references with an officer case. Not only am I intrigued by the pocket watch style hinged caseback that reveal the mechanics within, the retrograde fly back date with sweep seconds is also a rarity amongst Patek Philippe perpetual calendar watches. As a successor to the inaugural officer cased ref. 5059, the ref. 5159 has an updated 38mm diameter case featuring a lovely guilloché-engraved dial that adds splendor and a Baroque sensibility to the watch. For the collector seeking a truly traditional Patek Philippe perpetual calendar with a modern flair, look no further than the present ref. 5159 in yellow gold from circa 2015, kept by its original owner in barely worn condition.
Estimate: HKD $400,000 - 800,000
Logan Baker, Senior Editorial Manager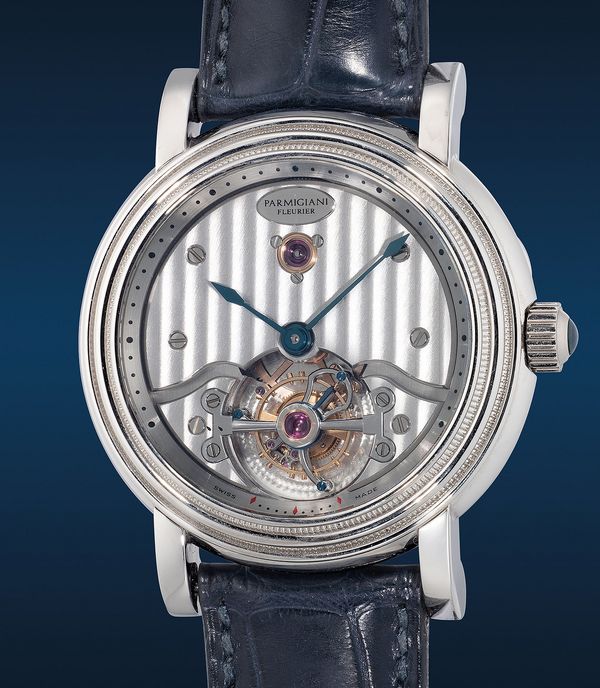 Ok, I have a confession. As much as I love Parmigiani's new-gen Tonda PF collection, there's a part of me that still deeply misses the wild complications and highly esoteric aesthetics of the brand's earlier models. Watches like the Ovale Pantographe, the Toric Capitole, and the Kalpa Hebdomadaire completely blew my socks off when I was first starting out in the watch biz. I had never seen anything like them before; even their names sounded just so glamorous and alien to my ears.
Honestly, I think I had mostly forgotten just how cool those watches were. At least, that is, until this awesome late 2000s Toric Tourbillon refreshed my memory after it popped up in the Hong Kong Watch Auction: XVII. The 40mm case is a legit solid slab of platinum that's been elegantly sculpted with steps and knurling galore. And unlike some of the more unorthodox watches I mentioned above, the dial here is a relatively subdued affair – in fact, it's not even there at all, revealing the delicately decorated main-plate for all to see. that is still somehow packed with fantastic details. Seriously, everything about this watch is just so out of the ordinary that I find it hard not to adore.
It's enough to make you forget that this is still a serious piece of horological work at the end of the day, featuring both a minute repeater and a second time-zone display. Oh, and it's also a rather rare bird – the friendly folks at Parmigiani Fleurier confirmed that less than 10 examples of this reference were ever produced.
You can learn more, place a bid, and view the entire he Hong Kong Watch Auction: XVII right here.
---
About Phillips In Association With Bacs & Russo
The team of specialists at PHILLIPS Watches is dedicated to an uncompromised approach to quality, transparency, and client service. Phillips in Association with Bacs & Russo holds the world record for the most successful watch auction, with its Geneva Watch Auction: XIV having realized $74.5 million in 2021. Over the course of 2021 and 2022, the company sold 100% of the watches offered, a first in the industry, resulting in the highest annual total in history across all the auction houses at $227 million.
About Logan Baker
Logan has spent the past decade reporting on every aspect of the watch business. He joined Phillips in Association with Bacs & Russo at the start of 2023 as the department's Senior Editorial Manager. He splits his time between New York and Geneva.
---
Recommended Reading
Celebrating 250 Years of Urban Jürgensen: A Video Series
A Complete History Of The Legendary Rolex Triple Calendar Moonphase Ref. 6062
A Clash Of Complications: Which Patek Philippe Perpetual Calendar Split-Seconds Chronograph Is Right For You?