Ron Arad "Oh, the Farmer and the Cowman Should be Friends," 2009
For Ron Arad 2009 was a significant year. He had moved far beyond the margins of the design world and occupied the center ground. He was approaching his 60th birthday with a body of work that spanned all the way from the mass-produced to the one-off. Once he had been a young disrupter, pushing aside the previous generation. Now he had reached the height of his powers.
The year opened with "No Discipline," a powerful retrospective exhibition at the Centre Pompidou in Paris. A version traveled to The Museum of Modern Art in New York and London's Barbican Centre the following year gave him his own retrospective.
Ron Arad "Oh, the Farmer and the Cowman Should be Friends," 2009 (detail)
At the same time, Arad's first major work of free standing architecture, the Holon Design Museum, close to Tel Aviv, was nearing completion. And he launched a collection of very ambitious new pieces at the London gallery of Timothy Taylor, of which "The Farmer and the Cowman Should be Friends" was one. It's a remarkable and imposing piece on an architectural scale.
Arad's journey from salvaging cast-of car components in order to make the "Rover Chair," to teaching himself rudimentary welding techniques, to working with mass-produced plastics, to editioned gallery pieces, to architecture, was documented in all those exhibitions.
"The Farmer and the Cowman," fabricated in 2009, as well as the rest of the group looked forward rather than back. They were a confident demonstration of Arad's continuing commitment to exploring new ground. They share a remarkable command of form and technique. But even as they came as close as anything in Arad's output to art, they retained the sense of a utilitarian purpose. "The Farmer" (the title is from a Richard Rodgers song written for the musical Oklahoma in 1943), could be used as a book shelf. And indeed it was designed with as much attention paid to how it appears when filled with books as it does when empty.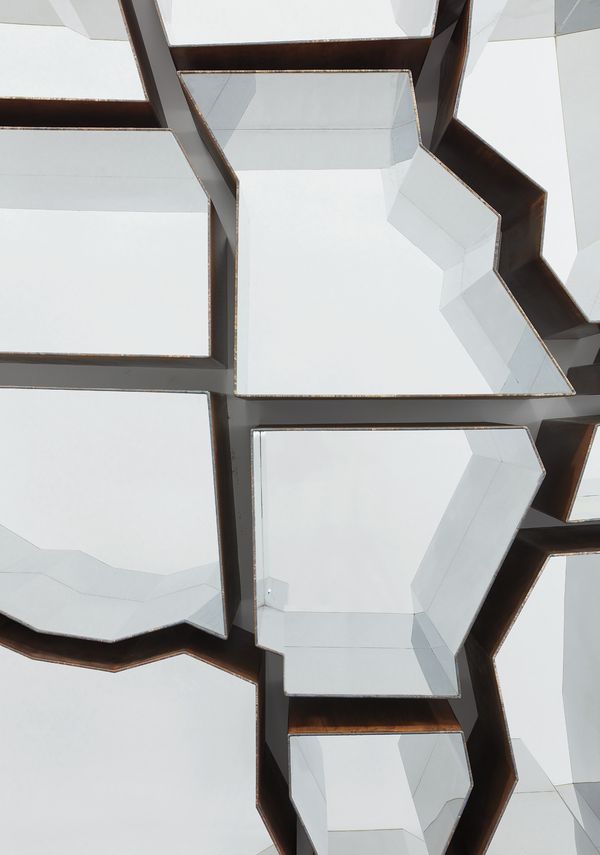 Ron Arad "Oh, the Farmer and the Cowman Should be Friends," 2009 (detail)
But utility is not its primary purpose. It made an appearance, if only on film, in Arad's MoMA show. But there was another piece there which echoed its cellular structure as if to show that such a directly representational inspiration as a shelf system modeled on a map of the continental United States, while not territory that Arad had explored before, was not entirely distinct from the rest of his output. This is work that plays between different forms of steel, rough and smooth, reflective and matte.
This is of course work that depends on the skill of the maker every bit as much as Arad's early work carried out in his own workshop, and in some cases with his own hands. But those skills now call on specialists much like Jeff Koons or Anish Kapoor would do, creating an otherworldly presence, one that feels as if it is weightless and had effortlessly come into being as if from a magical machine rather than by any physical interventions.
Deyan Sudjic, OBE, is the director of the Design Museum in London.