Lot 578, Bulgari, Exceptional and Impressive Sapphire and Diamond Necklace, 2004
Estimate: HK$24,000,000 - 35,000,000 (US$3,000,000 - 4,500,000)
Jewels & Jadeite, 23 May
Phillips is thrilled to welcome you to Jewels & Jadeite Auction, taking place in Hong Kong on 23 May 2023. Prior to the auction, we asked our jewels team to pick one lot from the sale which spoke personally to them. Here are the results.


Coming from a private collection, this magnificent Bulgari necklace has been cherished by its owner for almost two decades since its debut in 2004.

Weighing an impressive 118.35 carats, the sapphire set on the necklace is amongst the largest to appear at auction in recent years. Of Ceylon (Sri Lankan) origin, with no indications of heating, and of 'Royal Blue' colour as stated in the Gübelin Gem Lab report, this stone is a wonder of nature beautifully enhanced by man's hand and the lovely cushion shape granted by the stone cutter. It will speak to every gem lover and collector. Unique in its size, colour and origin, the sapphire embodies the transparency and luminosity pursued by Bulgari for its High Jewellery creations.

This jewel is a holy grail for any collector, with a classic and elegant design typical of Bulgari that emphasizes the beauty and extraordinariness of the gem, combined with an exceptional stone set in a necklace signed by an iconic maison. — Benoit Repellin, Worldwide Head of Jewellery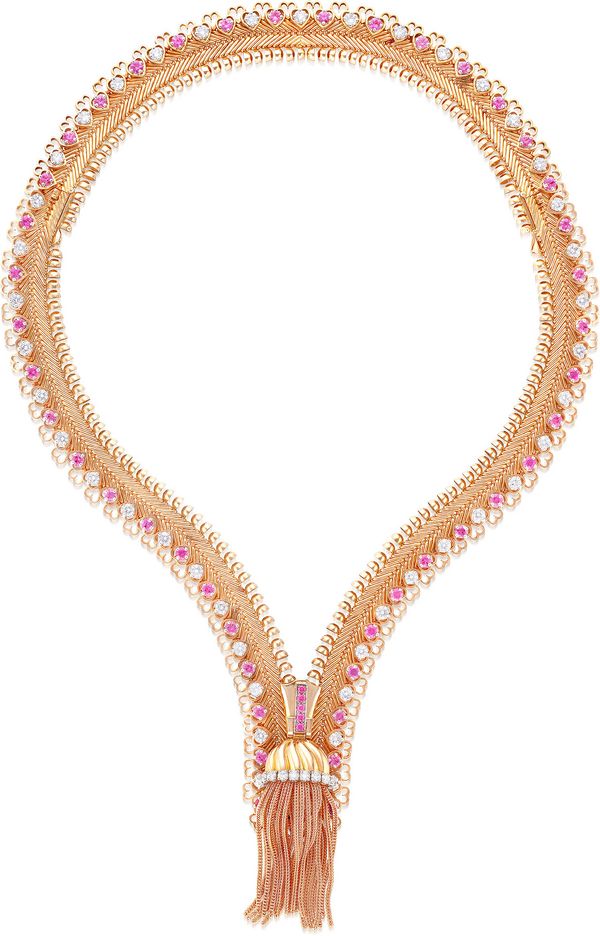 The 'Zip' necklace of Van Cleef & Arpels is without doubt one of the most iconic and innovative designs of the Maison and in jewellery design history. Whilst the Maison is well-known for its nature-inspired creations, they surprised connoisseurs by inventing a jewel from a fastener, first proposed by the Duchess of Windsor to Creative Director Renée Puissant in the late 1930s.
The sophisticated zip mechanism applied on this piece of jewellery was finally devised more than ten years later, and the first 'Zip' necklace debuted in 1950. Its complex workmanship meant very few examples were produced, and every example takes on average 800 hours to fabricate, including this necklace in pink gold, which references some of the earliest designs in the 'Zip' collection. Harmonious in its colour combination, set with pink sapphires and diamonds with an understated link-chain tassel, this is the emblematic jewel that will always be sought-after by collectors. —Charlene Lau, Head of Jewels, Hong Kong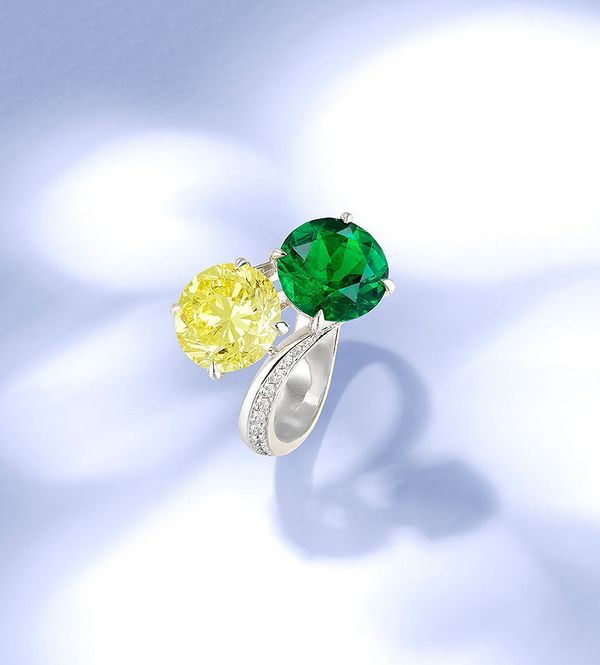 Round brilliant cut is very rarely seen in coloured diamonds, because the cutting style requires a larger rough than any other shape does, which results in a more significant wastage of raw material in the process. Considered how scarce such roughs are, cutters would usually opt for other cutting styles to maximize profit. This 2.73-carat fancy intense yellow diamond is one of such rare finds. The same rule applies to coloured gemstones, and the conditions required for an emerald to be cut into circular shape are equally exacting. Being a type III clarity gemstone that comes with evident natural inclusions, a circular-cut emerald is only possible with rough stones of the highest quality.
This toi-et-moi ring is set with two attractive natural gemstones of rare cutting styles that are matching in both sizes and outlines. Of minimalistic design, this is a perfect jewel for collectors who understand the subtle elegance and rarity of gems. — Louisa Chan, Head of Sale, Hong Kong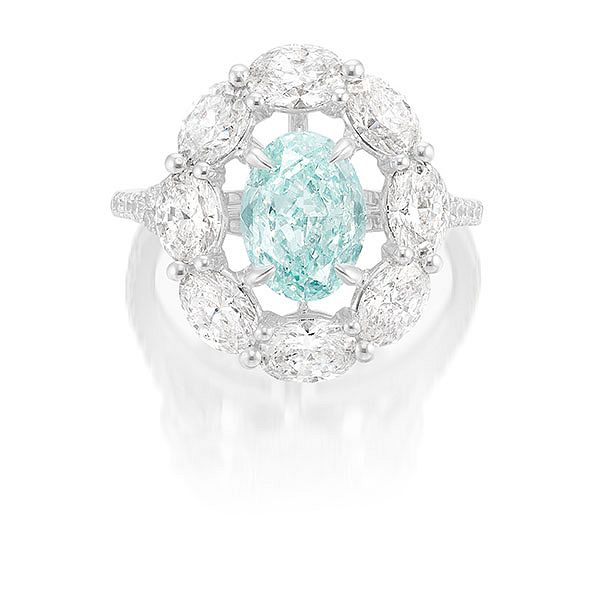 Diamonds are astonishing creations of the Earth. These natural beauties come in a variety of colours, in which blue and green are amongst the most important, valuable, and coveted. Blue diamonds are found only in very few places, such as the historical Golconda mine in India, the Cullinan mine in South Africa, and the Argyle Mine in Australia which was closed in 2020. Production is immensely scarce and faceted specimens that attain "Fancy" colour grade from GIA are even rarer.
Ranging from light blue to deep blue, the exclusivity, glamour, and mesmerizing colour of blue diamonds have fascinated humans for ages.
Reminiscent of crystalline seas, this strikingly beautiful and soft-coloured blue stone is endowed with soothing luminosity and fresh cooling charm that will win the hearts of diamond connoisseurs. — Tomoko Mizutani, Specialist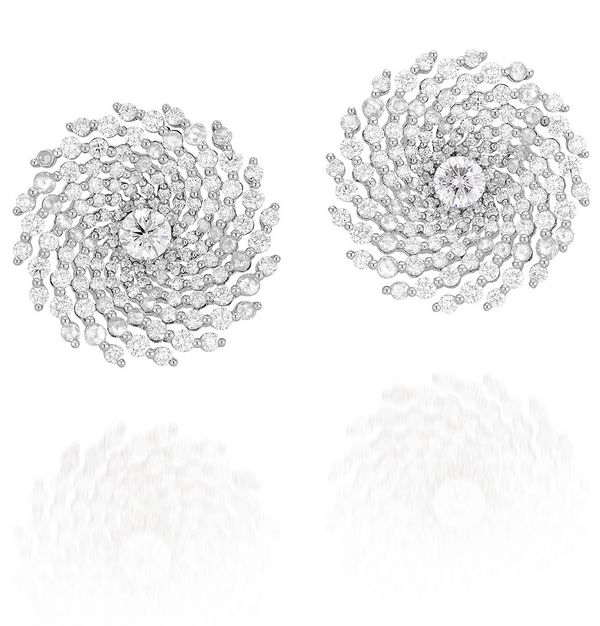 This particular piece, aptly name the "Elliptical Earring" from Chavana's Ray of Light collection is inspired by the spiral galaxy of the distant universe. A subtle gradient creates an almost hypnotic concave swirl of various cuts of diamonds, creating a mesmerizing effect that reflects the different scintillations and modulations of the cosmos. This pair of earrings exemplifies the unparalleled skills, exceptional craftsmanship and attention to detail that has been honed for over a century through the generations and represent what Chavana clientele have come to appreciate — timeless jewels that embodies a marriage of traditions with contemporary expressions.
Chavana, is a fourth-generation family-owned jewellery business founded in 1914 in Thailand. Originally named of "Mian Teck" (綽德) which translates as "Continuous Virtues". In celebration of their 100th anniversary, CHAVANA by Mian Teck 1914 was born to pay homage to the passion of the founders. Today, the jewels are curated and cared for by the 4th generation custodians who look to the past to create the future. — Cristel Tan, International Specialist
---
Jewels & Jadeite
Hong Kong 23 May 2023
Click here for more information.