Phillips is proud to unveil a Patek Philippe Reference 96 Quantieme Lune, an inscribed paper fan, a manuscript notebook, watercolour paintings and a leather-bound printed edition of Confucius' Analects once belonging to Aisin-Giro Puyi, the last Emperor of the Qing dynasty. Presenting a rare insight into a remarkable chapter in history, these incredible artefacts will be on view in Hong Kong from 18-31 March; this will be followed by an international tour to New York, Singapore, London, Taipei and Geneva, with the pieces being offered for sale at a later date.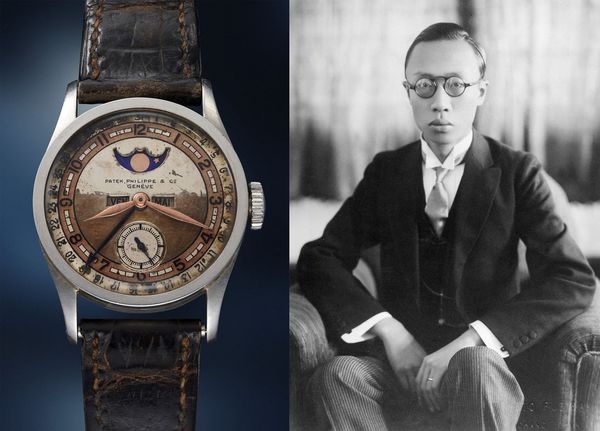 Truly the first of its kind, a legendary reference, a tremendous importance to Patek Philippe's heritage, the present Patek Philippe reference 96 with triple date and moon phase transcends as one of the most crucial examples ever to resurface. While only seven Patek Philippe reference 96 of such complication were previously known, the present example is fresh-to-the-market and is the eighth example to appear.

Underscoring the rarity of the timepiece presented by Phillips, only two examples with the exact dial configuration – which includes an enamel Arabic "Roulette" configuration – have ever previously surfaced. Both cased in platinum bearing consecutive movements numbers, one is now part of Patek Phillipe Museum collection, and the second was sold in 1996 to a private collector. Exceedingly prestigious, kept in its original untouched condition with consistent patina throughout, this time-capsule piece with incredible historical importance, is the epitome of its kind.
---
About Phillips In Association With Bacs & Russo
The team of specialists at PHILLIPS Watches is dedicated to an uncompromised approach to quality, transparency, and client service. Phillips in Association with Bacs & Russo holds the world record for the most successful watch auction, with its Geneva Watch Auction: XIV having realized $74.5 million in 2021. Over the course of 2021 and 2022, the company sold 100% of the watches offered, a first in the industry, resulting in the highest annual total in history across all the auction houses at $227 million.