Alasdair McLellan for Supreme Spring/Summer 2012, fly-posters in New York City © Gavin Doyle
ULTIMATE CAMPAIGN celebrates collaborative creativity in nine captivating photographs by today's leading forces in fashion.
From legendary photographer Bruce Weber to rising star Tyrone Lebon, our nine featured artists together represent four decades of image-making. The images we have chosen were created for advertising campaigns and appeared originally in magazines, on billboards and even on fly-posters. These campaigns were commissioned by leading brands, the likes of Yves Saint Laurent and Calvin Klein, known for their visionary approach to advertising. In our curated selection, these photographs stand alone as works of art that can be described as timeless, powerful, distinctive and intoxicating.
The model is another key collaborator and often serves as an inspiration for the creative vision. The subjects in our photographs, including considerable star power from Kate, Naomi and Gisele to Justin Bieber and Kendall Jenner, have forged strong relationships with both the artists and the brands. As seen here, these collaborations have produced defining images that reflect and inform our society and visual cultures. These featured works have been made exclusively for ULTIMATE CAMPAIGN. They are either the last prints from sold-out editions or unique-sized one-off prints.
The extraordinary caliber of these photographs is a testament to the power of collective creativity.
Tyrone Lebon Justin Bieber Sunset, 2015
For Calvin Klein's Spring/Summer 2016 campaign, Tyrone Lebon created nearly 90 images and various video components, featuring a range of famous faces, as well as members of the public, to appeal to the digital-focused Millennial consumer. Shot in Los Angeles, Lebon presents pop sensation Justin Bieber in a statuesque pose in front of a richly coloured dreamlike background. Bieber's demurred face and black clothes contrast the saturated sunset and angelic glow that surround him, creating a nuanced parallel between divinity and popular culture.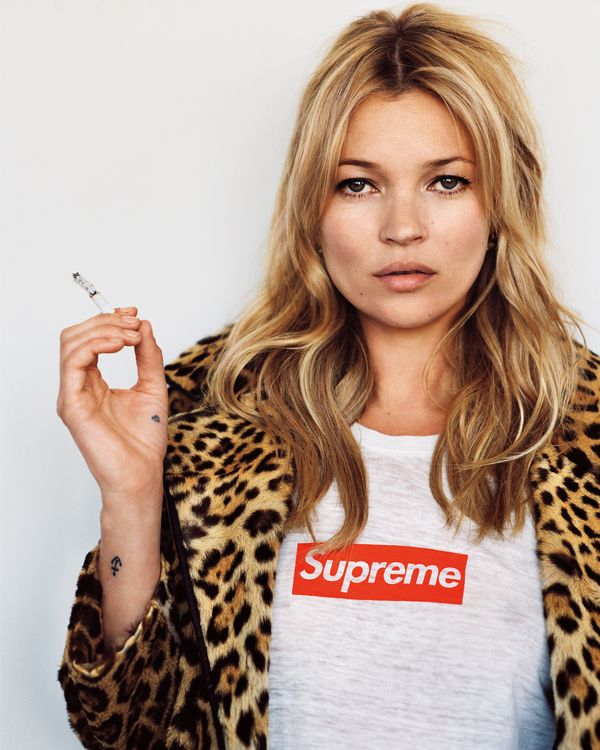 Alasdair McLellan Kate Moss Supreme, 2012
This instantly recognisable photograph of Kate Moss – cigarette in hand, wearing the distinctive box logo T-shirt – was taken in 2012 by Alasdair McLellan for the skateboarding and clothing brand Supreme. Here, McLellan portrays Kate Moss as the epitome of street chic as she joins a star-studded lineup of collaborators that include Lou Reed, Lady Gaga and even Kermit the Frog. Contrary to the typical billboard campaign, Supreme's guerrilla marketing tactic involved fly-posting this image of Kate Moss all over New York City, reflecting the brand's street culture heritage.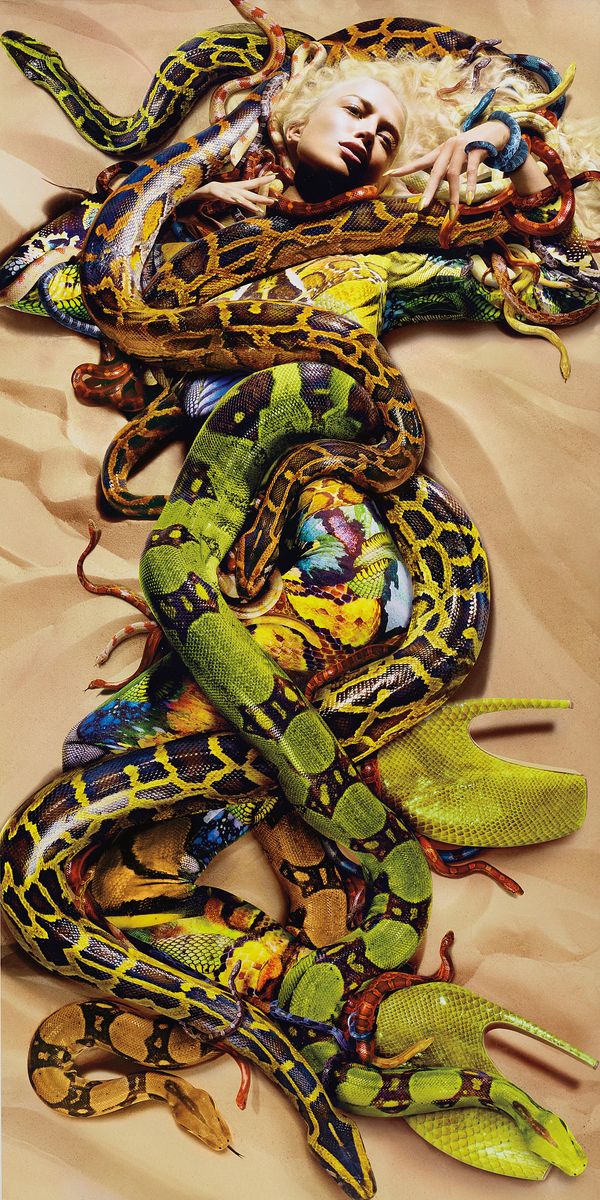 Nick Knight Alexander McQueen, Snakes, 2009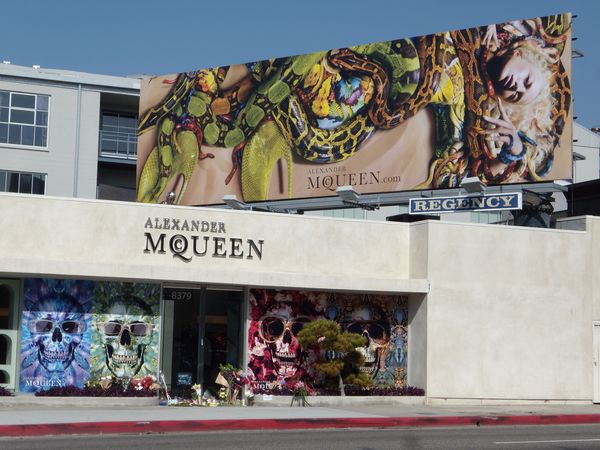 Nick Knight for Alexander McQueen, Spring/Summer 2010, billboard above Los Angeles store © Daily Billboard Blog
My aim has always been to push the boundaries of what is and isn't beautiful.

—Nick Knight
Nick Knight's collaboration with Alexander McQueen began in 1996 and continued until McQueen's final collection, the critically acclaimed Spring/Summer 2010 Plato's Atlantis, for which the present photograph was made. In a candid interview conducted by Knight before the collection was unveiled, McQueen expressed his idea behind the title: "Atlantis for me is a metaphor for Neverland...it could be anywhere in your mind." Plato's Atlantis became the first fashion show to be streamed live on the internet when Knight's groundbreaking multimedia platform SHOWstudio streamed it from Paris. As leading forces in their respective fields, Knight and McQueen were both creators and visionaries who shared a similar approach to their work.
In Snakes, we see model Raquel Zimmermann lying on a bed of sand, her body merging with an undulating mass of serpents. Knight reimagines McQueen's Atlantis and presents us with a sensuous, predatory creature in a fantastical land. McQueen best sums up this spellbinding photograph: "I think [women's] sexuality is their ultimate weapon...I think a woman's sexuality in any shape or form is a powerful thing."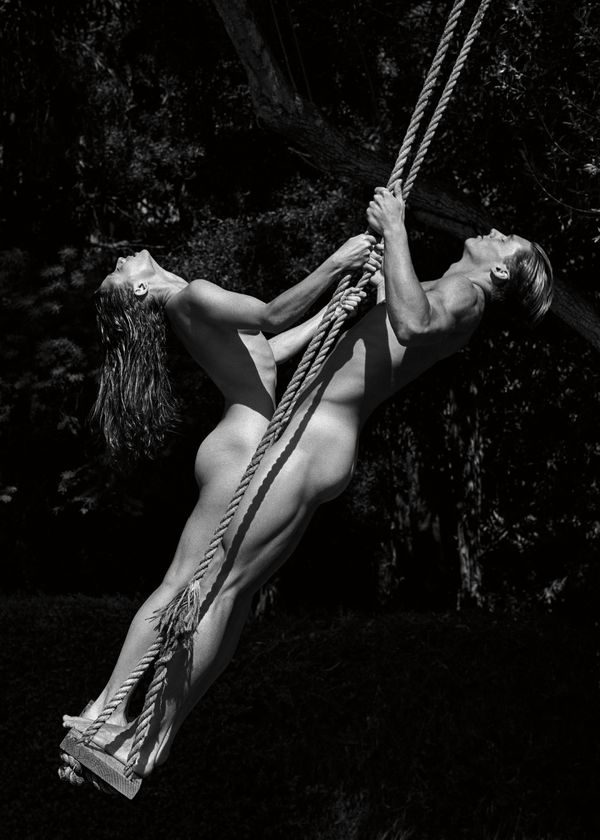 Bruce Weber Ric and Natalie, Villa Tejas, Montecito, California, 1988
We never knew what was going to be in a Calvin Klein picture.

—Bruce Weber
For nearly four decades, Calvin Klein's advertising campaigns have produced provocative and generation-defining images. In 1982 when Klein launched his underwear line that would come to define the brand, he commissioned Bruce Weber to shoot the advertising campaign. Featuring Olympic pole vaulter Tom Hintnaus, Weber's groundbreaking photograph stopped traffic when it appeared on a billboard in New York's Times Square.
When the moment came to create another explosive campaign, this time for his fragrance, Klein once again turned to Weber. Introduced in 1985, Obsession would come to produce some of the most famous campaign images of all time. An exceptional example is Weber's black-and-white photograph of a naked couple on a swing used for the 1989 Obsession ad. This provocative and sensuous image was seared in the memory of a generation that experienced the consumer culture of the 1980s.
For further insight into this particular work and Weber's collaborations with Klein and Diane Arbus, among others, read our recent interview with the artist.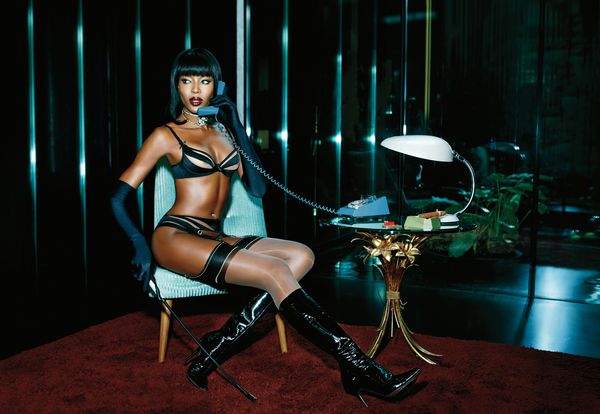 Ellen Von Unwerth Mission Accomplished, 2014
It's a woman saying something secretive, something in her eyes that's almost animalistic.

—Ellen Von Unwerth
Ellen von Unwerth has photographed Naomi Campbell in many guises over the last 30 years, and for the film noir-inspired Spring/Summer 2015 Agent Provocateur campaign, she portrays the supermodel as a contemporary femme fatale.
The above work's title Mission Accomplished reveals von Unwerth's humorous approach to image-making – we almost can hear Naomi's character utter the words "mission accomplished" into the receiver as she looks to her right away from the camera. What Campbell's "mission" is, we can only guess. A sense of mystification is expressed in the heroine, the interior, as well as the props, inviting more questions about the scene than answers. Von Unwerth's extraordinary flair for imagery is evident in this provocative and powerful representation of seductive pleasure.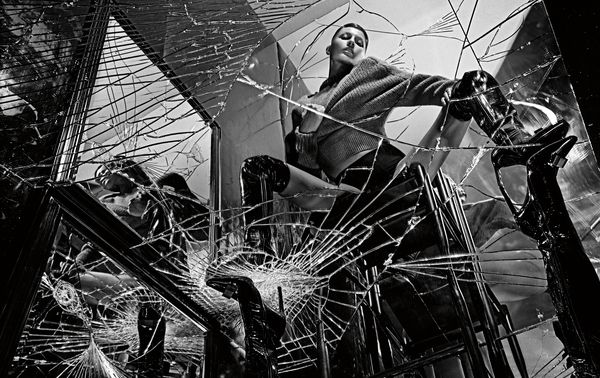 Steven Klein Gisele Bündchen for Balenciaga, 2014
I am standing behind a camera in order that I can extend myself in front of it.

—Steven Klein
Steven Klein took this captivating photograph of Gisele Bündchen for Balenciaga's Autumn/Winter 2014 campaign while the brand was under the helm of Alexander Wang. By presenting an androgynous Gisele violently smashing her mirrored surroundings, Klein questions our expectations of female beauty and notions of vanity. Wanting to portray a "strong, powerful, mysterious and uncompromising" female figure, Klein photographed the supermodel without her most famous feature – her flowing locks. Klein's unique perspective provokes the imagination and draws the viewer into the chaotic scene, enhanced by the sharp geometry of the glass shards and fragmentation of the image into multiple layers through the mirror's reflections.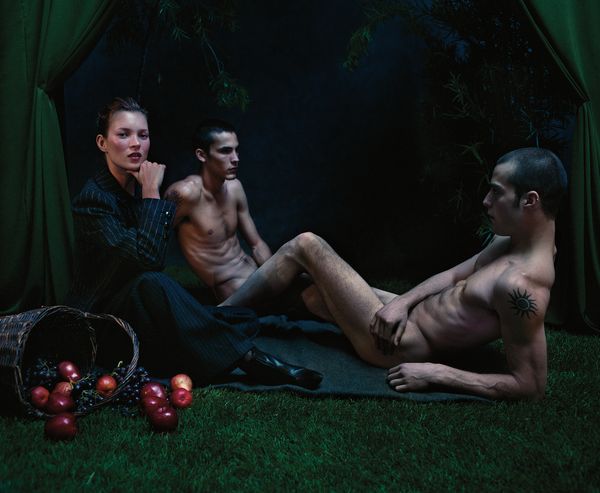 Mario Sorrenti Kate Moss Luncheon on the Grass, 1999
For his first campaign collaboration with Yves Saint Laurent in 1999, Mario Sorrenti created a series of adverts that appropriated famous works from art history. The present work reimagines Manet's celebrated painting of 1863, Le Déjeuner sur l'herbe, which was received with equal measure of shock and enthusiasm when it appeared in the Salon des Refusés. Fast-forward 100 years to 1966, the year YSL introduced Le Smoking, the first tuxedo for women, which caused similar outrage at a time when it was still scandalous for a woman to dress publically in trousers.
Sorrenti cleverly brings together these departure points in the history of art and history of fashion to create his imagery. Depicting Kate Moss in a classic Le Smoking suit while the men are rendered nude, he has reversed the gender roles that so shocked the painting's first audience.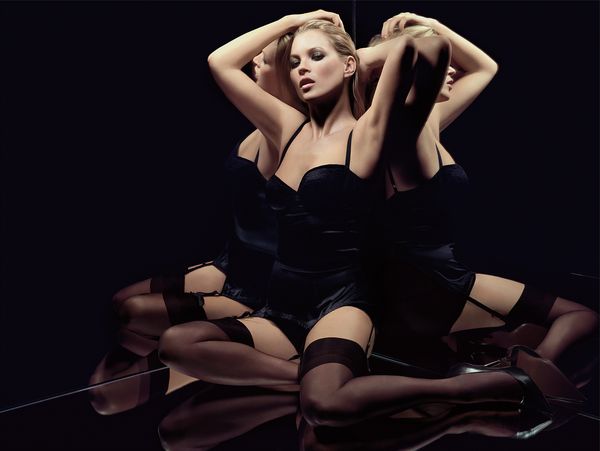 Sølve Sundsbø Opium, 2003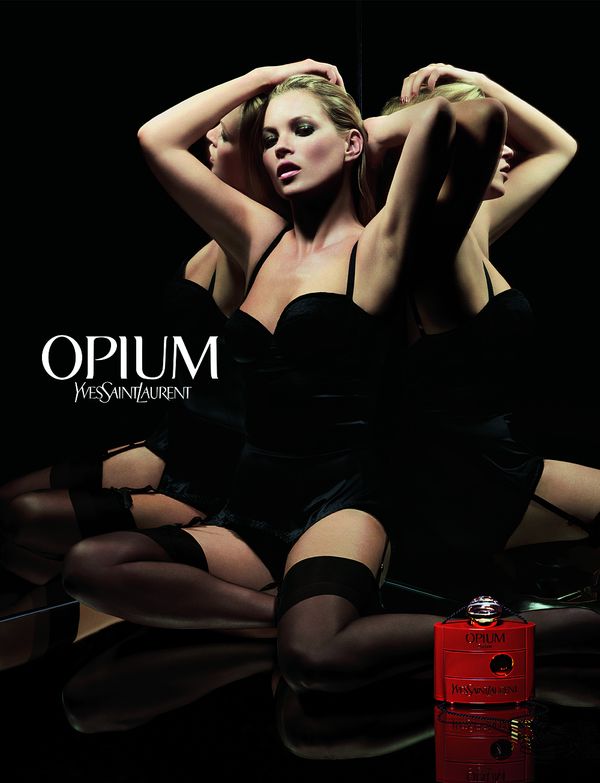 YSL Opium advert, 2003
As part of a long-time collaboration with Yves Saint Laurent during Tom Ford's tenure as Creative Director, Sølve Sundsbø took this alluring photograph of Kate Moss for Opium, arguably the most decadent of YSL's fragrances. For Sundsbø, Ford and Thomas Lenthal, who art directed the campaign, Kate was the most natural choice for representing the luxurious and slightly dangerous Opium fragrance. Sundsbø describes her as "an amazing actress on a very small stage" who personifies a given character or an idea with ease and creates a sense of intimacy and immediacy between herself and the camera.
In this stunning photograph, taken in London in 2003, a nod to old Hollywood glamour can be seen in Kate's corset and suspenders and the use of mirrors.