Bruce Weber © Michael John Murphy
We never knew what was going to be in a Calvin Klein picture.

— Bruce Weber
For nearly four decades, Calvin Klein's advertising campaigns have produced provocative and generation-defining images. In 1982 when Klein launched his underwear line that would come to define the brand, he commissioned Bruce Weber to shoot the advertising campaign. Featuring Olympic pole vaulter Tom Hintnaus, Weber's groundbreaking photograph stopped traffic when it appeared on a billboard in New York's Times Square.
When the moment came to create another explosive campaign, this time for his fragrance, Klein once again turned to Weber. Introduced in 1985, Obsession would come to produce some of the most famous campaign images of all time. An exceptional example is Weber's black-and-white photograph of a naked couple on a swing used for the 1989 Obsession ad. This provocative and sensuous image was seared in the memory of a generation that experienced the consumer culture of the 1980s.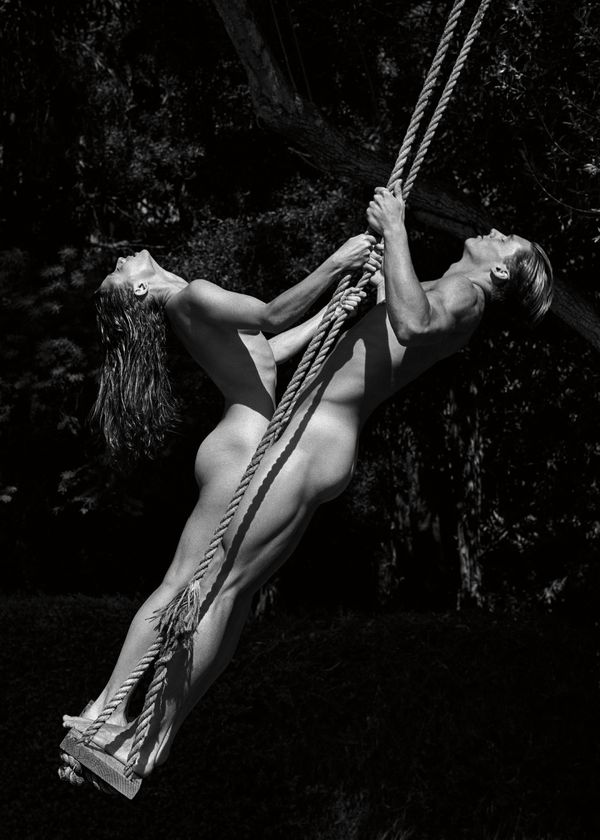 Bruce Weber Ric and Natalie, Villa Tejas, Montecito, California, 1988
As the highlight of this spring's ULTIMATE CAMPAIGN, a selection of rare and exclusive photographs for Phillips, we are excited to present a unique oversized gelatin silver print of this iconic image by Bruce Weber.
Phillips' Yuka Yamaji and Bruce Weber discussed beginnings, working with Calvin Klein and the Obsession campaign.
Taking Up Photography
Yuka Yamaji: Let's start from the beginning. You were privileged to study photography under Lisette Model at The New School in New York. How would you describe that experience?
Bruce Weber: Lisette really pushed all of us. Her class was really great. She accepted all ages and all kinds of people. It was very democratic and I always believed that photography has to be that. I found out about her through another woman I got to know quite well, Diane Arbus. I used to meet Lisette down in the Village where there were all these drag queens, prostitutes and heroin addicts, and we would sit there and talk about photography. And not photography in the sense of what shoot did you do or what was your f-stop. We talked about experiencing things and recording history. I always think that the best photography is recording somebody's personal history or some historical event.
YY: So you met Lisette Model through Diane Arbus who was also one of her former students.
BW: Yes. She gave Diane a lot of courage to go out and take pictures that she had a feeling about. Diane was so interested in the viewpoint of people who were individual. I think today, we don't really remark on that – we don't celebrate the individual. I've always liked when photographers, even the kids who work for me, find somebody that they want to celebrate in that way. I think it's really healthy.
YY: The first time you met Diane Arbus, was that by accident? Didn't she approach you at a café?
BW: No I approached her!
YY: Did you recognise her straight away?
BW: Oh yeah, instantly. We hadn't sat down together yet and she asked, 'Well, do you want to take photographs like me?' And I replied, 'Oh god no, I wouldn't even know how to begin.' And she said, 'Okay good. Sit down.' Because at that time, a lot of people were trying to copy her work and take pictures in her style. From then on, we had a friendship.
Working with Calvin Klein
YY: Between 1979 and 1991, you worked closely with Calvin Klein, producing a number of iconic campaign photographs. How did this collaboration begin?
BW: Calvin had seen some pictures I had done of a water polo player called Jeff Aquilon for Details [in 1978], which then was sort of an underground magazine. He called me in and said, 'Look, I like your pictures and it would be fun for you to shoot my jeans.' So I said, 'Yeah okay, it sounds good.' I was pretty open...I still am I hope. But then he said, 'If you don't like the guy, you don't get the job.' So I was pretty cocky and replied, 'Well let me see the guy.' This guy's name was Romeo and he looked a lot like James Dean. Just quiet, very shy. So I said, 'Well you're lucky I like him!' And I can't believe I said that, but it was the way I felt. I had learned to always be truthful about your feelings, no matter what kind of situation you're in. So I was really happy that it worked out.
YY: You and Calvin Klein are close in age. Did that help you to relate to him?
BW: We had mutual friends in common, but I was really square then. I didn't go to Studio 54 a lot, you know. I had ten cats then! But studying with Lisette [Model] had taught me to believe in myself and stick up for myself. So when I was working with Calvin, I just felt like, okay, this is what's going on in my life, that is what's going on in his life, and how do I interpret those two worlds? You have to understand, I was very, very different to Calvin. He was extremely, overtly social. He was out all the time and that was his life. I think these two worlds colliding gave these pictures their thing.
I always felt that the great thing about photography is that you can collaborate with people.
YY: Were you working directly with Calvin Klein himself or more closely with his team?
BW: Calvin had a team. Sam Shahid was art director and different fashion editors were there, like Grace Coddington. He also had a great design team there – Zac Carr, so extraordinary. We took the experiences that Calvin was having at that time in his life and we put it in ours. I always felt that the great thing about photography is that you can collaborate with people.
YY: Did you work to a brief?
BW: No, it wasn't all done in meeting rooms. We didn't know. We never knew what was going to be in a Calvin Klein picture. It was a wonderful way to work and it doesn't happen very often anymore.
YY: Let's now turn to your featured photograph shot for Calvin Klein's 1989 Obsession campaign. How was the location chosen?
BW: It was very unorthodox. I had met a surfer down at the beach in Santa Barbara and he said, 'You should see my girlfriend's house. It's so beautiful and her parents are never there.' [Laughs] So we went up to this house, an amazing estate in Montecito, and that's where we ended up shooting.
YY: Who selected the models?
BW: Calvin would meet somebody and we would meet somebody. I knew Natalie, the girl in the picture, very well. She was a beautiful dancer...I just saw her the other night. Ric Arango – an extraordinary person. He was a great athlete and now works for the emergency services on Miami Beach. He still has that same body! Natalie still has that body too – she's a yoga instructor.
YY: Is it usual for you to stay in touch with the models you've photographed?
BW: Oh yeah, very usual. I'm really happy when I meet them some years later and they have kind of blossomed and I get to experience that too, not just their youth.
I never thought about them as being sexy. I thought of them as being very beautiful and having an almost mystical feeling.
YY: How would you describe the atmosphere on a Calvin Klein shoot?
BW: It was like summer camp. We had just started doing a lot of nudity for Calvin. All these nude kids were jumping on trampolines, playing tennis nude, swimming nude, rubbing suntan oil all over each other by the pool and it struck me as so weird and funny. My interpretation of Calvin's world came from something like that. And I feel that Calvin embraced us because my whole team was so different to how he was. He had that whole life and it's the life that we were being asked to interpret.
YY: How did you arrive at the concept of the swing?
BW: I grew up in Western Pennsylvania, on a farm, and Calvin grew up in the Bronx. So the swings in his life were in playgrounds that had graffiti all over it and my swings were with trees and everything. I loved the idea of seeing a beautiful woman and a great man swinging together on a swing. Also, just the word 'swing' – it was very tongue in cheek. And if you look at the picture, it isn't that different to portraits of children on a swing. Except these people are older and have no clothes on. [Laughs]
YY: Did you think about the word 'obsession' when working on the campaign?
BW: What's obsessive for someone is not for someone else. People used to say to us, 'Oh we can't run these pictures. They're too sexy.' I never thought about them as being sexy. I thought of them as being very beautiful and having an almost mystical feeling. When I look at them now, after all these years, I kind of laugh or smile and think, 'I should have done this' or 'I should have done that' or 'Oh yeah, I love that!' It was kind of a fantasy for me… growing up on a farm. I wish I was on that swing! [Laughs]
YY: You had expressed in the past that your work is more about desire than sex – the 'desire to be close to somebody, to be intimate.' I see this desire in this photograph. Is this what you were trying to capture?
BW: I think so. [Laughs] You should never ask photographers these kinds of questions. You change your mind the older you get. But I look at all of these Calvin Klein pictures as desire, but also desire with affection.
YY: What was the reaction of the public when this image appeared as the 1989 Obsession ad?
BW: [Laughs] Well, the reaction of my family and the kids I went to school with was quite different to the reaction of the fashion world. With my family and friends, the reaction was 'Oh wow, you have a wild side to you. You're not so shy!' On the other hand, people were saying, 'Oh I don't know if this is right. Is this right for a fragrance?' And Calvin was really great. When he does something, he stands up for it. He supported us. He never faltered and said, 'I made a mistake' or 'I hope I didn't offend anybody.' That's his greatness.
YY: How was the process of revisiting this photograph of Ric and Natalie, taken 30 years ago, and presenting it as a stand-alone piece for the first time?
BW: The mystery of why a photograph is chosen interests me. I think a photograph can hit a person, touch the heart somehow or a nerve. It means something to someone and what they are going through. My life was really different when I took that picture. But I think I'm still the same person. And I think the same for Calvin. I just look back at it and think of it as a picture from my childhood. I like the attitude of it. When we did these pictures, advertising was looked down on by the art world. I think they just didn't do their homework when it came down to photography.
Making Fashion Photographs
YY: Do you approach shooting an advertising campaign in the same way as shooting an editorial, personal work or a film?
BW: I never looked at a picture for advertising, editorial or anything else differently from one another. They were all the same to me. I wanted to say something. I wanted to learn something. I wanted to prove something.
I'm happy that a lot of photographers are starting to use film again.
YY: How does the experience of shooting advertising campaigns for photographers working today differ from how it was in the '80s and '90s?
BW: I think the difference today is that people want to shake your hand but look down at the ground. I just hope that it turns around a little bit, so that things like this project you're doing will keep happening a lot. There's a lot of interesting work done in a collaboration. And it's not going to happen if that collaboration is stepped on and held back.
A lot of people have gotten so used to this digital age. They all expect to see the picture before it is taken. Or they want to change the picture. I like it when pictures aren't so perfect. It's very different working this way. But I continue to think the same way as in my first meeting with Calvin and just be honest. Say 'Hey listen. If I don't like the guy then I guess I won't do the pictures.'
YY: So in the same way that Eugène Atget continued to use his wooden view camera on a tripod and his glass-plate negatives into the 1920s, will you continue to shoot on film?
BW: I think I just want to keep doing it this way. It's the only way I know how, you know? I'm happy that a lot of photographers are starting to use film again. I don't use digital. I'm not saying it's good or bad – it's just the way I am. I hope that a lot of other photographs get a chance to work this way because no matter how difficult it gets, it sort of always makes me fall in love again with photography, film-making and creating images.
YY: Lastly, what does photography mean to you?
BW: What does photography mean to me? [Pauses] It's my garden.