Caroline Walker, Threshold, 2014. 20th Century & Contemporary Art Evening Sale, London.
With source material ranging from archival photographs to photographic portraits of one's own community, we explore how five figurative artists working today employ photography in their practice to pose important questions about childhood, gender, and race in contemporary culture.
Sarah Ball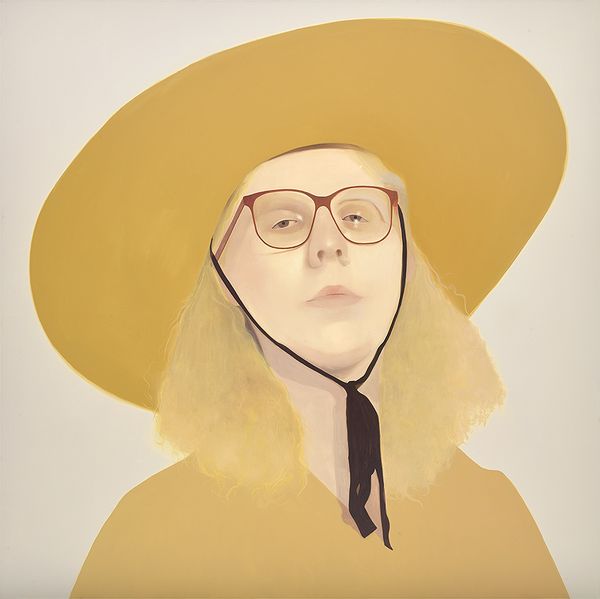 Sarah Ball works primarily from found imagery — photographic portraits borrowed from newspapers, social media, and historical archives documenting immigration and criminality. As such, she approaches her paintings a step removed from her sitters, endowing her portraits with an air of detached anonymity which in turn encourages viewers to search deeply in their faces for these hidden narratives. As is typical of Ball's spellbinding portraits, Elliot is titled after its sitter, a recurring subject in Ball's work and one of the faces found through her photographic research. Closely cropped and set against a softly flattened, void space, the square format engaged here suggests the vernacular of studio photography, photobooth portraits, and even the rigid framing of the Instagram grid.

Stemming from an early interest in illustration and graphic design, Ball gradually honed the economic approach to form used to such powerful effect in the arrangement of crisp, flattened, monochromatic shapes at play in Elliot. Rather than cluttering her compositions with symbolically charged details, Ball's paintings are radically reduced to better focus our attention on the most defining characteristics of her subjects. In this way, her strikingly clear portraits capture both a physical likeness and something more essential. The artist explains that she might be initially drawn to the source photograph by the small aesthetic details her subjects use to present themselves; but she focuses our attention beyond these visual markers. This method elicits an empathetic response in viewers, in a manner that at once recalls the denuded settings favored by Dutch and Flemish Old Masters and the cool psychological focus of Lucian Freud's meticulous portraits.
Claire Tabouret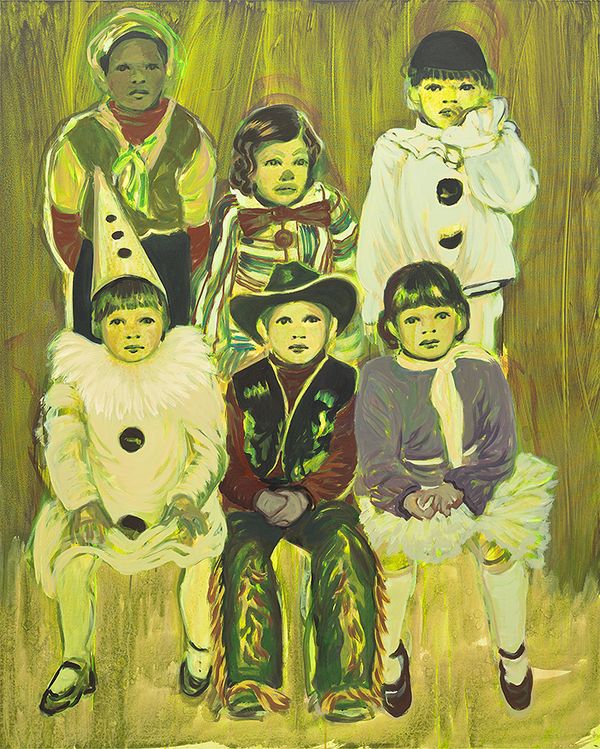 At once haunting and immediately engaging, Tabouret's painted characters are inspired by photographs, some taken from her personal archive and others from anonymous shots collected during her research. As Tabouret eloquently describes, in restoring something lost or otherwise absent from these source images, the painting emerges as "a palliative to everything I am feeling that isn't actually visible in the photograph." Tabouret's figures appear suspended in space and time, ghostly impressions that seem to bring us into a direct and intimate relationship with history.

Immersed in a seductive, phosphorescent light, L'Attente portrays a group of costumed children lined up in two rows. She arranges them closely together in the shallow pictorial space, stacking them in a tight, vertical format in a manner that visually recalls the more rigid configuration favored by studio photography. The figures are seen head-on, in a direct but hermetic attitude, confronting the viewer with a powerful and disarming gaze. As stated by the artist, the children she represents "have a particular mood — they are not sad, but rather solemn, serious. There is latent violence and anger in their eyes." The use of historical photographs in her process aligns with the artist's approach to painting — placing us in the middle of an unfolding narrative that feels both recognizable and foreign. It leaves the impression that we're being welcomed into the past but are unable to enter it.
Caroline Walker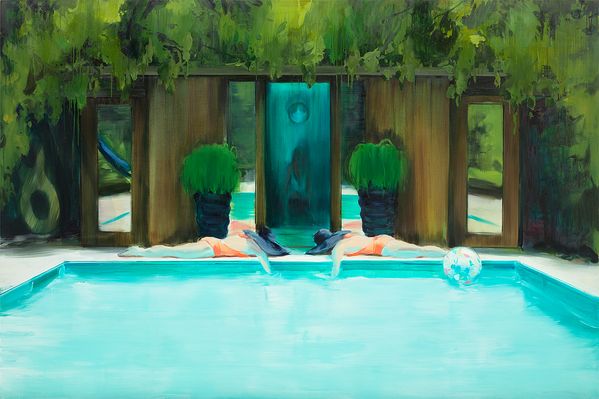 Threshold is a late work from Caroline Walker's series In Every Dream Home. Working exclusively with women, Walker developed a rather distinct approach to her compositions during this period. Having found the right location, she hired actresses and models to spend time in the space with her, posing and photographing them before returning to her studio to work from these carefully staged images. Repeatedly seen in the same luxurious residential setting, the paintings feature a recurring cast of women whom we glimpse in moments of unguarded stillness, the passage of time propelling them through a set of familiar domestic and leisure activities.

Widely regarded as one of the most technically accomplished figurative artists of her generation, Walker's paintings privilege the female gaze. They use domestic environments to pose questions around looking and being looked at, the slippery boundary between public behavior and private space, and the relationship between the spaces that we occupy and the kind of narratives that unfold in them. Threshold, is framed by dense, overhanging foliage, and depicts two women dressed in identical orange swimsuits lying head-to-head at the edge of an outdoor swimming pool. Distinctively, their faces are hidden by broad-rimmed, black sunhats. Mirroring each other, both trail an arm languorously in the water. The strange symmetry of Walker's careful arrangement of their pose and attire echoes in the doubled reflection of the pool, which is reinforced by the strict symmetry of the alternating panels of oak and glass behind them. Walker's pool paintings recall David Hockney's but carry us further into a kind of narrative disquiet that is difficult to place, but that undoubtably calls on cinematic and photographic reference points.

Amani Lewis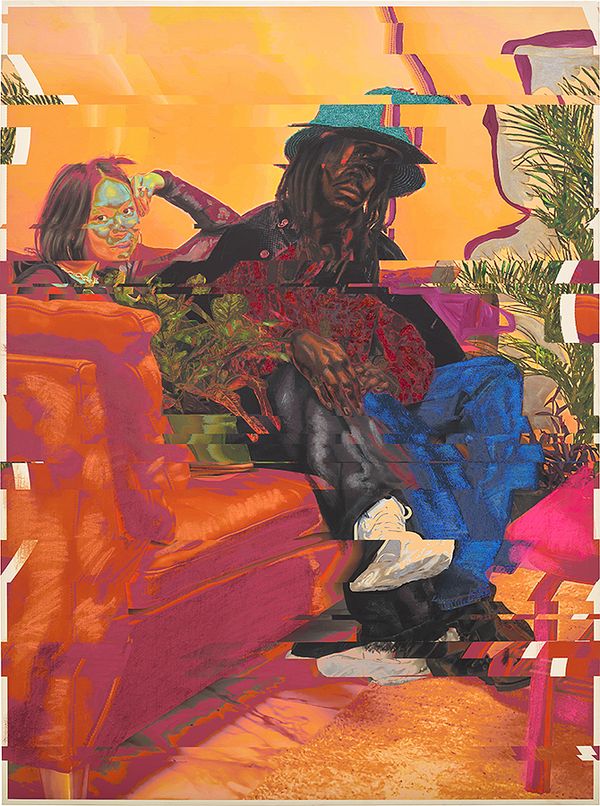 Photography serves as the conduit for the expressive truths of Amani Lewis' work, which frequently retells the stories of their own Baltimore community on the terms of its lived identities. Beginning with a photographic image, they then manipulate their source material, often applying contour lines and other digital effects. The resulting images are then transferred to canvas, and painterly techniques are applied with a variety of media to build out the surface texture. The otherworldly effect of this process shifts the viewer's perception from questions of a perceived external reality to a more nuanced appreciation of a subject's inner life.
As the artists explains, these portraits "have to do with following the lines and characteristics of my subject's body that makes them the person who they are — while also mapping the lineage of that person to the likeness of a topographical map." Most often working directly with members of their community as sitters, Amani Lewis' subjects are treated as equal partners in the artistic process. This is clear in the immediately arresting canvas Star and Be. Here, the viewer is invited into a private interior moment shared between the two figures. The boundaries of media are so intricately blurred that we lose sight of where photography ends, and painting and collage begin. A deeply physical, yet ostensibly digitized image, the figures appear strong, on their own terms, yet open, exposed, and intimate. The enigmatic expressions of the characters are difficult to discern, but their stories are felt.
Otis Kwame Kye Quaicoe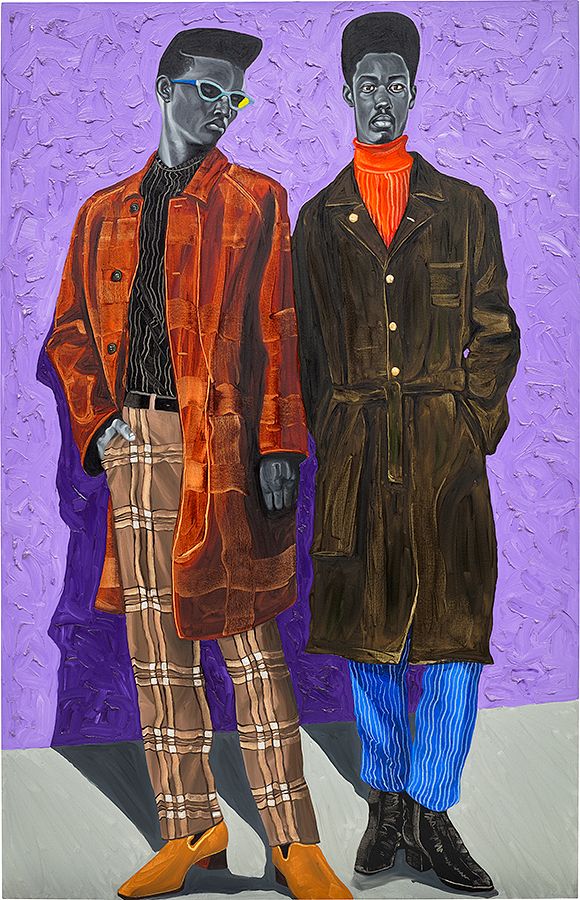 African artist Otis Kwame Kye Quaicoe's powerful portraits of black subjects begin with photography. Born and raised in Ghana, he was fascinated at an early age by the detailed hand-painted movie posters in cinemas, which led to his interest in painting. Searching for his own voice and artistic style after graduating from the Ghanatta College of Art and Design, he took a brief break from painting and studied photography. It was during this time that he met his wife, a photography enthusiast, and relocated with her to Portland, Oregon, in 2017. Confronted with the realities of American racism in Portland, he turned his work towards themes of empowerment. In 2020, the artist told Juxtapoz magazine, "I try to find other Black people that are living here. Talk to them. Photograph them. And then try to capture everything that is there in their personality and put it in a still image."

His portraits are celebrations of blackness and reclamations of cultural dignity. His work frequently includes bright color in the clothes adorning his figures, as well as in thick impasto backgrounds. These colors, at times reminiscent of Ghanian Kente cloth, are often set against the tonal greyscale palate used to render the skin tones of his subjects. Suggestive of black-and-white photography, this virtuosic contrast draws our gaze to the majesty of the lives depicted. With its purple background executed in thick paint and its depiction of resplendent patterned cloth, Dapper II exemplifies the powerful effectiveness of this approach.
---
Auction /
20th Century & Contemporary Art, London
Evening Sale
2 March, 5pm GMT
30 Berkeley Square, London (map)
Day Sale
3 March, 1pm GMT
30 Berkeley Square, London (map)

Viewing /
23 February – 3 March
Monday-Saturday 10am – 6pm
Sunday 12pm – 6pm
Discover More from 20th Century & Contemporary Art >
---
Recommended Reading
A Life of Living with Art: Personal insights on collecting from Jimmy Belilty himself >
On a Very Good Day: A reflection on the late great Willem de Kooning by Anthony Haden-Guest >