Daniel Brush explaining the Ten Butterfly Box — "Daniel Brush — Cuffs & Necks" Exhibition at L'ÉCOLE, School of Jewelry Arts in Paris, October 2017. Photo: Laurent Kariv.
—Written by Vivienne Becker
Daniel Brush, artist, sculptor, poet-goldsmith, engineer, scholar, thinker, and maker of extraordinary jewels and objects, passed away on November 27, 2022. He leaves a huge legacy, an astonishing body of boundary-breaking work but, also a deep sense of loss that is now rippling through our world of jewels. I was lucky enough to meet Daniel some time ago and most recently spent time with him and his wife, constant companion, and muse, Olivia, while we were working on the book about his jewels; Daniel Brush, Jewels Sculpture (Rizzoli). The hours and days spent sitting at the wooden refectory table in his New York loft apartment — with its jungle of antique turning lathes, machines, tools, and tantalizing map chests, listening to Daniel, seeing and handling the work, hearing him talk about it, about history, technology, philosophy, and mythology — are precious memories, some of the most illuminating moments of my working life. Along with his protean talent, he was a mesmeriz­­­­ing storyteller and teacher, effortlessly drawing the listener into the almost unbearable intensity of his ideas and intellect through a seductive simplicity, humor, wit, and the colloquial charm of his down-to-earth New York tough-guy talk. This captivating duality runs through his work, serious yet light-hearted, profound yet playful — as in the squiggles of steel, set with diamonds that he once surreptitiously, jokingly attached to Olivia's sweater, imitating the silk threads of her embroidery that clung to her at the end of the day. Just as he was able, like a magician, to transform the mundane into the magnificent, conjuring industrial aluminum into exquisite treasures, the intransigence of steel into silky, floating, fluidity, its dense opacity into ethereal light.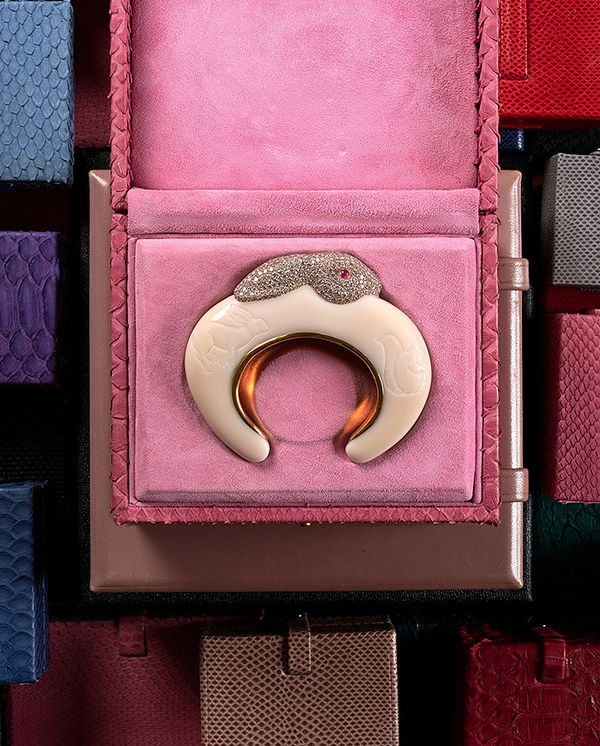 Daniel Brush, Bunny Bangle.
Photo: Takaaki Matsumoto.
In our conversations, many continued over the phone, (I have notebooks full of his words), Daniel also transformed my own understanding of the jewel, crystallizing ideas about the original purposes, magical and talismanic roles of the jewel. In particular, he challenged the construct of "value," our perceptions of preciousness, as he did so lyrically and memorably in his most famous creation, the Bunny Bangle — hand-sculpted and carved in pink bakelite, and smothered in valuable Argyle diamonds. He wanted, he explained, to make it look like a Five and Dime pink plastic toy. He also challenged the entire concept of the jewelry "designer," a label that was anathema to him. It suggested a disconnect between heart and hand, mind and hand; he needed to be totally immersed in the entire process of conceiving, creating, and crafting, to put himself, his heart, mind, and soul, his human imprint and his presence into each and every work of art. Self-taught as a goldsmith, engraver, jeweler, and metalworker, he made everything himself, by hand, even his tools, so that his jewels and objects took shape as he worked straight into the metal. He rebelled against the role of jewelry as superficial ornament, or accessory, or afterthought, and against commercialized, mass-produced, homogenized "designs," instead delving deep into the earliest, primeval ritualistic functions of the jewel as memory, dream, identity, and intermediary between the material and the otherworldly. He helped me understand that the virtuosity of craftsmanship for its own sake was worthless, that craft skills had to disappear at the service of the whole message and meaning of a jewel. He explained this by telling how, early in life, he became obsessed with typing fast, but then realized he wasn't actually writing anything — he had nothing to say. Through his many years of unrelenting work, alone in the studio with Olivia, he was always trying to find his voice, to find something to say through each object.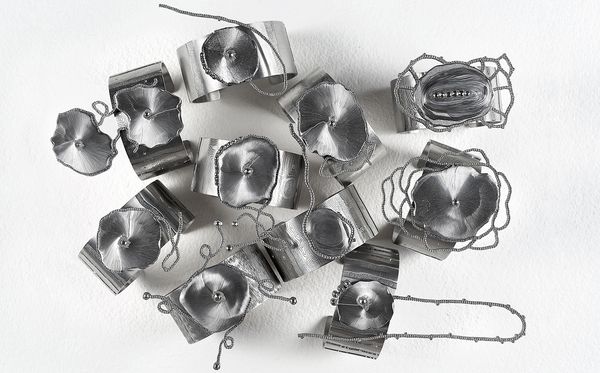 Daniel Brush, Poppy Bracelets.
Photo: Takaaki Matsumoto.
This element of continual struggle, his daily grappling, was at the very core of Daniel's being. It was well known that he spent the first several hours of each day rhythmically, ritualistically sweeping the wooden floor of the loft, divesting his mind of all intrusive thoughts or concerns, stepping out of the everyday world, in the quest for intensity, for discomforting confusion, for the existential struggle, the terror of the blank page. Then, he explained, he hoped that out of the mists of confusion would come clarity, and it was only then that he knew what he was going to work on that particular day, what he wanted to say.
Once an idea, a story or an irresistible challenge emerged from the self-induced cloudlike miasma, Daniel Brush would be seized with an intensity of purpose, focused to the point of absolute obsession, working non-stop, spending 1000 hours engraving wavering lines of moiré silk into steel, or teasing divine swirling light out of aluminum. A light so bright, he said, that it was almost transparent. He loved to make tens or hundreds of jewels, each similar yet different; the abundance of works in each storied series is one of his defining and astonishing signatures.
This was showcased to perfection in the Actresses exhibition, held at Phillips New York in 2019. An art installation, composed of 69 steel cuff bangles, each hand-engraved with the name of a famous movie-star, it was, said Brush, intended as an ethereal portrait of the women who became the faces of Hollywood's Golden Age. Each was the same in size, shape, and form, so that the viewer's focus would be on the actress herself. The idea for this series, one of Daniel's "big ideas," came from seeing jewels offered at auction, labeled as having been worn by a particular actress, relegating the actress to an appendage, a provenance, to secondary importance. Instead, Daniel wanted to celebrate the talent, glamour, and achievements of these icons themselves — to capture, summon up their allure.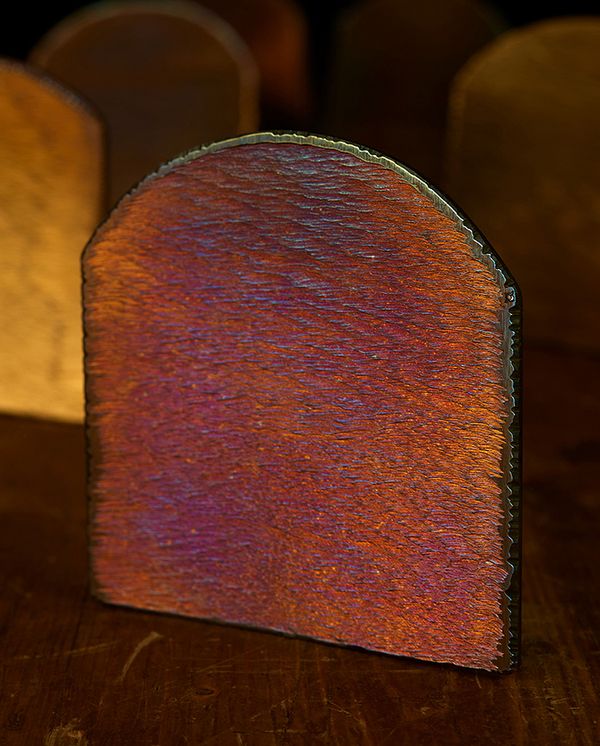 Daniel Brush, from Thinking About Monet.
Photo: Takaaki Matsumoto.
The range of themes and inspirations that fired the febrile imagination of Daniel Brush was vast and varied, and he shared these with me as we worked on the book, beckoning me into so many other worlds — other ages, cultures, civilizations, into workshops, palaces, and toyshops of eras of recent or distant past. He had an insatiable curiosity, irrepressible enthusiasm for subjects as varied as the Japanese Noh theatre, NASA space technology, the "Dragon Lady" Dowager Empress Cixi, car engines, the hinges of Georgian snuff boxes, Victorian étuis, the Amber Kingdom of Jaipur, medieval scissors, and 1970s quartz watches. He could spend years studying a particular, esoteric topic, the story of the Chinese Emperor Quanling, for example, or teaching himself a skill, as he did with engraving, mastering techniques used for bank notes. Or traveling to Giverny to see and understand what Monet saw, how the light changed the color of water lilies or haystacks. Each could be channeled into a technical challenge, or a legend re-imagined and re-told through jewels. For Monet, for example, he devised a technique of engraving on steel, with such finesse and precision that out of the greyness of metal, he conjured a painterly palette of mysterious, ever-changing, melting hues of dawn and dusk.
One final point to mention is that so much of the work of Daniel Brush has never been seen. It lies in the drawers of those map chests in the loft. He made it, as he explained, with no "end-user" in mind, just for himself and Olivia. His work was not traded on the market, but as he said, passed from warm hand to warm hand, appreciated, and for the lucky few owned by patrons, "guardians," and friends who might turn up at the studio to sit and talk with him, to imbibe his genius. As he described them "a few people over the years, who want to participate in the mercurial journey, to share the confusion with me." I count myself immeasurably fortunate to have participated in only a short way along that journey. I will so miss the ride, our conversations — Daniel's warmth, intellect, his childlike joy, and his vulnerability. There is no doubt that he will be remembered as one of the greats of jewelry history. Daniel used to say that he only wanted to visit Japan if it was the 14th century, that he wanted to play among Etruscan youths in the 5th century BC, to sit with 19th century steel-engravers in Boucheron's atelier and know what they ate for lunch. I hope you're there now, Daniel, reveling, rejoicing, and touching "excruciating beauty." I believe you are.
Daniel Brush, An Edifying Journey — an exhibition of Daniel's extraordinary work — can be seen this year, May – September, in Hong Kong at L'ÉCOLE Asia-Pacific, School of Jewelry Arts.
---
---
Recommended Reading
ACTRESSES | Daniel Brush Exhibition >
THE TWIN SET | David Michael Jewels >