Cecily Brown, Untitled, 2013 in Editions London.
Written by Sarah Hyde

With the publication of Katy Hessel's "seminal book" The Story of Art Without Men, 2022 was the year that the art world changed forever and the moment to buy into the new history of art by women as it is being created has arrived.
In the current moment, it's the plurality of feminine voices — from the hyper feminine to the muscular or non-binary — all pulling together into a powerful choir that makes the contemporary scene so diverse and vibrant. Each speaks to another facet of the woman in all of us.
But, yes, we all have our favorites! — and these are some of mine.

---
Caligula Would Have Blushed
Emerging from the Slade in the 1990s, Cecily Brown was a pioneer celebrated early on for subversively appropriating the predominantly male gestures of the Ab Ex painters (William de Kooning, in particular) to powerfully express female sexuality in molten fleshy shades.
Her career memorably took off when she moved to New York to work with Gagosian. Now showing with the likes of Thomas Dane in London and Paula Cooper in New York, her position has been consolidated as a much-loved member of the pantheon. So great is her stature now in fact that, when the Courtauld undertook a three-year renovation of Somerset House — the esteemed "mother ship" of their collection — Brown was chosen for a mural commission, prominently placed at the head of the grand staircase. Now, rather than merely hung in a museum, she is literally part of its walls!
Cecily Brown's 2013 print is absolutely and instantly recognizable as a fine example of her work. In it, the artist dances in fleshy pastel tones between abstraction and figuration, shape-shifting between reality and an other-worldly bacchanalia of paint and pleasure. It is subtle perhaps — but, then, only as much as you want it to be.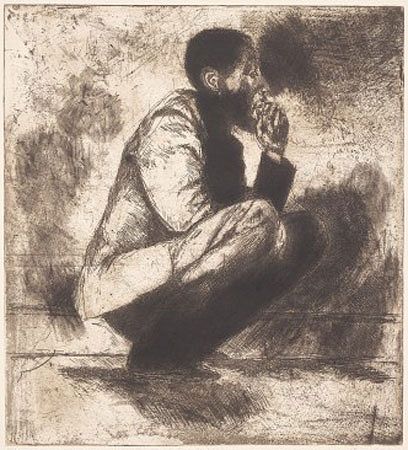 Uncanny Portraiture, Black as the Mystery of Night
Lynette Yiadom-Boakye's small etching immediately grabs my attention. Like many, I first discovered the magic, mystery, and majesty of her work at her exhibition at the Tate Britain, Fly in League with the Night. This is one of the most groundbreaking shows in my lifetime. (Clearly, the Tate thinks so, too — after the first exhibition was cut short by Covid, it has reopened again and is extended until 26 February 2023.)
Large or small, there is something truly monumental about her striking, powerful black portraits. The works connect directly into the history of art by echoing the motifs of Renaissance portraiture. Her signature penetrating gaze confronts the spectator. Animals and elements of historical costume seamlessly position the images outside of reality and into an uncanny other-worldly space. Lynette Yiadom-Boakye is a major player in the changing history of art. How wonderful, I think, to own this magnificent etching, The World for a Wilderness, 2020. I want it so bad!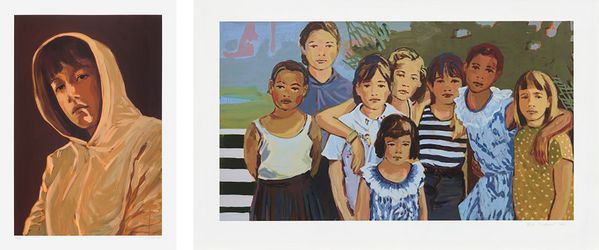 Fresh Authenticity at the Heart of Old-World Style
Claire Tabouret is a French artist who calls Los Angeles home. Championed by gallerist Almine Rech in Paris, she caught the attention of the international glamouratti in 2017 at the Villa de Medici in Rome alongside Yoko Ono in their two-person exhibition One Day I Broke the Mirror, a wry commentary on makeup and female vanity; then again with her 2018 solo at Chateau Boisgeloup, Picasso's former country house and studio in Normandy.
In deceptively straight-forward and plainspoken group portraits and self-portraits — often lifted from archival photos — the young artist (born 1981) explores the role of gender and cultural background in the contemporary search for an authentic self, amidst the swirl of collective identities. They are all the rage. In 2021, she featured in the grand opening show of the Bourse de Commerce, Paris — the new home of the preeminent Pinault collection. And last year, vouchsafed her rising stature with her solo at the 2022 Venice Biennale, I am spacious, singing flesh, a favorite among the cognescenti and the general public alike.
The two Tabouret prints in this auction are as decoratively lean as her work at its best, speaking her truth with earnest vehemence and touching the very heart of her oeuvre.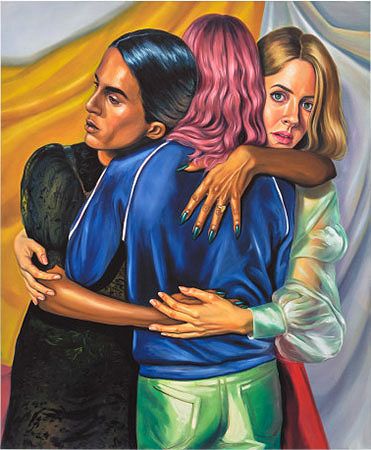 Natural Woman, Not
Another of Almine Rech's stars, New York-based Chloe Wise initially hit it big as an internet sensation with bread sculptures of "it" handbags. (Perhaps her most memorable was the 2015 Bagel Number 5— literally a bagel that she completed with chains and a Chanel logo: worn by a model to an official Chanel event, it passed as a new design!)
More recently, in a succession of shows in New York, Paris, London, and Geneva, the artist has emerged as a painter of astounding talent — and her paintings and prints are among the must-haves of the current art moment.
Food is among the subjects Wise continues to employ to probe the synthetic fakeness of contemporary consumerist marketing practices — always more with light-hearted mockery than strident moral authoritarianism. The artist considers herself a sincere optimist to the core and the whiff of comedy about her work prevails. Another of her themes is nature and identity more generally and as it pertains to gender. Polysemic Primavera is a prime example of this ilk in her oeuvre — note, in her restaging of Botticelli's masterpiece, how ill-at-ease these diverse contemporary women are in coming together as the three graces.

Candy Crush Daydreamer Supreme
A phenomenon and a force to be reckoned with, Ayako Rokkaku is on a crusade to banish the humdrum seriousness of adulthood from the world. Likened to Yayoi Kusama for her obsessive surfaces, the self-taught artist — who paints intuitively and expressively with her fingers — is credited with building a bridge between the Japanese cult of cute, kawai and contemporary abstraction.
Rokkaku first took Japan by storm in 2006, after winning the prestigious Akio Goto Prize at Geisai, Takashi Murikami's annual battleground art fair focused on cutting-edge, up-and-coming Pop artists. Jurors included the architect Tadao Ando and Francois Pinault.
She is now an international sensation, with fans worldwide swept away by her phantasmagoric rococo shades and candy-colored impressionist dreamscapes, which she populates with Manga-inspired characters of her own invention and literally feels her way through. Although shown widely throughout Europe over the last decade, she only just had her first UK exhibition this past spring at König Galerie, London.
Of great popularity are screen-prints — of which those in this sale are exemplary — employing up to 92 different color screens each. Not that she's obsessed or anything.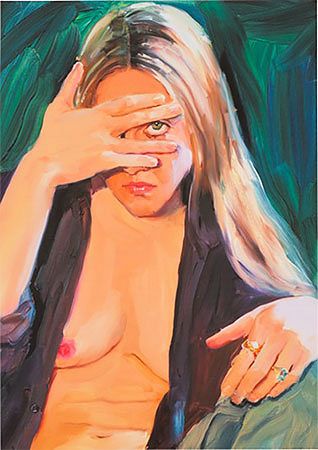 Female Desire on Fire
Jenna Gribbon discovered her queer identity in 2017 through her passionate relationship with musician Mackenzie Scott and has since become a celebrated pioneer in the portrayal of queer female women in art, with her images splashed across the pages of Vogue.
In 2021, her work hung in the Frick Collection in conversation with Hans Holbein, Vermeer, and Rembrandt. It was an inspired intervention that momentarily challenged the narrative of male dominated art. Indeed, one of the artist's passions is to challenge the male dominated art world from inside traditional citadels of power.
Comment Section, which debuted in Usscapes, her groundbreaking show at Fredericks & Freiser gallery in New York that same year, features the artist's signature motif of her girlfriend's erect nipple, capturing Jenna and Mackenzie's relationship at its most intimate.
It is more tender and romantic by far than Jeff Koons' cold renditions of him and Cicciolina at the height of their passion — and, like Rodin's Kiss, ultimately relatable. Capturing the moment of her lover's intimate provocation, it will now to remain frozen in time forever, inviting our speculation on what would come next.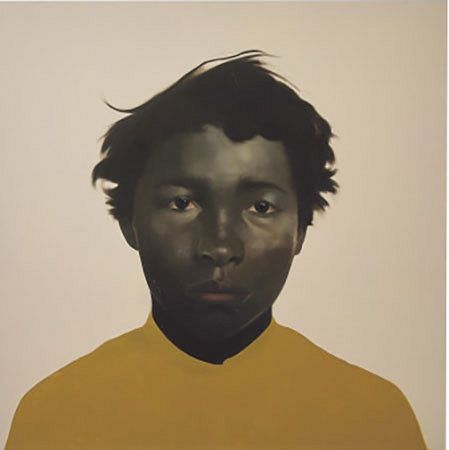 Vermeer's Luminosity Shines a Light on the Lonely City
Sarah Ball's work captures a fascinating critical tension. The gender fluidity of her subjects — often non-binary — is absolutely of the moment. But she portrays them with a rich hybrid of traditional painting styles. Her luminosity has been likened to Vermeer and her composition to Holbein, but her process is utterly modern.
She scavenges through social media and newspapers for her source material. They are usually perfect strangers, completely unknown to her. In luminous, immaculate brushstrokes, she transforms them — often taking liberties as mimetic resemblance is not an issue — creating psychologically-penetrating depth and catapulting them into their own time and space.
To the contemporary eye, her portraits feel like pieces of candy. To the contemporary heart, however, they feel dignified and composed. Quite simply, they they have that timeless quality of beauty — and would presumably be welcome in any posh setting. But they are also orphans, completely alone and wanting to be loved.
The artist works in the relative isolation of rural Cornwall, that beautiful coastal region famous for the St Ives school and home to generations of British artists. Perhaps, I'm being wistful, imagining how Ball packs her portraits up in her studio, where they found life, and sends them off to be exhibited around the world.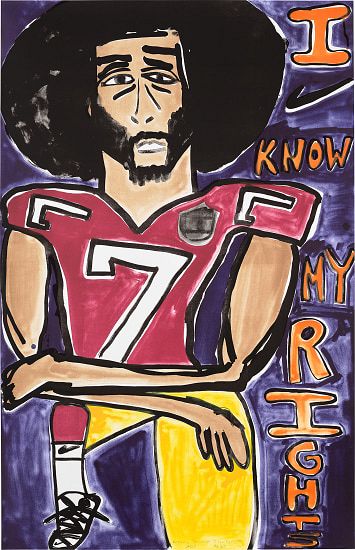 Second that Emotion: The Gesture that Changed the World
Katherine Bernhardt, currently represented jointly by Canada Gallery and David Zwirner, has been at the vanguard of contemporary art since the early 2000s. Friends in America call her a "Brooklyn hipster badass," which may be more to the point.
With street savvy and muscular bravado, the artist unflinchingly grabs the symbols of daily life and culture coursing through the blood of urban America. This, coupled with her Pop, cartoony subjects, her electronic pastel shades, her spiky energy, and her fast, confident brushwork and spray-painted passages — makes her works consistently among the most courageous of her generation.
Bernhardt's I Know My Rights is just about her most iconic. It captures the exact moment that footballer Colin Kaepernick took the knee to protest police brutality. After that, when the NFL tried to silence him, his gesture became a global phenomenon, amplified by Black Lives Matter demonstrations throughout the United States. The artist imbues her historical portrait with the power of a locomotive. It is unstoppable.
---
About Sarah Hyde
Sarah Hyde is an international writer on art and culture, who is currently writing from London and the South of France.
---

Auction /
18 – 19 January
30 Berkeley Square, London, United Kingdom, W1J 6EX (map)
Viewing /
11 – 18 January
Monday-Saturday 10:00am-6:00pm GMT
Sunday 12:00pm-6:00pm GMT
Discover More from Editions London >
---
Recommended Reading
Eternity in the Present: Whitehot's Noah Becker on Alex Katz >

Devoted to Dachshunds: Artists and their Pets >

Picasso's Media and Muses: Forty Years, Four working methods, Three Wives and Lovers >