Klings, a German born and based watchmaker is known by the cognoscenti for his superlative timepieces made by hand using traditional watchmaking methods. Each component bears the differences of handmade work, leaving slight variants in the texture of the Geneva stripes or guilloché work of the dial with its own distinctive character (imagine that Klings does not use a rose engine to do his guilloché work but rather a lathe!). Klings is as much an artist as he is a watchmaker and thus focuses on creating bespoke timepieces upon commission from savvy collectors.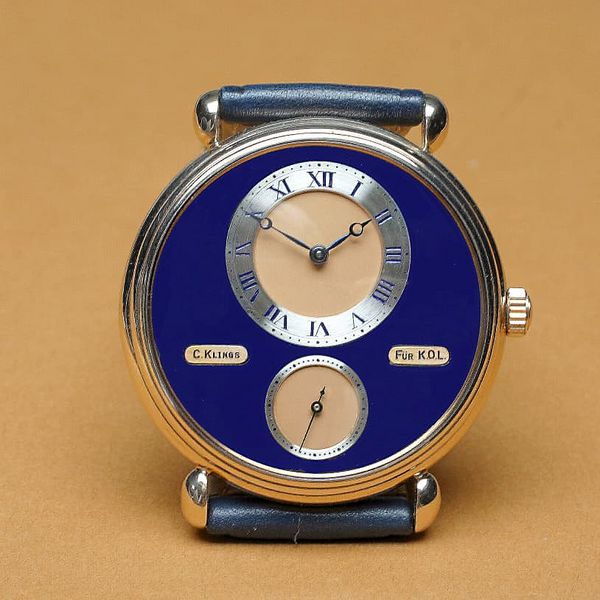 A front view of the Christian Klings Desmodromic
Whereas he started his career creating tourbillons and focusing on novel escapements such as the self-starting detent escapement tourbillon, the Mosquito escapement (a shock resistant single beat chronometer escapement with pivoted detent) or the Desmodromic escapement which took Klings over 4 years to develop (a shock resistant single beat chronometer escapement with pivoted detent. Locking regulated through the escapement wheel, without spring returning the detent) or the incredible 1000 hour (close to 41 days!) power reserve watch where the mainspring barrel also acted as the watch case (only 40mm diameter). He has since decided to focus in the past years on time only models with highly finished movements.
The interview was conducted mid-September by phone. We would like to thank Christian Klings for his time and providing the images.
Why did you decide to become a watchmaker?
As a 5-6 year old child I remember I really enjoyed playing with winding toys and taking them apart. Around the same time, I was starting to take apart mechanical alarm clocks, and sometimes even successfully putting them back together. But I've always had a love for mechanical things. My father was an airplane mechanic and he ignited my interest for mechanical objects.
As I grew older, I knew I wanted to work with mechanical objects and had different opportunities, motorcycle repair, build organs or watches. However, I decided to take up watchmaking as it would allow me to be to be truly independent. I come from East Germany, and it was a Communist regime at the time, everything was owned by the state but watch repair was one of the rare professions that could be done independently.
Where did you go to watchmaking school?
In Dresden, I started in 1974.
What then?
I then joined a watch repair workshop where we restored antique clocks and pocket watches. In 1984 when I was 25-26 years old, I moved to West Germany and there I worked for a year as a motorcycle mechanic then I worked for a year in a watch restoration workshop.
After that, I felt I needed a change and moved to California where I stayed for 14 years! I worked for a year restoring antique clocks and pocketwatches for someone and after that I set up my own workshops as an independent watch restorer.
When did you decided to create watches bearing your name?
I worked for 10 years doing restoration work on complicated pocket watches and around 1995 I decided to create my own watch – a wristwatch – that I completed in 1996. It was a time only watch in stainless steel/pink gold. I made the case, dial and hands from scratch, but the movement was from Switzerland. At the time I was studying psychology on the side and was planning on leaving watchmaking to enter this field. However, the only reason I continued watchmaking is that I had entered my first watch in a crafts competition in the US and I won 1st prize!
Did you keep this watch?
(laughs) I sold it. Thanks to this competition I met a lot of interesting people making clocks and pocket watches. It was an eye opener.
Who were your clients at the time? Were you working on commission pieces?
No, I was building the watches then finding the buyers, most of them were the people I was doing restoration work for.
Who were your models who inspired you to set up on your own and become an independent watchmaker?
Certainly George Daniels, Derek Pratt and Richard Daners. I was very much inspired by the latter. For 4 years I worked for a collector in Germany who had many watches from Daners and I really admired his work.
When did you move back to Germany?
I moved to Germany in 2000 for personal reasons, and I decided to set up my own workshops…in my home near Dresden and continue making watches under my name.
And you make everything yourself?
Yes, the majority of the elements in my watches – case, dial, movement and even the buckles- are hand made by myself and from scratch. I sometimes use a vintage movement that I heavily modify.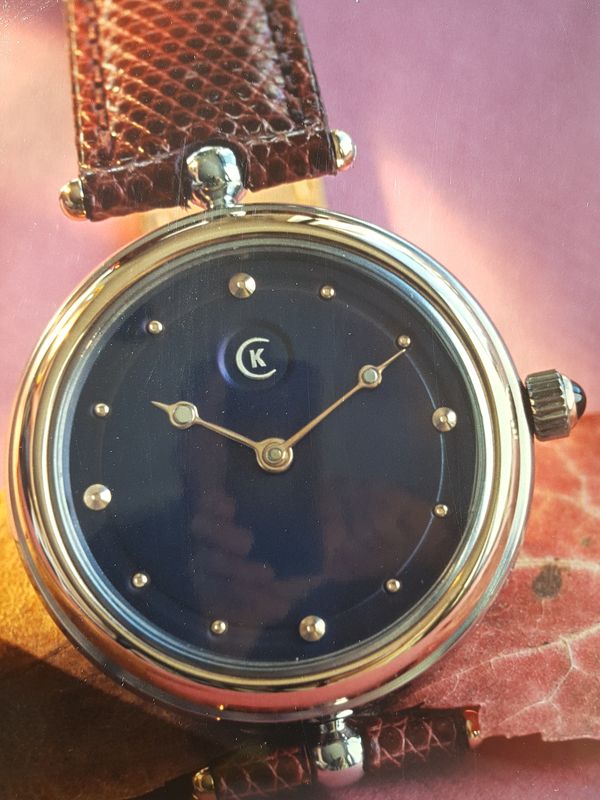 Christian Kling's first wristwatch under his own name
How did you learn dial or hand making? These are crafts very different from making watches?
I studied and read books, for example Watchmaking by Daniels, I experimented a lot and found my own style. The process then came naturally.
I remember your extraordinary wristwatch N°2 with power reserve and moonphase that had a dial made of silk!
Ah yes! For a while I experimented with silk and it was just an idea I found interesting and pursued it. It was fun!
Tell me about the different escapements you had experimented and integrated in some of your watches.
This came from the German collector I had worked for, he had many watches with original escapements from Richard Daners and this motivated me. For a few years I made different variations of escapements such as the pivoted detent escapement, the free balance or the Mosquito escapement.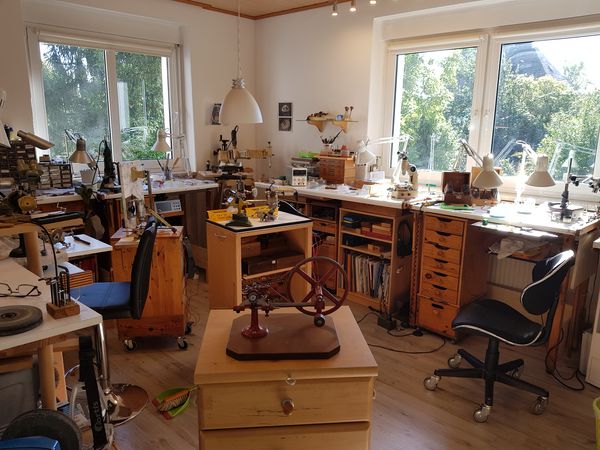 Christian Klings' workshop
What is your philosophy behind the watches you make?
The watches I make now need to be simple, have a clean look, a classic design, and an aesthetically pleasing movement with a high degree of finish. I want my movement designs to have a calming effect. A couple of years ago I experimented very fine Geneva waves and this had a very zen appearance.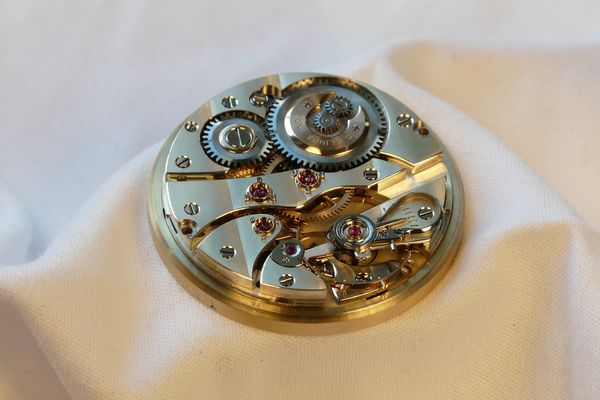 A view of the watchmaker's take on Geneva stripes
You always work in a very traditional way, you never use computer design or machines.
That is true, I like working the traditional way, and design my watches and movements with a pencil and paper. Like Breguet did (laughing).
In almost 30 years how many watches have you made?
In total, thirty-three: 13 tourbillons and 20 more simple pieces, no watch is the same. I do not like repeating myself and look to bringing new designs.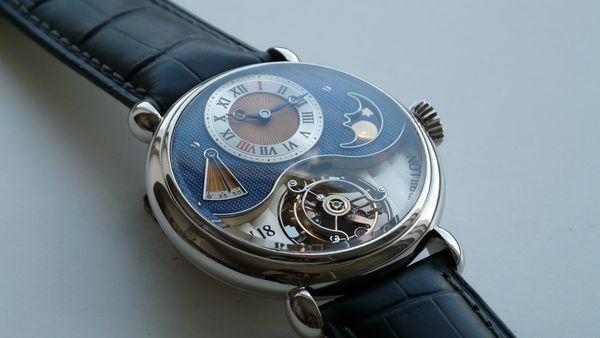 How are you working today?
I have been mainly working on commission the past few years. I am now officially retired but working part time to finish the work on the current commissions which will take another 3-4 years.
For someone who doesn't communicate, who rarely attends exhibitions you really have a cult following.
(Laughing) I'm really surprised myself.
Tell me more about the "Open Version" (a caliber doing mostly away with plates and relying on cylindrical shaped bridges) caliber with its incredible architecture.
The idea came many many years ago following discussions with Derek Pratt. I had visited George Daniels in London to discuss movement architecture and aesthetics, I had even attended his 80th birthday. Anyway, I had decided to concentrate on time only watches and it was my discussions with Daniels and mainly Pratt that led me to the "Open Version" design.
I wanted simple watches with highly aesthetic and original movements with a high degree of finish.
What was the complications you most enjoyed working on?
At first it was the tourbillon, but today you see tourbillons everywhere, so I stopped. The most challenging movement was the free balance escapement because it is like a tourbillon, it is a stationary escapement wheel and everything rotates around it. It is a very interesting construction. Only very few watchmakers ever worked on this escapement.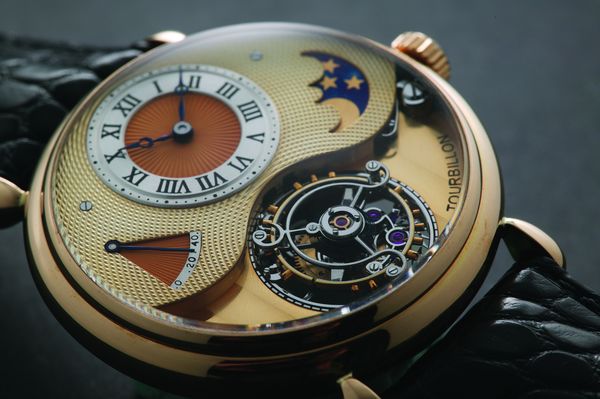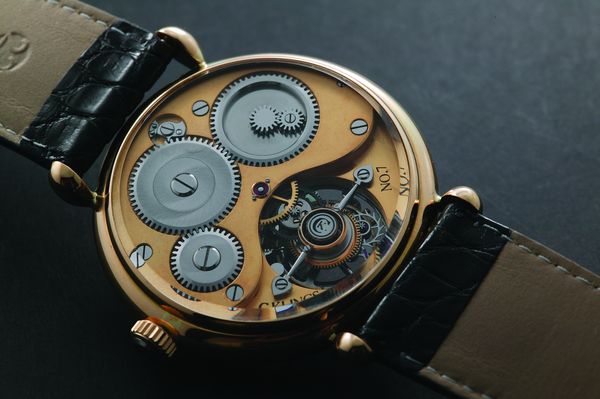 When you're not making watches what do you?
I spend a lot of time helping my local church community. Its about giving back and helping others.