Angeliki Kim Perfetti.
Phillips X is pleased to announce Once Upon a Time in Mayfair, a group show in collaboration with the art advisory and curatorial platform, Dynamisk. The exhibition will feature 24 emerging artists in a diversified and colorful presentation which will offer a thrilling invitation to explore the complexity and interconnection of contemporary life. Ahead of the opening, we caught up with curator Angeliki Kim Perfetti for a look at the featured artists and how their unique approaches bring new perspectives to today's art world.
PHILLIPS: This exhibition explores contemporary life in all its varied facets and complexities -- what drew you to that theme and to artists responding to the current zeitgeist?
ANGELIKI KIM PERFETTI: I believe that storytelling is what makes humankind unique. It is how we pass on information from generation to generation. But it is also how we learn about our contemporaries, different cultures and movements. The arts are an essential part in creating storytelling and address it in a wide range of mediums from music and film, poetry and theatre, to the visual arts.
The exhibition allows us to discover these artists' new work through a collection of proposed settings and events, qualities, and characters, as they reflect on topics ranging from the personal to the collective. Via an avenue of multiple techniques, under the umbrella term of life, the exhibition furthermore seeks to deep dive into and explore a range of sub-themes such as identity, society, culture, self-love, contemporary life, consumerism, and the multiverse.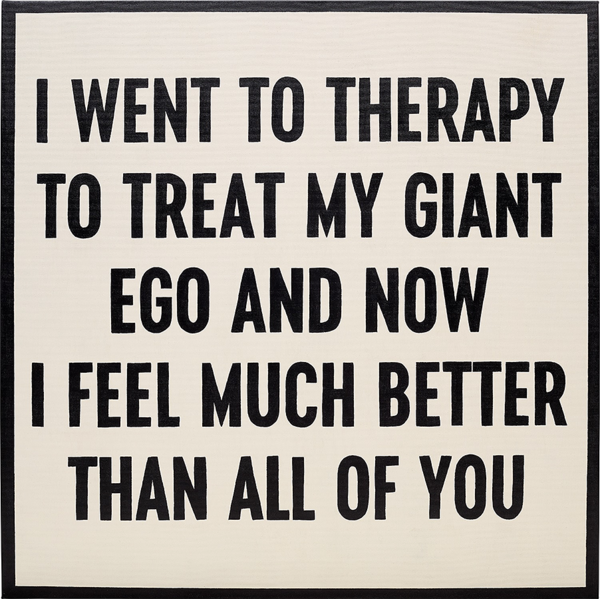 P: How do the works by Sally Kindberg or Johan Deckmann, for example, capture the intersection of those themes?
AKP: Johan Deckmann is an artist, writer, and psychotherapist. His art, consisting of short phrases painted onto fictional books that examine the complications of life through the power of language. The titles, while smartly disguised in humor, urge the viewer to reflect upon some of life's biggest questions, worries, and absurdities. Entwining his practices, the artist recognizes the fundamental importance of psychology in his work. The phrases are constructed from contemporary society and reflections on everyday life. Perhaps that is why the audience, independent of gender, age, or cultural background, can all relate to these works.
Humor and honesty are two important pillars within Deckmann's work which aim to stimulate and motivate his audience. Deckmann believes in the simple power and beauty of words, in which a text is just as powerful as figurative, sculptural, abstract, or any other kind of art. Thus, working in the roam of minimal and conceptual, the viewer is ultimately left reading between the lines.
Powered by language and text, there's an open commentary upon sub-culture, pop- culture, mock- ulture, which in turn highlights the ironic relationship between the individual and the collective. The phrases are constructed upon an eager and active observation of contemporary society and everyday life and the result is more often than not brutally honest.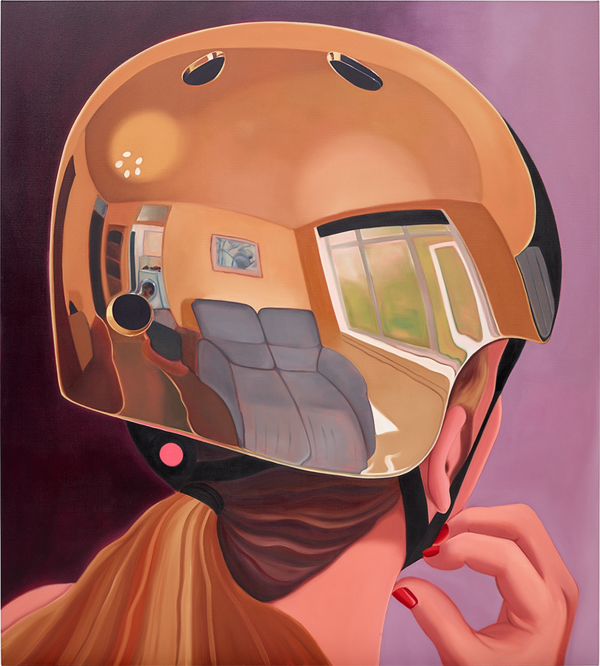 For Sally Kindberg, everyday objects are presented in an entertaining way – the form of a self-portrait highlights the energy between high and lowbrow culture. Kindberg plays on the notion of the tragicomic in a society that is both civilized and ridiculous. This humorous approach acts as a portal that enables us to explore our more unsavory emotions. Her paintings are predominantly figurative – the figurative, which is the starting point, at times moves towards abstraction. In her paintings, she is interested in the contrast between flatness and the illusion of three-dimensionality, looking for a composition which is often a double take, highlighting the overlooked in the everyday with color, mark-making, stylization.
P: The title plays on a familiar opening line of many fairy tales, "Once upon a time..." Why was that an apt parallel for the experiences of contemporary life?
AKP: When I looked at this unique group of artists, I immediately recognized them as having one thing in common: storytelling. I started to develop the curatorial concept around that. "Once upon a time.." is probably the most universal story opener, independent from what part of the world you are from; it is culturally embedded within us, we get excited because it is simply an indication that a story is about to be told. Storytelling? That is exactly what this group exhibition is about. United in diversity, the artists' works across a wide variety of mediums and collect from an array of topics, references, media, and themes while exploring the greatest story of all, life.
The exhibition title has taken inspiration from one of my all-time favorite film directors, Quentin Tarantino's Once Upon a Time in Hollywood. I liked the title because it clearly presents that the exhibition is about storytelling, and I also wanted to highlight Mayfair and my collaboration with Phillips, as the ground floor space and the building is so iconic, and it has been a treat to curate within that space. Lastly, if you look closer then you will see that the font, we used for the title is in fact the same as the Hollywood font!
P: As a global citizen -- you've lived in Sweden, Italy, Switzerland, and the United Kingdom -- what do you see as connecting the shared human experience?
AKP: Communication and cultural exchange are fundamental for our contemporary world and recognizing myself as a global citizen, having lived in a variety of countries and speaking multiple languages, it is certainly something I bring into my curatorial work. There are 24 artists in the exhibition and over 14 nationalities and I am extremely proud of the reflection upon this diversity which makes the curatorial concept around storytelling even stronger.
P: Tell us a bit about your curatorial and advisory work at Dynamisk. Why did you decide to start your platform for collectors?
AKP: I graduated in 2017 with a double degree in Art History and Visual Culture, but already before graduating I had started a conversation series, curating talks as well as advising on collections. As a collector myself, it was all very natural and Dynamisk came about very organically in 2018. As the founder of Dynamisk, working as an Independent Curator and Art Advisor, I offer my clients a multitude of curatorial and art advisory projects, studio visits, workshops, art talks, and tours. With vast knowledge from art history to the very contemporary, I confidently navigate the art market. Which has helped me to foresee trends and assist my clients in providing guidance for all kinds of collectors, from those who are just starting to collect to the long-established.
P: What do you want collectors to take away from this exhibition?
AKP: The exhibition is keen to explore life from all its possible angles and in a heterogeneity of aesthetics, techniques, and styles. This diversified and colorful presentation shows paintings and sculptures from some of the most interesting young artists working in, and very much also shaping, the contemporary art of today. Ultimately the exhibition offers a thrilling invitation to think about and explore the complexity and interconnection of contemporary life. Our shared human experiences create an ever-dynamic intersection where human life experiences, encounters, and stories redefine our roles, individually and collectively.

Left to right: DotPigeon, For the culture: Spare no one., 2022. Once Upon a Time in Mayfair. CB Hoyo, I think You'll Have to Right Click Save The JPEGS Because The Rothko is Fake And You Will Not Get Much For It. Once Upon a Time in Mayfair. Travis Fish, Scharf/Dior, 2022. Once Upon a Time in Mayfair.
The confines of honesty are also being explored in the use of appropriation art. In studying simulacrum, Jean Baudrillard hypothesized that human life is merely a simulation of reality, where everything is seen as a copy of a copy of a copy, ultimately becoming a hyperreality. Using that as a hook, there is a further investigation in topics such as consumer culture and originality, as well as blue light and how much screen time our generation accumulates.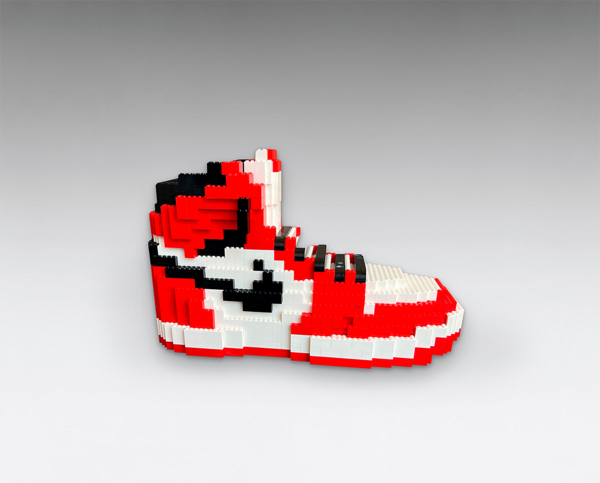 "Only the best is good enough" is the slogan of Lego, a motto counting back to 1936. Lego is suitably used here as a medium for a subject matter that is interested in today's hype culture, where indeed only the best is believed to be good enough.

– Angeliki Kim Perfetti
Angeliki Kim Perfetti is the founder of Dynamisk Independent Curating and Art Advisory. Angeliki works as an Independent Curator and Art Advisor on a multitude of curatorial and art advisory projects, studio visits, workshops, art talks and tours. Currently living and working at the very doorstep of the art world, London, Angeliki also runs Give Me A Break: Dynamisk "In Conversation with...", an ever-growing series of vibrant and unique conversations with pioneering individuals from the Art world. In addition to being a Future Contemporaries member at the Serpentine galleries as part of a new generation of philanthropists. Angeliki is currently co-writing her first book.

Discover More from 20th Century & Contemporary Art >
---
Recommended Reading
The Rothko Effect: Why Does Art Move Us? >