Jerry Uelsmann, Peter Bunnell, 1972.
Beginning in October, Phillips will offer photographs from the estate of esteemed curator, teacher, and photographic historian Peter C. Bunnell. In his curatorial roles at The Museum of Modern Art and Princeton University Art Museum, and as a Professor of the History of Photography and Modern Art at Princeton, Bunnell professionalized the study of photographic history, conferring a higher degree of rigor and status to the medium, and inspiring an entire generation of photographers and curators. Starting with the first group of works to be sold on 12 October, proceeds from the sales will be distributed to six institutions with whom Bunnell was associated — Rochester Institute of Technology, Ohio University, Yale University, The George Eastman Museum, The Museum of Modern Art, and Princeton University Art Museum — to establish endowments to support the study of photographic history.
Phillips' Senior International Photographs Specialist Chris Mahoney sat down with curator and former Bunnell student Malcolm Daniel to talk about Bunnell as a teacher, mentor, and collector. Daniel, the Gus and Lyndall Wortham Curator of Photography at the Museum of Fine Arts, Houston, is part of the current cohort of curators and educators who studied with Bunnell and benefitted from his enormous generosity and enthusiasm for the medium of photography.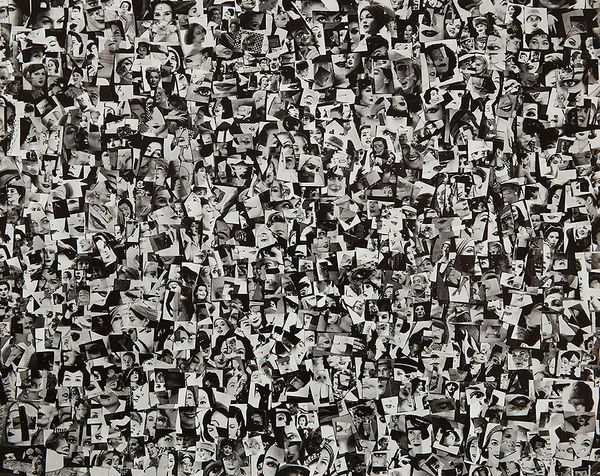 Chris Mahoney: To start, tell us what it was like to be in a class with Peter.
Malcolm Daniel: Being in one of Peter's classes was so different from other art history seminars at Princeton for a number of reasons. One was that he built a photographic collection at the Princeton University Art Museum designed to serve as a teaching collection. When you had a class with Peter, he came into the room with photographs in hand. You were studying the medium firsthand, not through reproductions, and that was unusual. And the second thing was Peter's personality, which was larger than life, booming, jovial, with a deep connection to the medium, a belief in the photographers that he was talking about, a profound understanding of the work, and a kind of irrepressible enthusiasm that he communicated to his students. That was just seductive — it brought art history alive in a way that I, at least, did not feel when I was looking at reproductions.
Peter's friendships with photographers made you feel as though you knew you were hearing something that was true, because it was something experienced by Peter. You weren't reading a book that was based on research or secondary sources about something somebody said centuries ago. It was as direct a connection to the artists as you were likely to have.
CM: I've been reading a lot of Peter's essays on photography, and he's a very engaging writer. He is able to convey some very complex ideas without it feeling like a huge, heavy lift.
MD: I think that that's because his writing most often came out of experience rather than research. He knew Harry Callahan, they had coffee, they spent time together. Whatever he understood of Callahan came from those conversations. And therefore, Peter, who was always a great storyteller, could put that into his writing. He could teach you about history as if telling a story, because for him, it was. I think it's what infuses his writing with something that doesn't feel like laborious art history, but feels as if you're experiencing something living.
CM: How much of that do you think is because he was a practicing photographer himself?
MD: I think a lot of that came from the fact that he was trained as a photographer. He knew what it was like to be in the dark room. He made aesthetic decisions in how to print a particular image or how to frame a picture. So, he understood that creative process. He understood the technical part. And through his connection with Minor White and with other artists, he understood the importance of creative expression and a sense of spirituality, even in photography, beyond its formal and documentary aspects.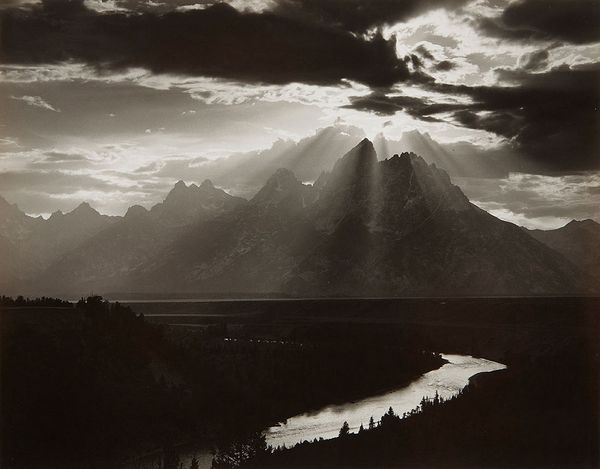 CM: What do you think constituted serious photography for Peter?
MD: Peter's interest was in photographic art, not just photography. Nowadays, we find meaning and beauty in pictures that were never intended to be art, whether it's the photographic snapshot, scientific photography, police photographs, or aide memoire. For Peter, what was important was an artistic intention, a sensitivity to the aesthetics of the medium, absolutely, but also it had to have content. It had to feel like it was coming out of something deeply held by the artist. That, I think, is something that was really instilled in him by Minor White. When Peter went to Rochester Institute of Technology in 1956, his intention was to be a fashion photographer, but what he ended up with was something so different from that kind of attention to surface beauty.
And that absolutely came from Minor White. Minor had gone to Rochester in 1953 to work with Beaumont Newhall at Eastman House, began teaching at RIT, and left Eastman House to teach full time at RIT in 1956. It was right at the point when Peter was there. It was Minor's influence and teaching that most profoundly affected Peter's view of the medium, what was important and what constituted art.
CM: And Peter went on to become the acknowledged authority on Minor White. And certainly, that was how I encountered him, because I called him up to beg for information about some Minor White material I was working on. It's interesting to me that Minor White represented a certain ideal for Peter as a photographer, but then he was also very interested in a very different photographer — what can you tell us about his interest in Clarence White?
MD: Although Peter inherited a certain idea about photography from Minor White, he was remarkably open to the variety of aesthetic form that artistic photography might take, as long as it was something that still came from a deeply held set of beliefs or identity or intimacy of the artist. And I think that's true with Clarence White, and it's true with pictorialism more generally, which was something that Peter championed, though out of fashion at the time, and still largely out of fashion. I'll say as an aside, that I think it's remarkable that Peter, who was a curator at MoMA in the late 1960s and early 70s, before he moved to Princeton to become the David McAlpin Professor of the History of Photography and Modern Art, that Peter's shows did not follow the kind of orthodoxy that we associate with a MoMA aesthetic.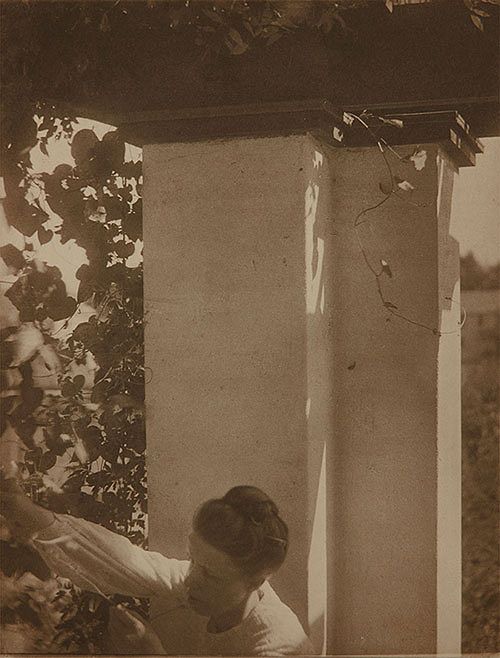 His shows were called Photography as Printmaking and Photography into Sculpture. He did shows of Clarence White and Duane Michals. It's so interesting how broad his interests were and how willing he was to champion work that he believed in that maybe fell outside of the canon of what was celebrated at the time. If we look at Clarence White's biography and work and we think about why Stieglitz celebrated him as one of the great turn-of-the-century photographers, it was an embodiment of traditional American values. It looks somewhat old fashioned, but at the time, it was really the cutting-edge of artistic photography. And I think Peter understood that. I think Peter was open to photography that might take many different outward forms, if in each case, it came out of a sincere desire for expression — that it had its own aesthetics, that things were not accidental or incidental, either in form or in meaning, but that they were expressive works of art.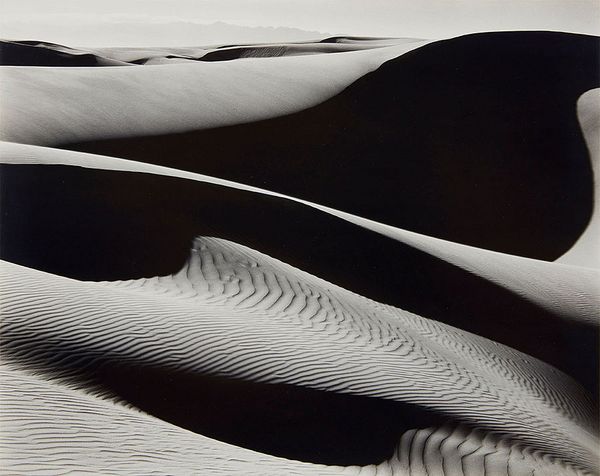 Edward Weston, Dunes, Oceano, California, 1936. Photographs, New York.
CM: That makes me think of Edward Weston, who really lived for his art and was incredibly rigorous in his approach to photography. Of course, Peter edited the book on Edward Weston's writings, and I get the sense that Weston represented for him a very high degree of artistic achievement in photography.
MD: Absolutely. There's no question that Weston looked at the American landscape documented by 19th century photographers, but looked at it with a modern, highly aesthetic vision, one that had meaning to it. It's important to remember that Weston and Adams were both important influences on Minor White, and so there was a generational appreciation for the artists Peter's mentor held in high esteem. That was all part of the heritage that Peter got from Minor.
CM: That's an interesting connection to 19th century photographers, because I don't associate Peter with 19th century at all.
MD: The first seminar I took with him was about 19th century, but that wasn't his thing. I think one of the great strengths of Peter's teaching, his curatorial work and his collection, was his personal connection with so many of the artists that you'll find in the sale. He wrote most frequently about American photography and living artists, many of whom he had a deep personal connection with. And in fact, I think many of the pictures that are in Peter's collection are ones that came to him out of friendship, not things that he went to galleries and auctions to purchase, but works that were given to him, or sometimes that he bought out of shows that he worked on and artists that he knew and admired deeply.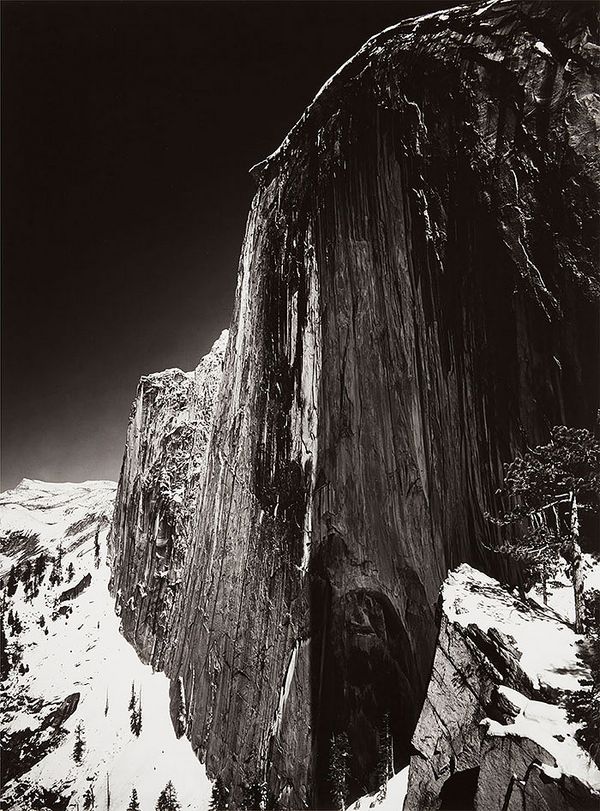 Ansel Adams, Monolith, The Face of Half Dome, Yosemite National Park, 1927. Photographs, New York.
CM: The number of lovely inscriptions by photographers on the back of these photographs is remarkable — everything from a postcard sent by Lee Friedlander to the beautiful print of Monolith by Ansel Adams. You really get a sense of the affection that a lot of people had for Peter.
MD: These were photographers he believed in deeply, whose work he understood, and whose work he often championed. At Peter's memorial, Emmet Gowin spoke about the exhibition that Peter organized at MoMA of Robert Adams and Emmet Gowin. That was very early in the careers of each, and I'm sure made a huge difference in their reception and their production in subsequent years.
CM: He purchased his Moonrise, I believe in 1958, from Adams. Peter wrote to him and asked if he could purchase a print from him.
MD: Yes, I think the Ansel Adams' Moonrise is one of the few pictures that we absolutely know that Peter purchased, that he collected because he wanted to live with that photograph.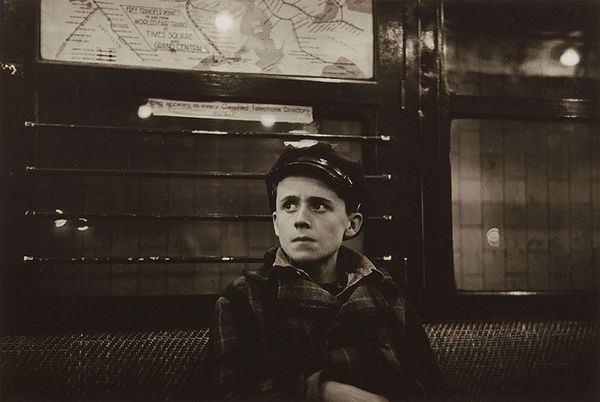 Walker Evans, Subway Portrait (young man in brimmed cap), 1941. Photographs, New York.
CM: There's a selection of really fine Walker Evans photographs in the sales. I'm curious what your sense is of where Walker Evans fit for Peter, because Evans was a very complex guy and he was doing a lot of aesthetically complex things, but people read him as a documentary photographer, which doesn't seem to be exactly where Peter's interests were.
MD: Evans doesn't quite fit into the mold of what we associate with photographers that Peter most frequently collected and championed — highly self-conscious artistic photographers like Harry Callahan, Paul Caponigro or Jerry Uelsmann. But I think there would be no doubt in Peter's mind of the aesthetic mastery that Evans represented, and also, just as a historian, the important place that Evans held in the history of photography — particularly the history of American photography. I think there had to be an enormous respect for the place of Evans in the field that he loved so much.
CM: When you were going through the collection, were there things that surprised you? I will share that it was a real surprise to me that he had a Mark Morrisroe photograph.
MD: That was a surprise to me too. Morrisroe was not somebody that I would have expected to be in Peter's collection, though I think he had a personal interest in artists who were exploring identity, and particularly a gay sensibility. A lot of the literature that he had in his home had to do with memoirs or fiction dealing with gay subjects. It was something that Peter was not particularly comfortable with personally, but I think that may have been a reason those photographs interested him, because he wanted to see how other people dealt with something that was difficult, particularly for someone of Peter's generation.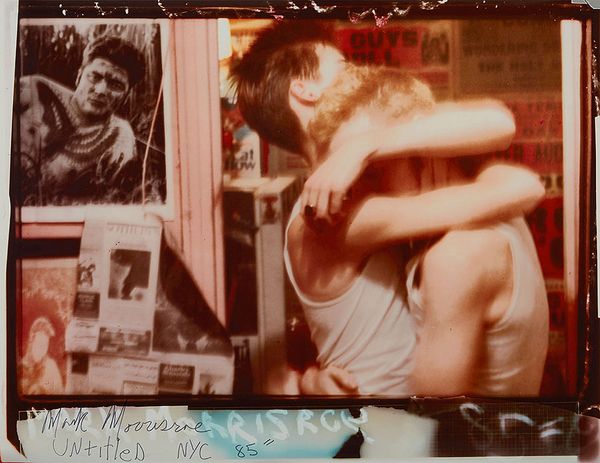 Mark Morrisroe, Untitled, NYC (Jonathan and Stafanelli), 1985. Photographs, New York.
Discover More from Photographs, New York >
---
Recommended Reading
The Big Picture: Photographs from the Amon Carter Museum of American Art >
Color & Scale: The Estate of Martha Hummer Bradley >