An exquisite work with rich history, Fernand Léger's Untitled Composition belongs to the coveted Weatherbird portfolio of watercolors the artist created on the eponymous yacht owned by Sarah and Gerald Murphy – the legendary American expatriates who inspired F. Scott Fitzgerald's Tender Is the Night.
Gerald Murphy, Genevieve Carpenter, Cole Porter and Sara Murphy in Venice, 1923
The eccentric American couple, who had expatriated to Paris during the prohibition years, hosted numerous intellectuals and artists, including the likes of Fitzgerald, Cole Porter, Pablo Picasso, and Ernest Hemingway, aboard their famous two-masted schooner Weatherbird.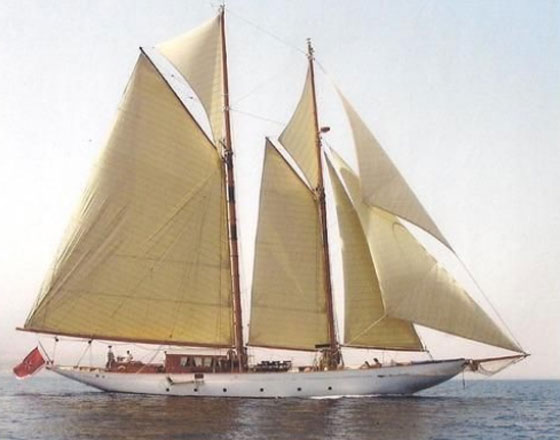 Sara and Gerald Murphy's yacht, Weatherbird.

In the summer of 1934, Léger joined Sara and Gerald Murphy in Antibes in the South of France on the Weatherbird. As Gerald Murphy recalled the trip:

"During the first day out the sea was smooth and Fernand, who had never been aboard a sailing vessel, was fascinated with the rigging and all the contrivances on board. He had brought a notebook and a few watercolors with him and he spent the entire day making sketches. He had never worked under such conditions and it stimulated him enormously. The second day out the weather turned bad as we encountered Mistral. Very much to his surprise he did not feel the rough sea as he expected and persisted in his work. He made quite a joke of his being able to remain at his post while some of the rest of us were unable to do so. It was for this reason that he wrote on the cover of the notebook, 'A Sara et Gerald de leur mousse fidèle [To Sara and Gerald, from their loyal cabin boy'."

Untitled Composition beautifully captures this nautical experience and was included in The Museum of Modern Art's exhibition The Paintings of Gerald Murphy in 1974.
​​​​​​
The present work in The Paintings of Gerald Murphy at The Museum of Modern Art, New York, April 9, 1974–May 19, 1974. Photographic Archive. The Museum of Modern Art Archives, New York. IN1059.5. Photograph by Katherine Keller.