Tschabalala Self, Carma, 2015. 20th Century & Contemporary Art London.
Tschabalala Self
The materials that Tschabalala Self uses are charged with autobiographical importance, including sewn scraps of found textiles, cut up and recombined pieces of her own canvases, and – most poignantly – pieces of patterned fabric that previously belonged to her mother. A seamstress during her lifetime, Self's mother amassed an enormous collection of patterned fabrics, providing a resource that the artist has turned to after her death. Deftly weaving the personal with the political, Self draws on her own life and the entrenched associations of textiles to women and so-called "women's work" in order to create highly charged objects that decisively explore today's attitudes toward race and gender. In this respect, her highly textured paintings recall Faith Ringgold's painted story quilts, and their powerful combination of personal narratives, politics, and history; Ringgold is an artist Self cites as a particular formative influence growing up in Harlem.
Carma is a strikingly three-dimensional portrait, one of her few works to incorporate padding in the construction of her subject. Included in Self's first solo exhibition in the United Kingdom hosted by Parasol Unit in 2017, Carma is a commanding example of the artist's highly expressive and inventive approach to materials and figuration for which she has become so well known. Combining textiles, acrylic, vinyl paint, and pastel, Self here deconstructs and refashions the Black female body, exposing and amplifying historically entrenched ideas or fantasies related to Black femininity and sexuality that persist in contemporary attitudes. Self frequently returns to the idea of her images as built constructions, encapsulating both the nature of their execution and more complex notions of identity formation. Readymade elements that introduce diverse textures, forms, and colors, Self's cutting, shaping, and stitching together of fabrics draws profound parallels to the complex intersections of our own histories and sense of selfhood.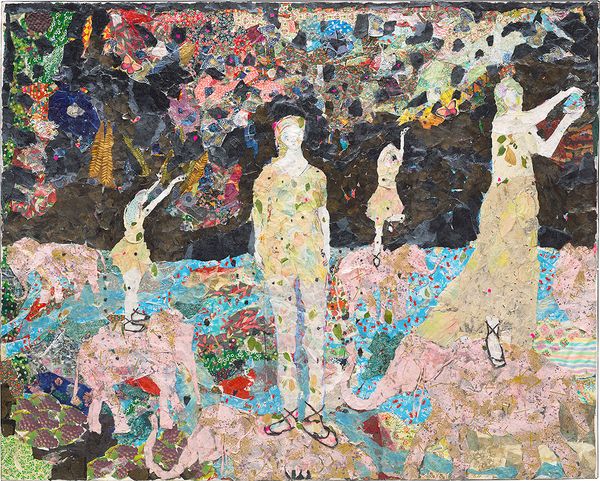 María Berrío
Advocating a kind of magical thinking akin to the Magical Realist works of Gabriel García Márquez and Isabel Allende, María Berrío's fusion of narrative, fantasy, and allegory in The Riders II is consistent with the artist's distinctive mode of worldbuilding, and her creation of utopian spaces populated primarily by female figures who are at once closely connected to nature and capable of transcending this material realm. Berrío's large-scale collaged canvases offer compellingly beautiful scenes suffused with a sense of magic and musicality, lending them a dream-like quality as ephemeral and delicate as the materials used in their execution. Typical of her artistic process, the variegated surface of The Riders II is built up in layers of carefully cut pieces of delicate handmade and brightly colored Japanese paper, to which the artist has added touches of acrylic, watercolor, and gold leaf, creating a sense of movement and harmony especially well-suited to the present subject.
As with the processes involved with traditional quilt-making, Berrío's use of multiple textures and fragments speaks eloquently to ideas around memory, dream, and narrative, and the peculiar way in which her works seem capable of "cutting through time and the unconscious" in a manner that recalls the languid scenes of Henri Rousseau's exotic canvases. Berrío's intricate, paper-based works also recall the individuated dots of pure color used to such powerful optical effect in Pointillism. Berrío's intricate paper patchworks have more recently taken this allusion a step further, her designs reimagined in the fourteen glass, ceramic, and enamel mosaic installations now permanently installed at Fort Hamilton Subway Station, Brooklyn. Layered with colourful patterns and folkloric imagery, in these mosaics Berrío wanted to focus on the idea of the journey itself as a space of infinite possibility, beauty, and magical potential.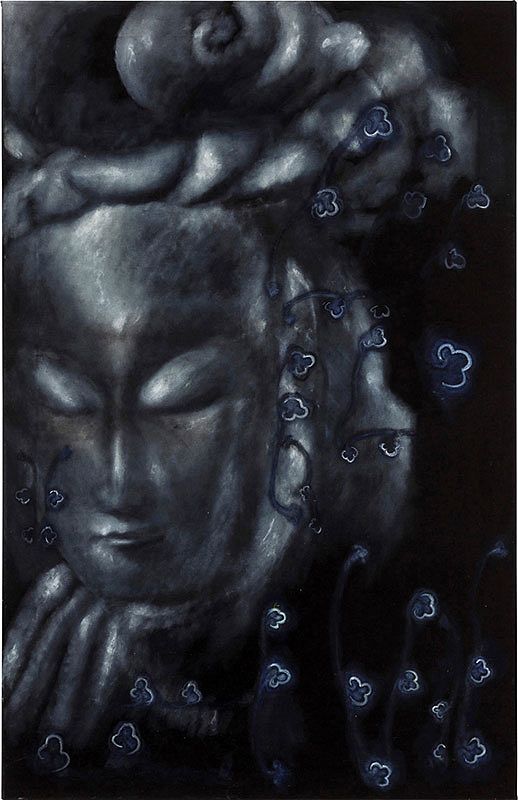 Issy Wood
A playful double entendre referring to the closed, unseeing eyes of the central sculptural figure and a lack of sexual attraction, Not Turned On highlights Issy Wood's delight in wordplay and an interest in the slipperiness of meaning that extends to her treatment of materials. As in her paintings of leather jackets and car interiors, here Wood generates an intriguing confusion in her use of black paint on a black velvet ground, rendering the likeness of one material onto the surface of another. Wood's use of stretched velvet manifests an unsettling soft-focus effect when observing the figure head-on, further adding to a body of work focused on decontextualized and enigmatic objects that hover between artifact and kitsch – divorced from any historical and cultural contexts in this way, the carved figure dominating the composition becomes difficult to locate as an object, emphasized by Wood's inclusion of a layer of floral print intervening between the viewer and the painted figure.
Born in the 1990s, Wood is a digital native, well-versed in the ubiquitous flow of decontextualized images and information that characterizes the internet age she belongs to. Drawing out the uncanniness of these objects, and their ability to stand in for one another, Not Turned On frustrates our attempts to make the carved object legible as obsidian or hard-polished wood in a manner that recalls the careful balance between revealing and concealing struck in Surrealist master René Magritte's subtle notion of combined objects, and the slippery exchanges between word and image, sign and signified. Wood reveals the power of material juxtaposition in generating mood and meaning, bringing our attention to the painted surface and the complex variety of associations and sensations that it gives rise to. In this way, Not Turned On reasserts the immediacy and primacy of the painted image in the Digital Age.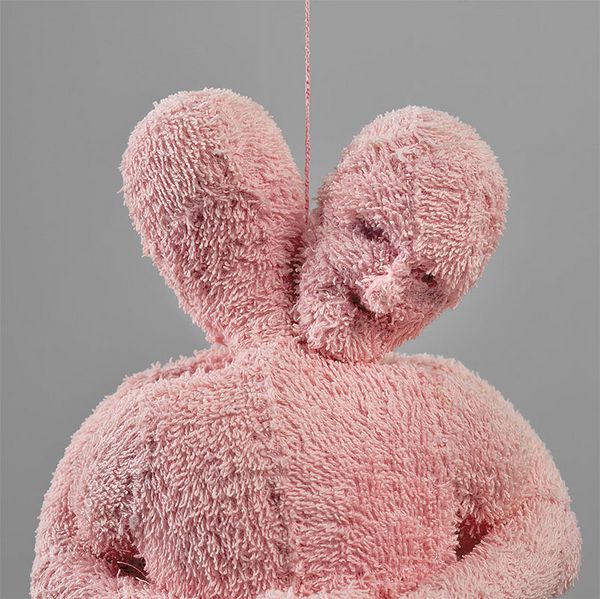 Louise Bourgeois
Already in her 80s when she embarked on the final chapter of her long and celebrated career, Louise Bourgeois' return to needles and thread signaled a profound reflection on themes of motherhood, trauma, loss, and repair. Presenting two pink bodies gently pressed against one another, heads inclined into each other's shoulders as they hang, suspended in space, Couple is a tender portrait of intimacy, a stunning example of her late-career soft sculptures. The perishable pink bodies are evocative reminders of our own vulnerability, in physical as well as emotional terms, speaking powerfully to the visceral desire for touch and closeness. Hanging the embracing couple delicately inside the glass vitrine, Bourgeois amplifies this sensation further, removing the couple from us to float eternally, the only beings in their private universe of two. Weaving its own complex metaphors, while the fragment indicates pain and loss, the suturing together of these different components indicates the capacity for repair, speaking powerfully to our desire for wholeness, both in ourselves and in our romantic partnerships.
Bourgeois first introduced fabric into her work in 1991 with , the architectural structure that heralded the start of one of her most significant series. Featuring a low metal bed covered in fabric quilted together from old pillow cases and postal bags inside its caged frame, Cell I highlights the indivisibility of the autobiographic from the act of sewing for the artist, the refashioned bedclothes embroidered with phrases from her diaries. Engaged in an endless cycle of weaving and repair, the spider would ultimately become Bourgeois' most potent and iconic motif after 1994, directly linking ideas of stitching and restoration with the figure of her mother in her series of steel sculptures. As the artist elucidated: "I came from a family of repairers. The spider is a repairer. If you bash into the web of a spider, she doesn't get mad. She weaves and repairs it." However, in leaving the seams and sutures visible in Couple, Bourgeois highlights the painful persistence of our emotional scars and exposes the fallacy of the idea self as a self-contained whole.
Discover More from 20th Century & Contemporary Art >
---
Recommended Reading
A New Generation of British Women Artists >