Avant-garde jewellery pieces by Hong Kong jewellery designer Austy Lee.
In the world of designer jewellery, there are few equivalents to Austy Lee. The Hong Kong designer's colourful pieces pop with the alluring neon glow of his native city. Their meticulous craftsmanship rivals the complexity of a Faberge egg. His pieces are wearable sculptures whose boldness sometimes lends them an otherworldly presence.
Since striking out on his own in 2017 with his first collection "When Jewellery is Psychedelic Art," Lee has been making waves with his fashion-forward concepts. A graphic designer with formal training in product design, Lee fell into jewellery under the tutelage of his uncle, a well-known artisan who introduced him to the world of bone-teeth carvings, jade and antiques.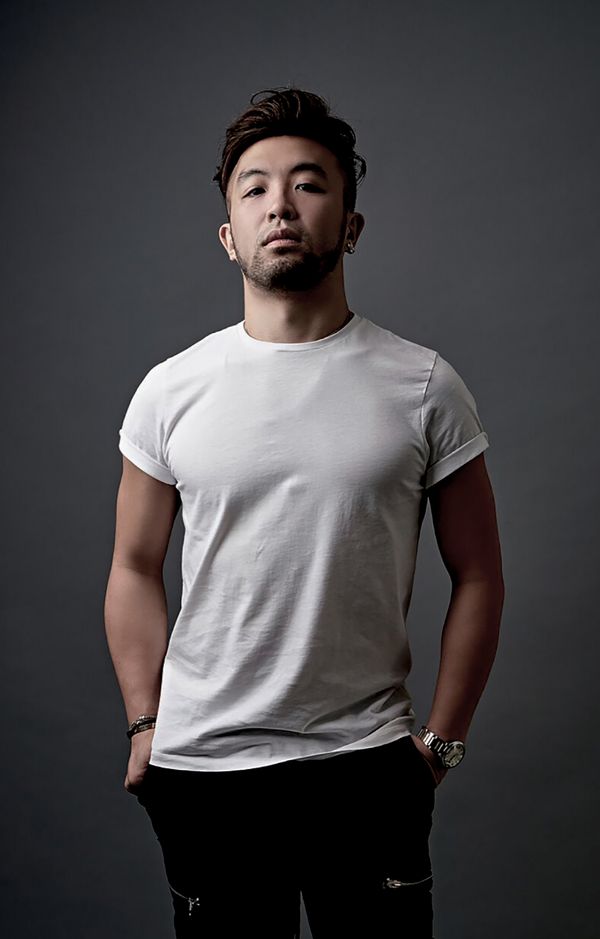 Hong Kong jewellery designer Austy Lee.
From there, Lee had stints with the Swiss jeweller Adler and Wendy Yue, for whom he served as chief designer. There, he earned his stripes as a fine jewellery designer and professional gemstone buyer. The experience formed the basis of his independent studio, which has designed pieces for Hollywood celebrities and has placement in some of the world's most exclusive boutiques and department stores.
Lee's psychedelic patterns conjure images of new age philosophy and spirituality. In fact, the artist draws inspiration from religion, mythology and counterculture. His creations deploy saturated coloured gemstones — sphene, paraiba, padparadscha, star sapphire and indigolite, to name a few — in ways that are edgy, contemporary and ethereal.
This season, Phillips is proud to offer a selection of pieces from Lee's most iconic collections as part of the Jewels & Jadeite sale in Hong Kong. The pieces represent some of Lee's best work and capture the ingenuity and allure that has made his designs famous the world over.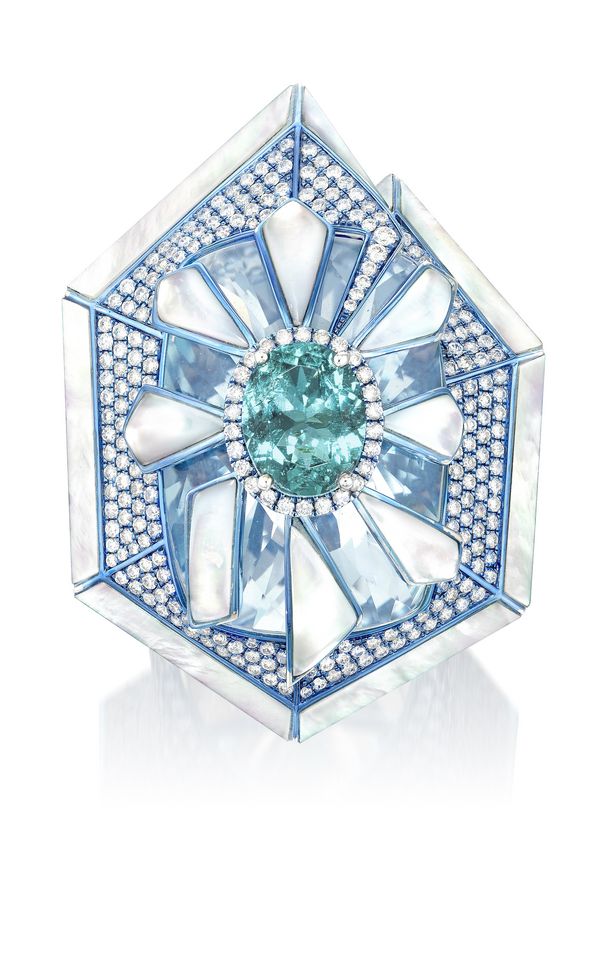 A devout Tibetan Buddhist, Lee designed the Frozen Kailash Ring as part of his Psychedelic Light collection, inspired by the thangkas and mandalas that surround his daily meditation practice.
The ring's pyramidal form represents Mount Kailash, a sacred site in western Tibet also known as the "Stairway to Heaven." Cloaked in mystery, Mount Kalish has been worshipped by followers of Buddhism, Bon, Hinduism and Jainism alike.
Lee drew inspiration from this sacred mountain, arranging a 3-carat tourmaline, 59-carat topaz, and array of brilliant-cut diamonds and circular-cut sapphires into a floating pyramid that represents Mount Kailash's year-round snowy peak.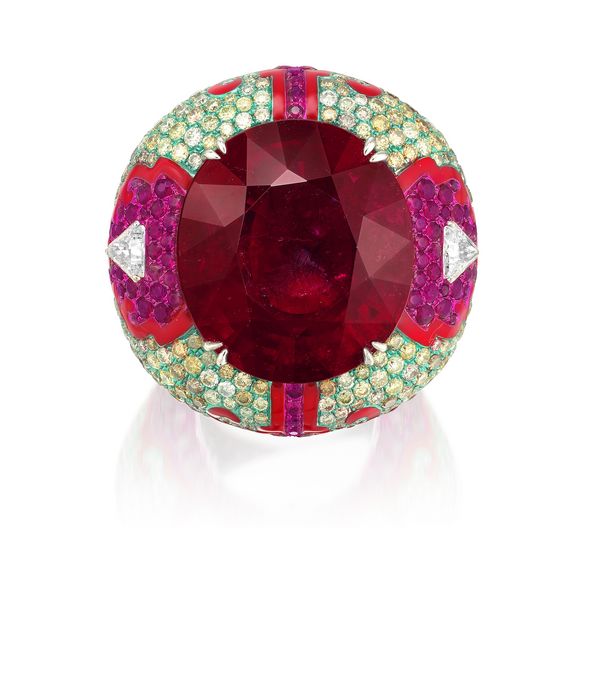 The graceful dance of Parvati, the Hindu goddess of power, harmony and fertility, was the inspiration behind this mystifying ring.
In Hindu mythology, Parvati is worshipped for help with marriage, parenting and fertility, and the dance she performs is known as the lāsya. The scintillation of rubellite, diamonds, rubies and coloured diamonds is meant to invoke the movement of Parvati's remarkable red dress as she performs the lāsya.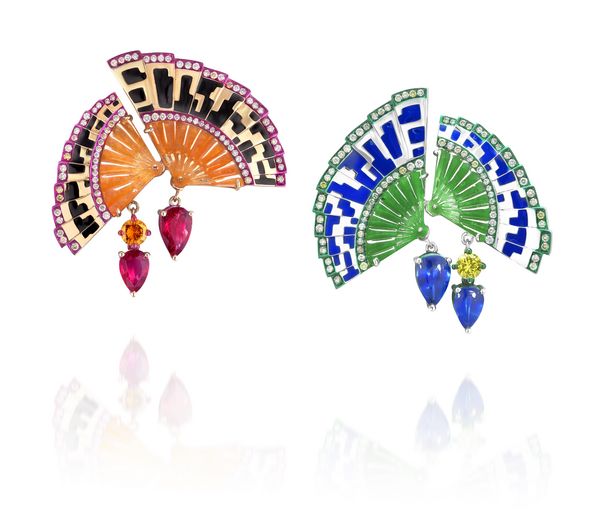 Part of Lee's Jade Dynasty collection, this unique pair of earrings was inspired by the traditional fan dances practised across Asia and encapsulates the movement of a folding fan held by a dancer while performing.
Lee was inspired to create the Jade Dynasty collection through his reverence for jade's place in Asian culture. By incorporating jadeite with different elements and colour forms — in this case cabochon sapphires, rubies and coloured diamonds — Lee hopes to contemporize jadeite and demonstrate how the gemstone can be fashionable and appreciated by a broader clientele.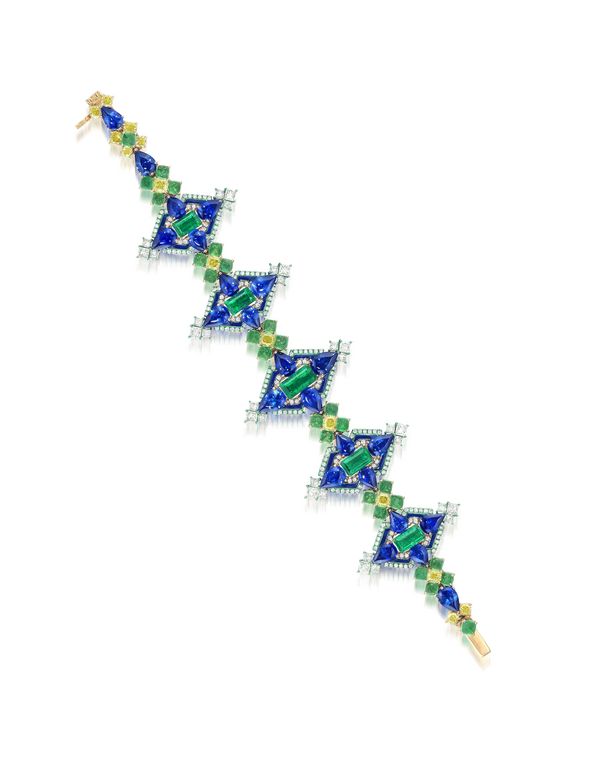 This exquisite bracelet comes from Lee's Poetry of Art collection, where he demonstrates his perspective on aesthetics drawn from all corners of the world. Each piece in the collection comes with a connotation or is derived from a historical period.
The Flamboyant Bracelet was inspired by Gothic architecture, with the emeralds, sapphires and variously cut diamonds arranged in a manner that evokes the rib vaults of cathedrals and churches in Europe. On his travels, Lee says he always carries a logbook to sketch ideas from inspiration wherever it appears — sketches which often form the basis of future designs.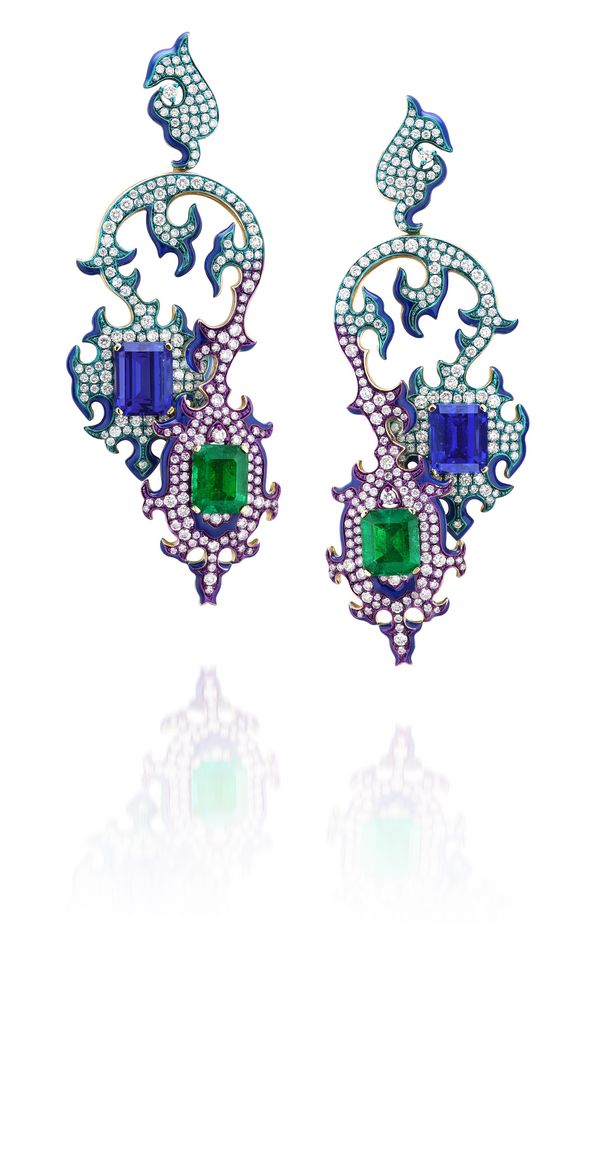 Captivated by myths, legends and fairy tales from a young age, Lee created the Garden of Myth collection to, in his words, "allow his infinite inspirations to run wild." Each piece in the collection is inspired by a legendary creature or plant.
This pair of earrings resembles phoenix feathers, with the purple- and blue-coloured gold representing the flaming phoenix and ice phoenix, respectively.
Inspiration can strike from anywhere. In the case of this ring, meant to evoke the formation of magma, the initial concept came from a geology book that Lee encountered at a library. The scenes of volcanic eruption captured his imagination and inspired the design.
The mesmerising combination of different colours and geometric shapes from the spessartite garnet and coloured enamel conjure images of what might be occurring underneath the earth's surface, deep within the core.
The ring is part of Lee's 10th Dimension collection, which explores the hypothesis of multiple universes.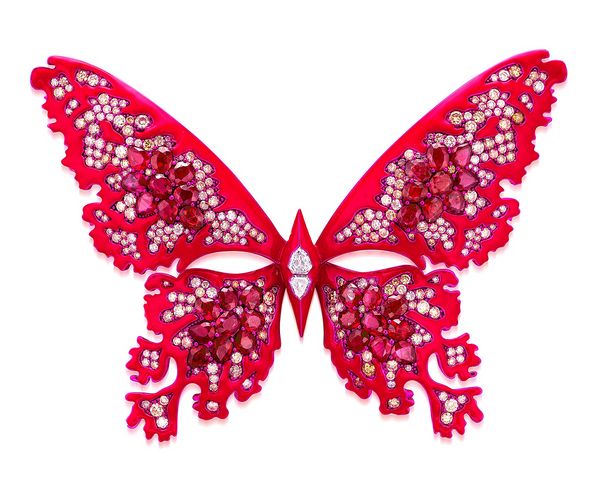 The concept for Lee's Ikhor collection comes from Greek mythology, where ikhor is the blood of gods and immortals. The pieces from this collection signify bloodline and eternity and heavily feature the colour red, often associated with love, passion and lust.
The Soul of Flame Brooch features rubies and diamonds arranged in a butterfly shape to symbolise human souls in Greek mythology. The intricate openwork pattern on the butterfly mimics burning flames, signifying passion and freedom, as well as rebirth and spiritual transformation.
---
Recommended Reading
Roll Out the Red Carpet: Rubies for All Occasions in the Hong Kong Sale >