Before the emergence of technicolor gemstones, high jewelry generally revolved around the 'Big Three' gems: emeralds, blue sapphires, and rubies. Examples of emerald and sapphire rings from the recent Jewels New York auction on 2 June 2022.
Written by Vivienne Becker
The explosion of color has become a defining feature of contemporary jewelry design, and a phenomenon in today's jewelry world. The current array of fashion-forward, rainbow-hued jewels shows just how today's designers have been handed an unprecedented palette of gem light and color, of shades and nuances of tone that have liberated creativity and stimulated imagination. It was gem color that played into the escalating influence of fashion on fine jewellery from the 1990s, color that fueled the figurative fantasies of High Jewelry of the noughties, color that amplified the concept of the jewel as a work of art, and color that helped shape a new jewelry narrative, from complex storytelling to bold abstract compositions. Specifically, it was the exploration and discovery of African deposits of new gem varieties, in striking or melting colors, intense or indefinable, that injected jewelry with visual excitement and new depths of emotion. New gems, in never-before-seen colors, such as the neon-turquoise Paraiba tourmaline, originally from Brazil, and the fiery spessartite or Mandarin garnet, ignited the industry.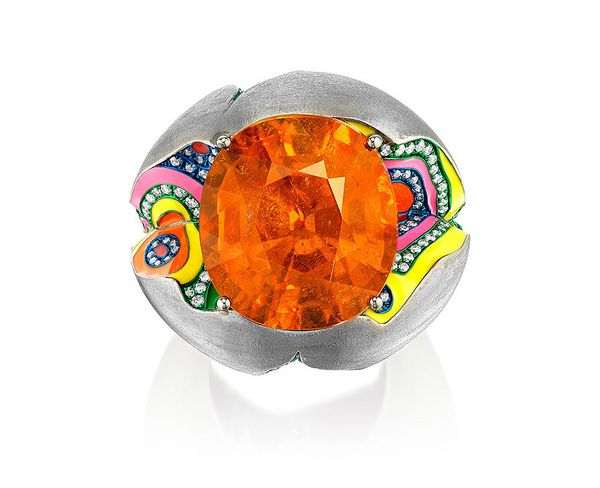 A 31.92 carat oval-shaped Spessartite Garnet, Colored Enamel and Diamond 'The Hypnotic Magma' Ring by Hong Kong designer Austy Lee, sold in Jewels & Jadeite Hong Kong, June 2022.
Before the advent of this technicolor revolution, High Jewelry generally revolved around the "Big Three" colored gems — emeralds, blue sapphires, and rubies — paired with diamonds and usually in classic cluster designs. At the time, too, arbitrary rules segregated colored gemstones into precious and semi-precious categories, relegating gems like garnets, tourmalines, and even spinels to lower status and for the most part to lesser jewelry. In the late 80s, Joel Arthur Rosenthal, known as JAR, changed all this with his emotively beautiful jewels, rich in cultural layers, meanings and references. JAR, a true artist and aesthete, created his own exquisite, recherché palette of colored sapphires, garnets, spinels, tourmalines, and more, with which to compose his painterly, subtly shaded, sculptural jewels. Single-handedly, JAR rescued obscure-colored gems from neglect, giving them new life and relevance, and restoring them to their vital role as the emotional trigger in a jewel. Around the same time, intriguing new gem varieties appeared on the market. Tiffany, of course, had started the trend by promoting heather-blue tanzanite and grass-green tsavorite in the 1960s and 70s, and even earlier by identifying new specimens such as kunzite and morganite, which, incidentally, are enjoying a resurgence of popularity today.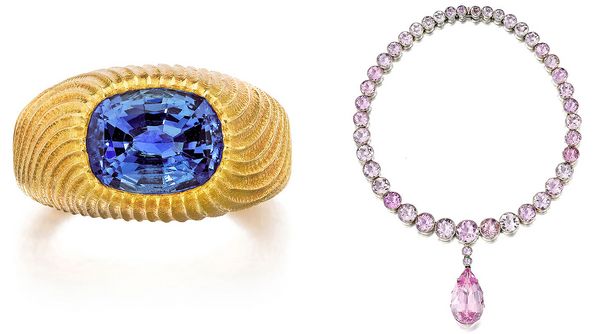 L-R: A 3.75 carat Tanzanite and Gold Ring by Schlumberger for Tiffany & Co. and an Antique Morganite and White Gold Necklace and Pendant, Circa 1840. Both sold in Jewels New York, December 2021.
However, as the 20th century drew to a close, explorations around the globe unleashed a panoply of ravishing, often startling colored gems. 1980s jewelry was enlivened with colored sapphires, pink, light blue, and yellow, from Sri Lanka; a hint of the rush of color to come. The 80s saw the dramatic arrival of the Argyle pink diamond, of a sweet, intense shade of candy-pink unlike any other colored diamond ever encountered. I remember being captivated by the sight of Graff's pink diamond Koala bears and seeing the first incandescent Paraiba tourmalines, their limpid turquoise blue as if lit from within, discovered in one specific mine in a northeastern state of Brazil in the late 80s.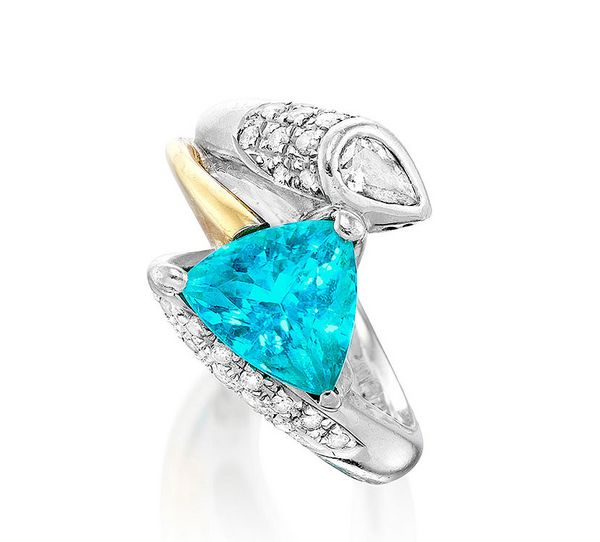 Next came the spicy mandarin garnet, found in Namibia in the 90s, while new supplies of emeralds from Zambia, followed by rubies in Mozambique and sapphires in Madagascar, revived and established the taste for intense color in jewels and lit the spark to the current trend. Africa proved the richest hunting ground, offering up stones that traditionally came from Brazil, like the Paraiba and other tourmalines, including the teal-blue indicolite, fresh mint green and the heavenly, deep blue-green Lagoon tourmaline, from the Erongo mine in Namibia, one of the many gems pioneered by Nomad's, an international company and community of young, impassioned gem hunters who have made their mark on the colored stone industry. Major moves have been made towards responsible mining, ethical practice, and most of all towards transparency throughout the supply chain as Africa also offered up pockets of especially rare specimens, such as the Mahenge spinel — one massive crystal uncovered in Tanzania in 2007 — yielding stones of an intense, vibrant, pure, neon-fuchsia pink. The spinel, for so long considered the poor relation of the ruby, suddenly became the gem of the moment, its spectrum of exquisite shades — grey, lavender, pink, violet — paired with exceptional brilliance, hardness, and durability.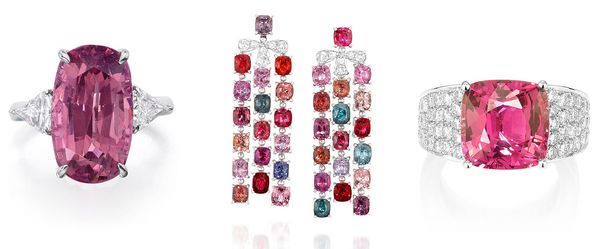 L-R: A Spinel, Diamond, and White Gold Ring sold in the Jewels New York auction, June 2022. A Pair of Multi-Colored Spinel and Diamond Earrings and A Pink Spinel and Diamond Ring, both sold in Jewels & Jadeite Hong Kong, June 2022.
From the Mahenge area, too, has come an array of garnets in rich, fruity tones from peach to berry-purple, and then there are the Malaya garnets, their name meaning "reject" or "outcast" in Swahili, in warm cinnamon or russet hues, from the Umba River valley in East Africa. But, of course, it is not only Africa that delivers extraordinary colored stones; Sri Lanka remains the source of superlative sapphires of all colors, including the regal, rarefied purple sapphire. As the taste for opals has grown enormously in the past few years, the theatrical black opals from the Lightning Ridge area of Australia are madly sought after. Likewise, new discoveries around the globe include rubies in Greenland and an astonishing stash of exceptionally fine peridots soon to come on stream at the Fuli mine in the far north of China.
This overflowing treasure chest has given new expression, emotion, and artistry to jewelry, and stirred huge interest in geology, in our understanding of how and where these extraordinary minerals were formed, at the birth of the planet. It has transformed our preconceptions of preciousness — all gemstones now are regarded as precious natural resources — and it has also stimulated a desire for extreme rarities, for the most intriguing gemstones, anomalies, like brilliant blue Hauyne, or the rare, sunset-hued, orange-pink Padparadscha sapphire.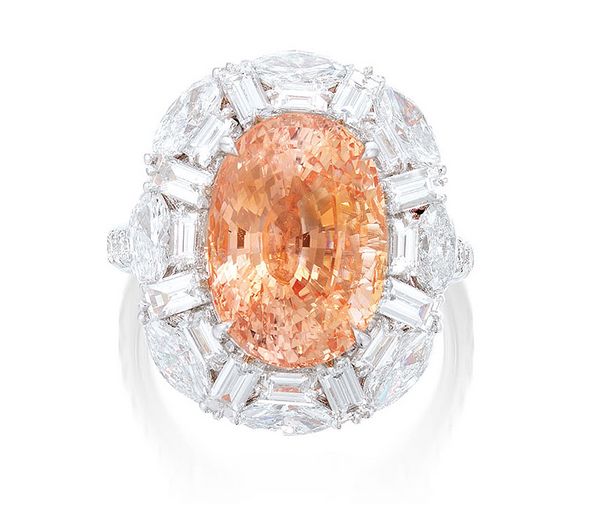 At the other end, the sharp end of the market spectrum, the crush on color is characterized, as in every aspect of the jewelry market, by intense connoisseurship and the relentless quest for the rarest, finest, most unique, traditional specimens, both as natural treasures and a store of wealth with investment potential. The focus has been very firmly on natural, untreated stones from the great heritage mines, such as Colombian emeralds, Burma rubies, and Kashmir sapphires, and as demand outstrips supply, increasingly on the finest gems from newer sources, especially Zambian emeralds and Mozambique rubies.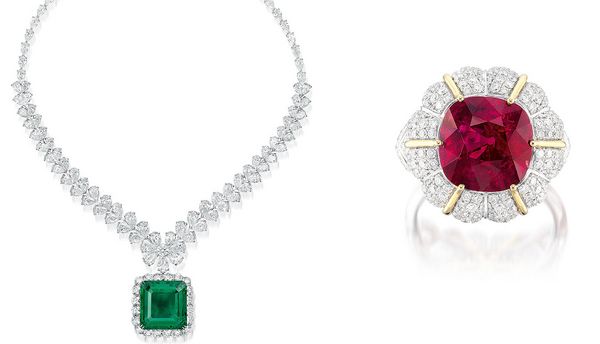 While these gemstones possess an alluring, hypnotic beauty, a huge part of the appeal of colored gemstones generally lies in our deeply personal perception of and response to color. Unlike the assessment process for white diamonds, which can be clearly classified and commoditized, an appreciation of color is often subjective; an understanding of nuances of hue, tone, and saturation demands expertise, experience, instinct, and an ability to hold color in our mind and memory, which also means that there is wiggle room for personal taste and potential for spotting a sleeping beauty. Not to mention the joy of exploring the ever-expanding vista of color and light, diving deep into the seemingly unending, ever-fascinating realm of colored gemstones.
---
Recommended Reading
Under the Loupe: Benoît Repellin >