- By Paul Boutros, Head of Watches, Americas
With so few ever made, to see and hold any George Daniels timepiece "in the metal" is at once an extremely rare and absolutely memorable event. I experienced a cavalcade of emotions when I met with the consignor of the George Daniels Anniversary "No. 00", seeing it for the first time. A meticulous gentleman collector, we both donned white gloves in what was a very special unveiling at his home. First, a perfectly preserved letter signed by George Daniels addressed to its original owner was carefully removed from its fine, blue leather envelope and shown to me. Dated 8 November 2010, reading how humbly Daniels expressed his thanks to the purchaser for "subscribing" to the Anniversary series brought goosebumps to my arms.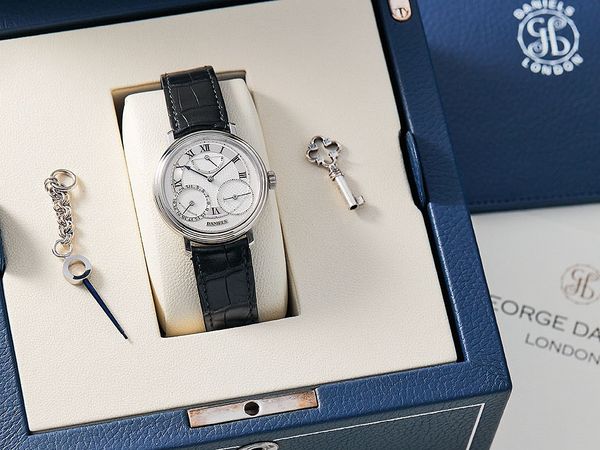 The anticipation now building up ever so strongly after my cross-country trip, next, the watch's substantial blue leather "George Daniels London" presentation box was placed in front of me. The quality of the box broadcasting the importance of what was soon going to be revealed – it was the moment I was waiting for.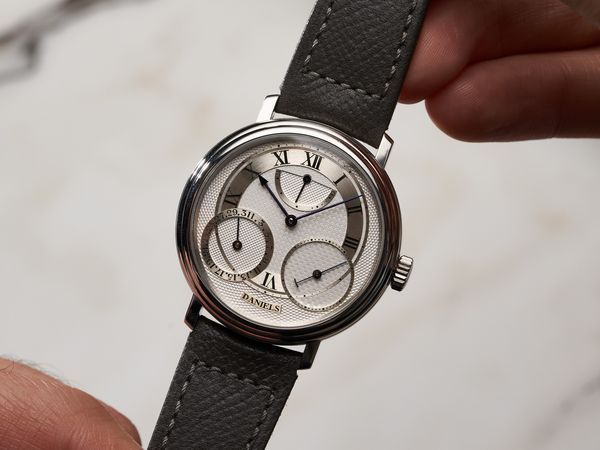 My excitement was palpable. Under the consignor's eager observation, I lifted the cover and my eyes lit up like a child's – full of wonder and amazement as I discovered this utterly sublime masterpiece. I was immediately struck by the beauty, symmetry, and quality of its dial. Picking up the watch, its heft exuded luxury and class – and its size and proportions, at 40 mm in diameter, was, to my eyes, just about perfection.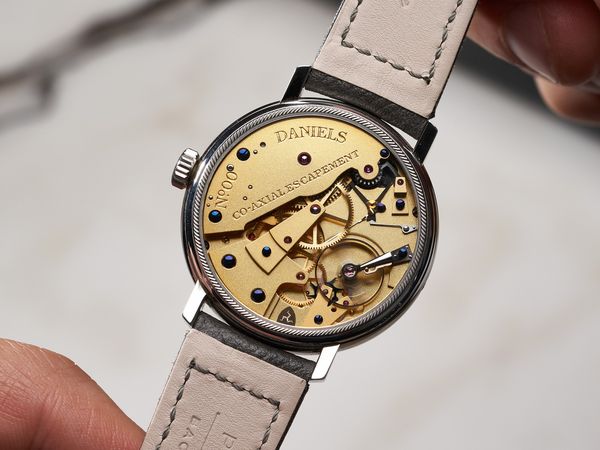 Made to commemorate the 35th anniversary of Daniels' invention of the coaxial escapement, he collaborated with his one and only protégé, Roger Smith, to produce this last watch of his lifetime. One cannot help but to marvel at the details of its movement, dial, and case. Multiple, pristine London hallmarks on the outer rim of the case back make its British heritage unmistakable. Designated as an extraordinary Daniels timepiece by the signature found on the dial at 6 o'clock, grained silver chapter rings, oversized sub-dials for the date and seconds, and wonderful blued steel hands remind one of the historic Breguet pocket watches Daniels was inspired by. Turning over the watch and seeing the frosted gilt-finished movement for the first time was breathtaking. With its prominent, "No. 00" designation hand-engraved on the movement plate, I felt the gravity of what was in my hands: One of the finest wristwatches ever made – British or otherwise – made by two of the ultimate watchmakers of the 20th and 21st centuries.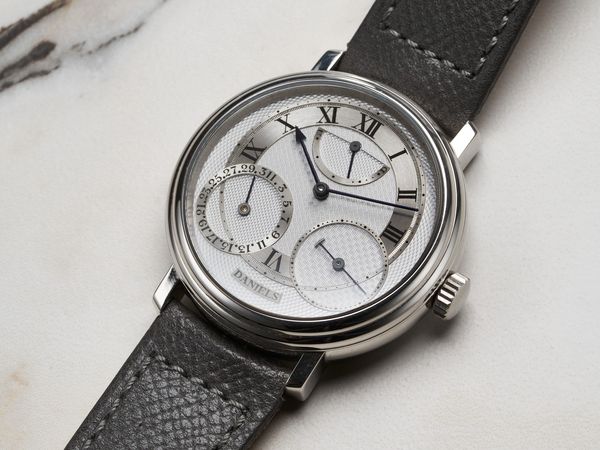 While the watch looks stunning in pictures, they simply can't capture how truly incredible it is in real life. For any watch enthusiast able to attend one of our exhibition events, we would be delighted to show you this historic treasure. We are certain it will make an unforgettable impression.
To view the catalogue of our New York Watch Auction: SIX, please click here.