Lot 48 - Patek Philippe Nautilus reference 5976/1G
I've chosen the Patek Philippe Nautilus ref. 5976/1G as my specialist pick given how much my fondness has grown not only for the brand, but the craftsmanship. I am incredibly fond of the Nautilus model not only because of its uniqueness and desirability, but it's durability. The Nautilus flawlessly suits both men and women as it characterizes the essence of masculinity and femininity, as well as its ability to be worn casually or formally. I personally find that the rounded octagonal bezel perfectly epitomizes the elegance of a sports watch. Ref. 5976/1G is timeless and aesthetically attractive, with its embossed blue dial and construction. - Erica Downs, Administrator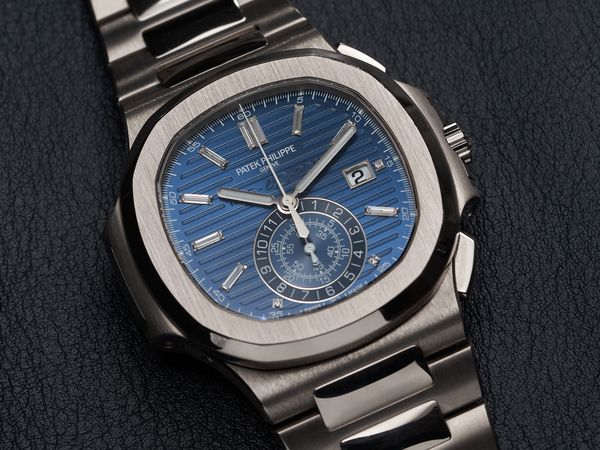 Lot 153 - Rolex Submariner reference 5514
The Submariner is arguably the most notable watch connected with the Rolex brand, widely-known and admired for excellence by collectors throughout the globe. As the Sub evolved throughout its history, Comex models in particular found a treasured place in the minds of those passionate about vintage Rolex. The Submariner reference 5514, fitted with a Helium Escape Valve, is uniquely special in that it was created exclusively for Comex divers and never sold nor made available to the public for commercial use. As a result, the 5514 has become one of the single most coveted "grail" Submariner models. From the collection of a globally recognized collector of issued watches from Rolex, lot 153 stands out for its exemplary condition with striking patina. But perhaps most importantly, the watch is accompanied by a sought-after "Henry Hudson letter" from Rolex Bexley in the UK, confirming its issue to the Comex organization in 1975. Accordingly, in my view this watch checks virtually every box that a collector seeks when searching for the ultimate issued tool watch. - Geoff Hess, Senior International Specialist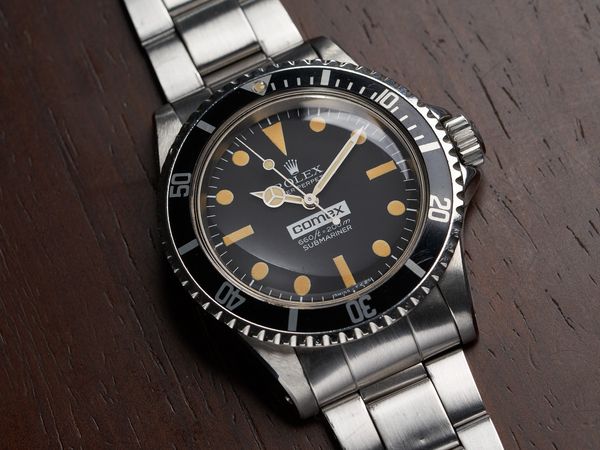 Lot 31 - Rolex Oyster Perpetual reference 6098 "Stelline"
Rolex has long been appreciated by collectors for their mid-20th century tool watches, however during the same period they produced classic time only wristwatches, which are as contemporary and sporty as the Cosmograph or Submariner. Lot 31 is a wonderfully preserved Oyster Perpetual Ovettone Stelline in yellow gold. The waterproof watch houses an automatic copper-colored caliber A260 movement in a 36mm diameter case with fashionable "bubble back". Similar to other Rolex models, the brand experimented with new design aesthetics with this example featuring a cream-colored waffle dial and luminous star-shaped hour markers. The star dial is found on several references from the period, and is a nod to the space race of the 1950s with Rolex calling it the "Galaxy". The present model is fresh to the market, and a lovely representation of modern 20th century timekeeping. - Doug Escribano, Senior International Specialist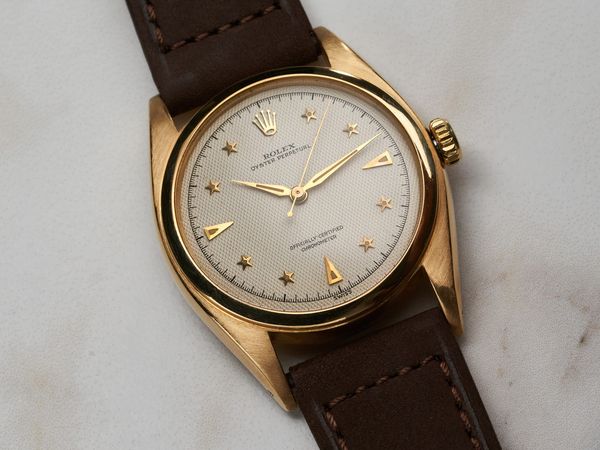 Lot 11 - Roger Smith Series 2
I really don't enjoy these "specialists picks" because it's nearly impossible to pick only one watch out of 163 timepieces you've spent months bringing to auction. Specialists spend the months leading up to the auction discussing the watches with their colleagues and clients, physically examining the watches, and writing about them in footnotes and articles. You can ask a specialist about a certain watch they sold 5 or 10 years ago, and they'll still remember esoteric facts about the consignor or details about the condition and rarity that made it special for them. And there are a lot of watches in this sale that I will remember.
I thought about picking the Rolex Daytona 6264 with Paul Newman "Lemon" dial, consigned directly from the family of the original owner with a fantastic "Hecho in Mexico" Jubilee bracelet. The amazing bracelet and beautiful case in original condition is only overshadowed by the mind-blowing dial – a dial preserved in a state of near-utter perfection. I also thought about the F.P. Journe Tourbillon Souverain with "green jade" dial, one of only three 40mm jade TNs ever made, complete with all accessories and from the original owner. Hardly worn, the texture and color of the dial is simply exquisite.
I've decided, however, to choose our Roger Smith Series 2 with open dial, featuring Roger's closed floral engraving on the movement, floating blued-steel Roman numerals hovering over the frosted and gilded dial. When I first mentioned the watch to a fellow specialist, he described it as "heaven". The depth and scale of the finishing combined with the horological ingenuity and loyalty to the vision of English watchmaking passed to Smith from his mentor George Daniels renders this watch an encapsulation of the term "heaven" for those of us who are passionate about horology. - Isabella Proia, Head of Sale & International Specialist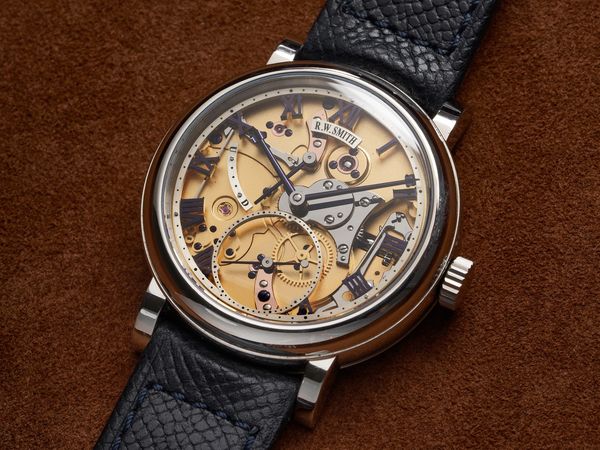 Lot 110 - Rolex Cosmograph Daytona reference 116589RBOW
If loving factory-set timepieces is wrong, I don't want to be right, and this Rainbow Daytona is no exception. An incredible amount of detail and care goes into manufacturing a factory-set watch and, in my opinion, Rolex does it best. The bezel houses 36 sapphires that seamlessly creates a rainbow gradient of the highest quality. This Daytona is incredibly playful, but means serious business. I smile every single time I look at this watch. - Melissa Dahl, Sale & Business Development Manager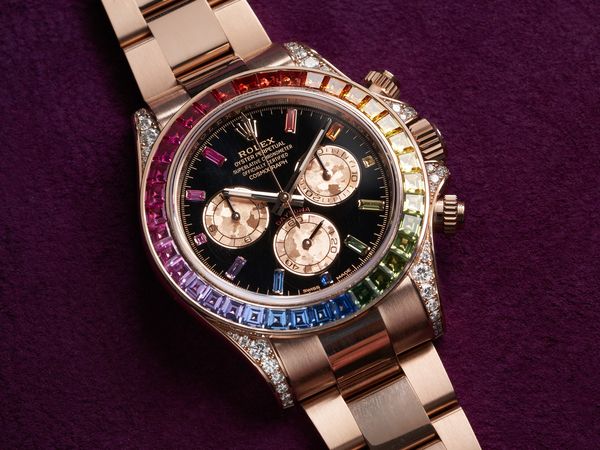 To view the catalogue of our New York Watch Auction: SIX, please click here.