- By Isabella Proia
I think that the mark of a true watch enthusiast is the ability to get excited over an exceptional timepiece, whether the estimate is $1,000 or $10,000 or $100,000. Watches certainly do not have to be in the six-figure range to be interesting, and here I examine ten lots in our upcoming New York Watch Auction: SIX that I find particularly compelling, with starting estimates between $3,000 and $15,000.
I'll start with lot 105, a watch I spent a very long time researching. I get really in the weeds about the people who wore the watches we sell, and I view any time a watch has just an inscription as a challenge to try to uncover their identity – not always with success. Luckily, the original footnote for the sale of this watch had some information regarding the family of Forry Rohrer Getz, and the rest I tracked down from his obituary, his wife's obituary, and some of his dental publications. What I couldn't find haunts me still – what took him to Switzerland in 1923, a New York-based dentist who grew up in Lancaster County, Pennsylvania? His family had been in Pennsylvania for half a century before the American Revolution, with one of his ancestors serving as a private in the local militia. I also wonder why this successful dentist chose oversized luminous "Dauphine" numerals instead of painted Breguet numerals. All in all, 99 years later it's still a great looking watch, with an early 20th century charm and great American provenance.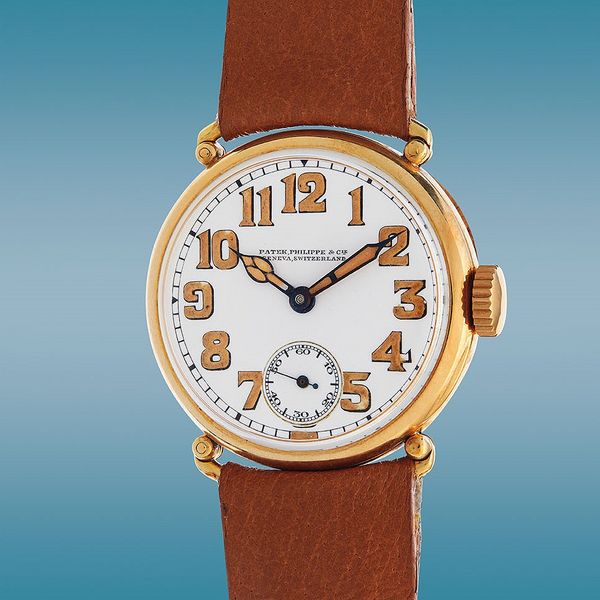 Lot 74 is a watch that will always catch my eye, as one of my earliest mentors in this industry was (and is) a Breitling connoisseur and enthusiast. Replacing the earlier AVI ("aviation"), the 765 evolved into the Co-Pilot, a pilot's watch designed specifically for the French Naval Air Force and worn by luminaries such as Jean-Claude Killy and Raquel Welch. This particular example is double-signed by French retailer Lip, visible on the dial, and is further accompanied by a fitted Lip presentation box.
It seems not long ago that we auctioned off the first vintage Grand Seiko in Geneva, and now we find an exceptional Grand Seiko in each of our sales – it's certainly well-deserved. Lot 44 is a crisp and complete 18K white gold example from 2016 that is a tribute to the 62GS from 1967 - the first automatic wristwatch from Grand Seiko. One of a limited edition of only 100 examples and complete with all of its accessories, it is a stylish and restrained piece that at 36mm, would fit on a variety of wrists. I would put it on a brightly colored leather strap or even perlon NATO for the summer and a navy or burgundy matte crocodile in the fall/winter.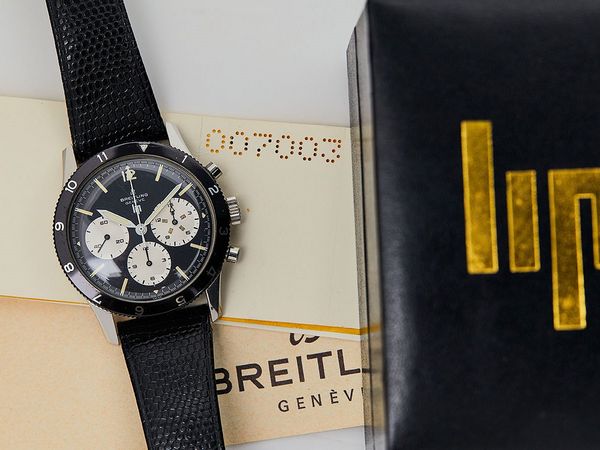 Lots 155, 156, and 157 all come from the same original owner, and were among the first three lots I catalogued, so I was able to spend a lot of time with them. They are amongst my favorite lots in the sale. Lot 155 certainly requires a closer look – especially when you see the words "Répétition minutes". You pick it up and at first there's not much to excite you. But then you hit the slide, and the crisp, loud, chiming tones just wow you. Many a distinguished connoisseur have been swept off their feet by this tiny piece – it is a contender for sure.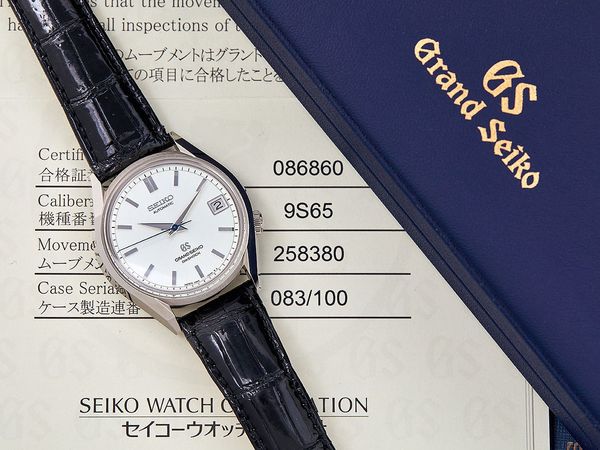 Lots 156 and 157 are the third and first wristwatch references released by Urban Jürgensen in the 1990s and mid-1980s, respectively. The Reference 3, a perpetual calendar with moon phases, hand-guilloché dial, and tear drop lugs was likely touched by the hands of Derek Pratt himself and is fitted with a Frédéric Piguet automatic ebauche.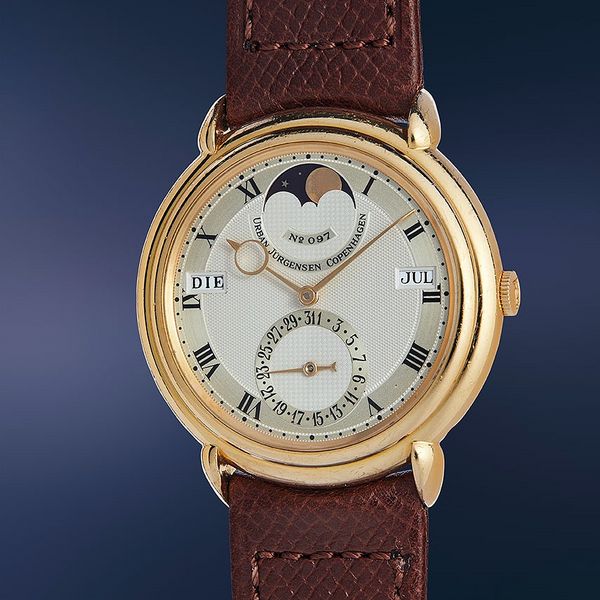 The Reference 1 is more unique and unusual, and I'll admit that unschooled as I was in early Urban Jürgensen, I had not ever come across one. Based on the automatic chronograph Zenith El Primero caliber, it is a triple date moon phase wristwatch in a large, stepped case and a screw-down caseback. The case is quite large at 40mm and the dial, as with the aforementioned Reference 2, is completely hand-finished. I find it quite exceptional that after 250 years, this is the watch they decided to relaunch the Urban Jurgensen brand with in 1985, and I am also impressed at the foresight and taste of this collector in assembling this little trio of watches (as well as lot 55 – a Breguet Tourbillon Messidor in pink gold!).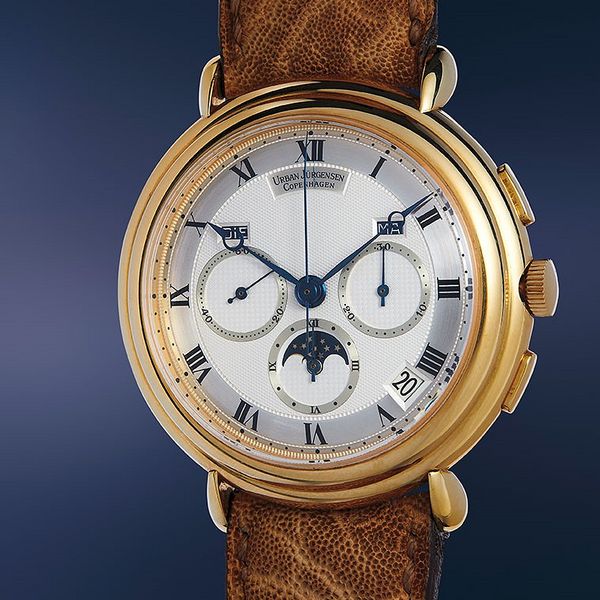 Speaking of Zenith, a duet of Zenith El Primeros – one old and one new – both captured me, for different reasons. Lot 46 was part of a limited release of only 38 pieces designed by a Dallas-based retailer to celebrate the retirement of the 38mm case size. Of those 38 pieces, only this one, with special serial number 1, comes with three additional dials – different prototypes used while finding the perfect iteration to fit into the final "Final Edition". The one fitted to the wristwatch is the "Goldilocks" dial, the "just right" combination of colors of bright yet restrained enough. I love the process of designing watches and this watch reminded me of when we designed our limited edition Zenith x Phillips El Primero back in 2019.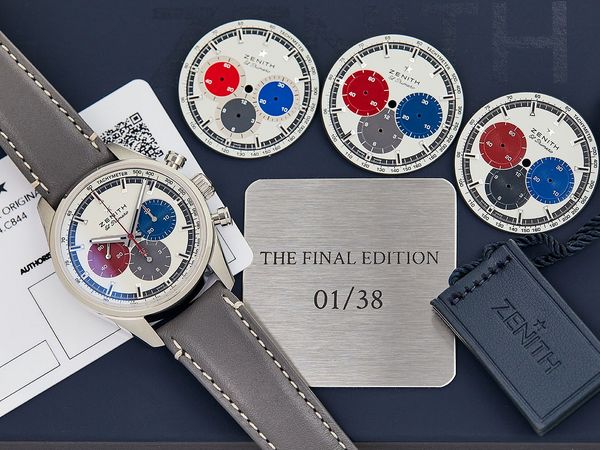 The vintage example, lot 27, is a rare reference A386 in fantastic original condition with original box and guarantee. It retains its original Gay Frères ladder bracelet – which, co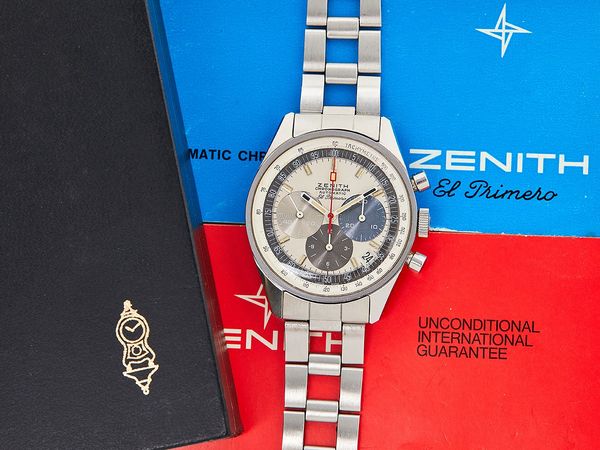 ming back to our A386 Revival, was something I was stuck on for the steel edition – with a wonderfully preserved dial, vibrant and attractive.
Finally, we have what I think would be one of my top daily wearers from this sale: lot 76, an Omega reference 2998-1 from 1959. It has all the proper characteristics of a 2998-1, and from its serial number, is one of the earliest examples delivered from the factory. It has been worn and enjoyed over the past 60 years, but the luminous on the dial has developed a beautiful caramel patina and the caseback engravings are still deeply etched. Usually, I'll swap a non-OEM strap to a Phillips branded one when we are offering a watch at auction, but I felt this one was judged perfectly, so I restrained myself.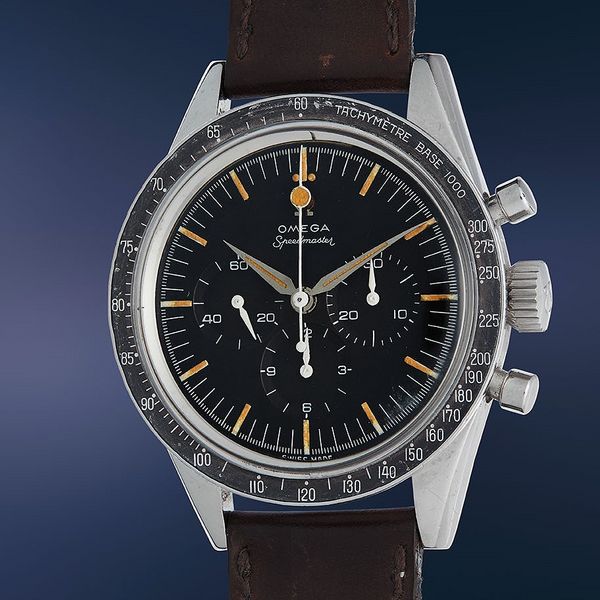 There you are, ten of our upcoming lots under $15,000 – and there are certainly more where these came from.
To view the catalogue of our New York Watch Auction: SIX, please click here.